Be Present. A friend of ours owns a yoga clothing company, "be present" and I think it's such a great mantra. Yes, physically we know you are here. But are you really present?
We are all guilty of half-listening. In a previous post, I discussed the love-hate relationship I have with technological gadgets. Never before have mothers had a constant distraction with us at all times. Scene: Kids are whining. Mom needs a break. Cut to a close-up of her iPhone. Mother does the finger scroll, glances up for a split second and . . .  it's back to the phone.
When was the last time you went to a school function and every parent just watched and enjoyed the moment, phones neatly stashed away? Ironically, in my son's elementary school, the kids practice mindfulness as part of the curriculum.
Recently, Adele reprimanded an audience member who was filming her concert. "I'm really here in real life," she said. "You can enjoy it in real life, rather than through your camera." You gotta love Adele.
We've all said it: "Oh, I forgot to take a picture tonight." Well, maybe that's a good thing. Isn't that what being present is all about? But we ask, did it really happen if we don't have digital proof?
This morning when my son complained about his newest daily ailment, I listened intently. When his story could have been summarized in fourteen seconds but instead took twelve minutes, I tried (really hard!) not to lose focus. When he grabbed my phone to google something as he watched TV out of the corner of his eye, simultaneously walking to the kitchen to get a snack, I put a stop to it. "Be present," I reminded him. "Do you know what that means?" I asked.  "Yes, but I don't want to be present right now." And, that therein lies the problem.
There's no neat wrap up here. Can we ever really be present anymore? Has our go-go-go world really altered our ability to focus?
This brings me cleanly into tomorrow's challenge. I vividly remember doing this activity as a kid. This is one of those things that I've filed under "I'd like to do this someday but will forget" pile. But because of this challenge, it's happening. Tomorrow! What else do you do on a rainy day? You . . .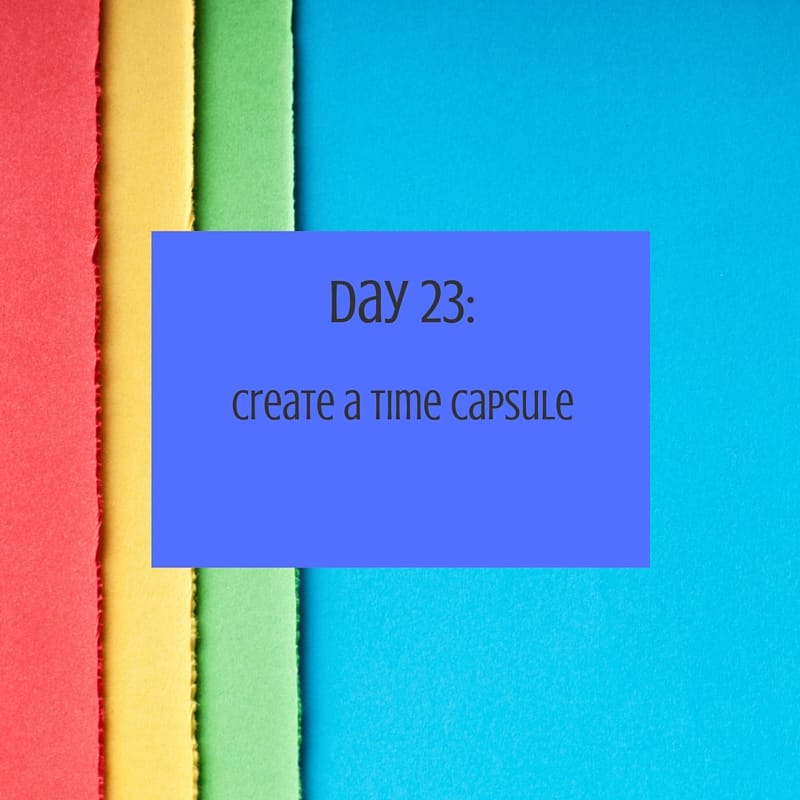 Follow me on Pinterest for some time capsule ideas.
Save
Save