For the first time in months, my kids got along for the entire day. I have no idea if it's related to "Fun Mom" day, but it was nice. More than nice. My son also seemed to go out of his way to help me around the house today.
On the ride home from camp, I let them in on today's challenge. It's not that my kids don't have fun: I take them on adventures, they play sports, they have playdates, they perform shows for me and my husband, and the list goes on and on. They have a great life. But I usually take the backseat to their fun. "Go outside and play," I tell them or "go upstairs and watch TV." It's not often that I'm an active participant. (See Day 1 of the challenge).
But what do fun moms do? Apparently, this week, they play "Pokemon Go." We downloaded the app to my phone. My son chose his trainer, selected his hair color (blue) and outfit. A moment later, we saw a Pokemon jumping on my living room ottoman. Immediately, we captured the little guy. What, now?



(Notice the recurring theme? We have another "Weirdo Pants" in our midst.)
Ready to take the game outside, we put on our shoes at the exact moment the skies opened up to a heavy thunderstorm.
But Fun Mom always has a Plan B . . .
I served dinner to my kids as they screamed, "Best day ever!" Before each of them sat a huge bowl of chocolate chip gelato with a side of bananas, topped with whipped cream. When they asked for more whipped cream, I didn't deny them. Fun Mom piled it on.
Later, I heard my son explain why we had ice cream to his younger sister: "Today, is Family Fun Day and Mommy has to do everything fun."
Soon after, the rain died down and we set off again for our Pokemon journey. About five minutes in, I realized our neighborhood is too spread out for Pokemon to hide. I re-read some FAQ: "if you live in a small town . . . you may not see a lot of Pokemon." According to our GPS map, it detected the closest ones across the river. Perhaps, we'll go to a mall or Manhattan one day but in the meantime, we'll probably suspend this game.
Before bed, my son taught us some old-school camp games:
Rock, Paper, Scissors: I remember this game being fun, but for the life of me, I can't understand why. We didn't even keep score.
Bubblegum, Bubblegum in a Dish (How Many pieces Do you Wish?): With no strategy other than a sense of basic math skills, you can easily beat your opponent. But of course, I let him win.
The Train on the Track goes Clickety-Clack: This hand-clapping circle game brought back memories except I grew up with a different title (Quack a Dilly Oso) and different lyrics. Apparently, this song varies greatly across the United States. My version doesn't even make the list.
All in all, I deem today's challenge a success. Could Fun Mom make an appearance every day? Definitely not. But, she can make more frequent visits.
Tomorrow's challenge really resonates with me. As moms, we do it. As women, we do it. Social media doesn't make it any easier on us. Here's tomorrow's challenge . . .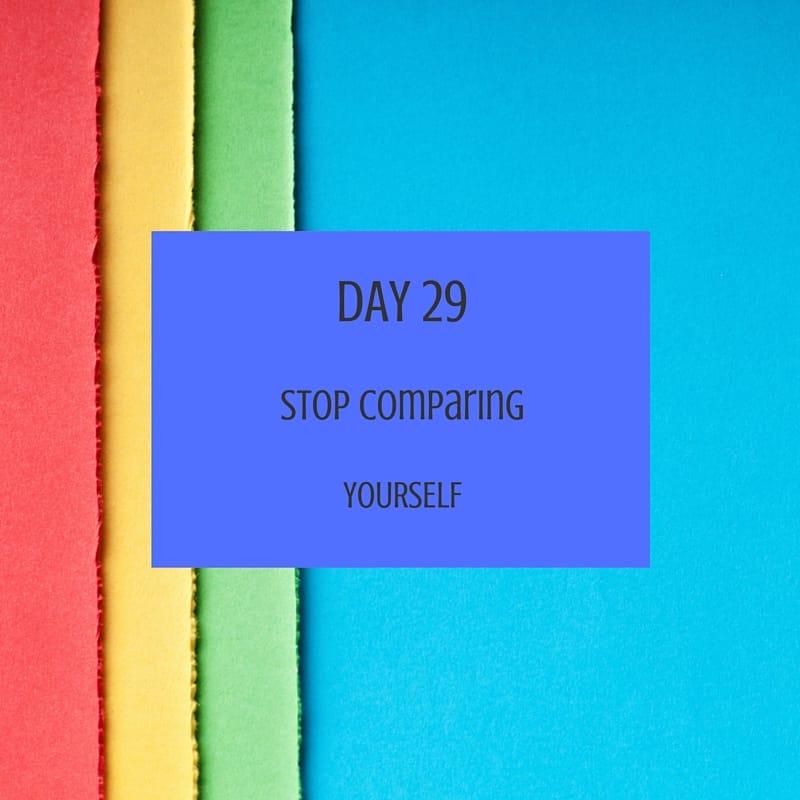 Although , you probably don't outwardly verbalize your comparisons, there's that voice in your head. Go onto Facebook tomorrow and try to avoid doing it completely.
Save
Save
Save
Save
Save
Save
Save
Save
Save
Save