By Tayari Jones
Pages: 320
This post contains affiliate links. See my disclosure policy for more information.
Get a copy of An American Marriage here on Amazon.
Why I Read An American Marriage
I first learned about this book prior to its release and immediately decided that it would make a great book club selection. Leave it to Oprah to steal my idea for her book club. Hmph!
The gold, the blue, and the beautiful tree featured on the cover drew me in initially.
But I chose this book for several other reasons. Part of it has to do with my fascination with the wrongly accused. I could not get enough of the Netflix series Making of a Murderer and still follow along for updates. In law school, I regrettably missed out on the opportunity to join the Innocence Project, wherein a group of students worked with DNA evidence, newly available at the time, to review and attempt to reverse cases of those wrongfully accused.
Also, after reading Jodi Picoult's Small Great Things, I really wanted to read a book told from the perspective of an African American woman writer. Tayari Jones is an award-winning novelist who somehow has slipped under my radar.

Check out my free downloadable Book Club Questions for "An American Marriage" at the end of this post!
Discover what I'm reading, read product reviews, learn wellness tips, and more through the MyPurseStrings Favorite Things Facebook Group.
Looking to support local independent bookstores? Find out how here on Bookshop.org and also get my list of book club picks so far.
What is An American Marriage About?
In this book, a couple, newly married tests the strengths of marriage, when the husband wrongfully sent to prison, returns five years later returns as an innocent man. It's an "intimate look into the souls of people who must reckon with the past while moving forward."
Join the Facebook Group
The My Purse Strings Virtual Book Club ran from 2018 to 2020. What started as an outlet to discuss books and to motivate me to read has turned into a Facebook Group where we recommend our favorite books, discuss what we're currently reading, and I share the newest blog posts, product reviews, wellness tips, and more.
You can find all of these books and more in my Amazon Shop. Click below.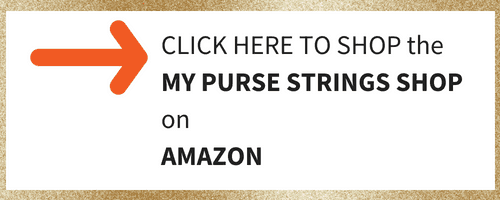 BOOK CLUB DISCUSSION QUESTIONS FOR AN AMERICAN MARRIAGE
Use these questions with your own Book Club! You can find all Virtual Book Club questions in our free resource library.
AN AMERICAN MARRIAGE BOOK CLUB DISCUSSION
We discussed some tough topics and answered some difficult questions. If you couldn't make it to the book club meeting, I've provided a transcript below.

Pin for later!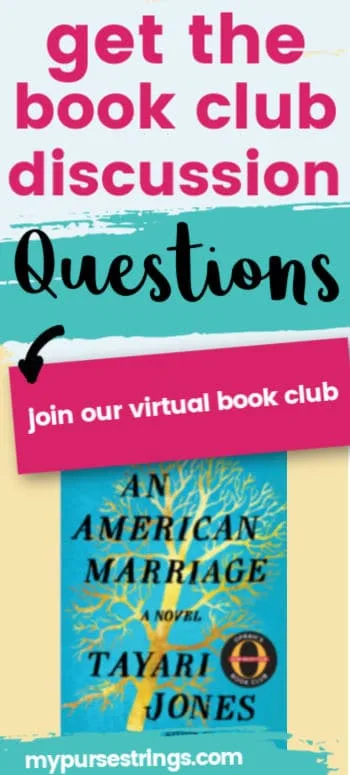 Related Book Club Articles:
How to Find a Book Club that's Right for You
The Great Alone: Book Club Questions
Educated, A Memoir: Book Club Questions
The Seven Husbands of Evelyn Hugo: Book Club Discussion Questions
The Ultimate List of Books from A to Z
Check out our next book selection and join our Facebook group to chat about books, and stay updated on our club.