When do you listen to audiobooks? For me, it's usually while I'm doing housework or driving in the car. If you've never listened to an audiobook before, now is the perfect time to start.
What makes these audiobooks so special is that every autobiography and memoir listed here are told in the authors' own voices. Many include extra perks (like a song or discussion) that the regular books cannot include.
This post contains affiliate links. See my disclosure policy for more information.
Scroll down to the end of this post to get a free list of printable "Book Club Questions To Use With Any Book." Plus, get access to our Resource Library with book club questions for some of our favorite books. Plus, you'll get sent a weekly email with a list of curated book deals.
If you don't already have a pair of wireless headphones, I highly recommending getting some. Since I treated myself to Apple AirPods this year, the amount of audiobooks I've consumed has gone up considerably.
15 Audiobooks Read by the Author:
(1) The Answer Is
What's And the Answer Is About: published just a few months before his death, Alex Trebek reflects on his life. All chapter names begin with a question.
What People Love About It: This book is narrated by both Alex Trebek and Jeopardy champion Ken Jennings. Alex was a philanthropist and a loveable person and this comes across in this book.
(2) Becoming
What's Becoming About: a memoir by former First Lady, Michelle Obama.
What People Love About It: Michelle, always inspiring, narrates this book in her own voice, focusing mainly on her life before becoming a resident of the White House.
(3) Born A Crime
What's Born A Crime About: Trevor Noah's memoir about growing up in South Africa.
What People Love About It: Noah narrates it, using accents and voices to tell his story.
(4) Born To Run
What's Born To Run About: Bruce Springsteen's autobiography.
What People Love About It: Springsteen narrates it and draws you in with his slow reading. It also includes musical transitions.
(5) Bossy Pants
What's Bossy Pants About: Tina Fey's life story, from childhood to SNL fame.
What People Love About It: this book's funny but it's even funnier in Tina's own voice narrating it.
(6) Can't Hurt Me
What's Can't Hurt Me: Master Your Mind and Defy the Odds About: inspiring life story of David Goggins who grew up poor and bullied only to become a world-class athlete and U.S. Seal.
What People Love About It: It's read by co-author Adam Skolnick but following each chapter is a podcast-like discussion between him and Goggins with more details and backstories.
(7) Educated
What's Educated About: a girl forced to live off the grid with her family, defies the odds, and gets an education at Cambridge University. You can find out more about this book here.
What People Love About It: Tara Westover narrates her story. I had the opportunity to hear her speak at a book signing and she is articulate and well-spoken.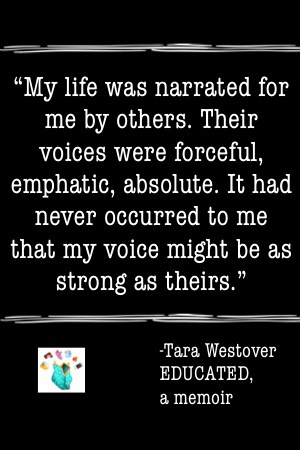 (8) Just Mercy
What's Just Mercy About: Bryan Stevenson shares his experiences as a public interest lawyer representing the poor and those on death row.
What People Love About It: while the film focuses mainly on one character, Stevenson talks about a multitude of cases and narrates this audiobook.
Did you know that both Just Mercy and Born A Crime have young adult adaptations? Read more about it here in this blog post.
(9) Know My Name
What's Know My Name About: Known as Emily Doe, Chanel Miller, comes forward and tells her side of the story in the Brock Turner Stanford University rape case.
What People Love About It: Miller gives herself a voice in this book, which she narrates.
(10) Me: Elton John
What's Me: Elton John About: well, it should be no surprise from its title, this book is Elton John's autobiography.
What People Love About It: it's raw, emotional, and funny. Plus, it's read by Elton John himself.
(11) More Myself: A Journey
What More Myself Is About: Alicia Key's musical journal from Harlem through self-discovery.
What People Love About It: narrated by Alicia Keys, America Ferrera, Bono, Clive Davis, Michelle Obama, Oprah, and others. She also sings throughout the book!
(12) Open Book
What's Open Book About: Jessica Simpson's memoirs based on journals she's kept since the age of 15.
What People Love About It: even people who aren't true Jessica Simpson fans enjoy her honesty and realness.
(13) A Promised Land
What's A Promised Land About: the first in a series of Barack Obama's presidential memoirs
What People Love About It: Obama narrates it. He suggests this musical playlist as a companion piece.
Music has always played an important role in my life—and that was especially true during my presidency. In honor of my book hitting shelves tomorrow, I put together this playlist featuring some memorable songs from my administration. Hope you enjoy it. pic.twitter.com/xWiNQiZzN0

— Barack Obama (@BarackObama) November 16, 2020
(14) Stories I Only Tell My Friends
What's Stories I Only Tell My Friends About: a memoir by actor Rob Lowe, recounting his days starting off in Hollywood through his West Wing days.
What People Love About It: Lowe's a great writer and storyteller. He comes across as a genuinely nice person and gracious for his success.
(15) The Storyteller: Tales of Life and Music
What's The Storyteller About: Dave Grohl tells about his early days as a musician to modern day, and all his favorite moments along the way.
What People Love About It: it's an inside look (not always glamorous) into the lives of rock stars. And, as the title suggests, Grohl is a great, and humble, storyteller.
(16) Untamed
What's Untamed About: in this self-help book in the form of a memoir, Glennon Doyle, tells how she left her husband, found love with a woman, faced her past demons, and started her life over.
What People Love About It: Glennon narrates and it seems she's directly talking to the listener.
(17) A Very Punchable Face
What's A Very Punchable FaceAbout: this book tells the story of Colin Jost and his rise to Saturday Night Live. I'm surprised how much I laughed out loud throughout this book. Colin also grew up in my hometown, Staten Island, New York.
What People Love About It: he's hysterical. There are truly laugh out loud moments.
(18) When Breath Becomes Air
What's When Breath Becomes Air About: a neurosurgeon, Dr. Paul Kalanithi, writes about about his fatal battle with lung cancer in his mid-thirties.
What People Love About It: this book is about living life.
(19) Yearbook
What's Yearbook About: Canadian Seth Rogen tells stories from his life.
What People Love About It: he's candid, funny, and just as likeable as on the big screen.
How to Get Access to Audiobooks
Libby
The first place I look for an audiobook is through Libby. It's the service my library uses to lend both digital and audiobooks. You'll be surprised how many audiobooks the library offers, even those on the bestseller lists.
What I love about Libby is that the book downloads to your phone which makes it very convenient for listening both at home or in the car.
And while there's often a wait for some of the most popular books, I usually find that books come in much earlier than they estimate. I do have to return books sometimes before finishing but then I add myself back to the queue to take it out again. The next time you get it, Libby remembers where you left off, even if it's months later.
Audible
For those really popular books, I often get them through Audible.
Last year, I bought my husband a gift subscription to Audible. Whenever they have a sale, which is pretty often, I ask him to get a book for me. Often, you get an extra book that month.
Amazon
Another cheap way I find to get audiobooks is by purchasing the Kindle version of the book and then upgrading to the audio version at checkout. This gives you access to both versions.
If you subscribe below to my weekly newsletter, I share the best Kindle deals of the week. Even if you don't read a Kindle book normally, it still may be worth it to get the Kindle version and do the upgrade I mentioned earlier. (That's how I got the audiobook Born A Crime for under $8).
To get the Friday Favorites email, sign up below. Not only do you get exclusive access to everything in the Resource Library (printables, book club discussion questions, etc.), but I also share the newest blog posts and my favorite things from the week.
Many of these books have been past Virtual Book club picks. If you're interested in joining, sign up below.
Related Book Posts:
Just Mercy, Book Club Discussion
Bookshop Review: the best way to support independent booksellers