I've put together a list of my favorite products on sale this Black Friday 2020. As usual, I only mention products and services that I use and love.
This post contains affiliate links. See my disclosure policy for more information.
Fitness and Wellness
(1) Home Gym Storage Organizer Wall Shelf
Get 15 percent off the Home Gym Storage Organizer Wall Shelf, perfect for all the Peloton and yoga fans in your life. Customize it (frame, metal, and background). Hang it vertically or horizontally. There's a place for your spin shoes, water bottle, towels, wipes, resistance bands, heart rate monitor, yoga mat, blocks, and more.
Check out the video below to see how easily you can move the hooks and shelves around.
Use code "BLACK FRIDAY"
(2) Drip Accessory
Get 20 percent off all Drip Accessory products, including their fitted Peloton handlebar towels for both the bike and Peloton Bike +, screen covers, and my new favorite: the Big Sweat Cycling Floor Protector Mat.
(3) Orgain
Get 30 percent off my favorite protein powders and free shipping. I add this powder to all my smoothies. This Vitamix is also on mega-sale today.
(4) Hidrate Spark
Get 25 percent off on the Hidrate Spark 3 water bottle and 50 percent off their new electrolyte tablets. Shop the sale here.
This water bottle has changed my drinking habits. It alerts you by glowing or sending a notification to your phone when it's time to drink up. You can read more about why I love it in this blog post.
(5) Splendid Spoon
Get $25 dollars off your first 4 boxes (for a total of $100). Sale ends 11/30/20.
Check out my unboxing below.
Choose your smoothies, grain bowls, noodle bowls, and soups for the week. If you've been following my blog for a while, you know how much I love Splendid Spoon's vegan delivery service. You can read more about it here.
(6) Komuso
Get 30 percent off a Komuso shift necklace. Use code CALM30. Free shipping.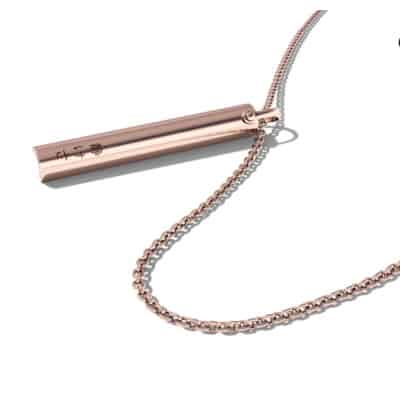 This shift necklace helps you focus on your breathing. I bought it originally for my daughter but now I wear it. Feeling anxious? Take in a deep breath. Yes, it seems hokey but I love it.
(7) Bombas Socks
Get 20 percent off my favorite workout socks. Not only are these socks super comfortable but for every pair of socks you buy, they donate a pair to someone in need. Plus, this company has a great guarantee on their products. You can read about them here.
(8) Lululemon
Huge sale at Lululemon, everything from the sought-after Align pants to their tote bags. Check it out here.
(9) Built Bars
Get 25 percent off all Built bars for Black Friday. I love them because they're packed with protein and low sugar (and 3 WW points). Stick them in the refrigerator for a treat.
(10) Scosche Heart Rate Monitor
Get 30 percent off until November 30, 2020.
If you're using the Peloton, Peloton app, or need a super reliable ANT heart rate monitor, look no further than the Scosche Rhythm arm band.
Thanksgiving Coupon! Get 30% off sitewide on all of the wonderful accessories at Scosche.com! Enter code: CYBERSAVINGS30 at checkout! Not valid on any products already marked down.
Home
(1) Solo Stove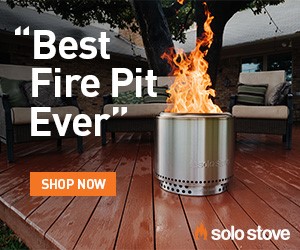 This is the gift of the year and you won't find a better time to order! It's a HUGE sale.
The Solo stove is a stainless steel fire pit. It's portable and emits low smoke. I recommend the Bonfire model.
(2) Pura
I haven't gotten around to writing a blog post yet but the Pura smart home fragrances are one of the best things I've purchased this year. Plug it in, control the scents with your smart phone. They're not just essential oils, they're also pet-safe.
Get a FREE device when you spend $100 at Pura. Use code BFRIDAY2020.
Subscriptions
(1) Raddish Kids
Get one month free off a 6-month membership or 2 months free off a 12-month membership. It includes laminated easy-to-read kid-friendly recipes, a few cooking supplies, and some online activities to go along with it.
I tried this subscription box service out this year and my daughter loved it. I'm getting her a subscription for her birthday.
Use code BESTDEAL. Sale ends 11/30/20.
(2) Masterclass
Buy one, get one subscription free at Masterclass. Share a subscription with a friend or family member. Classes include everything from acting with Natalie Portman, photography with Annie Leibovitz or cooking with Gordon Ramsay. This makes a great gift!
(3) Hulu
Get Hulu for $1.99 per month (ads) for an entire year. Find out more here.
Final Thoughts
For more of my favorites all year, be sure to subscribe to the weekly "Friday Favorites" email. I share the newest blog posts, my favorite products and other favorite things of the week. Plus, I create a curated Kindle book deal list and for my Peloton fans, my favorite classes of the week.
You'll also get access to the free Resource Library with downloadable printables and checklists.