As my children get older, my ability to limit their screen time gets harder and harder.
I have strict rules (no electronic devices at the dinner table, don't talk to strangers, homework comes first, etc.) but still, it's a losing battle. And, my children are young enough that I can still maintain full control.
As a mom, I want parental controls and the right to filter their usage of electronic devices (iPad, Xbox, iPod Touch). This is not always an easy task.
This post contains affiliate links. See my disclosure policy for more information.
Check out my downloadable "5 Ways to Limit Screen Time" list at the end of this post!
Why I Gave My Kids Electronic Devices in the First Place
Education
As a former teacher, I do believe that electronics can have a place in education. For example, my kids often learn more by practicing their math facts using apps rather than a workbook. They love Osmo, a hands-on game that uses manipulatives and your device's camera to play. Also, I just introduced my son to electronically borrowing books from the public library and he gets a kick out of the immediate accessibility of it all.
Distraction
I work from home. Sometimes, I need their attention diverted away from me so that I can get things done. Likewise, I also work out exclusively from home.
Socially
My children are not using social media yet. And, when they do, I will continue to monitor their usage as much as possible.
But we recently moved halfway across the country. What has softened the blow more than anything is there ability to Facetime, text, and play online games with their New York friends.
If you haven't given in to giving your kids devices at all, I applaud you and think that is a great decision. I'll be the first to admit that these devices are crazy addicting. So, how do you set limits and control what your children do online without it escalating into an argument? Enter the Disney Circle . . .
The Circle with Disney Review: How Does it Work?
We've been using the Circle for close to a year now. FYI, the price has dropped dramatically since I bought it.
Is it perfect? Absolutely not, which I'll get into in a bit. Does it help limit our screen time? Without a doubt.
Do I nag my kids less? Do I yell less? Does it help me as a parent? HECK YEAH!
What is the Circle?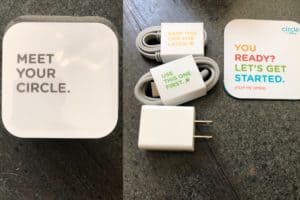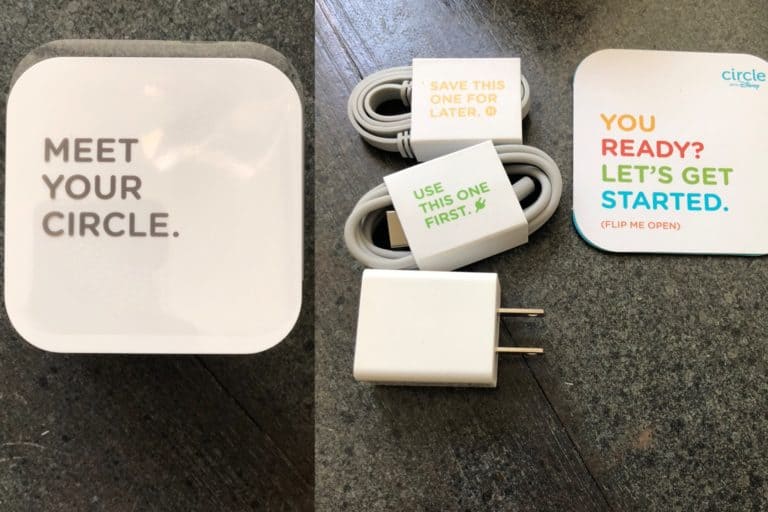 The Circle works through your Wi-Fi network to enable you to limit and monitor your child's screen time.
Plug the Circle into an outlet. After that, pair it with your Wi-Fi network.
A cool feature is that you get an alert anytime anyone enters your Wi-Fi network. This pseudo-creepy feature has let me know when my babysitter arrived to meet the kids after school. And no, I don't have access to her device or control it in any way.
The Set-Up of the Circle with Disney
See below . . .
So, you can see my kids are not fans of the Circle, which makes me love it even more. In fact, my son tells me that his friends don't like playing Fortnite with him anymore because he disappears mid-game. Whoops. Sorry, not sorry, bud.
What Can You Control with the Circle?
Parental Controls and Filters
Create a profile for each child. Then designate their filter level: Pre-K, Kid, Teen, Adult, None. I don't bother adding adults.
Add all of their devices. My son has three: an iPad, iPod Touch, and an X Box.
You can narrow down the filter even further. You can even go through individual apps that auto-generate and choose to allow, do not allow, or leave unmanaged.
I do not allow Amazon (too easy to accidentally place an order). I leave FaceTime and Spotify unmanaged; this means he can use it without limits. You can even limit their TV viewing on Netflix and Hulu. And if you're wondering, Fortnite, which I do allow but really keep close tabs on, also has its own settings. You can also add custom filters and enter any additional websites that you wish to manage.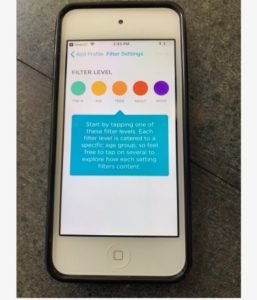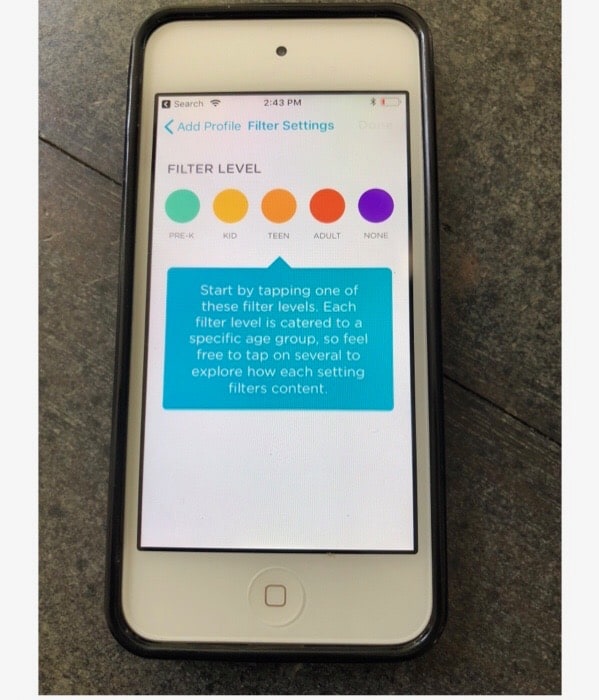 Track Usage and Set Screen Time Limits with the Circle
Usage: Click on usage to see how many minutes your child uses on a particular day, week, or month.
Daily Time Limit: Set daily time limits for weekdays and weekends. You can even specify a separate limit for particular apps like YouTube. So let's say you have a limit during the week for 1 hour and 15 minutes, you can make sure that your child only has 15 minutes of YouTube viewing or none at all.
Wake-Up and Bedtime: Create bedtime and wake-up times. You can do this day by day or just set weekday or weekend limits.
Off Time: Set a scheduled day and time when the internet is off-limits. Maybe you want it off during dinner time or for homework hour.
Pros and Cons of the Circle with Disney
Pros
When time is up, it's up. The device will no longer have access to the internet.
Kids cannot play any games that require Wi-Fi after bedtime or before wake-up time.
There are far fewer arguments in my home. When the kids protest and claim to have only played for a little while, I have data to prove otherwise.
Reward your child with extra time. This is a great incentive.
Contrastly, stop your child's playtime with a simple push of the "pause" button. You can pause for minutes, hours, days, or weeks.
Cons
For me, a major con is that I never realized that so many games do not require Wi-Fi. This includes popular games like Minecraft, Rolling Sky, and Piano Tiles. Luckily, Fortnite does require Wi-Fi. This frustrates me, especially with my daughter who seems to never need Wi-Fi to play.
To manage your child's device outside of the home, without Wi-Fi, you can purchase the Circle Go app. Subscriptions cost $4.99 per month and cover up to 10 devices. You can get a free 30-day trial but need to purchase the Circle device first.
Since moving to our new home, my son has had some issues with his devices not working at all. To bypass this, we have to remove the device and add it back to the Circle. It annoys him more than me.
Final Thoughts
What sets the Circle apart from other apps is the automatic shutdown feature.
There are times when I'm out to dinner with friends and receive an alert that my child has reached their daily limit. So, even with a babysitter at home, I don't have to physically watch their online behavior. I can even go into the app and see what they've been doing.
My children direct their anger towards the Circle and never me. And that is worth every penny.
For other ways to limit screen time, check out my free downloadable "5 Ways to Limit Your Child's Screen Time" list:
What are your tips and tricks? Share below.