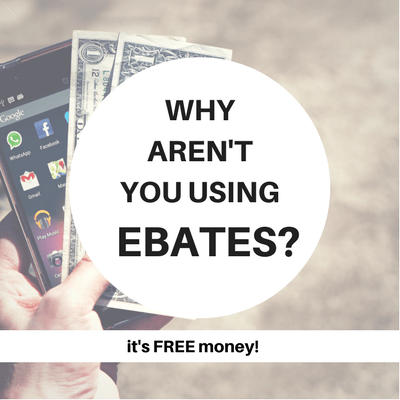 If you shop, you should be using Ebates. Period.
Not too long ago, Rakuten became the official name for Ebates. I'm not sure why they couldn't keep Ebates. Not only does Ebates describe what it is (electronic rebates) but no one can pronounce Rakuten? Have you seen their commercials where they ask people to try?
For the interest of simplicity, I'll keep calling Ebates by its original name.
*Note: This post was originally posted in October 2017 and has been updated to reflect accuracy and new information.
What is Rakuten/Ebates?
Do you like free money? That's what Ebates is! I describe Ebates as free money.
Although it began as a tool for online shopping, you can now use Ebates for in-store purchases. Before I buy anything, I always check Ebates. It's totally legit and it works.
Check out my free downloadable checklist on other ways to save money (without depriving yourself) at the end of this post!
How Ebates works:
First, sign up for Ebates. (If you sign up through my link, you'll automatically get $10 back after your first purchase. Click here for my link.)
Ebates gives you back a percentage of your spending. Rates change frequently. Look out for double cash back!
You can combine coupons, gift cards, and online promo codes to save even more. In fact, Ebates provides you with all applicable promo codes directly on their website.
For online shopping, add the Ebates shortcut to your toolbar (or on Chrome as an extension). Whenever I click on a participating site, a pop-up reminds me to activate my cashback.
For in-store purchases, get the Ebates app. Link your account to a Visa or American Express card. Then link available offers to your favorite stores (limited to those listed, of course).
You will get paid every three months (so long as you have earned at least $5.00)
Choose how you want to get paid: PayPal (my choice) a check, or a check to someone else (including your preferred charity or organization).
You also have the option to get paid in the form of a gift card, with an additional cash bonus. (I recently purchased a down vest at Atheta with such gift cards for $7.49)
Ebates has great customer service. There are times when I've ordered something online but forgotten to click on my Ebates account. Every time that I've reached out to them, they've credited my account.
My Favorite Online Stores that Participate with Rakuten/Ebates:
Although the rewards from Ebates may be small for some of these stores (as little as 1 percent), I still use it. Hey, money is money. In no particular order, here are my go-to stores:
Target
Groupon
Walmart
Kohl's
Loft
Etsy
Bloomingdale's
Zulily
Nordstrom Rack
Athleta
It's hard to narrow it down to ten. For a full list of participating online stores, click here.
My Favorite Brick and Mortar Stores that Participate in the Ebates Program:
Bed Bath & Beyond
Saks Off Fifth
Lord & Taylor
Athleta
Petco
Under Armour
Best Buy
Sephora
Crate & Barrel
Macy's
For a complete list, click here.
Search By Item with Ebates
Besides the ability to search for a particular store on Ebates.com, you can search for a particular item. This feature brings up all participating stores that carry the product, with prices, applicable promo codes and how potential earnings in Ebates bucks. Finding the best deal doesn't get better than that.
Recent Example of My Savings with Ebates
This morning, I got an alert from Groupon regarding their 20 percent off sale on local deals. I've been wanting to try a new yoga studio. Today, Ebates has double-cash back for Groupon, at a whopping 9 percent. I then applied Groupon's promo code. So, I got ten classes and a new yoga mat (already a steal at $110) for $80, once the promo and Ebates kicked in.
Remember that not only do percentages change periodically, but so do participating stores.
Ebates is too simple not to use. To date, I've earned over $1000! This is not the first time I've written about Ebates and it probably won't be the last. Check out my prior posts on combining Ebates with gift cards and also with in-store pickup.
Sign up below to get free access to my Resource Library where I share money-saving tips and more.
Pin for later!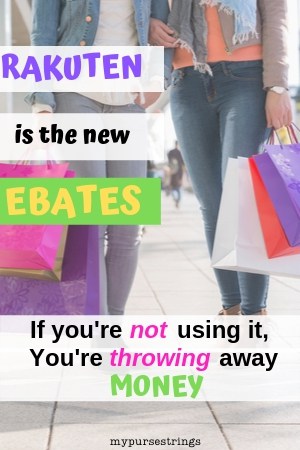 And remember to use this link to save $10 off your first Rakuten purchase.