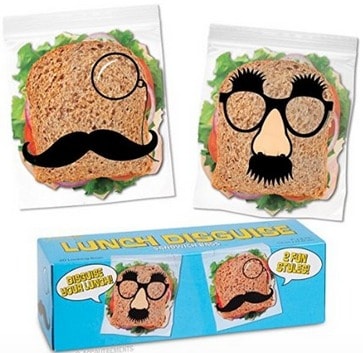 As a child, life centers around fun. As an adult, sometimes you need to make a conscious effort to find fun: girls night, date night, "me time." Some days, you take what you can get. Today is one of those days, so here I am writing about the kitsch in my kitchen, the little things that make me chuckle on a daily basis. This is my top five list:
Lunch Disguise Sandwich Bags

: Sure, I know it's not the most environmentally friendly option, but don't you wish your mom packed your lunches in these bags back in the day? Click here to buy on Amazon, includes 20 bags.
Ice Pop Molds: My son often says, "I like summer because I eat ice pops." With winter finally behind us, my Vitamix has moved back to the countertop ready to blend smoothies and create ice pops. Our Rocket Ship Ice Pop Mold has held up incredibly well and my son's fascination with all things space has not waned over the years. However, I did title this post "kitsch," so here are some other cute ice pop makers that I have my eye on: Space Pop Molds with Rocket and Astronaut (the astronaut alone makes this set worth buying for your space-loving kid), Fish Ice Pop Mold (although I'm not sure how this will go over with my vegetarian preschooler), and Star Wars Lightsaber Ice Pop Mold (the coolest of the bunch in my opinion; plus, it actually includes an LED light).
Fred and Friends Fridge Lid Leftover Saver: This bright orange colored hat makes me smile. The container works surprisingly well at keeping onions and pieces of fruit fresh. I toss both top and bottom pieces in the dishwasher. Bonus: your refrigerator never looked so cute.
Sandwich Cutters: My five-year-old who will not eat sandwiches happily makes an exception if I make "girl" or "boy" sandwiches (Fred & Friends Bread Head Sandwich Stamps). Granted, plainer bread tends to work better than the multigrain seeded bread I usually buy. This gadget comes in extra handy for those kids who request their bread crustless. However, since my son prefers his bread with crust, I think I will purchase this Fred and Friends Cheesy Grin Bread Cutter. Seriously, how can you not love a sandwich with a mug like that?
Monsters Pancake Griddle: What could be better than uniformly sized pancakes in the shape of adorable, and not a bit scary, monsters? Alternative themes are available: bugs, barnyard, zoo friends, smiley faces, or holiday shapes, and also plain silver dollars (but what's the fun in that?). This non-stick cast aluminum pan makes seven pancakes.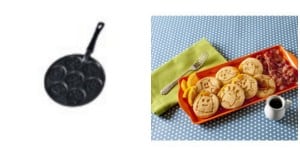 * As an Amazon affiliate, I get a small commission each time you purchase an item through one of my links. I only write about products I truly use and love. There are no sponsored products. So thank you for continuing to support my coffee habit. As always, I write for the love of writing.
Share your favorite kitschy must-haves below. I know I can't be the only one who gets a kick out of these things!