If you're a parent like me, juggling work, distance learning and trying to limit your kids' screen-time, is emotionally taxing.
Sure, you want to play with your kids. But let's be honest, there's only so much Barbie goes to the shopping mall with her best friend that a grown woman can take.
You may not be aware of it but LEGO has tons of brick-building geared towards adults. Yep, they're especially targeting 80's kids and Gen X'ers. And more and more grownups are buying LEGO sets for themselves, even if they don't have children. It's touted as a stress reducer and we can all use a little less anxiety right about now.
This post contains affiliate links. See my disclosure policy for more information.
All of the sets I mention can be found on Amazon which means if you're a Prime member you can get them in just a few "school days."
LEGO Sets that Any Adult Would Want for Themselves
1. Friends "Central Perk" LEGO Set
This set includes the entire crew: Ross, Rachel, Chandler, Monica, Phoebe, Joey, and even Gunther.
Get the Friends LEGO set here on Amazon.
2. The Flintstones LEGO Set
I know, the Flintstones theme is stuck in your head right now. Earworm aside, this set includes Fred, Wilma, Barney and Betty, house and car. But why no Dino?
Get the Flintstones LEGO set here on Amazon.
3. The Big Bang Theory
Fan of The Big Bang Theory will appreciate this LEGO set. It features Leonard, Sheldon, Penny, Howard, Raj, and Bernadette, with a furnished apartment, whiteboard, telescope and more.
Get the Big Bang Theory LEGO set here on Amazon.
Get access to my free Resource Library with downloads, including book club questions, checklists and more. You'll also receive my weekly Newsletter with my FRIDAY FAVORITES, including the newest blog posts, deals, and my favorite things that week.
4. Ghostbusters LEGO Set
LEGO makes newer Ghostbuster toys, featuring the characters from the most recent movie franchise, but I'm not sharing that one.
The Ghostbusters LEGO set depicting characters from the 1984 film. You'll get all four characters: Peter, Ray, Egon, and Winston, complete with proton packs, tracking computer and the Ghostbusters car.
Get the Ghostbusters LEGO set here on Amazon.
For super fans, check out the 6,000 plus (but pricey) Ghostbusters Firehouse lego set. This includes 9 figures, most notably Slimer, the ectoplasmic ghost.
Actually 26 Ghostbusters characters from the original movie have been released, as shown in this video, including the Stay Puft Marshmallow Man. You can probably find most of them on eBay.
And, if your kids are into Playmobil, you can find their Ghostbusters sets too.
You can find all these LEGO sets in my Amazon shop.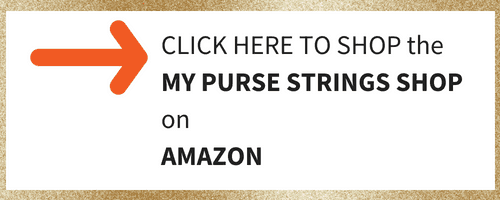 5. Back to the Future LEGO Set
LEGO discontinued this set years ago. True Back to the Future fans will have to cough up a bit of change for this 401 piece set. Of course, you get the DeLorean Time Machine, as well as Marty and Doc.
Get the Back to the Future LEGO set here on Amazon.
6. Stranger Things "The Upside Down" LEGO Set
With almost 2300 pieces, the Upside Down LEGO set includes 8 Stranger Things characters: Mike, Eleven, Will, Lukas, Dustin, Joyce, Sheriff Hopper and his police truck, a Demogorgon, and even lights that blink so Will's mother can communicate with him. Fans of the Netflix series will love this but it takes patience and time to put together.
Get The Upside Down LEGO set here on Amazon.
7. The Simpsons LEGO Set
With over 2500 LEGO pieces, this set is for the ultimate Simpsons fan. It comes with 6 mini-figures: Homer, Marge, Bart, Lisa, Maggie and Ned Flanders. It comes with the house and car but at a hefty price (D'oh!) but if you read the reviews, everyone seems to think it's worth it.
Get The Simpsons LEGO set here on Amazon.
You can get additional mini-figures here by purchasing a mystery pack.
8. The Office Dunder Mifflin LEGO Set
While technically not created by LEGO, this set of The Office includes only 3 characters: Michael, Dwight, and Jim. Sorry, Pam.
Get the Office LEGO set here on Amazon.
Looking for more adult LEGO sets?
You can find more LEGO sets here, specifically designed with adults in mind.
What do you do with unwanted LEGO bricks?
Consider donating LEGO sets when you no longer have a need for them. I find the easiest way is through GiveBackBox. Simply take an empty cardboard box, toss in the LEGO pieces, and print out a pre-paid address label. They will donate them to kids in need and even provide you with a tax deduction receipt.
Pin for later!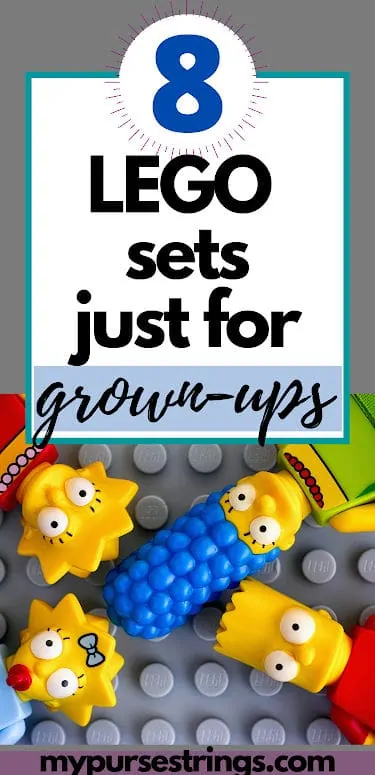 Related Blog Posts:
The Best Board Games for Adults
Young Adult Adaptations of Adult Bestselling Books
How to Find a Book Club that's Right for You
The Complete List of the Purse Strings Book Picks