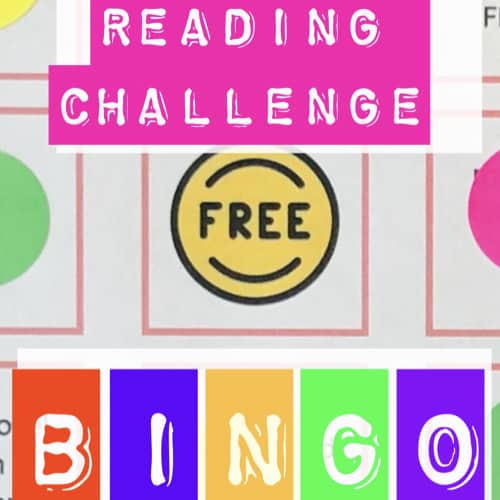 This reading challenge BINGO board is not only fun, but it can help you track your reading, motivate you, and help you to select those books outside of your normal reading choices.
So many of us, myself included, get into a rut reading the same types of books over and over again. In college, I took an entire course devoted to short stories and I devoured them. Yet, I hardly ever read this genre anymore.
What's more fun and motivating than a reading challenge Bingo game?
Why should you participate in a reading challenge?
Sometimes we all need some motivation to pick up a good book and get outside of our comfort zones. Even if you're part of a book club, you may find that you're reading the same genre regularly.
A reading challenge should be fun. If you're a part of our Facebook Group, you'll find no pressure. Check out this post from The Atlantic about setting reading challenges and goals for yourself.
Whether you use these cards on your own or with a book club, BINGO can help you not only to visually track your reading patterns but help you to select something just a little bit different for you.
How do you play?
OPTION A: Use this Bingo board on your own
Check out my free downloadable Bingo Boards at the end of this post! This also gives you access to the Resource Library where you can find printables of book club discussion questions and more. You'll find two BINGO cards and new ones will be added periodically.
You can use this Bingo board for your own personal use, or share it with your book club to help select the next pick.
Use each square for one book or cross off multiple squares for each book. It's your challenge and your rules.

Set a goal for yourself. Do you want to complete the entire board? Just a row? Is this a yearly goal?
OPTION B: Use this Bingo board to play along with our Virtual Book Club
If you haven't joined our Virtual Book Club, what are you waiting for? Not only do we read a new book each month to discuss but we recommend books, chat about books and more.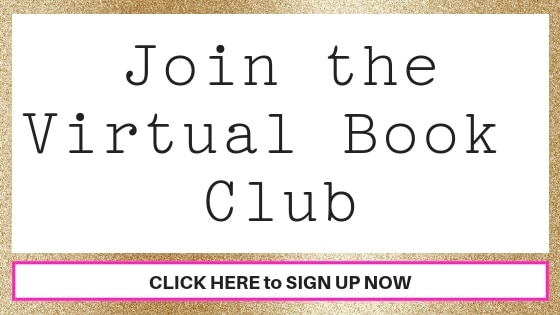 To get free access to all checklists and downloads, check out my Resource Library. This includes Book Club Discussion questions for past Virtual Book Club books and more.
How to play
Check out our Facebook group each month (above) and let us know if you want to participate.
I will host a Facebook Live and choose a name and also a square.
If your name gets picked, you will choose our next book club pick (of course, we can give you some ideas if you want).
You will have 48 hours to choose a book that meets that category.
If we choose your name, you will win a copy of the book or an Amazon gift card in the same amount if you live overseas. But . . . you must promise to participate in the Virtual Book Club discussion. What does this mean? You can simply answer questions already provided or create some of your own, but you MUST participate.
Once per month, we will share our Bingo boards in the Facebook Group. You can fill in the squares on your own or just play along with the Virtual Book Club. When you post your squares, let us know what books you read and if you recommend them or not.
Depending on the success of this game, more prizes may be given out periodically.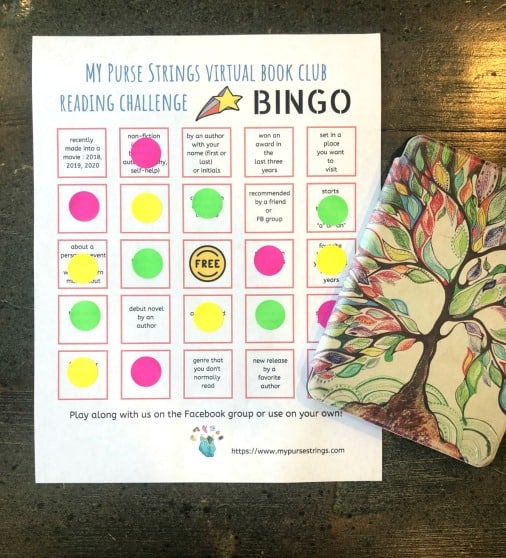 How to get the Bingo card
You can download the free Bingo card here.
You will receive an email giving you access to two BINGO cards and new ones will be added to the resource library periodically.
Create Your Own Bingo Card Reading Challenge
If you're in a book club, a Bingo card makes the decision-making for the next book club pick fair and easy. Or, if you're looking to challenge your own personal reading, why not create your own Bingo card?
Some ideas for creating your own Bingo Card for a Reading Challenge
An author with your first or last name, or initials
A book that won an award in the last three years
A book set in a place you want to visit
A book that grabs you by the title or cover
A genre that you normally don't read
A new release by a favorite author
A book that you abandoned
Head on over to our Facebook Group to Play
Once you have a BINGO card in hand, head on over to our Facebook Group to either play or discuss the books you're reading. Look forward to chatting with you there!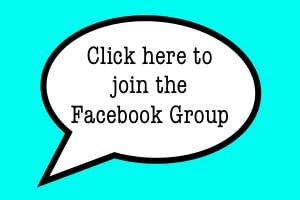 Check out some other Book-Related Blog Posts:
How to Find a Book Club that's Right for You
Educated, A Memoir Virtual Book Club Pick
Moloka'i, Virtual Book Club Pick
The Great Alone, Virtual Book Club Pick
Pin for later!