Do you remember when Sundays were a day to sleep late, meet friends for leisurely Bloody Mary brunches, followed by a yoga class? Well, snap out of it. Those days are long gone.
Moving to the burbs morphed me into a soccer mom, a world I knew nothing about. It should be no surprise that I showed up at the first practice completely unprepared.
Here is the checklist I wish someone had shared with me:
(I'm focusing on the parent here, the one lugging everything to the field, cheering on the sidelines, and trying hard to avoid the ice cream truck who always knows exactly when to show up).
Note: I am an Amazon Affiliate. If you click through one of my links, I receive a small fee to support my ever growing coffee habit.
Chair
The first thing you will notice on the field are the rows of chairs. Soccer mom chairs: lightweight, with a carrying strap and a sturdy cup holder. (We will get to that later in the beverage section).
I prefer a canopy for sun and rain protection. And, you will sit in the rain. The soccer mom chair is your most important piece of equipment. This SwimWays Kelsyus Original Canopy Chair, Royal Blue, 37" x 24" x 58", (Model: 6038851) is similar to mine and gets great reviews.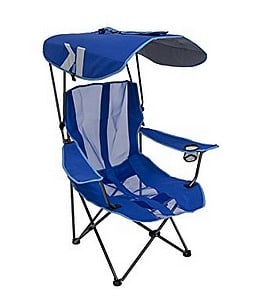 This smaller version comes in handy for a younger sibling. Make sure you pack "entertainment" because the game isn't going to hold their attention very long.
Comfy Clothes
Soccer doesn't stop for rain or mud. Leave your cute boots at home.
Wear cozy layers: a T-shirt, leggings, and a hoodie. What starts out as a frigid morning can suddenly turn into a sweltering afternoon. I love that this scarf doubles as a blanket.
Sunblock and Bug Spray
I'm a bit obsessive about sun protection. My chair keeps me shaded but I've still gotten some strange tan lines while sitting on the soccer field. Don't skip the sunblock, no matter the season.
We live in Westchester, New York, where Lyme disease is prevalent. If you're sitting in a grassy field, assume you need bug spray.
Beverages and Snacks
Being a spectator is hard work. You need sustenance.
My go-to snacks include mini Kind bars, That's It fruit bars, and Sargento Balanced Breaks, a nut and cheese combo.
It's virtually impossible to sneak out unnoticed once a game starts, so grab your coffee beforehand. My favorite travel mug
feels like I'm carrying a Starbucks cup but is environmentally friendly and keeps my drink hot.
My son's games can last three hours or more. As a soccer mom newbie, nothing will help you make friends faster than sharing a bottle of wine. (This insulated cooler fits an entire bottle of wine).
Oh, don't forget to hydrate!
Electronics
Obviously, you'll want your phone (fully charged) to take action shots of your child. You will also text, check social media, and check out Yelp reviews. I've also been known to bring my Kindle along. Shhh.
I keep track of our schedules on my iPhone. Luckily, some teams have their own apps that send change notifications. I just downloaded the Cozi Family Organizer app to help with the calendar. Have any of you tried it?
I read an interesting article about parenting and today's expectations regarding sports. Back in the day, you dropped your child off for an activity, ran some errands, and called it a day. Today, you sign up your child for a sport, get asked to volunteer as a coach, and attend every game, both home and away. My 8-year old son sometimes has three to five games a week. My children's schedules are completely overbooked and I have no one to blame but myself. Am I complaining? No. I love being a mom and I want my children to be happy. But, parenting is overwhelming and exhausting. You have to find your people and find your way.
To all the soccer moms and dads out there, have a great season!
Save
Save
Save
Save
Save
Save
Save
Save
Save
Save
Save
Save
Save
Save
Save
Save
Save
Save
Save
Save
Save
Save
Save
Save
Save
Save
Save
Save
Save
Save
Save
Save
Save
Save
Save
Save
Save