Since I got rid of cable about three years ago, I've used PS Vue to watch all of my television shows. PS Vue stands for PlayStation Vue, but no, you don't need a PlayStation to view it.
At the time, I believed it was the best provider on the market. It had a cloud-based DVR included in the price, which its competitor Sling TV did not. More importantly, it had all the channels I needed and more.
As cord-cutting grew in popularity, so did the choices of streaming services.
This month, I moved away from PS Vue to Hulu's live streaming service.
This post may contain affiliate links. See my disclosure policy for more information. Use this link if you're ready to try Hulu with Live TV now.
Why You Should Consider Getting Rid of Cable
Switching from cable saves me hundreds of dollars per year.
It all started with a landline I wasn't using with the exception of unsolicited phone calls. My FIOS plan cost me over $200 per month and that seemed ridiculous for what I was actually using–internet and very little TV-watching.
As you know, with cable television, you pay for tons of channels you're not actually watching.
It made the most financial sense to pay a provider for just one service, internet, and stream everything.
Remember, you'll need a Smart TV, Roku, Amazon Fire Cube TV, Amazon Fire Stick, Apple TV or another streaming device. You can find all these products here in my Amazon store. Personally, I use a Roku, Apple TV, and Fire Stick.
Today, There Are Now So Many More Streaming Services to Choose From
When I initially made the switch, few options existed. But now, you can pick from DirectTV Now, Sling TV, YouTube TV, Hulu, or PS Vue. CNET does an excellent job at breaking down each provider, along with prices, and available channels.
Subscription Plans are Tailored to your Viewing Needs
Each streaming provider offers its own individualized packages.
Find the one that best suits your needs. Do you have children? Are you a sports fanatic? Do you want international shows?
I mainly watch the network channels, Bravo, CNN, or HGTV.
A La Carte Viewing
For whichever provider you choose, you pay monthly. Since you aren't locked into a yearly contract, you have the ability to leave, like I just did, at any time with a click of the button. No phone calls. No chats. Just go to Manage Your Account and cancel. If for some reason, you want to go back, just change your online settings.
You add premium accounts separately, like HBO and Showtime separately. If you're like me, you have certain shows that you binge on and once they're over, you don't need that channel anymore. Again, with a click of a button, you can put your account on hold until the show returns or cancel it altogether.
You can find out more about how and why I switched from cable to PS Vue.
Watch Anywhere
Streaming your shows through the internet is much more convenient than traditional television or cable.
You can view your shows on most devices. I often stream via my iPhone while doing housework, like loading the dishwasher or folding laundry.
When traveling, bring your shows with you without any equipment by viewing them on your device or laptop.
Finally, it's so easy to search for a show and also record it, using the app on your phone. The days of calling someone at home to record a show for you are long gone.
Reasons Why Switching to Hulu TV was the Obvious Choice:
It's the same price as PS Vue
It includes original programming that PS Vue does not have
It has 11 more channels than PS Vue, including the History Channel, Lifetime, and Turner Movie Classics
I'm saving money since I no longer have to pay Hulu a monthly fee to watch The Handmaid's Tale and other shows
50 hours of DVR that does not expire unlike PS Vue's which only stays in the cloud for 28 days. If 50 hours is not enough for you, you can upgrade
Note: You can only stream Hulu with Live TV on two devices at the same time but again, you can upgrade if it doesn't fit your needs.
Pin this for later!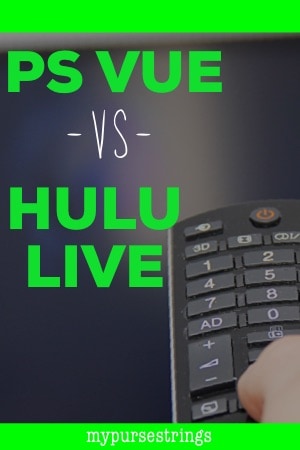 What Does Hulu Live have that PS Vue Doesn't?
Despite my PS Vue subscription, I've been subscribing to Hulu for a while, along with Netflix, HBO, and Amazon Prime.
Why? I am a huge fan of The Handmaid's Tale, an exclusive Hulu original program. Usually, as I said above, I cancel it once the season ends and add it back just when it returns.
I also like Hulu to catch up on past seasons of Younger. Ironically, while Hulu while you can stream older episodes exclusively on Hulu, you can only watch it on TVLand, a channel unavailable on all of these streaming networks. Of course, you can also purchase almost any newer series on iTunes).
My kids find Hulu easier to navigate and like the options of shows and movies. Hulu also airs most shows the following day after it aired, so you don't need to remember to DVR it or look for it on-demand. It's an easy interface.
Hulu costs $5.99 per month with ads or $11.99 per month ad-free, which quickly adds up. But if you switch to Hulu with Live TV, you get the same channels as PS Vue and more plus all of Hulu's original programming.
Why Didn't I Switch from PSVue to YouTube TV Instead?
It comes down to price. At $50, YouTube TV costs $5 more than both Hulu with Live TV or PS Vue ($45).
YouTube TV also offers 64 channels vs. Hulu's 58 and PS Vue's 47. But other than a few sports channels that I personally don't need (MLB Network, NBA TV, and Tennis TV–PS Vue does offer it for an upcharge), the channels are pretty comparable among the three.
Check out these Related Cord-Cutting Posts:
I Got Rid of Cable and the Kids Survived
10 Binge-Worthy Shows to Discuss with your Girlfriends