I remember the day my future husband and I decided to get a dog. Sitting outside at one of our local brunch spots, we seemed to be the only couple without a pup. Casually mentioning that I wanted to get a dog one day, he suggested that we get one together. It didn't take long for me to tell him about my dream dog, the French Bulldog.
At the time, hardly anyone had a French Bulldog, not even in Manhattan. Gasp. Nor did people even know what one looked like. I first learned of the Frenchie years before, when flipping through a magazine, I found a photo of a celebrity and his pet French Bulldog. It was love at first sight for me.
And, so soon after, we got this guy: Baxter, the coolest looking dog who ever lived.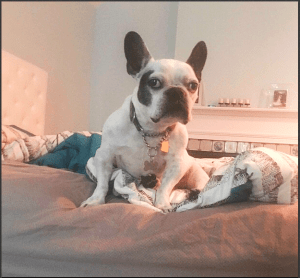 People stopped us on the street daily. Passersby called out his name, without knowing mine. He was a celebrity magnet and a celebrity in his own right.
The Frenchie Becomes the It Dog
Flash forward to more than a decade later and the French Bulldog is everywhere: on clothes, bags, movies. This year, the French Bulldog is expected to take the top spot as Britain's most popular breed, with a staggering 3,104 percent increase since 2007 (one year after we got Baxter) and continues to be the most popular breed in New York, where I live.
When our poor dog passed away this year, we knew it was only a matter of time before we got another French Bulldog.
Trusting the Wrong Breeder
If only, it were as easy as that.