*Note: This post was originally posted in March 2016 and has been updated to reflect accuracy and new product information. Scroll to the bottom of this post to see all the most recent updates.
When I joined a gym as a mom, my priorities changed: I needed daycare and I needed a shower. Motivation in place. Little did I know that my son's poop, cries, and attempts to escape would interrupt my routine almost on a daily basis. My new mom friends invited me to take spin classes with them, but between the coaches shouting out mysterious numbers and the coordination involved, I kindly declined; spin was more than my foggy-mom brain could handle at the time, so I stuck to my elliptical, yoga, and Zumba classes. This pre-dated the Soul Cycle invasion of New York, before cadence and tap-backs became part of the everyday jargon.
By the time my son learned to love the gym, I was pregnant with baby #2. Luckily, my little girl eased into daycare and I soon realized after taking my first spin class that I had been missing out: with its trendy music and remixes blaring in a darkened room, let's face it, this was the closest I was getting to a night out.
At this same time, the condo I lived in had redesigned its gym, and I convinced management to add a spin bike. But what can you do with a spin bike and no instructor? I downloaded apps and watched YouTube videos, but no good solution existed at the time.
Fast-forward to the suburbs and a house with room for exercise equipment. One day, soon after we moved in, I scrolled down on Facebook and noticed that several of my friends had "liked" the One Peloton page, then called Peloton Cycle. I asked those friends about it, but no one had purchased a bike, yet everyone agreed it was a brilliant concept: a state-of-the-art bike with spin classes live or on demand. The bike, however, comes with a hefty price tag ($1995 plus $250 delivery, plus a $39 per month subscription).
The Peloton App
*Make sure to check out all recent updates at the bottom of this post.
After gawking at the price tag again and doing the math, MacGyver kicked in. I downloaded the Peloton app to my iPad, free at the time, and investigated.
Currently, Peloton offers more than 8,000 on-demand rides, ranging from 5 minutes to 90 minutes. Additionally, you can find about eleven live classes on any given day, beginning at 6:00 am and as late as 8:30 pm. You can also take Encore Rides, basically "live" re-airings of rides. My favorite rides are Rock Rides, 80's rides, HIIT and Tabata. A cool new feature allows you to search on-demand rides by playlists. Beyond the Ride includes live and on-demand yoga classes, stretching, toning, and strength classes.
After reading review after review on my trusted Amazon.com, I found a spin bike with few bells and whistles, yet hundreds of recent positive reviews. Two years later and I have no complaints.
Note: as an Amazon affiliate, I get a small fee whenever you make a purchase from one of my links. I only write about products I use and love. For a concise list of all products mentioned in this blog post, you can go directly to my Amazon shop.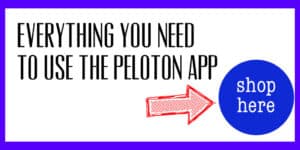 The Bike