A Novel by Laurie Frankel
Pages: 338
This post contains affiliate links. See my disclosure policy for more information.
Get a copy of This Is How It Always Is here on Amazon.
WHY I READ THIS IS HOW IT ALWAYS IS
Our Virtual Book Club Facebook Group chose this book in an online vote. This book has been on my to-read list since it came out in 2017. The My Purse Strings Virtual Book Club ran from 2018 to 2020. What started as an outlet to discuss books and to motivate me to read has turned into a Facebook Group where we recommend our favorite books, discuss what we're currently reading, and I share the newest blog posts, product reviews, wellness tips, and more.

Check out my free downloadable Books Club Questions for "This Is How It Always Is" at the end of this post!
Discover what I'm reading, read product reviews, learn wellness tips, and more through the MyPurseStrings Favorite Things Facebook Group.
Looking to support local independent bookstores? Find out how here on Bookshop.org and also get my list of book club picks so far.
What is This Is How It Always Is About?
This book tells the story of how a family deals when their youngest of five sons, Claude, would rather be a girl.
Rather than sharing this with the world, the family decides to keep it a secret.
While this is technically a fictional novel, the author, Laurie Frankel, has lived through this subject matter. She is the parent of a transgender child. You can listen to the NPR interview with the author here.
CLICK STRAIGHT TO THE EVENT & RSVP BELOW: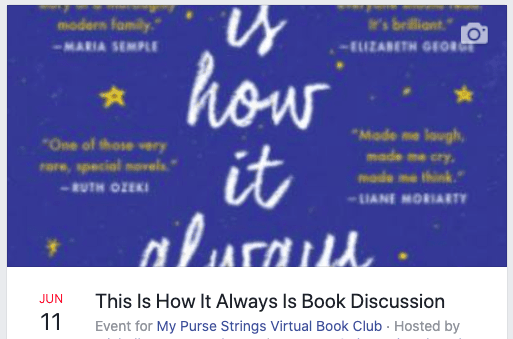 You can find all of these books and more in my Amazon Shop. Click below.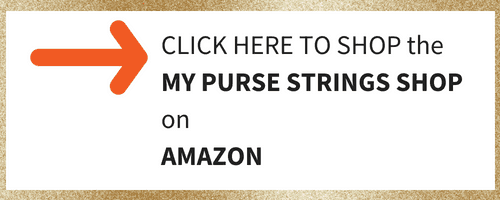 After the last discussion of The Seven Husbands of Evelyn Hugo, one lucky winner won a gift package inspired by the book:
Kendra Scott earrings: in Evelyn's signature color, emerald green.
You can also get them directly on Kendra Scott's website.
The second winner won a copy of this book This Is How It Always Is.
BOOK CLUB DISCUSSION QUESTIONS FOR THIS IS HOW IT ALWAYS IS
Use these questions with your own Book Club!
*Note, questions will post on the day of the event. You always have access to all past book club discussion questions (and more!) in our FREE Resource Library.
Related Book Club Articles:
How to Find a Book Club that's Right for You
The Great Alone: Book Club Questions
Educated, A Memoir: Book Club Questions
The Book Woman of Troublesome Creek: Book Club Questions
The Ultimate List of Books from A to Z