When we lived in a city, my kids went to the playground daily. In my stroller basket, you could always find the essentials: helmets, sidewalk chalk, bubbles, and balls. Then we moved to the suburbs, a somewhat rural suburb, where we no longer walk to the park, and kids ride in cars and buses. Would our playground toys gather dust in our new home? Happily, minus the stroller, my city kids have stuck to their roots. And yes, our first big purchase for the house was a swing set.
*Note: As an Amazon Affiliate, I receive a small percentage when you make a purchase through these links. I research my posts extensively and only write about products that I use and truly love.
Top 5 Favorite Outdoor Toys for Kids: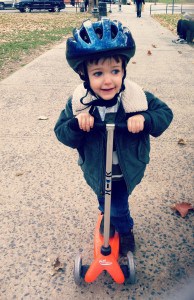 Scooter: City mamas take their scooters very seriously. They research, compare, and as a result, they all have the same model: the Mini Micro Kick scooter. By the age of two, most city kids use a scooter as a method of transportation. The Mini (ages 2 to 5) and Micro Maxi Kick (ages 5 to 12) scooters remain some of the best purchases I have ever made. Used almost daily for more than five years, these scooters are virtually indestructible. The three rubber wheels keepeven your youngest child balanced and the handlebar allows for easy steering. When they first learned to use the scooter, my children dragged a foot to slow down, but soon mastered the back foot brake. The Mini and Maxi are essentially the same scooters, except the handlebar raises on the Maxi, so if your child is on the taller side or close to age 5, I would just go ahead and get the Maxi. We also have the Razor, a two-wheeled scooter, but I outlawed it in our household for years. With only two wheels, my son, an expert scooter at the time, fell forward more than once as the tiny wheels do not glide over bumps and cracks very well. Only recently, at the age of seven, does my son feel really comfortable on it. Given a choice, he still chooses the Maxi Kick scooter. Although both the Mini and Maxi Kick scooters cost more than many of the scooters on the market, there is no comparison to the quality, safety, and maneuverability that you get with this brand.
Balance bike: Once I learned about the benefits of balance bikes, I was determined that my kids would never use training wheels. A balance bike teaches your child to balance, steer, and ride without pedals. By the age of four, my son could cruise for miles on this wooden balance bike. At age five, in under ten minutes, he learned to ride a two-wheeler without training wheels. When I say ride, I mean he was seriously riding, as if he had been riding for years. No fear. No learning curve. No stopping him. Furthermore, my nephew used training wheels for months but once his dad switched him to a balance bike, it was only a matter of days until he learned to ride a two-wheeled bike on his own.
Chalk: I love the simplicity of sidewalk chalk. From the time my kids learned to proudly make lopsided circles to their current silly messages and life-size creations, chalk continues to foster creativity and bring happiness. Just when my kids seem ready to pack it in for the day, suggesting that they play with chalk usually extends our outdoor time by at least twenty minutes. For kicks, I purchased this pencil chalk holder last year. My kids use it often, sharpening their chalk to a precise point and erasing their mistakes with the mock pencil eraser, making this toy well worth the ten bucks I paid for it. I also recommend the Crayola 3D chalk set. Wearing special 3D glasses, your child's drawings will jump off the pavement. It works surprisingly well.
Giant Bubble Wand: I don't know who is more wowed by these bubbles, my kids or me. This fabric loop bubble maker easily creates bubbles the size of your children. When you think your children may have outgrown bubbles, think again.
Stomp Rocket: My kids and their friends never tire of this toy. Simply stomping on the launch pad sends styrofoam rockets up if not to the sky, at least to the tops of our tallest trees. This makes a great gift for easy, affordable fun.
Nothing makes me crazier as a mom than having my children sit inside on a sunny day. Most importantly, these toys either inspire creativity and wonder or just get my children moving, burning off excess energy. Now, if we could only get this spring to warm up!
What are your children's favorite outdoor toys? Please add to the list.
Save
Save
Save