When my kids' birthdays and the holidays approach, I assess: What do we need? What can we donate, trash and sell? (see my post on selling on eBay). Where are we going to put everything!? And think to myself, wouldn't it be nice to find some extra money laying around?
Turning your Change into Money or Gift Cards
It's hard to imagine sometimes how easily those coins sitting on your dresser, in your car cup holder or in the bottom of your purse, can add up. As children, we delighted in filling up our piggy banks, and had such a thrill emptying it, counting all of our money. Yet, as adults, and especially in our credit and debit card world, we treat coins with little respect. I use them here and there, but mostly they scatter themselves around my home.
So, like many of you, I had walked by the Coinstar kiosk in my local supermarket on a regular basis for years, paying it little attention. And, I always assumed that Coinstar charged a huge fee.
If you choose to exchange your coins for cash, Coinstar charges you a fee of almost 11 percent. However, if you choose to exchange your coins for one of their e-gift cards, there is zero fee.
So one day, I loaded our loose change jar, too heavy to carry, into my stroller and wheeled it to the nearest kiosk.
When prompted for directions, I chose to exchange my coins for an Amazon e-gift card (this should be no surprise to my readers). I could have also selected Starbucks, iTunes, and other options.
So how much did I make out? I could not believe my eyes. After Coinstar counted all my coins, the machine printed out an e-gift card receipt to Amazon for over $500.
After completing the transaction, you get a receipt with a redemption code that you must enter onto Amazon's website.
Every few months, I took a stroll to the supermarket and exchanged my coins. What started as an extra incentive for me to tidy up soon became an outing and activity for my children. One by one, and I do mean one by one, my children dropped the coins, completely fascinated as the mysterious machine swallowed them whole. Each time, I amazed myself with my "winnings."
Trade Unwanted Gift Cards into Cash
Although not as easy to find, Coinstar also operates gift-card exchange kiosks for cash. Click here to access a list of these Coinstar exchange locations. This is a newer program so hopefully, it will expand its reach. Unfortunately, there are none conveniently located to me.
Over the years, I have had so many gift cards that I knew I would never use or otherwise, I lost them before I remembered to use them. How brilliant that I could have traded them in for cash at a Coinstar kiosk.
For a list of gift cards accepted, click here. Note, this is not an even exchange; Coinstar makes you an offer and you may either accept or reject it. And, gift cards must be worth at least $20.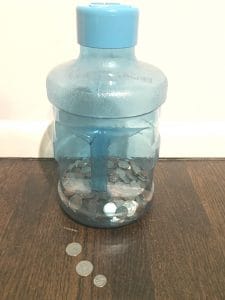 I'll be bringing this jar to my nearest Coinstar this week. I'll let you know how I make out. As always, I appreciate your comments, shares, and follows on social media.
Save
Save
Save
Save
Save