Introducing our first My Purse Strings Virtual Book Club selection.
Small Great Things by Jodi Picoult
Pages: 481
This post contains affiliate links. See my disclosure policy for more information. While you don't have to purchase the book through my links, I appreciate it when you do.

Why We Selected SMALL GREAT THINGS
I chose this book to launch our book club for a few reasons. Jodi Picoult's books are easy reads with believable, developed characters and storylines. Yet, her books cover real-life dilemmas, ethical and controversial situations. In other words, these books make you think and stay with you long after you've finished reading. And, you'll want to talk about it with someone.
This book made its debut at #1 on the New York Times Best Sellers list and has over 7,000 glowing reviews on Amazon.
Julia Roberts and Viola Davis will star in the upcoming film. I would love to compare the book to the movie with you all when it comes out!
Check out my free downloadable Books Club Questions for "Small Great Things" at the end of this post!
To join our Facebook Group, click below. Each month, we select a new Virtual Book Club book to discuss. It's also a great place to chat about and recommend books.
What is SMALL GREAT THINGS About?
I don't like to know too much about movies or books before I read them, just enough to give me an idea of whether I will enjoy it or not. After all, I only have so much free time and I don't wish to waste it.
This book deals with racism, and everything that comes along with it: "privilege, prejudice, justice, and compassion." In fact, the title comes from a Martin Luther King Jr. quote: "If I cannot do great things, I can do small things in a great way."
It begins with the birth of a boy, whose parents, white supremacists, refuse to allow a skilled African American nurse to touch their child. The child later goes into cardiac arrest with the nurse in the room. It is what happens or does not happen that is the scope of this novel.
HOW TO PARTICIPATE IN OUR VIRTUAL BOOK CLUB DISCUSSION OF SMALL GREAT THINGS
*Note, as of May 2019 all future discussions have been moved to our Facebook Group.
2. RSVP TO THE EVENT
(NOTE: If you missed the meeting, don't worry. You can still join in the conversation. Scroll down at the end of this post for a transcript of our chat and join in on the conversation).
Share this with your friends and family. I'm excited to finally participate in a book club with friends all over the country and even overseas.

Once announced, all My Purse Strings Virtual Book Club books will become available on my Amazon shop.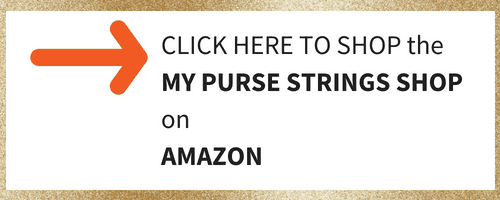 SMALL GREAT THINGS BOOK CLUB DISCUSSION
If you couldn't make it to the Virtual Book Club meeting, I've provided a transcript below. Click on the blue Facebook icon in the corner to check out our discussion. Please add your own thoughts to keep the discussion going.
DOWNLOAD THE BOOK CLUB DISCUSSION QUESTIONS FOR SMALL GREAT THINGS
Don't want to join us virtually? Use these questions with your own Book Club!
Get access to our FREE Resource Library with printable book club discussion questions from past books, and much more!
Check out our 2nd book selection!
RELATED BOOK CLUB POSTS:
The Book Woman of Troublesome Creek
The Ultimate List of Books from A to Z