I know this sounds like an overpromise but believe me when I tell you that this inexpensive Revlon One-Step Hairdryer changed my hairstyling routine forever.
I don't have easy hair. It's certainly not wash-and-go so most days, I throw it in a ponytail and forget about it. Unless I'm willing to spend a long time on it, wearing it down is hardly an option.
It's long, coarse, and wavy (a more accurate description is frizzy) hair. I have the kind of hair that a salon blocks out more time to do. It's the type of hair that another stylist calls over an associate to help her out when drying my hair. Every salon recommends Keratin to me.
Two summers ago, I discovered this Revlon brush and I wanted to share with you why it's one of my most favorite purchases ever.
*Note: This post was originally posted in 2018 and has been updated to reflect accuracy and new product information.
This post contains affiliate links. See my disclosure policy for more information.
Scroll down to the end of this blog post to sign up for my weekly email, where I share more of my Favorites, a curated Kindle book deal list each week, my newest blog posts and more.
What is the Revlon One-Step Hair Dryer and Volumizer?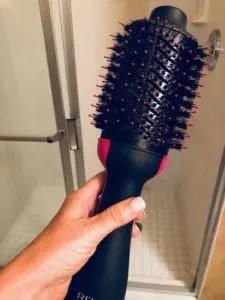 The Revlon One-Step hairdryer dries and styles at the same time. Unlike other hot brushes like the Baby Bliss which I also own, this one doesn't spin. I prefer the Revlon.
What I Like Most About the Revlon One-Step:
Dries and styles: this device gets hot. Some may complain it gets too hot, but don't keep it one place for too long and always use a heat-protectant spray. There's also a cool button at the end to set it.
Oval shape: the brush is oval in shape. I guess if I wanted volume, I could achieve that with the Revlon (I don't). Instead, the oval brush allows me to straighten and dry my hair, with sleek results. You can easily flip your ends under or out.
Smoothes the back of your hair: no matter how hard I try, I can never get good results on the back of my hair with a regular blowdryer and brush. The Revlon brush smoothes every part of your hair.
Time: this brush has cut my styling time in half.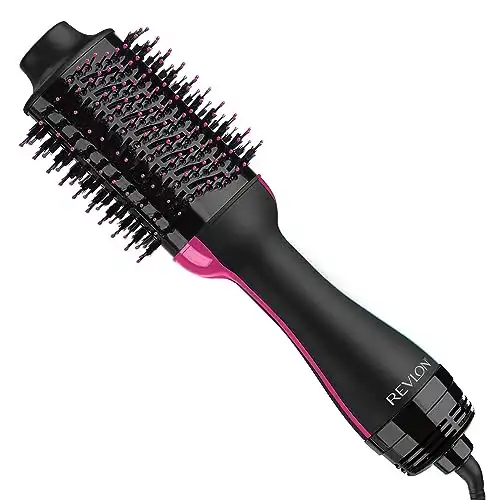 Revlon vs. Dyson
I first heard about the Revlon One-Step Hair Dryer and Volumizer in a Facebook Group where there were threads upon threads about the Dyson Hairdryer.
I'm sure the Dyson is amazing . . . but it's 400 bucks. And the newer Dyson Air Wrap is over $500. (Tip: read this blog post on 13 Ways to Save on the Dyson AirWrap).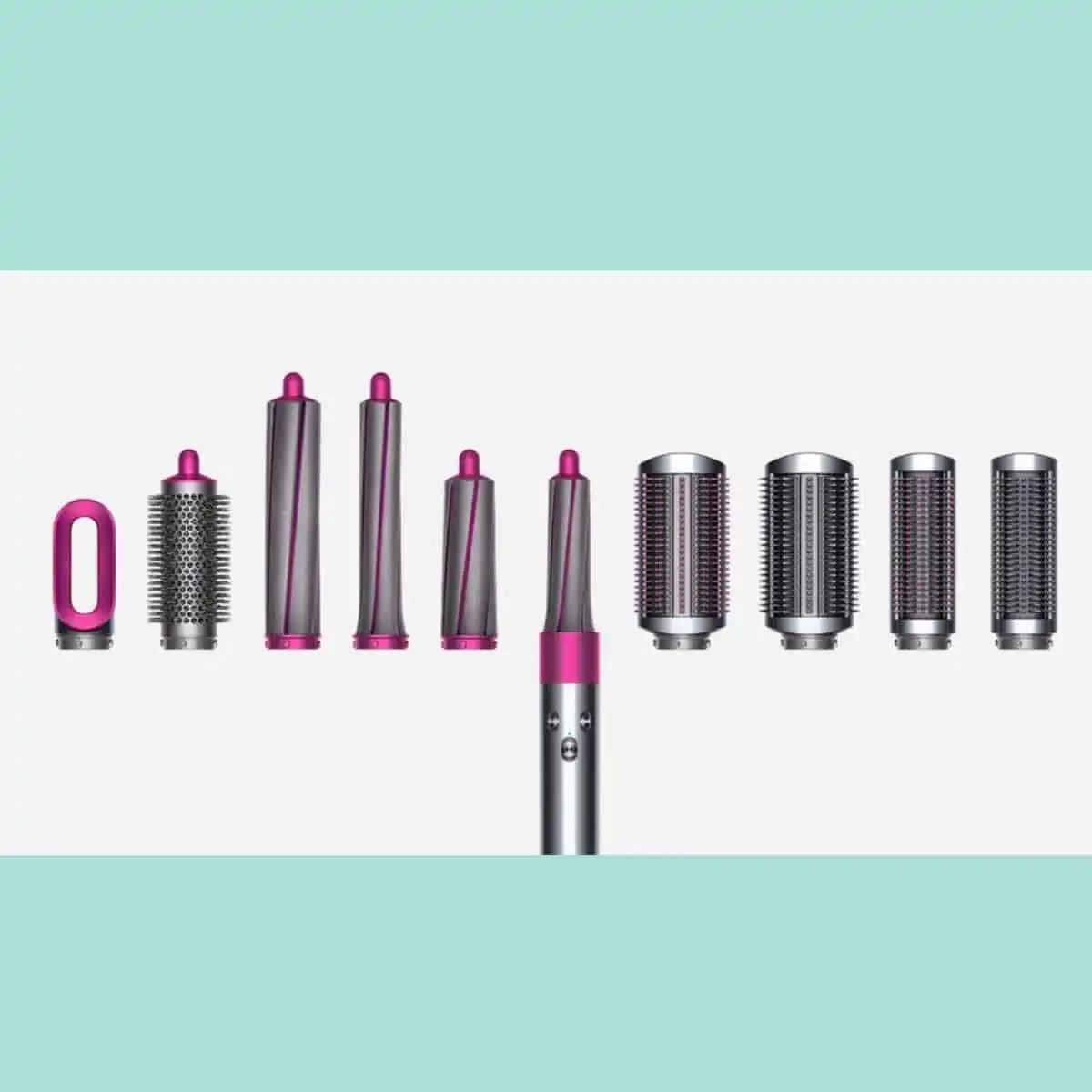 I ordered the Revlon immediately, although the term volumizer scared me a bit. Since then, thousands of women have shared their results on that Facebook group. It's honestly amazing.
Amazon prices fluctuate but I do find them to have the best prices on this product. If you subscribe to my weekly email, I usually let you know when it goes on sale and also, share some other of my Friday Favorites with you.
Tip: There are a lot of copycats out there. Make sure when you search on Amazon, that you do so by brand name. Also, check all the color choices. Currently, the mint version is selling for almost double the price of the standard black.
Does the Revlon One-Step Hair Dyer Actually Work?
Yes! Check out the almost 300,000 Amazon reviews
This was my hairstyling routine before the Revlon:
I had pretty much given up on getting good results from a brush and hairdryer alone. This was my routine: towel dry, dry my hair with a blow-dryer and finish up with my Babyliss spin brush (yes, it spins but it does not actually dry my thick hair). Then, I would follow up with either a flatiron, curling iron, or both.
This took about 45-minutes of active styling by me. I usually stopped after a bit of blowdrying and let it air dry for a while, and then returned to my styling products and repeated the process again.
My arms grew tired and I lost patience most of the time about halfway through. And still, the back of my hair never looked sleep and straight.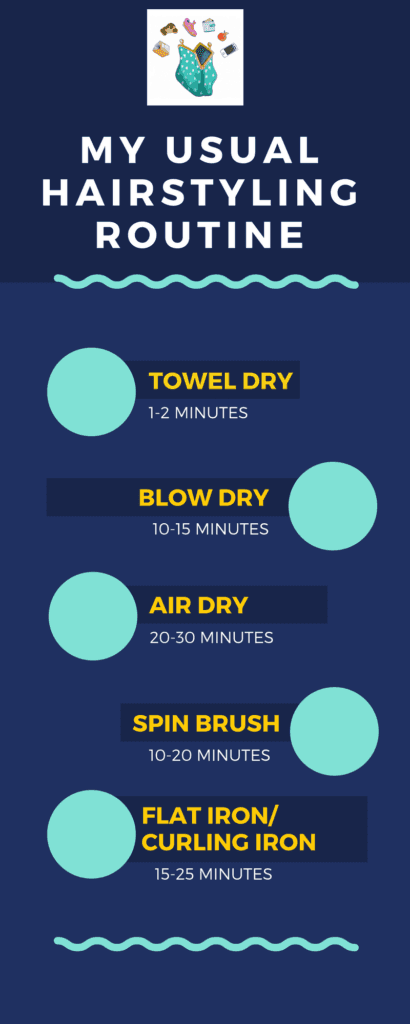 A Step-by-Step Hairstyling Routine with the Revlon One-Step Hair Dryer
Towel dry my hair
Dry the roots for a few minutes with a regular blowdryer
Use heat protectant on my hair. My favorite two are this spray (a little goes a long way) and this lotion (it smells so good).
Clip my hair into small sections. I like these kind of clips.
Run the Revlon brush down each section of hair several times. (I have a lot of hair so I need high heat). It takes about 1-2 minutes to fully dry each section.
Once complete, I add an anti-frizz styling product. Living Proof makes a great one. (Also on days when I don't wash my hair, I use their dry shampoo, even after sweaty workouts).
Optional: use flat iron or curling iron to finish, although this is usually totally unnecessary.
The Revlon brush not only gets much hotter than my spin brush, but it blows the hot air like a hairdryer would.
It has three settings: high (needed for my hair), low, and cool. For my last step, I've used the cool setting and my hair appears shiny and tame.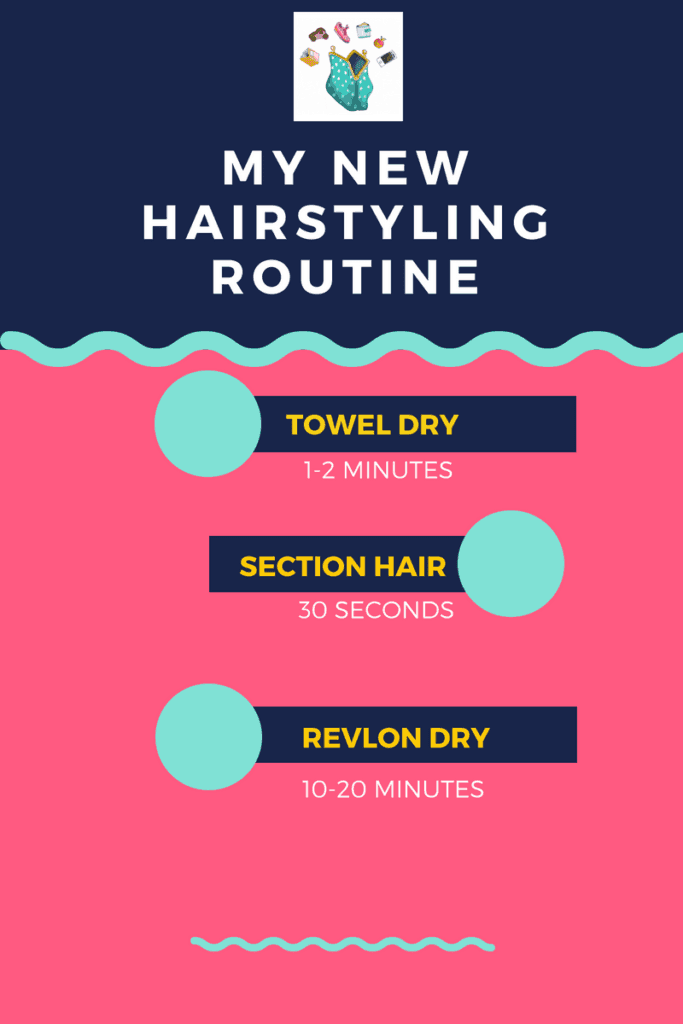 The New Updated Revlon One-Step Volumizer Plus 2.0
Although I don't own this model, I went away for the weekend with a friend and she brought the new Revlon Plus along so I got to see it in action.
Revlon Plus 2.0 vs. Original Revlon One-Step Brush
Revlon added many new features to the Plus 2.0 including the following:
Detachable brush head for storage and travel
Smaller brush head size so you can get closer to your roots (this is a big improvement)
Slimmer handle for better control
4 heat settings (low, medium, high, and cool) vs. the Original Revlon's 3 settings (low, high, cool)

one big complaint about the original Revlon One-Step is that it gets very hot. This medium setting will make a lot of people happy.

Stronger motor. Revlon claims it has a 40% longer life
Pros and Cons of Using the Revlon One-Step Hairdryer and Volumizer
Revlon Plus 2.0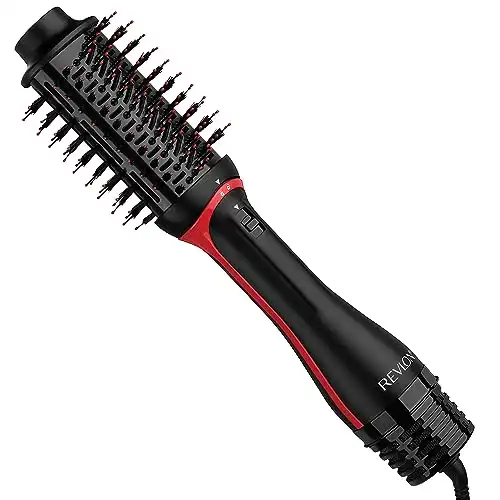 Pros:
Time-saver
Sleek results
Does not require coordination or skill normally associated with styling hair
Cons:
Louder than my usual hair dryer
Brush gets very hot. I recommend a heat protectant. (Note, the new Revlon Plus 2.0 has a medium setting).
Pulling on wet hair could possibly damage hair. Drying hair at the roots with a regular blowdryer helps to minimize any damage.
Real-life Results
My daughter's wavy hair dried and straightened in under 7 minutes!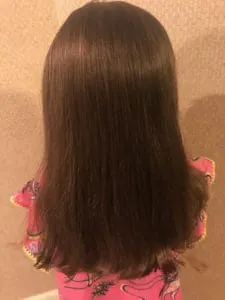 My Revlon Selfie: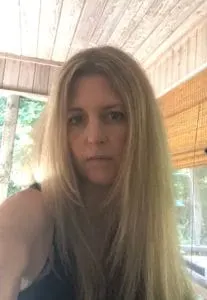 After creating the video below, I went to a new hair salon to get my much-needed color done. For the first time ever, I walked in with a better blowout than I left the salon. I could not get over how good my hair looked.
Check out my Revlon One-Styler video: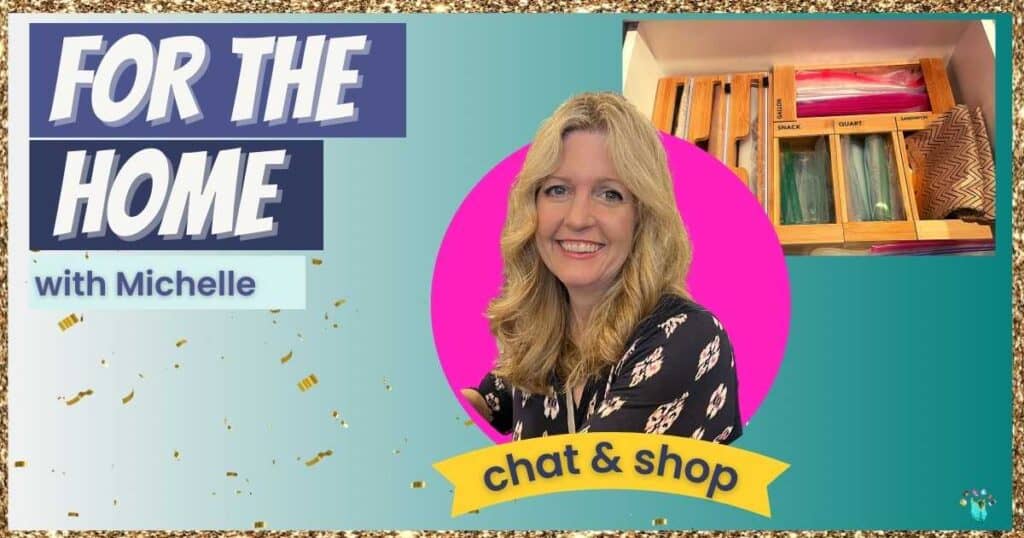 Sign up below to get free access to my Resource Library where I share more tips and other product reviews.
If you've used this brush, please share your thoughts and/or photos below.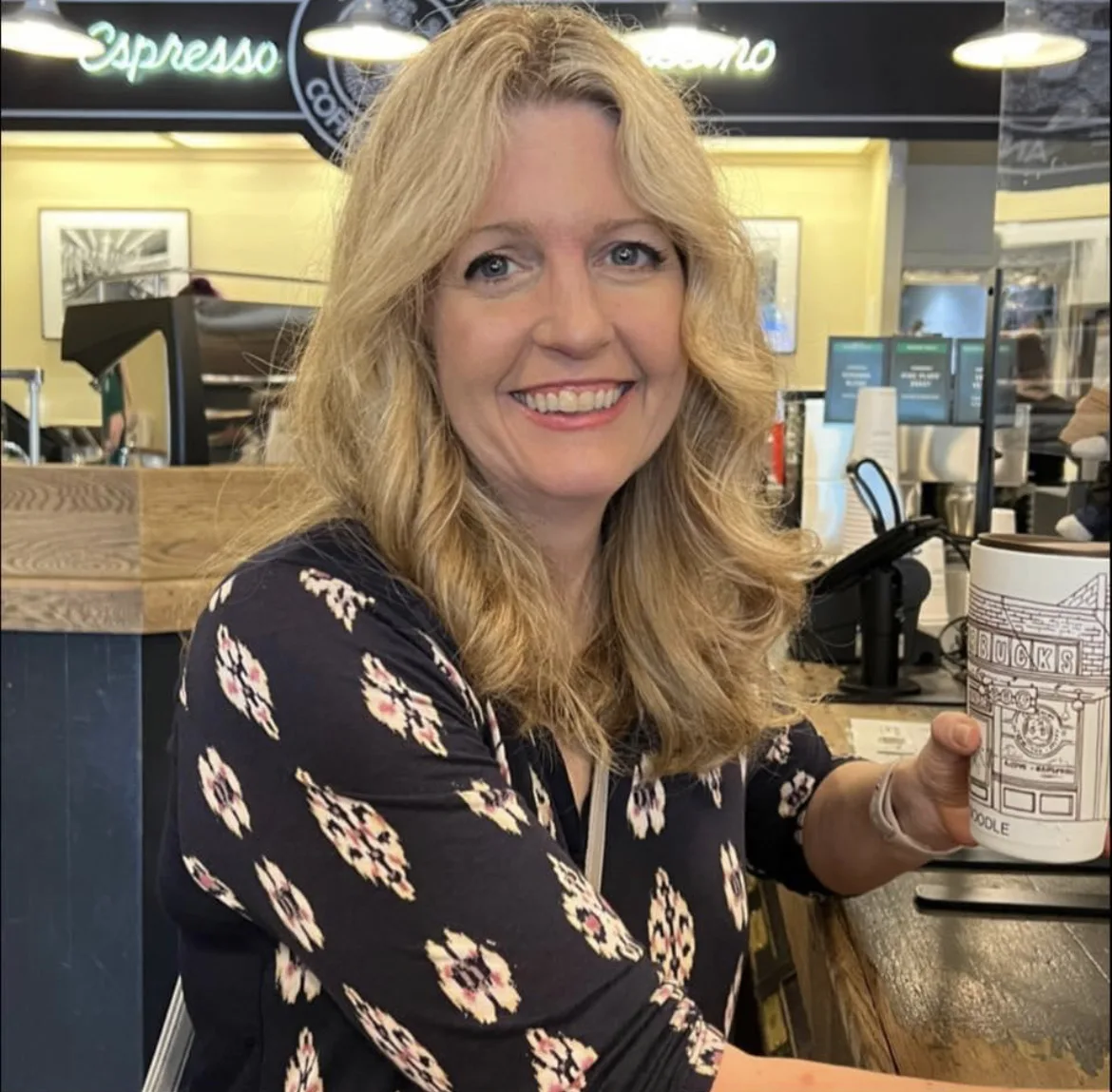 Michelle Platt is a former attorney and teacher who loves to do the research so you don't have to. She takes a deep dive into each topic and writes about her wellness journey here. She loves trying out new workouts and products to share with you. She is currently completing her personal training certification. This native New Yorker recently made the move to the suburbs of Minneapolis, where she lives with her husband, two kids, and two dogs.