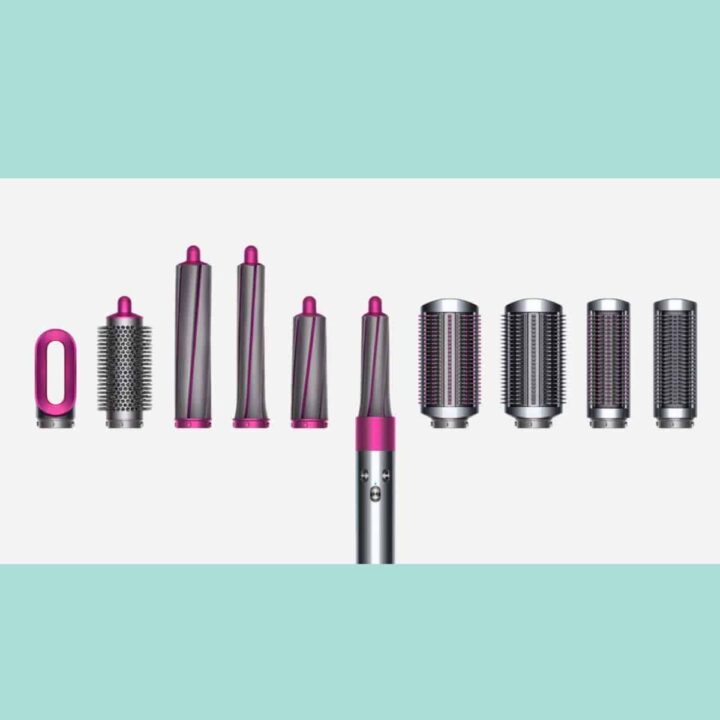 There's no other way to put it: the Dyson AirWrap is a splurge. For the last two years, I've been obsessing over this luxury hairstyling product. I'm not kidding when I say that I've probably wasted about 20 hours watching YouTube videos of beauty vloggers styling their hair. They convinced me to buy it but until today, I could not commit to purchasing it.
As I like to say, I do the work so you don't have to.
I've researched every which way to save money on the Dyson AirWrap and here are my results. And the beauty of this (no pun intended) is you don't have to wait for it to go on sale or have a promo code, both of which are very unlikely to occur.
This post contains affiliate links. See my disclosure policy for more information.
Note: availability, pricing, promotions, and shipping information subject to change.
Use the Table of Contents below to help you easily navigate through this blog post.
What is the Dyson AirWrap?
The bestselling Dyson AirWrap Styler allows you to dry and style hair simultaneously. Besides saving time, it causes less damage to your hair. My other hair tools get to temperatures well above 400 degrees Fahrenheit but the Dyson AirWrap will never get hotter than 302 degrees Fahrenheit. It uses something called the Coanda effect to attract and wrap hair without excessive damaging heat.
Like its predecessor, the Dyson Supersonic Hair Dryer, the AirWrap uses a revolutionary technology called intelligent heat control to prevent extreme heat damage. (This is also true for the company's newest hair styling tool, the Dyson Corrale hair straightener, its flat iron).
Dyson also uses a V9 digital motor in its hairdryers which claims to dry hair 6x faster but also weighs 1/3 less than other blowdryers.
How much does the Dyson AirWrap cost?
If you want the Complete AirWrap Styler set with all available accessories, you're going to spend $549 plus (not including tax and possibly shipping).
Do you need the Dyson AirWrap?
Of course, you don't need it. Don't forget this is a luxury item. You've lived without it your entire life and survived. But it's obviously a pretty unique product if I've been dreaming about it for years. And, if you need proof, check out this blog post I wrote a few years ago. And this one too.
I have thick, big hair. It's inconsistently wavy, frizzy, and coarse. Most days, I throw my hair into a ponytail or messy bun and call it a day.
When I take the time to do my hair, it's a process. I try to air dry it as much as possible, dry the roots with a blow dryer, usually run the Revlon One-Step Hair Dryer through it (especially for my fringe and the back), then either use a curling iron, flat iron, the Chi Spin N Curl, sometimes touch up the Babyliss Pro rotating hot air brush, or a combination of all three. That's a lot of heat on my head.
Which accessories does the Dyson AirWrap Hair Styler come with?
Choose between these two AirWrap colors: (1) fuschia and nickel, or (2) black and purple
The AirWrap Complete Styler includes:
an attractive storage case
a pre-styling dryer: mainly used to dry roots. You want damp, not wet hair. (On its own, this hairdryer would not fully dry my hair).
a round volumizing brush: similar to Revlon. I do not need more volume in my hair so I likely won't use this attachment.
a firm smoothing brush: to straighten your hair without the frizz.
a soft smoothing brush: gentle on your scalp, also used for straighter styling.
1.2 inch AirWrap barrels
1.6 inch AirWrap barrels
non-slip mat
filter cleaning brush
There is an option to buy an AirWrap Complete set with longer barrels (more on that in a bit) directly from Dyson. It comes with everything mentioned above but instead, the 1.2 and 1.6-inch barrels the longer ones. I will warn you, it's usually out of stock.
Do you need additional Dyson AirWrap accessories?
Depending on your hair type, the answer may be yes. After watching endless videos and knowing my hair, I decided that I should purchase the longer barrels (ughh, I know).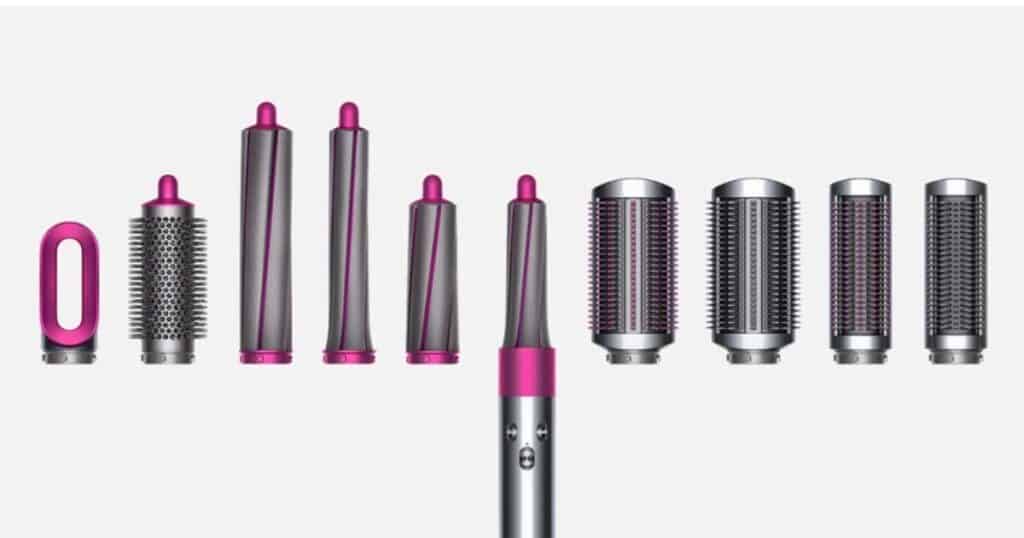 If you go onto Dyson, you can take a quiz to determine which AirWrap accessories you need. Go to "customize your styler." It will ask you about your hair type, the length of your hair, its thickness, and how long it holds a curl. My answer: wavy hair, collar bone to chest, very little (my curls and waves drop out within an hour), and very thick.
Every time I get a blowout, I warn the stylist that my hair will not stay. "Oh yes, it will," they say as they add some magic lotion or spray. The next morning I wake up to smoother hair for sure, however, I always must redo the front of my hair which has gone back to its normal wavy self.
I have no grand illusions here. I think my hair will require some work the next day no matter which barrel I choose.
Dyson Long Barrels
If you have long, thick hair as I do, you likely will want the long attachment barrels. They come in the following sizes: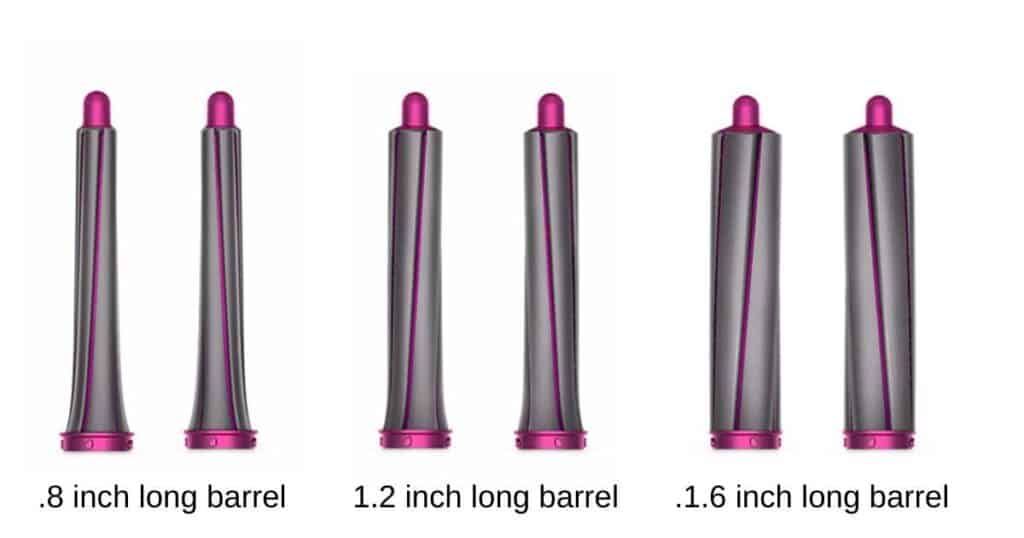 These are 50 percent longer or about two inches longer than the standard Dyson AirWrap barrels.
As of now, Dyson is the only place where you can purchase an AirWrap Complete set that includes the longer barrels (1.6 inch and 1.2 inches) but not the .8 inch barrels.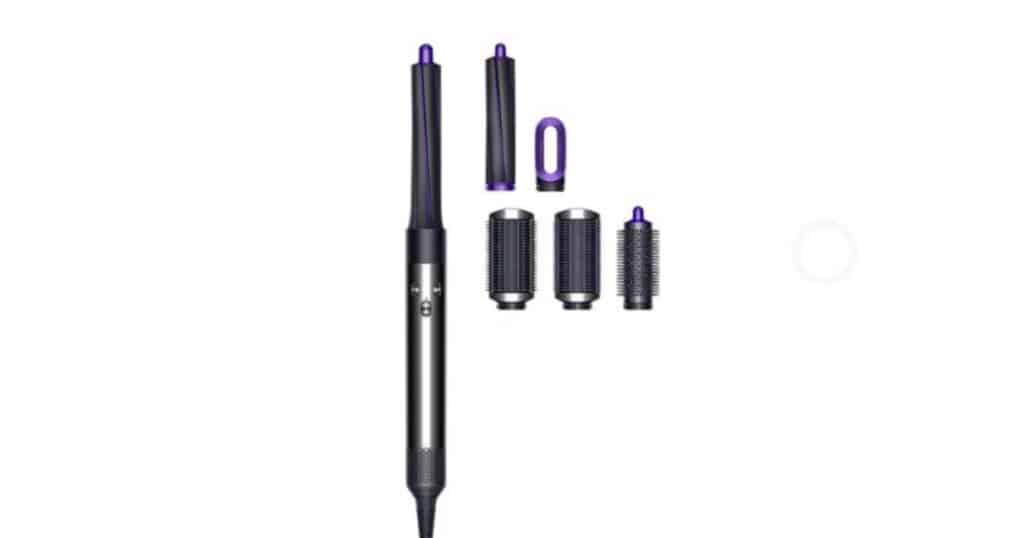 Otherwise, you'll have to purchase the longer barrels separately for $39 a set. It comes with two because you use a different barrel attachment depending on which side of your head that you're working on. One barrel twists one way (indicated by an arrow printed on the barrel) while the other twists your hair the other way.
I decided to order both sets of longer barrels (the 1.6 and the .8 ones) as I'm not sure which look I'll like better. With the 1.6, you get the typical Dyson AirWrap bouncy waves and with the .8 inch barrels, you'll get a tighter curl that supposedly lasts longer.
Sign up below to get my Friday Favorites email, with the newest blog posts, favorite wellness products, and more. Plus, get access to the Free Resource Library.
Ways to Save Money on the Dyson AirWrap
Now that you've decided that you want the AirWrap, here are some ways to save some money.
Dyson Outlet
Yes, Dyson has an outlet.
Pros:
Their certified refurbished AirWraps come with either a six-month or 1-year Dyson warranty
Inspected by Dyson
Contains all genuine Dyson parts
Free shipping
Big savings

Save $100 on the AirWrap Complete, down to $449
Save on the Smooth and Control AirWrap Styler down to $429.99

includes only the firm styling brush, and not the volumizing or soft smoothing brush
includes both the 1.2 inch and 1.6 inch barrels

Save on the Volume and Shape AirWrap Styler down to $429.99

for fine, flat hair
includes both the volumizing and soft smoothing brush
includes the 1.2 inch barrel but not the 1.6

Note: it appears you can currently only get the Smooth and Control AirWrap and the Volume and Shape AirWrap in the Dyson Outlet
Cons:
Final sale: no refunds or exchanges
Sometimes out of stock
Not everyone loves the AirWrap and expect a learning curve so you'll be stuck with this item.
Dyson Owner Rewards Savings Event
Did you know that Dyson has its own loyalty program?
If you own a Dyson product, be sure to register it. Then call to set up a My Dyson Web Account. This is another step you must do, even if you already have a login for the Dyson website.
This account gives you 20 percent off on select products. They rotate the products periodically and you will receive an email every so often notifying you of eligible products. When I called, the representative told me I just missed their sale on the AirWrap and she wasn't sure when or if it would return. I've been waiting a long time for it and finally gave up but maybe you'll have more luck than me.
However, they currently offer a 20 percent off on their Dyson Corrale straightener (flat iron).
Nordstrom Rack
One of my favorite stores, Nordstrom Rack, often sells refurbished Dyson AirWraps.
Pros:
Free shipping
Use your Nordstrom credit card and collect rewards or even better, apply your rewards to purchase
If you don't have a Nordstrom credit card, apply for one and receive a $60 bonus note
Cons:
These products come and go in and out of inventory
Not all models are available
Final sale: no returns or exchanges
eBay
There are two ways of purchasing an AirWrap on eBay:
Yet, another way to shop their outlet of refurbished products.
However, the following applies:
Free returns (this is a gamechanger)
Free shipping
Money-back guarantee
Often have additional coupons
Can have some cosmetic imperfections
(2) eBay Auction or Buy It Now
As with any eBay purchase, you can do really well bidding for an item or buying it outright.
As I mentioned before, the AirWrap is not for everyone. You can find an AirWrap that was hardly used or even brand new.
TIP: Always read descriptions carefully as some sellers like to call their off-brand stylers an AirWrap when it's really something else.
Sephora
Sephora offers free shipping for orders over $50 and they have curbside pickup. There are two ways to save on an AirWrap with Sephora:
1. Sephora Semi-Annual Sale
Usually held in late April, Sephora offers its members exclusive offers and a discount of up to 20 percent off in their Annual Beauty Insider Sale. In the past, this sale has included the Dyson AirWrap.
2. Sephora Rewards Program
Enroll in the free Sephora Rewards program as you can earn points towards future purchases like the AirWrap.
TIP: You can use Klarna to pay for the AirWrap in four interest-free payments.
Ulta Beauty
You can save on the AirWrap by either of these two methods. And, Ulta offers free shipping for orders $35 and over or curbside pickup:
1. Ulta emails and text alerts
Sign up for Ulta's emails to receive special offers. In the past, this has included 20 percent off coupons that can be used on a Dyson AirWrap.
2. Ulta Beauty Ultimate Rewards Program
Similar to Sephora's program, Ulta Beauty also has its own Ultimate Rewards program. Get up to $125 off if you accumulate 2,000 points. Ulta encourages you to splurge and save these for their coveted products like the AirWrap.
Best Buy
Shop for electronics often? Sign up for the free Best Buy Rewards program. No credit card is needed. Accrue points for future purchases like the AirWrap.
They've also had Black Friday sales that include the Dyson AirWrap and will email members exclusive savings deals and promo codes.
QVC
While QVC doesn't usually have a deal on the AirWrap, they sometimes include additional accessories at no extra cost. For those of you who would rather pay it off in installments (responsibly of course), that's always an option.
QVC offers free shipping on the AirWrap.
Amazon
It's been a while since I've seen a good price or even availability on the Dyson AirWrap on Amazon. Often, there are knock-offs or third-party sellers with obscene prices.
However, last year, I did find a few limited time deals on Amazon and shared them on the MyPurseStrings Facebook Page which I encourage you to join. I post daily deals there and if and when there's one for Dyson's AirWrap, you can be sure to find it there.
I do like this inexpensive storage rack for the Dyson AirWrap.
Rakuten/Ebates
I will forever call Rakuten Ebates. I mean they needed a commercial to explain how to pronounce their new name (Rak-oo-ten) which does not roll off the tongue.
I've used them forever and have accumulated over $1400 back to my account over the years. You can read more about how Rakuten works here.
When you've added enough savings to your account, Rakuten sends you a "big fat check" (their words). You often do better cashing them in for a gift card. I choose stores I frequent often such as Athleta or Sephora. And, that's exactly how I wound up with a $75 Sephora gift card.
Sign up for Rakuten here.
If you do make a purchase through any of the links here, I would appreciate you not going through Ebates, as it knocks out my affiliate link. Thank you for that.
Credit Card Rewards
If you have a credit card, there's a good chance you have rewards sitting in your account. Check through all of the retailers measured above and see if you can cash your rewards in for a gift card.
Facebook Marketplace
You can often get a good deal on a barely used AirWrap using Facebook Marketplace.
TIP: Ask in your local Facebook Mom Groups if someone wants to sell their AirWrap. I've seen success with this method.
Gift Card Resellers
I use credit card reselling sites like Raise to buy unwanted gift cards. Stock up and save. For example, someone may sell a $100 gift card to Best Buy for $86. Buy a few like that and you've put a nice chunk of change back in your pocket.
Plus, Raise often gives you an extra discount at sign up.
You can choose electronic delivery or physical delivery of the gift card.
Sign up below to get my Friday Favorites email, with the newest blog posts, favorite wellness products, and more. Plus, get access to the Free Resource Library.
Chrome Extensions
I promise I'll share any Dyson AirWrap deals I see in my Friday Favorites newsletter and on the Facebook Page.
But, you may also want to download these two Chrome extensions that will help you track the lowest price of your favorite item and let you know if you found a good deal:
Camel Camel Camel
Honey
Dyson AirWrap Alternatives
I've mainly been using two hair styling tools for the last few years until I decided to get the Dyson AirWrap. Both do an excellent job and I get compliments when I use them. The only reason I'm switching is to reduce the heat when styling and to see if I can get the look I want in fewer steps.
Revlon One-Step Hair Dryer and Volumizer: watch for imposters
Both of these have price drops often so make sure you subscribe to my weekly newsletter and follow my Page on Facebook to get alerted to these deals.
How I Finally Got My Dyson AirWrap Complete Styler for Free
I was all set to put my Nordstrom gift cards to use at Nordstrom Rack. I also planned to sign up for the Nordstrom credit card (which is ridiculous that I don't already have one considering how often I shop at these two stores) to get the bonus credit.
Then, I remembered my Sephora gift card. I also realized I had unused credit card rewards sitting in my account, over 47,000 of them. My credit card had gift cards on sale and one happened to be for Sephora. This gave me $600 to use. This covers everything and I even added on the long barrel attachment.
Pin for later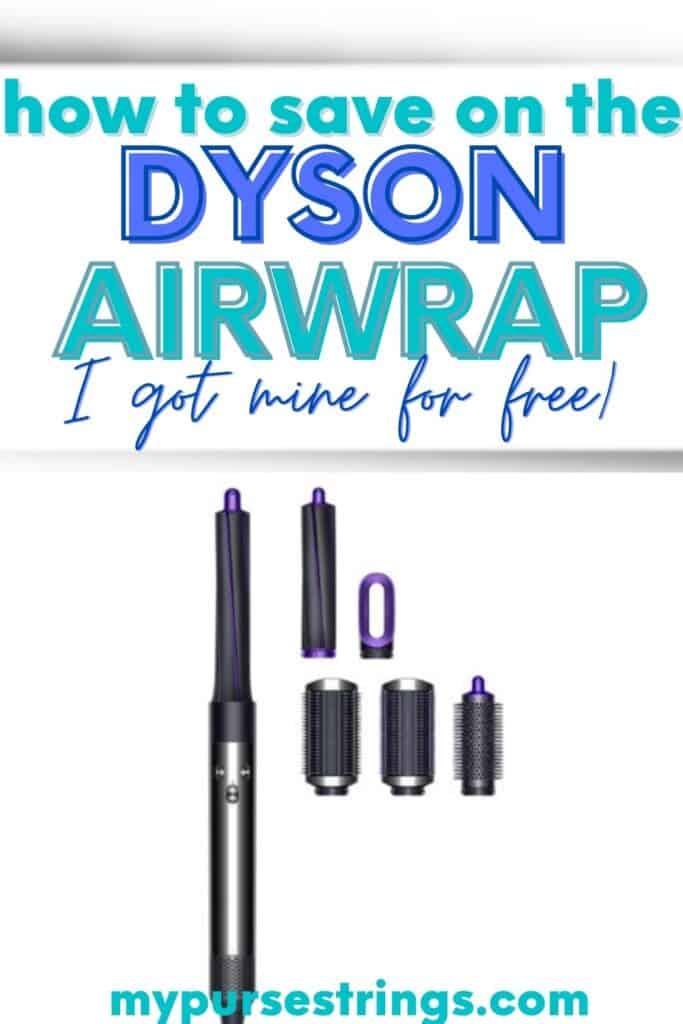 I would love to hear from you. Comment below if you scored a deal on the AirWrap or know of any other method that I may have forgotten.
Happy shopping!
Related Posts:
How to Save Money Each Month Without Depriving Yourself
How to Get the Best Deal on Sirius XM Radio