OK, by now, you've heard all about the Instant Pot. Maybe, you even have one sitting somewhere in your kitchen or still unopened in the box.
Google "Instant Pot" and adjectives like "scared" and "terrified" pop up. Worry no more. I'm here to help you decide how and when it's worth using the Instant Pot. Here are my best Instant Pot tips and recipes.
This post contains affiliate links. See my disclosure policy for more information.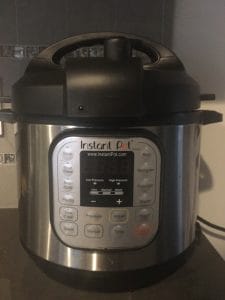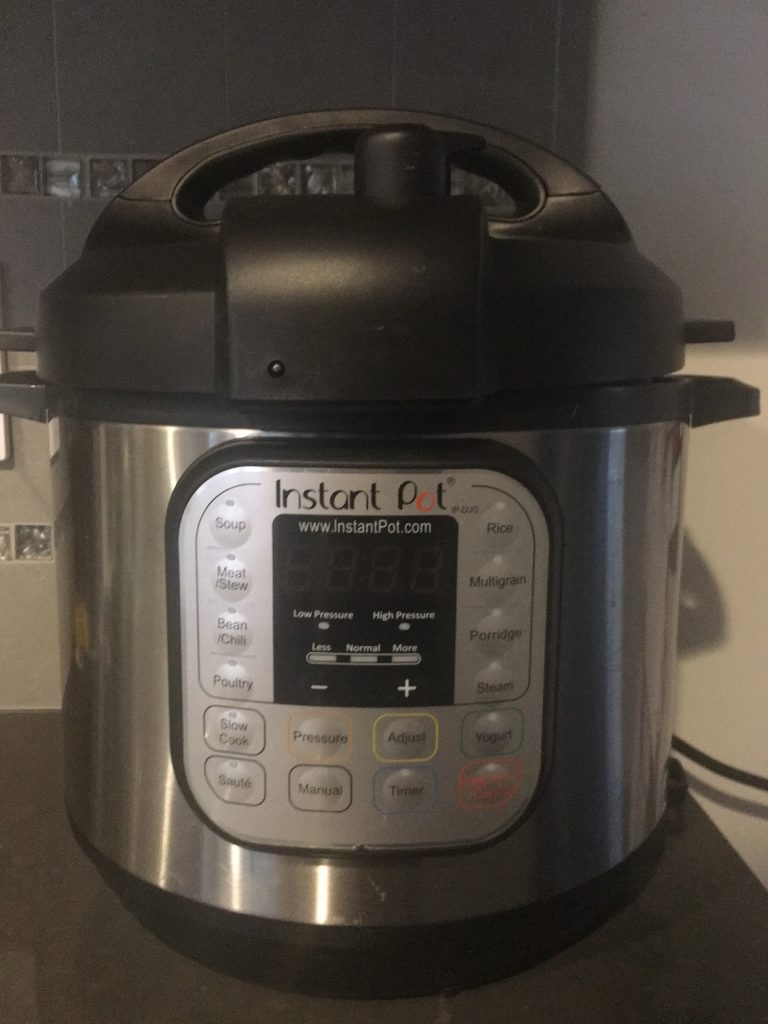 Note: This post was originally published in 2017 but has been updated with new product information and tips.
What Exactly Is the Instant Pot?
The Instant Pot is an electric pressure cooker. While this essentially means that your food will cook quicker, there are some necessary tips and rules you need to follow.
And no, your Instant Pot is not going to explode. This is not your grandmother's pressure cooker. This is a high-tech machine with buttons labeled beans, soup, or rice.
But, the Instant Pot has a learning curve. Since food cooks quickly through pressure (not more heat) and much of the liquid eliminates through steam, it's important to follow recipes, especially in the beginning.
Bonus: You can throw the Instant Pot and lid in the dishwasher for easy clean up.
What Does An Instant Pot Do?
The Instant Pot almost does it all. It has buttons to:
pressure cook
slow-cook
saute
make yogurt
keep food warm
It is best for cooking:
soups
stews
beans
chili
poultry
tender meats like brisket
rice
steaming foods
making hardboiled or poached eggs
Who Needs an Instant Pot?
Anyone who likes to cook but doesn't want to spend all day in the kitchen could benefit from an Instant Pot. Whether you live alone or have a large family, the Instant Pot is a time-saver.
If you want fresh, healthy food, then think of the Instant Pot as a vessel for that lifestyle. In the time that it would have taken you to heat up a frozen pizza, you could make a hearty vegetable soup from scratch.
Sure, there are parents out there who plan their menus for the week. Others stack their freezers with healthy meals ready to go. Then, there are people like me, who wonder at 5:30 what I can scrounge together to feed my family.
The Instant Pot enables me to feed my family nutritious food prepared in no time.
Which Instant Pot Should You Get?
Several brands make their own versions of the Instant Pot. In fact, I actually first purchased a different brand, but had some issues with it and returned it for the real thing.
Instant Pot Size
I have the 6 quart, perfect for my family of four. It also comes in 3-quart, 8-quart, and 10-quart sizes.
Instant Pot Vs. Air Fryer
I have both the instant pot and the air fryer. Both serve very different purposes.
The air fryer works like a mini-convection oven. It mimics frying, giving your foods a crispy outside and soft inside. It's also perfect for roasting vegetables. I use my air fryer every single day and if you don't have one, I highly recommend it. It cooks everything in record-time and has an easy cleanup as it's dishwasher safe. (Blog post coming soon!)
If you don't have an air fryer or an instant pot, you might consider this all-in-one Instant Pot.
If you think you'll use both the Instant Pot and Air Fryer often and simultaneously as I do, you'll want two separate units. This is the air fryer I own.
A third option is to get the adapter lid that turns your existing Instant Pot into an Air Fryer. This is the perfect solution if you don't have storage capacity in your kitchen to keep all of these gadgets.
How Is An Instant Pot Different From a Crockpot?
A crockpot slowly cooks your food and is perfect for stews and soups. However, an Instant Pot can do so much more. In fact, your Instant Pot even has a setting for "slow cooking."
If you don't already have a slow cooker but have thought about getting one, buying an Instant Pot will eliminate the need for two kitchen appliances. Although for entertaining, I tend to use both (this is my crockpot that I've owned for at least 10 years).
To be honest, since I purchased the Instant Pot, my crockpot sits unused most days. Besides having the slow cooker option, you can also use your Instant Pot to cook your favorite slow cooker recipes but in less time. I can make my favorite chili that used to take 6 to 8 hours in under an hour!
Instant Pot Accessories Worth Buying
These are the accessories that I use regularly and you'll need them for my favorite recipes listed below:
Favorite Instant Pot Go-To Foods and Recipes
Eggs:
Hard-boiled Eggs
My daughter wants hard-boiled eggs basically every day. I take shortcuts and buy the prepackaged cooked eggs. But, cooking eggs in the Instant Pot is seriously the easiest thing you can do:
Add some water (a cup or so) to the bottom of the pot
Put your eggs on the included trivet (or this egg rack).
Press the steam button
Set the timer for 5 to 6 minutes
Release the steam
Remove the eggs and run them under cold water
Peel the eggs (you'll notice the eggshell pretty much falls off the egg).
You will never make eggs on the stove again.
Poached Eggs
I eat poached eggs a few times per week. Making a perfect poached egg requires some skill and standing over the stove to keep your eye on its cooking.
Here's how to make poached eggs in the Instant Pot:
Add 1-2 cups of water to the bottom of the pot
Use the above-mentioned egg rack
Place these silicone cups onto the rack
Spray them with a non-stick spray
Pour the eggs into the cups (I crack the egg first into a separate bowl and pour into the cups from that)
Press the steam button
Select your desired time. I poach my eggs for 5 minutes but I found this guide useful if you want a runnier or firmer poached egg.
Remove eggs with a serving spoon
Season (I love the Everything But the Bagel seasoning from Trader Joe's. Check out some of my other favorite Trader Joe's items here).
Egg Bites
I'm obsessed with Starbucks' egg bites. But, I wanted to make a healthier version at home. There are lots of recipes out there online. This is how how I make them:
Add 2 cups of water to pot
Blend 4 eggs, 1/4 cup cottage cheese, 1/4 cup shredded cheese (your choice). I use this hand blender.
Add some vegetables (again, your choice. I've used tomatoes, spinach, and broccoli).
Blend again
Add salt
Pour your mixture evenly into this silicone mold and cover
Press the steam button
Set the timer for 10 minutes
I top mine with sriracha
Rice
Before buying the Instant Pot, I had never made rice other than on the stove (or prepackaged in the microwave). I don't make rice enough to justify getting another appliance like a rice-cooker, nor do I have room to store one.
The Instant Pot has a built-in rice cooker. The rice comes out fluffy and doesn't stick to the bottom of the pot. Plus, I just throw the Instant Pot stainless steel bowl directly into the dishwasher for an easy clean-up.
This is my favorite Cilantro and Lime Rice recipe. It's perfect for taco night.
Soups, Chili, and Stews in About 30 Minutes
Soup Recipe
I eat soup a few times per week. For the last five years, I get a delivery once or twice per month from Splendid Spoon, a vegan soup and smoothie delivery company. You can read more about it here or if you want to get $25 of your first order, use this code. The soups are so filling and have so many amazing ingredients that I know I'm eating healthy when I buy them.
I make this split pea soup about twice a month. I'm a vegetarian so I skip the ham and add mushrooms instead which adds a bit of a smoky flavor. So good!
You can pretty much throw any vegetables into the Instant Pot with a broth and it comes out great. We always have a huge supply of veggies in my house thanks to my weekly delivery from Imperfect Foods. You can read more about it here and get $10 off your first order.
Chili Recipe
Last Superbowl Sunday, I made chili in under 30 minutes. Let that sink in. I made it with turkey but you can also omit the meat to make it vegetarian.
Curry Recipe
I've also made vegetable stews, including a delicious Thai Green Curry. I just kind of wing it but this is a good recipe.
Chicken Tacos (using Frozen Chicken)
This is the easiest chicken taco recipe ever. You can even use frozen chicken breasts. I always get requests for the recipe. I laugh because it's this easy:
Toss some frozen chicken breasts into the Instant Pot
Add a jar of salsa
Seasoning optional: I add cumin and chipotle or taco seasoning
Cook at high pressure for about 15 minutes (usually more for me because I use thicker pieces)
Manually release the steam
Shred chicken with a fork
Place into your favorite taco shells and add toppings
Barbacoa Beef
This is also a hit on taco night or when entertaining. One of the best things about the Instant Pot is that you can saute vegetables and sear meat. Then add the rest of the ingredients. One pot means less mess.
I made this barbacoa recipe along with the chicken tacos above for a party and it was a hit.
Steamed Vegetables
My husband got on a health kick last year and the Instant Pot helped him keep to it. Every night, he would steam a ton of fresh vegetables in the Instant Pot.
He prefers his veggies mushy. I don't so if you're like me, you have to be careful because they do cook quickly.
If you want perfectly steamed vegetables, one minute of steam is more than adequate. We use this basket for steamed vegetables (we also use it on the stove) but if you want one specifically made for the Instant Pot, this one is easier to use.
As with any Instant Pot recipe, you'll have to add in some extra cooking time as you need to wait for the unit to get enough pressure, cook, and then release the steam. So, in total, steaming vegetables will take you closer to ten to fifteen minutes.
What I Haven't Tried Yet in the Instant Pot
Yogurt
People swear by the yogurt-making feature. It's on my to-do list.
Applesauce
My daughter loves applesauce. The recipes look so easy. I really have no excuse not to try them in the Instant Pot.
Steel Cut Oats
While I haven't tried overnight or steel cut oats, I have cooked my regular Quick Oats in the Instant Pot. It came out thicker and creamer, although in the interest of saving time, I'd rather microwave it with almond milk.
Finding the Best Prices on the Instant Pot
The best time to buy the Instant Pot is on Amazon Prime Day. Every year, I include an Instant Pot in my Amazon Prime Day blog post. If you've missed the deal, however, I often link to deals in my weekly Friday Favorites newsletter.
Sign up below to receive the weekly Newsletter, featuring the newest blog posts, product reviews, a virtual book club and my favorite things that week.
Related Blog Posts:
Splendid Spoon Review: Vegan Soup, Smoothies, Grain Bowls, and Noodle Bowls
How to Drink More Water Throughout the Day: Easy Tips