Recently, I started to loosely track my macros. My main goal was to increase my protein to eat a more balanced diet, and also to lose some weight.
Along with the app, Cronometer, I started to log my daily intake. Post-workout, I like to eat a protein bar but I knew there were better ones out there. Here is my review of the GoMacro bars.
This post contains affiliate links. See my disclosure policy for more information.
The Story Behind GoMacro Bars
The mother-daughter-owned company began back in 2003 on a Wisconsin farm. The mom, Amelia Kirchoff was in the midst of a breast cancer battle. She adopted a macrobiotic plant-based diet and along with her daughter, Jola Sonkin, created the bars in her kitchen.
Where To Buy GoMacro Bars
You can find GoMacro macrobars at most big retailers, including Target, Whole Foods, Trader Joe's, Walmart, and Amazon.
My kids are big fans of the GoMacro Kids Mini Bars. I eat them sometimes but they have much less protein than the regular bars.
GoMacro Bar Variety Pack from Amazon
For the purposes of this GoMacro Bars review, I ordered the variety pack from Amazon.
The variety pack contains 12 bars and is supposed to include twelve different flavors. Unfortunately, I only received 11 flavors. I got two of the popular Protein Pleasure Peanut Butter Chocolate Chip bars.
Our Pick
It came with three new flavors: Sweet Awakening Mocha Chocolate Chip, Protein Decadence Dark Chocolate Almond, and Blissful Daybreak Blueberry Cashew Butter.
If you're new to Go Macro vegan bars, I think the variety pack is a great way to go. It's a good way to try out the flavors before you commit to buying a 12-pack of just one.
I was impressed with the packaging. None of the bars appeared crushed or melted. I actually upcycled the cardboard bin it arrived in as a storage container in my pantry.
I would definitely order the Variety Pack again especially to try out the newest flavors.
Are GoMacro Protein Bars Healthy?
Many protein bars out there are glorified candy bars. Although I don't usually eat a protein bar as a meal replacement but rather more of a snack, I still want to make sure that what I put into my body is good for me.
Protein
With the exception of the granola + coconut bar, the GoMacro bars contained about 10 to 12 g protein.
Calories
In the 12-bar variety pack I bought, calories ranged from 250 to 290 calories.
Carbs
The bars on average contained about 32g of carbohydrates.
Sugar
Most of the sugar count in GoMacro bars is added sugars, totaling around 10 or 11 grams per bar. If you're a diabetic or watching your sugar intake, this is a lot.
Fat
Although GoMacro bars may contain up to 12 grams of fat, they typically have very low amounts of saturated fat.
Are GoMacro Bars Vegetarian?
Not only are GoMacro Bars vegetarian but they are also vegan. This is important to me as I am a vegetarian. Unlike many of the bars out there, these fit into my plant-based lifestyle.
I also really like that they are soy-free.
Are GoMacro Bars Gluten-Free?
All of their bars are gluten-free.
What Other Dietary Needs Do GoMacro Bars Accommodate?
GoMacro bars are kosher, non-GMO, USDA organic, C.L.E.A.N., low FODMAP, and and use sustainably-sourced ingredients.
FYI, C.L.E.A.N. means Conscious, Live (organic), Ethical (non-GMO), Active, and Nourishing.
A FODMAP diet is designed for those with IBS (Irritable Bowel Syndrome) and other gastrointestinal issues.
GoMacro clearly states important important product information and allergen content on both the front and back of its packaging.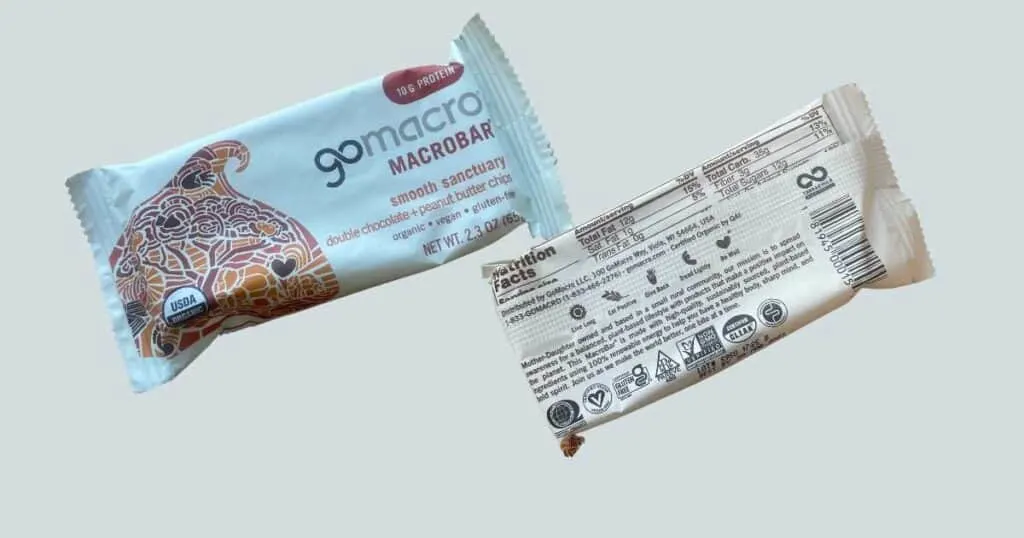 Are MacroBars Safe For Those With Nut Allergies?
MacroBars does have three flavors of bars that are nut-free and safe for those with allergies. They clearly indicate this on the front of the packaging. These bars are: Pure Promise Maple Sea Salt, Protein Purity Sunflower Butter + Chocolate, and Heartwarming Retreat Oatmeal Chocolate Chip.
Most GoMacro bars are not nut-free. In fact, many of the bars I tasted contained organic almond butter, peanut butter chips, organic almonds, or organic sunflower seed butter. And many of the bars included a disclaimer on their product packaging that since it's manufactured in a facility that processes peanuts and tree nuts, the bars may contain nutshell fragments.
Check out MyPurseStrings on Substack. Get the newest blog posts, my favorite finds, and read all new and past newsletters there.
What Are the Main Ingredients in GoMacro Bars?
GoMacro only uses plant-based ingredients. Their first ingredient is organic brown rice syrup, an alternative to corn syrup. However, its benefits are debatable.
They also contain an organic protein blend (organic sprouted brown rice protein and organic pea protein). For those allergic to pea protein, GoMacros introduced a Sunflower Butter and Chocolate bar which does not contain the latter.
Here's an example of the ingredients listed on the Protein Paradise Cashew Caramel Bar nutrition label:
Organic Brown Rice Syrup, Organic Cashew Butter, Organic Protein Blend (Organic Sprouted Brown Rice Protein, Organic Pea Protein), Organic Cashews, Organic Coconut Sugar, Organic Puffed Brown Rice, Organic Sprouted Flax, Organic Mesquite, Organic Coconut Oil, Organic Cinnamon.
How Do GoMacro Bars Taste?
GoMacro Bars are dense but I mean that in a good way. There are times when I've eaten it alongside some yogurt or cottage cheese for lunch and I feel full. But I never feel stuffed or bloated after eating one.
I recently did a review of Built Bars which have a very different consistency (they're also not vegan or vegetarian). GoMacro bars have the texture of a traditional protein bar while Built Bars resemble a nougat-like candy bar.
Despite their slight differences, many of the GoMacro bars tasted too similar to stand out: either peanut buttery or chocolaty. However, they were all good and I would buy any of them again (with the exception of the one listed below).
Favorite Flavors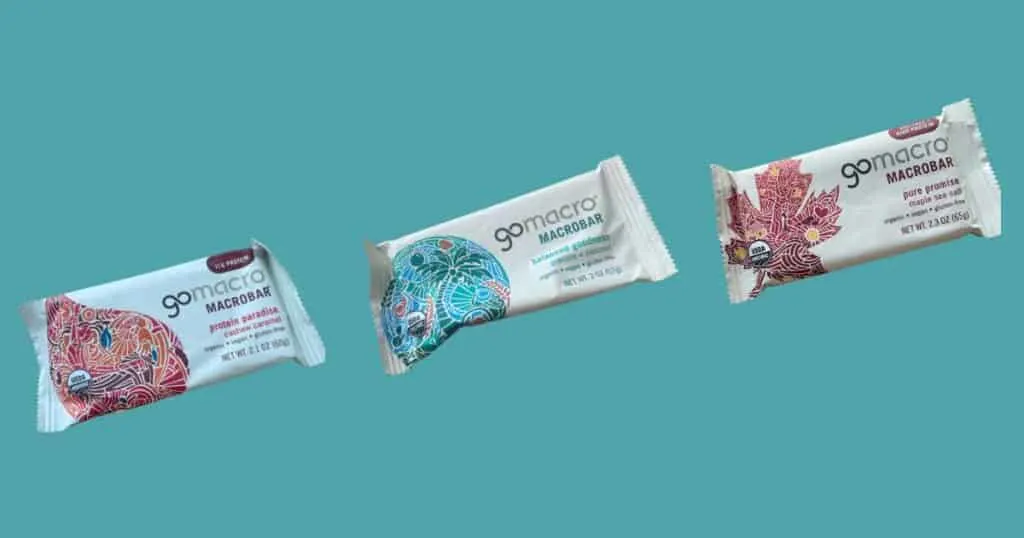 I liked all the GoMacro Bars I tried. My favorites are the following:
Pure Promise Maple Sea Salt: just a hint of sweetness and saltiness.
Protein Paradise Cashew Caramel. I appreciated the pieces of cashew. It had a mildly nutty delicious flavor.
Granola + Coconut. Although it had almost half the protein of the other bars and also was a bit smaller in size, I really loved this flavor. I'll definitely stock up on this one.
Least Favorite Flavor
My least favorite flavor was clearly the Blissful Daybreak Blueberry Cashew Butter. It tasted more fruity than the others and the consistency of it threw me off. It was more like a That's It Bar, which I love, but not as a protein bar.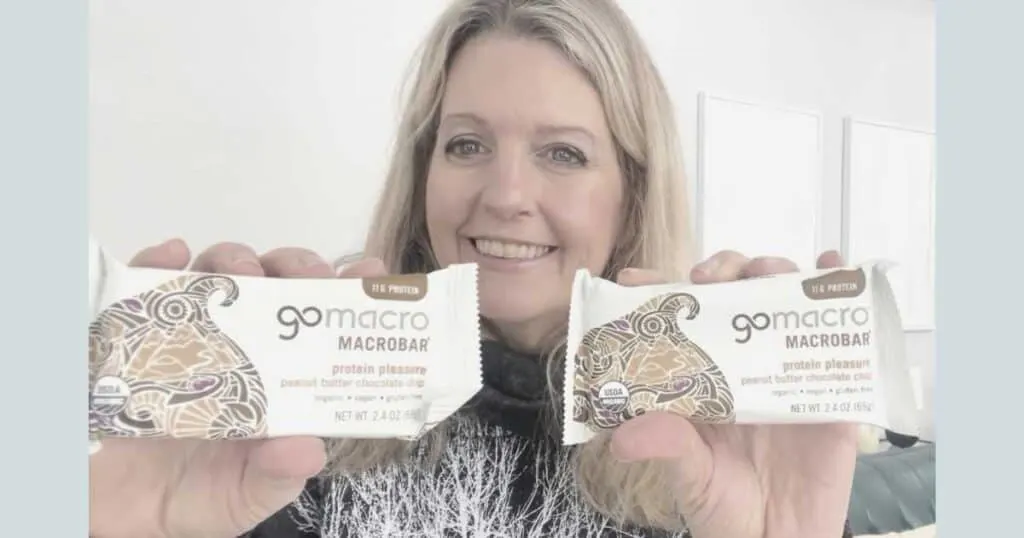 Final Thoughts
I will continue to GoMacro Bars. They really satisfied my hunger, especially post-workout or in the late afternoon when I habitually like to snack.
Although I intended to eat it as a snack, I found myself craving it during the day. It made a nice lunch once I added in another protein source like eggs, yogurt, or cottage cheese.
I like the size of the bars and texture. They're not chalky or artificial tasting like other bars I've tried. As a vegetarian, I appreciate that they are vegan and do not include animal proteins or collagen.
Have you tried them? Let me know what you think in the comments below.
If you liked this article, consider subscribing to my newsletter. I share my favorite wellness content and products and you'll get notified of the newest blog posts. I have several more protein bar articles pending so be sure to sign up.
Check out MyPurseStrings on Substack. Get the newest blog posts, my favorite finds, and read all new and past newsletters there.
Pin for Later!