I've been seeing Carbonaut Bread in the grocery aisles for some time and finally decided to give it a try. Even though I don't follow a Keto diet, the product packaging caught my attention, especially the calories and protein count.
I bought the seeded bread to try out. Although this company just launched in January 2021, it is now the #1 selling Keto-certified bread brand in both the United States and Canada.
In this article, I will discuss all the Carbonaut bread products but my review focuses on the seeded bread.
This post contains affiliate links. See my disclosure policy for more information.
What is Carbonaut Bread?
Created by a family of bakers in Canada, Carbonaut bread is a low-carb, low-calorie, high-fiber, and high-protein bread. It's also Keto certified (by the Paleo Foundation), non-GMO project verified, vegan, kosher, and free of the top 9 allergens.
Their mission is to "bring consumers low-carb bread that tastes like it came from the corner bakery."
Carbonaut started with loaves of bread but has expanded into other gluten-free options:
hamburger buns
hot dog buns
bagels (plain, seeded herb & garlic, and lemon blueberry)
pizza crusts (thin or "not so thin")
Where Can You Buy Carbonaut Bread?
You can find a selection of Carbonaut bread at Target, Amazon, Whole Foods, Costco, Sprouts, and some grocery chains like Albertson's. You can find their full product list on their website.
I bought the seeded bread (not Gluten-Free) at my local Super Target. It's in the bakery section not with the packaged breads.
Some stores keep Carbonaut bread in the freezer aisle.
How Much Does Carbonaut Bread Cost?
Of course, the price varies by store and location. I paid more for it than a typical loaf of bread, $6.49 at my local Target.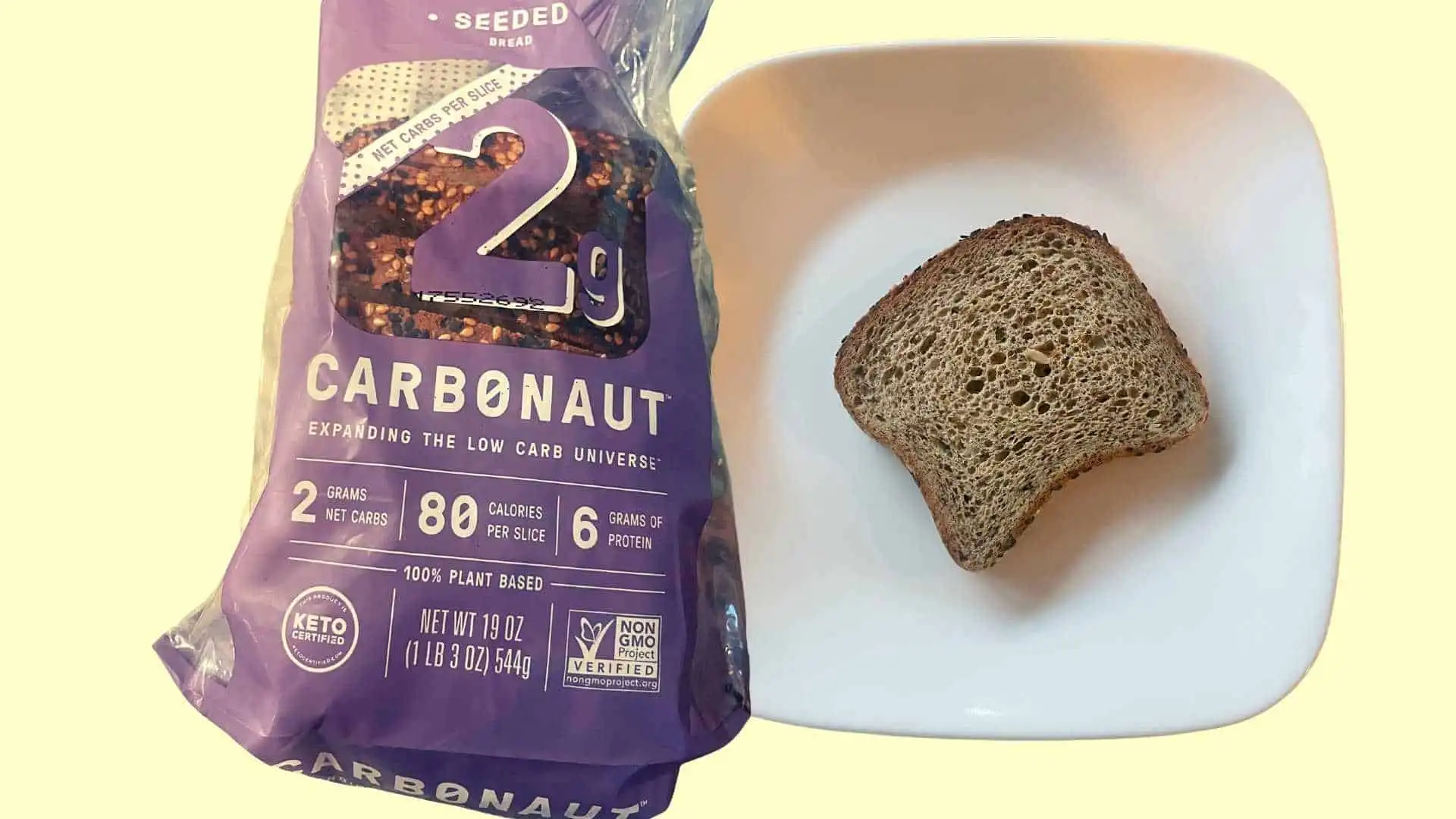 Carbonaut Bread Flavors
Their bread comes in 3 flavors:
Carbonaut Gluten Free Bread
They also have a line of gluten free breads, at just 40 calories per slice and more than double the fiber of their traditional bread.
It's available in 3 flavors:
white
seeded (with flax seeds)
cinnamon raisin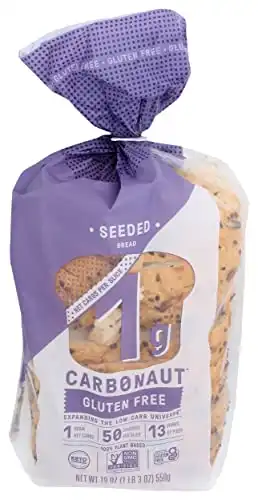 What are the Main Ingredients in Carbonaut Bread?
The first ingredient in the seeded bread is water, followed by wheat protein, resistant potato starch and/or resistant tapioca starch, flax meal, high oleic sunflower oil, bamboo and/or wheat fiber, sesame seeds, yeast, psyllium husk, inulin, cultured wheat starch, sunflower seeds, pea fiber, salt, and citric acid.
The gluten free bread ingredients include: modified resistant tapioca starch, high oleic sunflower oil, native cornstarch, psyllium, chicory root fiber, yeast, modified cellulose, coconut sugar, rice bran, Xanthan gum, natural flavor, and salt.
How Many Calories Are in Carbonaut Bread?
There are only 80 calories in one slice of Carbonaut seeded bread. For someone like me who tracks their caloric intake daily using various apps (Lose It, My Fitness Pal, or on occasion, Weight Watchers), this is a big selling point for me.
It has zero grams of added sugar.
Is Carbonaut Really Low-Carb?
Yes, one slice of bread is only 8 total carbohydrates. (Their white bread has 9 total carbs).
Carbonaut bread has 2 grams net carbs. If you're not following a Keto diet and wondering what net carbs are, they are the carbs that significantly affect your blood sugar level (total carbs minus fiber). Managing net carbs is an important tool for many people including diabetics.
How Much Protein Does Carbonaut Bread Contain?
I'm a vegetarian so plant-based protein is essential to me and my health. (Check out my review of Splendid Spoon products. They too often add pea protein to their foods).
The original Carbonaut white bread has 7 grams of protein.
How Much Fiber Does Carbonaut Bread Contain?
The seeded bread contains 6 grams of fiber.
If you've ever followed Weight Watchers, you know that one of their key tips is to eat a ton of fiber. This is true of many diets including the popular F-Factor plan.
Besides feeling full and satisfied after eating, increasing your fiber intake has a ton of short-term and long-term benefits for your health.
How Does Carbonaut Compare to Other Bread?
I compared Carbonaut to the other loaves of bread I have in my house:
Angelic 7 Sprouted Whole Grain Bread: 90 calories, 17 total carbs, 5 g of protein, 3 grams of fiber
Artesan Smooth Multigrain Bread: 110 calories, 19 total carbs, 3 g of protein, less than 1 gram of fiber
Dave's Killer Bread (21 Whole Grains and Seeds): 110 calories, 22g total carbs, 5 g of protein, 5 grams of fiber (Check out the story behind Dave's Killer Bread here).

Their thin-sliced bread has just 70 calories, 13 total carbs, 3 g of protein, 2 grams of fiber

Ezekial Sprouted Whole Grain Bread: 80 calories, 15 total carbs, 5 g of protein, 3 grams of fiber
Ozery Bakery Muesli Morning Rounds: 170 calories, 31 total carbs, 6 g of protein, 3 grams of fiber
One of my go-to breakfasts is an Ozery Morning Round. I buy all their varieties. I add either Laughing Cow or natural peanut butter spread for extra protein.
While both the Carboonaut Seeded Bread and the Ozery Morning Round have the same amount of protein, 6 grams (double most of the breads I buy), the latter has a whopping 31 total carbs vs. Carbonaut's 8g.
Also, the Ozery is pretty thin. Although I can eat two slices of Carbonaut to equal the calories of one Ozery Bun, on most mornings, I would probably eat just one. This saves me half the calories and I get double the fiber!
How Long Does Carbonaut Bread Last?
Carbonaut bread has a 10-day shelf life. But you can keep it in the freezer, especially if you buy it in bulk.
Roomy with a pop of color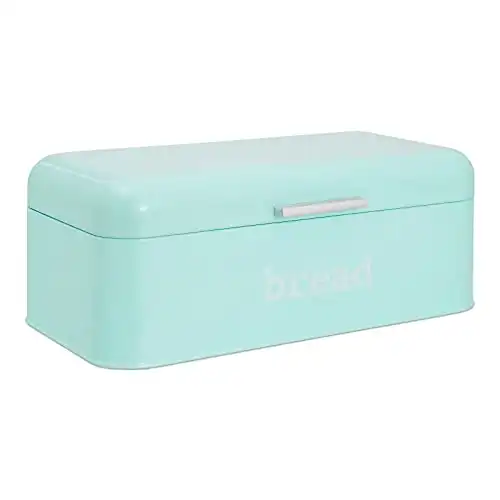 How Does Carbonaut Bread Taste?
This is obviously the most important question.
I try to limit my bread intake so when I do eat it, it'd better taste good.
One of my best friends is British and when she lived in the states, she always complained about the bread here. After visiting her back in England a few years ago, and eating good artisanal bread for breakfast, I finally understood what she meant.
And I've been on a mission to buy bread that tastes fresh, not overly processed, and healthy ever since.
I usually keep a loaf of Ezekial Sprouted grain Bread in my freezer but if I'm being honest, I never love the taste. The bread is thin on its own, it often falls apart, and when I toast it, it's hard and crunchy. But still, I eat it because it's only 80 calories per slice.
I was expecting Carbonaut to taste very similar. I was pleasantly surprised. Carbounaut bread looks and feels like regular bread. It's soft and springy to the touch and not dried out. The slices are of normal size and thickness.
I like the added seeds which you'll see mainly on the crust but also a bit on the inside of the bread. I just learned the soft, inner part of the bread is called the crumb. Who knew?
It tasted great on its own or toasted. I toasted it twice through, both times on low setting. It did not burn and had the crunch of any bread.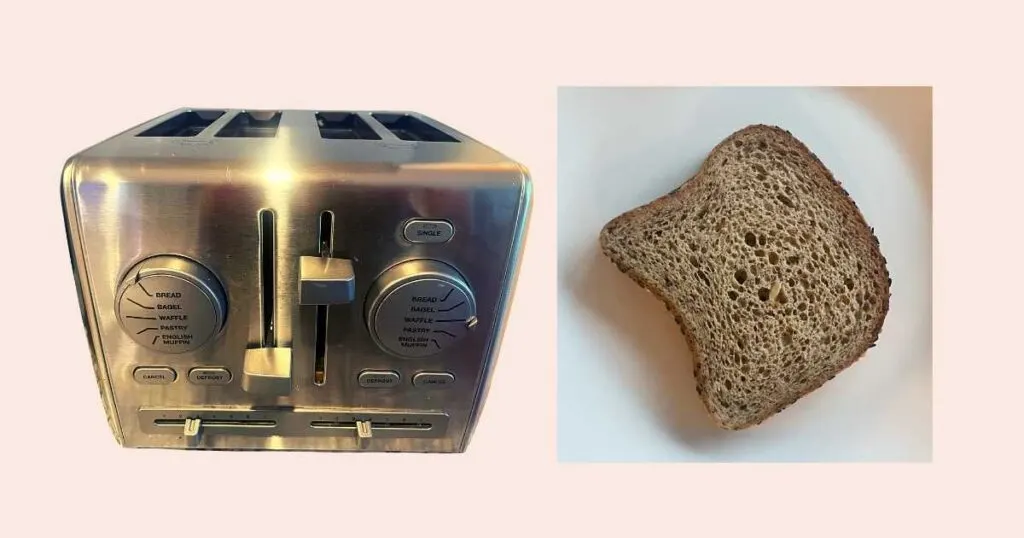 I didn't notice any aftertaste. The first time I had it was plain on its own. I then put my spinach omelet on it. It held the egg without falling apart and tasted great.
Anyone who plans to make a great deli sandwich knows the amount of weight a slice of bread can hold is of upmost importance.
The next time I ate it, again, it tasted delicious. I only spread some peanut butter on it so it could have tasted very dry but it didn't.
Check out MyPurseStrings on Substack. Get the newest blog posts, my favorite finds, and read all new and past newsletters there.
Is Carbonaut Bread Worth Buying?
Absolutely.
I'm plant-based and don't follow a keto diet. To be honest, I often avoid buying keto-friendly bread and other keto-friendly products. They're often higher in fat and calories. But Carbonaut bread is neither.
I do try to keep to a low carb lifestyle, however. There aren't many low-carb options out there in the bread market. And the low carb bread I've tried never tastes like real bread.
I had two slices of bread this morning and didn't feel guilty. I love the protein content and the fiber kept me full all morning.
I'm excited to make my kids grilled cheese with this bread. As a mom, I'm always trying to get more protein into my kids' carb-heavy meals.
Carbonaut will definitely become a staple in my house and I want to try all their low carb product selections.
Pin for later!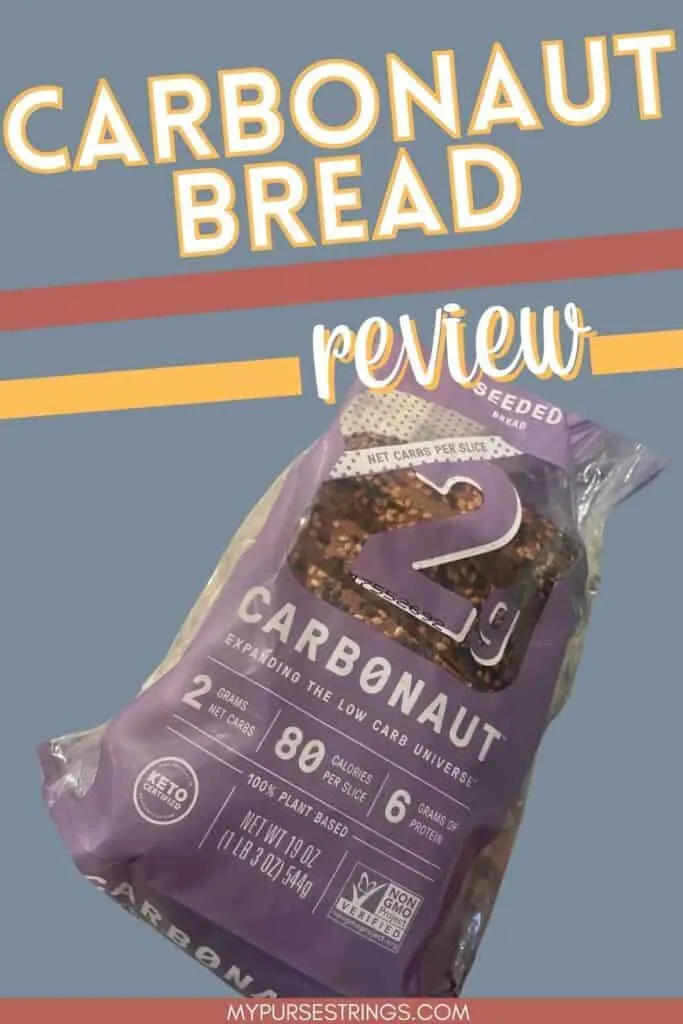 Final Thoughts
Have you tried Carbonaut Bread? Let us know in the comments.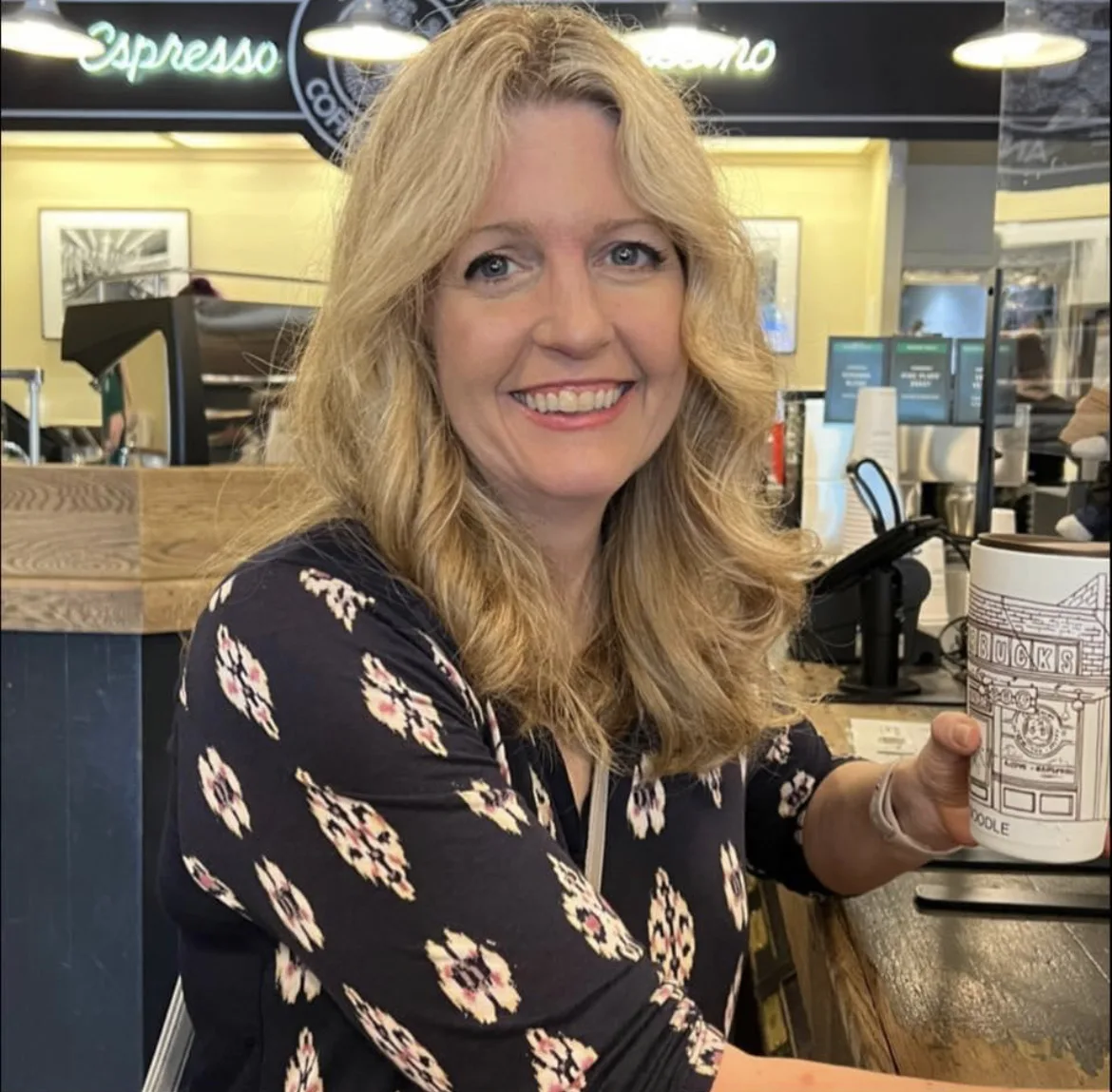 Michelle Platt is a former attorney and teacher who loves to do the research so you don't have to. She takes a deep dive into each topic and writes about her wellness journey here. She loves trying out new workouts and products to share with you. She is currently completing her personal training certification. This native New Yorker recently made the move to the suburbs of Minneapolis, where she lives with her husband, two kids, and two dogs.