Built Bars have a huge following on social media and amongst fitness enthusiasts. Fans rave about the great taste compared to other protein bar competitors. But are these bars really healthy and how do they taste? I break it all down here in this Built Bar review.
For years, I've ordered and shared Built protein bars on my Instagram Feed and in my Friday Favorites newsletter, but I realized I never wrote a blog post about it before.
I first heard about Built Bars in a Peloton Weight Watchers Facebook Group and I've been eating them ever since. Here's my honest review and a promo code so you can try them out yourself.
This post contains affiliate links. See my disclosure policy for more information. Some products were gifted to me but all opinions are my own.
What are Built Bars?
Built Brands was founded in 2018 by CEO Nick Greer in Utah. It positioned its brand as a healthy alternative to the candy bar. They are low calorie, high protein, low fat, high fiber, and low sugar protein bars compared to most of their competitors.
They sell traditional protein bars, marshmallow puff bars, and most recently, granola bars. They also carry Built Boost, a natural energy drink.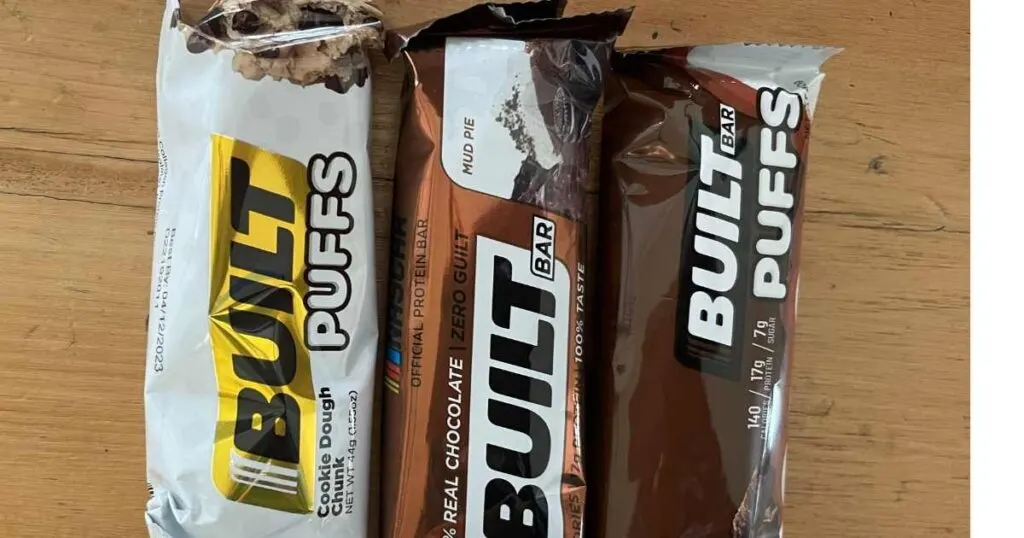 Where Can you Buy Built Bars?
You can find Built Bars directly from their website (save 10% with promo code MICHELLE) or through Amazon for quicker delivery.
Do they sell Built Bars in stores?
No. You can't get Built Bars in any retail store or grocery store.
12-Pack Protein Bars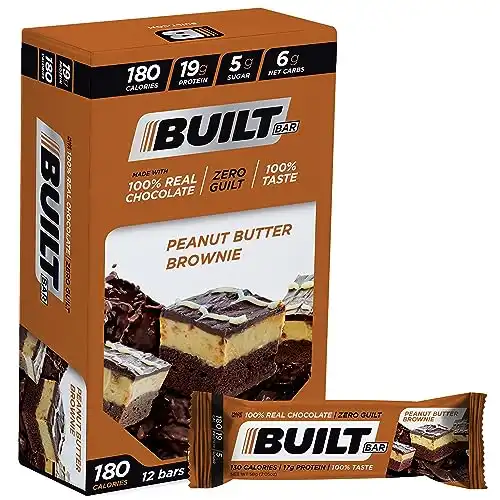 Can You Buy Built Bars Individually?
No, whether you buy them directly from their store or on Amazon, Built Bars come packaged only in boxes of 12 bars. You have the following variety of options when ordering:
Mixed Box
Everyone has a favorite flavor, so for your first order, I recommend trying the mixed box. The variety box includes 12 flavors.
You get to try one of each of some of their most popular flavors. This is their current collection (as I write this): Raspberry, Salted Caramel, Cherry Barcia, Double Chocolate, Cookies N' Cream, Coconut, Mint Brownie, Peanut Butter Brownie, Coconut Almond, Churro Puff, Coconut Puff, and Banana Cream Pie Puff.
Build Your Own Box
Alternatively, you can build your own box of 12 bars. But you can only choose two flavors, 6 of each.
12 Count Box
You can also always order a box containing 12 bars of your favorite Built Bar flavor.
If you have a favorite flavor, I recommend stocking up on it as Built Bars often moves a product out of rotation and they're constantly introducing new flavors like Snickerdoodle Chunk Puffs.
They also offer limited edition flavors like Grasshopper Cookie (similar to Girl Scout Thin Mint Cookie).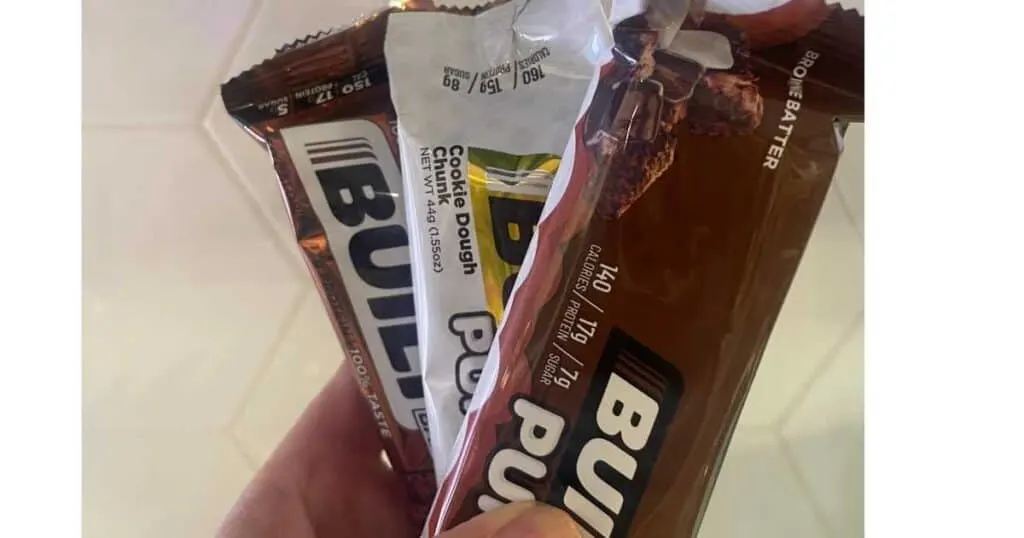 What are the Main Ingredients in Built Bars?
According to the nutrition facts label, the main ingredients include premium collagen protein blend, whey protein isolate, soy lecithin, and gelatin. They also contain milk, soy, and wheat.
Are Built Bar Protein Bars Healthy?
The bars are high protein (most are 17-19 grams), low fat (between 1.5 and 3 grams of saturated fat), and low sodium. It says right on the label: "100 percent chocolate, 0% guilt."
I also like that it states the amount of protein for each particular bar right on front of the packaging.
However, the term healthy is subjective. This is a processed food made in a factory.
I try to eat whole, clean ingredients, so in my opinion, I wouldn't consider this a healthy food but it's a great option when you're looking for a pick-me-up during the day.
These contain more healthy ingredients than most protein bars on supermarket shelves. And, it's a good thing to keep on hand if you're craving something sweet.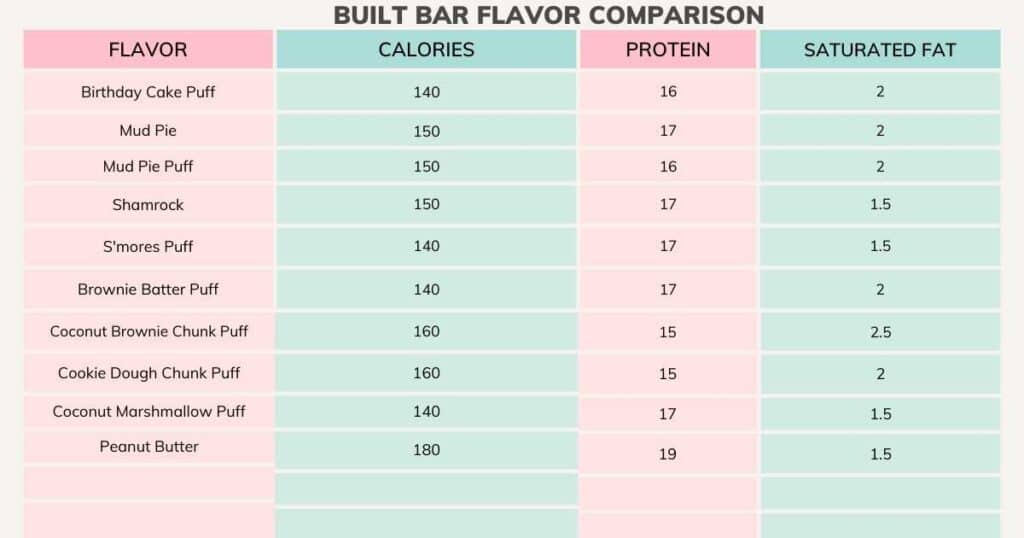 Are Built Bars Good for Kids?
Built Bars make a perfect after-school snack. I'm always trying to get my kids to eat more protein and these bars are packed with protein.
My kids like trying out all the different flavors. It's a staple in my house and their favorite protein bar.
However, if your child's school has a nut-free policy, check the label first. Not all Built Bars are in fact, nut-free. Also, these bars contain dairy.
Are Built Bars Good for Weight Loss?
I'm not a nutritionist, dietician, or doctor. These bars are not meant to be eaten as a meal replacement. However, if you're looking for a healthy snack, this is a great choice.
It's a high-protein snack that satisfies a sweet tooth. If you're doing Weight Watchers, these bars are only 3 to 5 WW points.
If you keep them frozen or refrigerated as I do, you can easily slice off a couple of pieces rather than eating the whole bar.
How Do Built Bars Taste?
The first time I ordered Built Bars, I wondered if they would live up to the hype.
I don't like the consistency or chalky chewy texture of most protein bars. I was pleasantly surprised that these bars taste more like candy bars without being too sweet.
My personal preference is to eat them as a snack or after-dinner dessert. I feel like I'm eating something decadent without all the extra calories.
If you're unhappy with the quality or taste, Built customer service will issue you a full refund (if requested within 14 days).
Built Bar Tip
I've seen people complain about the consistency of the bars. Personally this is what I do:
Freezer
Put them in the freezer and they make a great frozen treat. This is usually the way my family chooses to eat them.
Refrigerator
Store them cold in the refrigerator.
Heat Them in the Microwave
Place them in the microwave for 10 seconds. Remove the wrapper first.
Built Bar Taste Test: 10 Flavors
My camera-shy kids and I tasted ten flavors of Built Bars. The ones we tasted were:
Birthday Cake Puff
Mud Pie
Mud Pie Puff
Shamrock
S'mores Puff
Brownie Batter Puff
Coconut Brownie Chunk Puff
Cookie Dough Chunk Puff
Coconut Marshmallow Puff
Peanut Butter
Check out this video I made where I taste 10 Built Bar flavors and rate them. Find out which one is my absolute favorite.
You can see my reaction and all 10 of my ratings in the full video on YouTube.
Which Built Bar is your favorite? Let me know in the comments.
Are Built Bars Vegetarian?
Unfortunately, no. I eat a vegetarian diet and for me, the lack of a vegetarian option is the biggest drawback to the bars. Since it contains gelatin, these are also not good for anyone who is following a halal or kosher diet.
I contacted customer service asking if they planned to make any of their bars vegan or vegetarian. They replied back that they had no plans to do so.
How Long Do Built Bars Last?
Since they have no preservatives, Built Bars have about a 6-month shelf life before they expire. The expiration date is clearly printed on the box.
My family prefers to eat them cold so we keep them either in the refrigerator or freezer, but they can certainly be eaten at room temperature too.
What are Built Bar Factory Seconds?
Every once in a while, Built offers a sale on their seconds. These are bars that for some reason don't make the cut so are discounted. You have to grab them when they become available and you don't know when they're coming back.
Built Bars vs. Quest Bars
Most people prefer the taste of Built Bars to Quest Bars which have a chalkier texture. Quest bars, however, tend to have more protein (up to 21 grams) compared to Built Bars (typically 17-19g).
Built Bars vs. Aloha Bars
If you're looking for a plant-based option, check out Aloha Bars which are vegan. A caveat, they have more calories and less protein.
Final Thoughts
While I do like Built Bars, I don't eat them often. I eat and plant-based diet and wish they would make a gelatin-free version of their bars. But, my family eats them all the time.
As for taste, we prefer the more natural flavors. Simpler is better in my opinion.
Have you tried Built Bars? Please comment below. And if you want to try out Built for the first time, remember to use my promo code to save 10 percent off your order with promo code MICHELLE.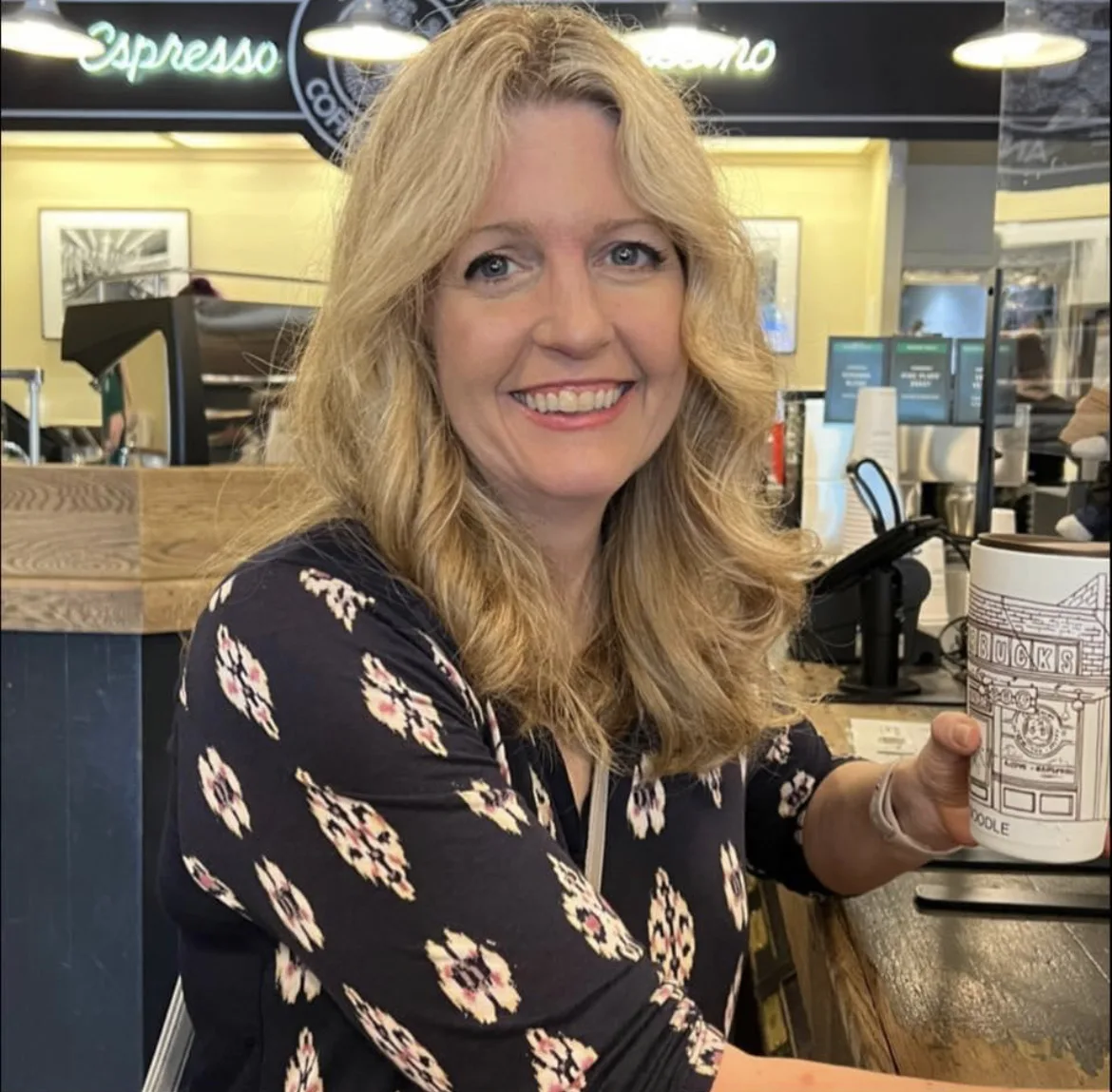 Michelle Platt is a former attorney and teacher who loves to do the research so you don't have to. She takes a deep dive into each topic and writes about her wellness journey here. She loves trying out new workouts and products to share with you. She is currently completing her personal training certification. This native New Yorker recently made the move to the suburbs of Minneapolis, where she lives with her husband, two kids, and two dogs.