Working from home has its perks and challenges. For some of us, like me, there never seems to be enough time to get it all done. After the morning rush to get the kids on the bus, I sit down to work, and before I know it, the kids are home.
There's also the added distraction of working in the place where you live: dirty dishes, laundry, a kitchen stocked with your favorite foods, and a pet desperate for your attention. And with no commute or home office, it's difficult to officially end your workday.
What do people who work from home truly want? More time in the day. More time with our kids. More time to get it all done. Since that isn't possible, here's a list of some items that make life easier for a person who works from home.
Cheers to those working from home who make it look easy. And Happy Holidays to everyone!
Note, this post contains affiliate links. That means that if you make a purchase through one of my links, I may receive a small fee to support my ever growing coffee habit.
Gift Guide for the Work from Home Peeps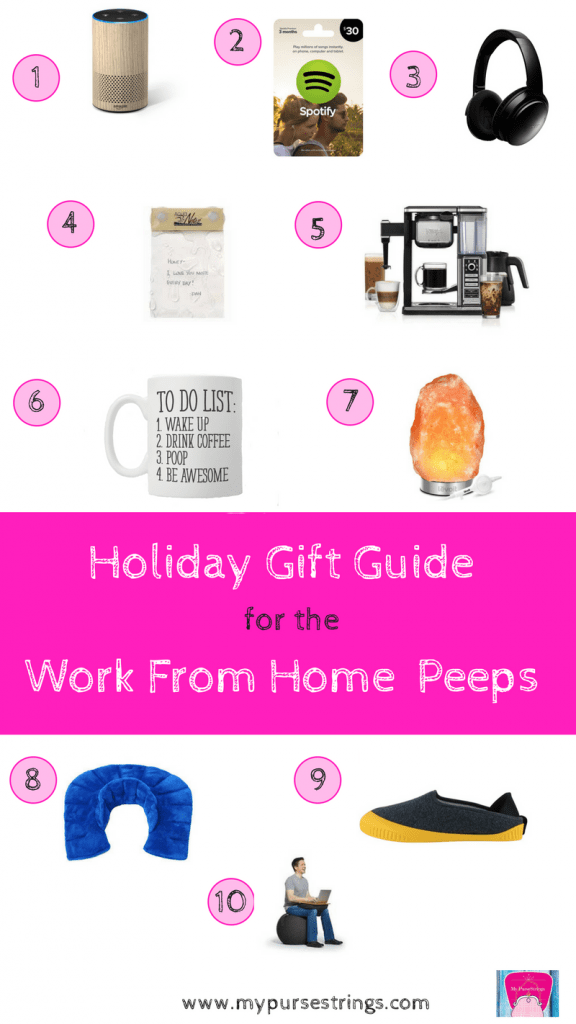 From the moment I go downstairs, I start using the Echo:
Alexa, what's the weather? (as I'm brewing my coffee)
Alexa, what's the news? (as I'm making lunches for the kids)
Alexa, set a timer for 7:45 am (to alert my children to put on their shoes).
Alexa, connect Bluetooth (as I sit down to work, listening to music).
Alexa, play white noise (to calm my puppy).
With constant updates and "skills" added to Alexa, this product keeps improving. No doubt, it's a gift they will use for years. The Amazon Dot is at a much lower price point but if you plan on using the Echo often, it's worth it to spend a bit more for the higher quality speakers.
For a long time, I used the free Spotify plan through iTunes. But then, my husband got a Premium account ($10 per month) and we soon switched to the Family Plan. For $15 per month, my family and I get access to unlimited ad-free music on each of our devices. With a Premium plan, you get higher quality sound, the ability to download songs to play offline on your devices, the option to play specified songs instead of shuffling through an album, and you can take full advantage of Spotify's entire library, including new releases.
This is by far one of my husband's favorite possessions. He won't travel anywhere without them. The sound is amazing. I can attest to the fact that it really blocks out the sound (as I tap him on the shoulder and realize he hasn't heard a word I've said). Not only does it cancel out sounds around you (like a barking dog as you walk down the street) to make a better listening experience but it also improves the quality of your voice, blocking out the background noises on your end (perhaps some screaming children in the background). These headphones are consistently rated as one of the best wireless headphones for making phone calls. It makes conference calls easy and provides comfort, wireless (or wired) capability, and true sound quality.
I was skeptical about this product too at first but it works! When you work at home, your mind never shuts off. Straight from a conference call to the shower, your head is still spinning. How often do you come up with a genius idea mid-shower only to forget it moments later? Now, your ideas have staying power.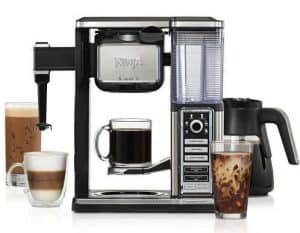 This coffee maker does it all. You already have the ambiance of a coffee house with the Echo and Spotify, now you can drink your fancy drinks and iced coffees too.
This is hands-down my absolute favorite item on this holiday list. I mean who wouldn't get a kick out of this mug? First of all, it speaks the truth. Secondly, working at home means no one is there to pump you up, other than yourself. So, go ahead and remind yourself to be awesome!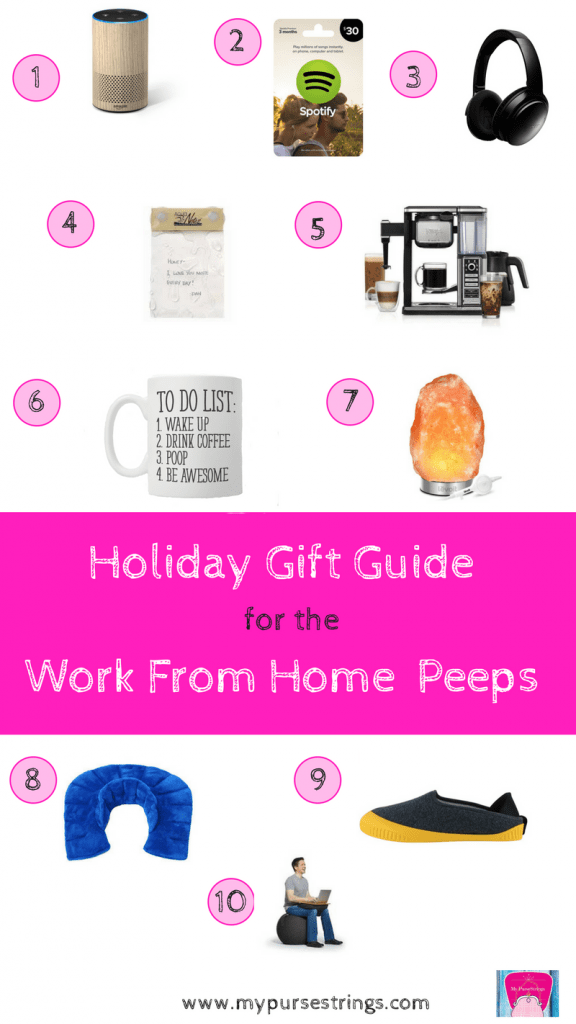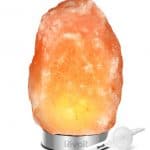 With lots of knockoffs out there, make sure you buy the real thing. Having a salt lamp is like having a plant in your office, only better.
What are the benefits of a Himalayan salt lamp? Proponents of salt lamps claim that they purify the air, reduce allergens, improve concentration and even help seasonal affective disorder (which I totally have), among other things. And even if you don't believe the hype, salt lamps still look cool!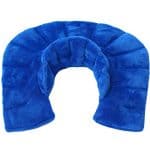 I'm one of those people who hold all the tension in my neck and shoulders. I use this wrap routinely to relax and prevent neck aches. Sitting in front of my laptop all day long causes intense strain. Since I started using this, I no longer need to see a chiropractor. Simply pop this neck wrap in the microwave to heat it. It smells like you've stepped into a spa.
I wear slippers all day long when I'm working from home. I always remove my shoes every time I come into the house. But I'm also always running outside to walk the dog, get the mail, or bring out the trash. I know some companies boast slippers that can be worn inside or outside. But I don't really understand the purpose: once I've worn them outside, they're shoes, right? I'm bringing the dirt and germs right back into my house.


These slippers are a brilliant concept. Wear them as slippers inside the house. Quickly add the rubber sole when you go outside and they act as shoes. Take off the soles and the germs stay off your floors. They're unisex too and they come in tons of fun colors. Nordstrom carries a similar slipper from a different brand, Mahabis.
If you've never sat on a Yogibo, you're missing out. Essentially, it's a giant bean bag that conforms to you, giving total body support. Although it's hard to have any semblance of grace while getting up, it's worth the awkwardness. We have one in front of our fireplace and everyone, including the puppy, fights for that seat. Yogibos are a popular gift for kids too.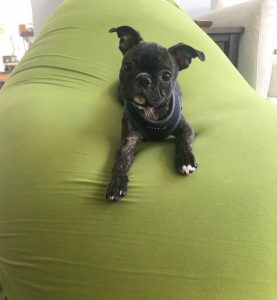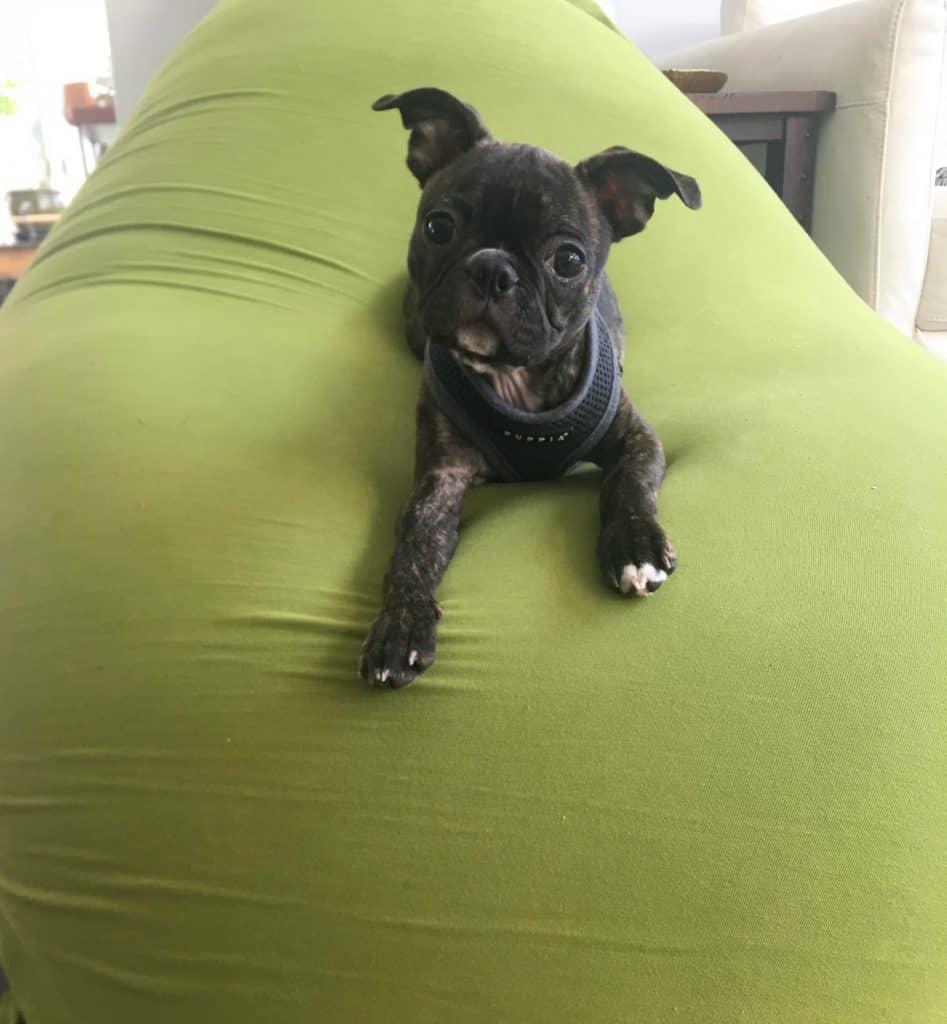 Yogibo recently introduced this YogaBo Ergonomic ball as a replacement to the everyday office chair. This version claims to improve your core while you work. Unlike their other chairs, this one gets its stability from pumped air.
Speaking of improving your core, many people who work from home also work out at home, like me. Be sure to check out my fitness-related posts. More fitness posts are coming soon so please subscribe to my blog and you will get automatic updates whenever I write a post (with a spam-free guarantee).
Not only do I work from home but I'm also a Hot Mess Mom. If you missed out my first Holiday Gift Guide for Hot Mess Moms, you can find it here. I will continue to create guides for the holiday season and you can find them all in the Holiday Gift Guide tab above and check out my Amazon shop for all of my favorite products.