So, you've been researching spin bikes?
There are tons of indoor cycling options out there and it can get a bit overwhelming. My tagline is "I do the research so you don't have to" and that's exactly what you'll find here.
As a certified personal trainer and avid Peloton app and bike user, I can help you find the best spin bike for every budget.
I compare the Peloton Bike to other (and not always cheaper) spin bikes. By the end of this article, you'll have a list of the best Peloton alternative bikes.
This post contains affiliate links. See my disclosure policy for more information.
Peloton Changed the Home Workout Game
When I was in high school, I had a "stationary bike" (that's what we called it then–or a "home exercise bike") in my bedroom. I would ride that bike for an hour at a time, barely breaking a sweat. Spinning bikes changed everything. I can barely survive a class without at least a full bottle of water, window open and two fans blowing on me.
Not only are home gyms growing in popularity, but people are actually using their equipment. No more coatracks and laundry sorters. Companies are capitalizing on this and it is more convenient and less expensive to exercise at home, so long as you stay motivated and know what you are doing.
Curious about what types of classes Peloton has to offer? They offer thousands of on-demand classes as well as live classes each day. Check out my free downloadable list featuring the most fun theme rides and fan favorites at the end of this post!
You can access this and all of my other checklists and files in my Resource Library.
Major Improvements to the Peloton Digital App
If you've been following my blog for a while, you know I'm a huge Peloton fan. Whether you use the Peloton Cycle or the Peloton App, you'll have access to their ever-growing base of classes. Lately, Peloton has focused on improving its app (rebranded as Peloton Digital). For more on this check out my blog post dedicated to the Peloton digital app.
Peloton Lowered the Price of the Digital App Membership to $12.99 per month
On December 5, 2019, Peloton lowered the price of the digital membership app from $19.49 to $12.99 per month. If you own the bike or tread, you'll pay $39 per month for membership. Note: effective June 1, 2022, Peloton raised the monthly membership to $44 per month.
This, of course, includes access to all their metrics. You can also try out the app for free for 30 days.
Peloton finally introduced the Andriod version of the app, although it still lacks some of the IOS features.
To download the Peloton IOS App, click HERE.
To download the Peloton Android App, click HERE.
You'll also find an online community motivating you every step of the way: The Official Peloton Member Facebook Page, The Official Peloton Mom Group, and Peloton Digital App Users–to name just a few.
Which Indoor Bike Should I Use with the Peloton App?
I've compiled a list of best-selling spin bikes based on Amazon sales, those my readers most often purchase, and good old crowdsourcing.
Remember, for any bike, if you want to use the Peloton App, you'll want to purchase if not included: a cadence monitor, weights, a tablet holder, and a mat. You can find it all here in my How to Use the Peloton App with any Spin Bike post. Refer to this article to help you figure out which accessories are worth buying.
For more must-have accessories for the new Peloton rider, be sure to read this post.
Belt Drive, Chain, or Magnetic Spin Bikes: Which to Choose
Belt-drive bikes typically require less maintenance and provide a quiet ride. As does magnetic resistance, if you can swing it for the extra cost. In my opinion, the best exercise bikes have magnetic resistance.
For the smoothest rides, buy a belt drive, not a chain bike.
Clipping in
I also recommend making sure you clip in with SPD cleats so you may need to switch out the pedals.
Pin for later!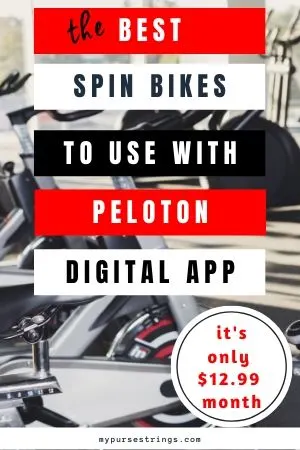 High-End Spin Bikes
Peloton Cycle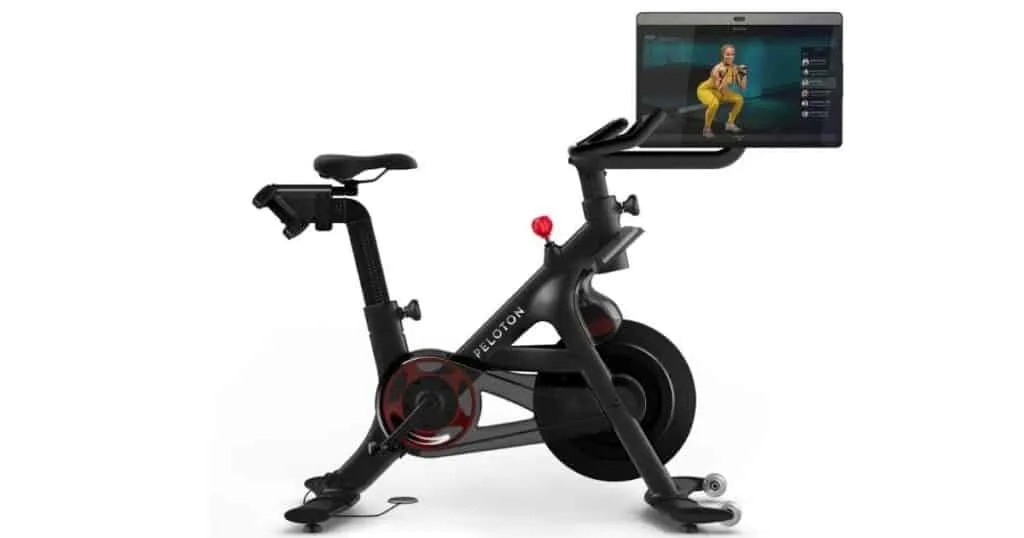 What you get: a sturdy, belt-drive, heavy flywheel, magnetic resistance bike with easy access to all your metrics. It includes a touchscreen. The bike only comes with a 1-year limited warranty so you're best to purchase an extended warranty to cover parts, especially for the built-in screen which costs hundreds to replace.
Check out my Peloton 101 blog post for tons of useful tips and advice.
The bike comes with Look Delta pedals but you may want to switch them out if you already have SPD shoes.
Peloton just adjusted the original bike's price to $1445. The Peloton Bike+ retails for $2495 (from $1745). For both bikes, you must pay a monthly subscription fee of $44 that includes access to all of the above-mentioned classes. You also must separately purchase accessories like shoes, a mat, heart rate monitor, and weights.
The large screen does not rotate on the original bike but does on the Plus, although you can purchase the Pivot from Top Form Design to enable your screen to rotate. Use promo code MYPURSESTRINGS10 to save 10 percent off your order. Or you can get it on Amazon.
Original Peloton BIke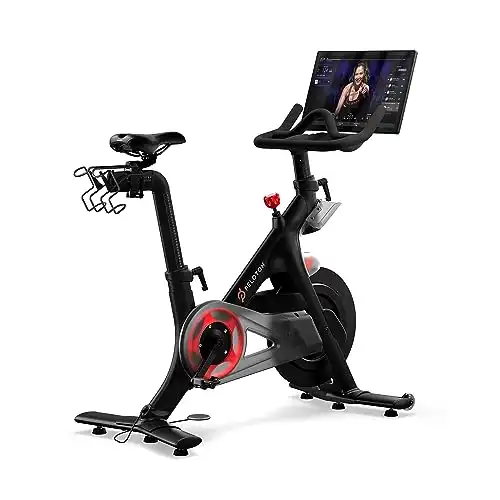 To take full advantage of the Peloton workouts, you will have to download their app, free with the purchase of the bike. My favorite way is through a smart TV or the Roku, where you simply add a Peloton channel. That's how I do their non-cycling classes: Tread, Bootcamp, Strength, Stretching, Yoga, and Meditation.
You can also use the Peloton Guide on any TV. You can use this device to check your form which is especially important in upper body workouts. If you buy a non-Peloton bike, you can use the Guide to view the spin classes and take off-the-bike classes.
No Peloton Needed: Attach to Any TV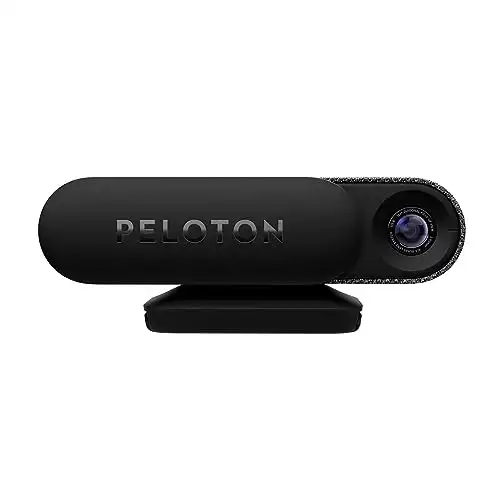 If you decide to order the Peloton Bike or Tread, feel free to use my referral code GCSRDR to receive up to $100 towards Bike or Tread accessories. Note: this code must be used at the time of order. You must use the entire credit at one time.
Check out my posts on the Horizon 7.0 AT Treadmill to Use with the Peloton App and Treadmill Alternatives to Use with the Peloton App.

Did you know you can buy a refurbished Peloton bike? Read these posts for more ways to save on a Peloton Bike or membership.
Peloton Cycle High-End Spin Bike Alternatives
Rather than being tied to Peloton classes, many serious riders buy either of the following two spin bikes. They like the option of using the bike with other apps like Zwift, Sufferfest, or Trainer Road. Plus, the Peloton App is half the price of a Peloton Bike monthly membership. These bikes are built for durability and high performance. And, unlike the Peloton, both bikes offer better adjustments to the seat and handlebars to accommodate riders of all sizes.
Our Pick: High-End Bike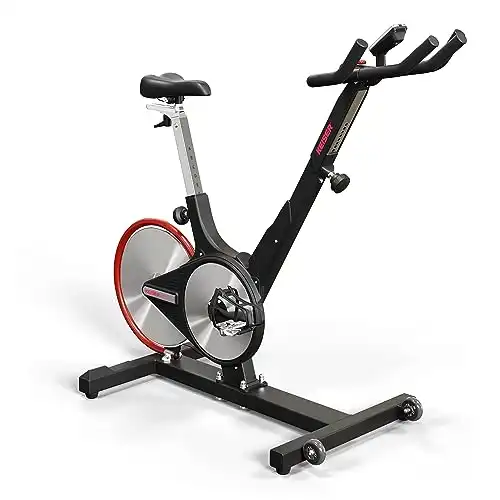 Keiser M3 Indoor Cycle
Magnetic Resistance: YES
Tablet Holder: YES
SPD Pedals: YES
Metrics Computer: YES and even measures resistance, cadence, and output.
Buy Now
We earn a commission if you make a purchase, at no additional cost to you.
12/06/2023 10:50 am GMT
While similar in price to the Peloton, so many riders prefer the Keiser. Why?
Keiser has been making indoor commercial cycling bikes for two decades. It's truly built to last with a magnetic belt drive and moveable handlebars. Unlike most other bikes on this list, the Keiser provides metrics that can easily be used along with the Peloton App. Most importantly, you can track the resistance.
It has Bluetooth connectivity to track resistance, cadence, output, calories, and distance. It also comes with a media tray to place an iPad on to watch a show or use another app. Riders can download all their metrics.
The M3i also includes dual pedals with toe cages or to clip in with SPD shoes.
All these reasons make Keiser an excellent choice.
Magnetic Resistance: YES
Tablet Holder: YES
SPD Pedals: YES
Metrics Computer: NO but available separately
This is the bike that many spin studios use including Cyclebar. It's a great bike that mimics the feel of an outdoor road bike, with Carbon Blue, a durable belt drive made to feel like a chain. It's built like a machine, with an aluminum frame.
It includes dual-sided SPD pedals and built-in media tablet holder but you'll have to buy either the Cadence Pro or Echelon 2 Power consoles for metrics.
Check out this video comparing this Schwinn to the Peloton: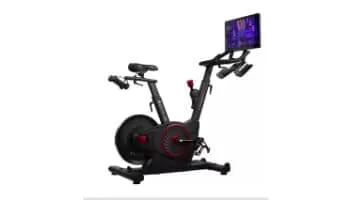 Magnetic Resistance: YES
Tablet Holder: YES
SPD Pedals: YES
Metrics Computer: YES (resistance, output, and cadence)
Echelon advertises itself as an alternative to Peloton. Echelon offers classes too with a leaderboard and the bike looks remarkably similar to Peloton, so much so that Peloton sued Echelon. In my opinion, it's the Peloton instructors who make the classes amazing.
If you're not planning on using the Peloton app, you can certainly subscribe to Echelon's own membership and pay either monthly or yearly.
However, if you plan to take Peloton classes (which I obviously highly recommend), simply take a freestyle ride (free of charge) on the Echelon and the above-mentioned metrics from your Peloton class will still appear on your Echelon app.
Most people still use two devices–one for Echelon stats and the other for the Peloton app (to view the classes and heart rate which syncs with the Peloton app).
There's also a Facebook group specifically for Echelon riders with the Peloton app.
Also consider:
Another slightly less expensive but very popular option is the LeMond RevMaster Pro. This is a solid bike!

Moderately Priced Spin Bikes (Under $1000)
Best Features: Moderately Priced Bike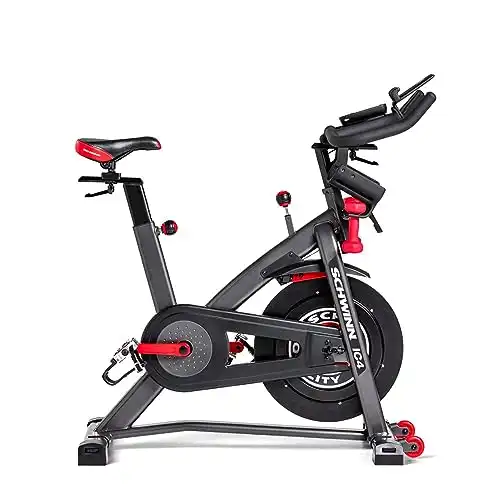 *Includes 3 lb. weight dumbbells and heart rate monitor. This bike also has 100 levels of magnetic resistance.
This is a top pick for those not wanting the Peloton. There's also a Facebook group for IC4 users with the Peloton Digital App.
You might also consider the less expensive but similar IC3, however, it does not feature magnetic resistance, nor does it have Bluetooth capability.
Still, both these bikes are top picks for those not wanting the Peloton. There's also a Facebook group for IC4 and Bowflex C6 riders who use the Peloton Digital App.
Our Pick: Moderately Priced Bike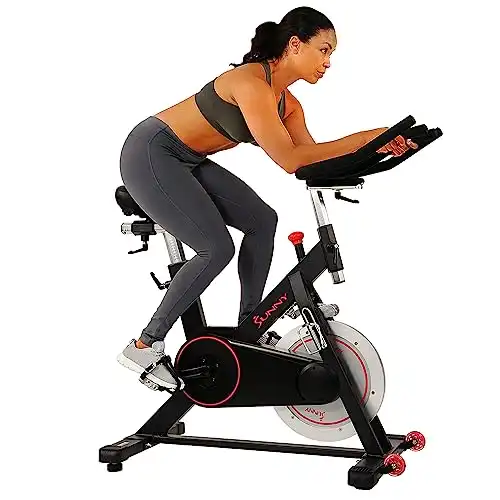 This is a newer addition to the Sunny family, and includes a tablet holder!
With magnetic resistance, a belt-drive, and a 44-pound flywheel (heavier flywheel than Peloton even), this is a great option. You'll still want to change out the pedals to SPDs to get a more intense and efficient workout. This bike features a weight capacity of 330 pounds (vs. the B1714's 300-pound limit)
Great for the Money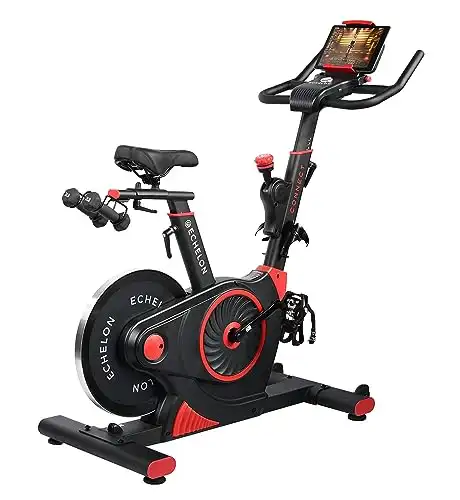 Echelon Smart Connect Fitness Bikes
Magnetic Resistance: YES
Tablet Holder: YES
SPD Pedals: YES
Metrics Computer: NO (you need to use a tablet or smartphone) but their app displays resistance, output, and cadence.
Buy Now
We earn a commission if you make a purchase, at no additional cost to you.
12/05/2023 07:25 pm GMT
*the EX-5S includes a tablet
See Echelon EX-5S description above for more information on how to use the Peloton Digital App without the Echelon subscription and why you may want two devices.
Magnetic Resistance: YES
Tablet Holder: NO
SPD Pedals: NO
Metrics Computer: NO
Like the Peloton, this bike features magnetic resistance and a belt drive system, giving the rider a quieter ride and less maintenance. It has a 44-pound flywheel. One drawback is that you have to gauge your resistance levels by feel.
However, unlike the Peloton, you'll need to purchase some extra accessories to take full advantage of the Peloton classes: cadence, tablet holder, etc.
You can find it all in my Amazon shop (below) or read more here.
Tablet Holder: YES
SPD Pedals: NO
Metrics Computer: YES but does not track cadence
This spin bike features a belt drive and a 35-pound flywheel. It also comes installed with an LCD monitor that tracks distance, speed, time, calories, and heart rate. It does NOT track cadence so you'd have to purchase a cadence monitor separately.
Also consider:
Check out LNow's less expensive version, the D600, which features a lighter flywheel and LCD monitor but a smartphone holder (but not a tablet holder).

Less Expensive Spin Bikes
Our Pick: Best Budget Bike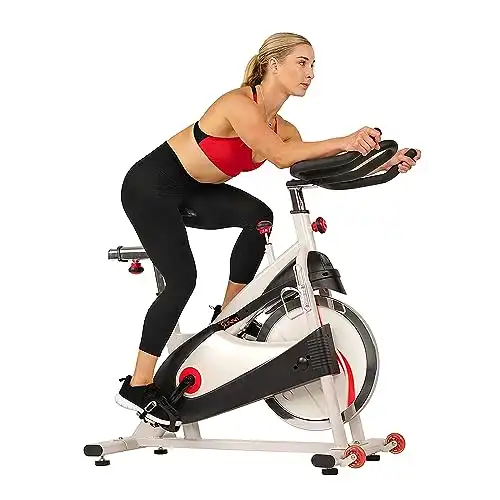 This bike remains one of the top-sellers. It's basically the same bike that I feature in my video and original Peloton Digital App blog post, with the addition of SPD pedals. Remember, you'll have to estimate your levels of resistance although you can measure cadence with an added accessory.
This is a great beginner bike and you really can't go wrong with it. Many riders choose this bike when first trying out the Peloton App. If you check out any of the Peloton Facebook groups, you'll see riders happily reference this bike and the more budget-friendly B1002. While some use this for a while before upgrading to the Peloton, you'll also see many who are have no desire to give up their Sunny!
Also consider:
The Sunny B1002. Check out my blog post How to get the Peloton Cycle Experience Without the Price Tag for more details.
Magnetic Resistance: YES
Tablet Holder: YES
SPD Pedals: NO
Metrics Computer: YES but does not measure cadence
For the price, this bike has a lot of bells and whistles. It has a belt drive and 40-pound flywheel and the digital monitor measures time, distance, speed and calories.
Also consider:
Check out the newer IC033 which also measures cadence.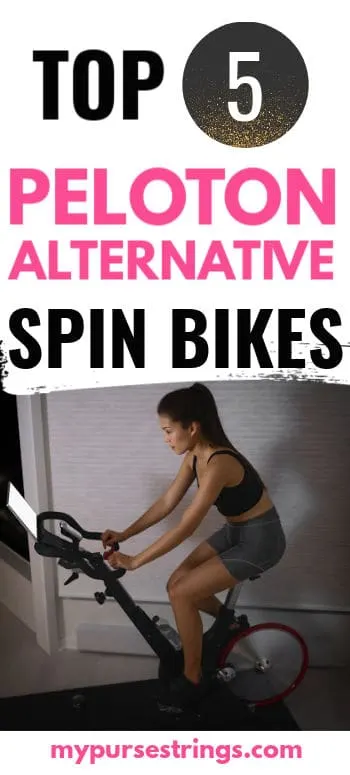 My Top 5 Peloton Alternative Bike Picks
Peloton Accessories
You're going to want to make sure that you have all the accessories you need for your first ride. Check out this blog post of all the must-have (and nothing you don't need) accessories for Peloton.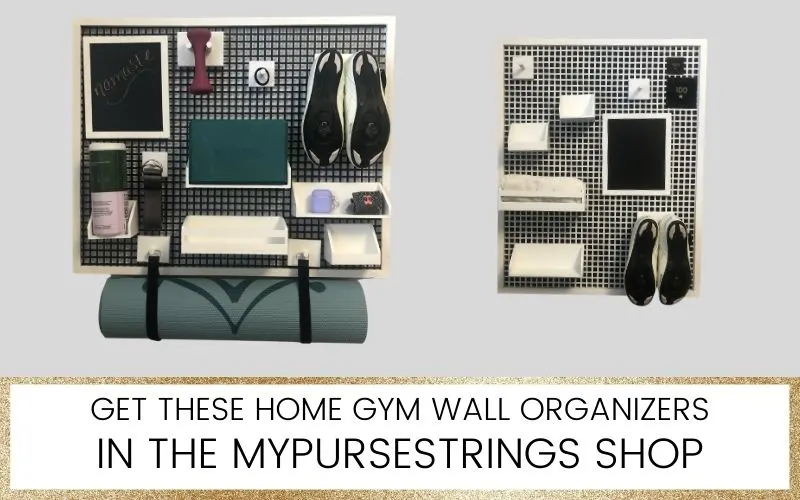 FAQ
Since writing this post, tons of questions have come up. I'll attempt to answer them and if you have more questions not addressed, please put them in the comments section.
Can I use a recumbent bike instead of a spin bike for Peloton classes?
Technically, you can use a recumbent bike to take Peloton classes but you wouldn't want to do that. In most classes, you sit in the saddle but also stand up. Recumbent bikes are not designed for this movement. Without a proper spin bike, you'll compromise your form and possibly even hurt yourself.
How can I make my spin bike seat more comfortable?
For the most part, your body will adjust to the feel of the seat after a few rides. Some change out the seat or you can always purchase padded bike shorts in the meantime. It is important to find the proper seat alignment on your bike. Watch the video in this post here. You'll need to play around with the adjustable seat to make sure it fits your body correctly. And remember, that every person is different.
Do I need a bike with adjustable handlebars?
Every indoor cycle bike is different. Surprisingly, the Peloton bike's handlebars only move up and down and not from front to back. That's one of the reasons why some shorter or more petite riders have trouble with their form. Other people have injuries and also want more adjustability in the handlebars. Read through each bike description to make sure that the bike will fit your body well.
Is a spin bike good for weight loss?
I pay attention to what doctors, nutritionists, and personal trainers say. Plus, I have years of experience using an indoor bike on a consistent basis. While you may lose weight, it mainly comes down to diet. Personally, the only way I've lost a good amount of weight with Peloton is when I started adding more strength training to my routine. Peloton's programs are great for increasing your overall fitness level.
How much room do you need for a spin bike?
Whether you're using a Peloton or a regular spin bike, you'll need a similar amount of space. Some people have a dedicated workout room, others live in small spaces or keep their bikes in a bedroom or living room. Rule of thumb, you need enough room to stand up without hitting your head and to extend your arms front and back and side to side. Also, you need a power outlet nearby.
Which bike the best option for you?
The bike that fits you well and is within your desired price range is the best bike for you. It's a personal decision. If you're convinced that you need a Peloton bike, here are some ways you can save on your membership and you can even buy a refurbished bike. But make sure you get a high quality bike that will grow with you on your fitness journey.
For the Peloton fans in your life, check out this Ultimate Peloton Gift Guide blog post including Peloton-inspired products and exclusive My Purse Strings promo codes.
Wondering which Peloton class to choose?
Also, check out my blog post linking you to the most fun themed Peloton rides, including all the fan favorites plus this blog post, Peloton Soundtrack rides featuring TV, movie, and Broadway musical soundtracks. If you become a member of Peloton, you can click on these links and bookmark the rides. Peloton does not always make the search easy to find specific rides.
To get the free downloadable class lists "BEST PELOTON THEME RIDES" and "PELOTON SOUNDTRACK RIDES" sign up below. You'll always have free access to my lists in the Resource Library and get notified when I make important updates to these files.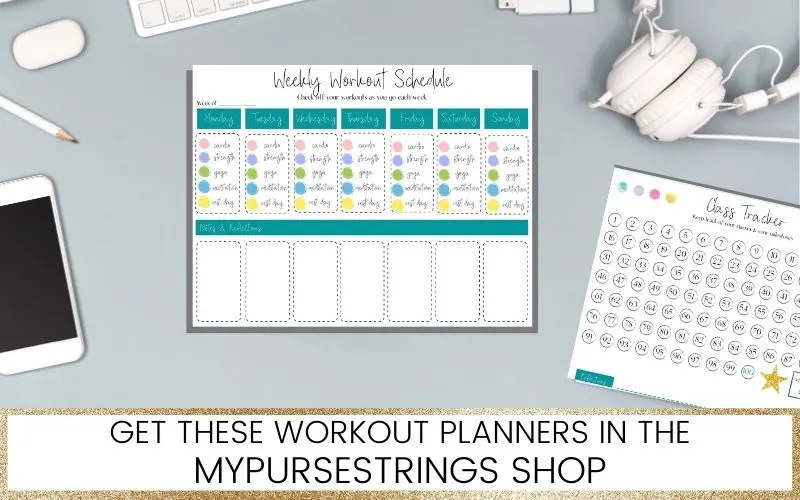 For more class ideas, check out this blog post on 15 Ways to Keep Your Peloton Steak Going.
Related Peloton Blog Posts:
Peloton 101: Everything A New Rider Wants to Know (But Was Afraid to Ask)
10 Tips to Help You Select A Leaderboard Name
Treadmills to Use with the Peloton App
5 Reasons You'll Use the Apple Watch Every Day
Everything You Need to Know About the Peloton Tread
How to Find the Best Peloton Rides: Fun Themed Fan Favorites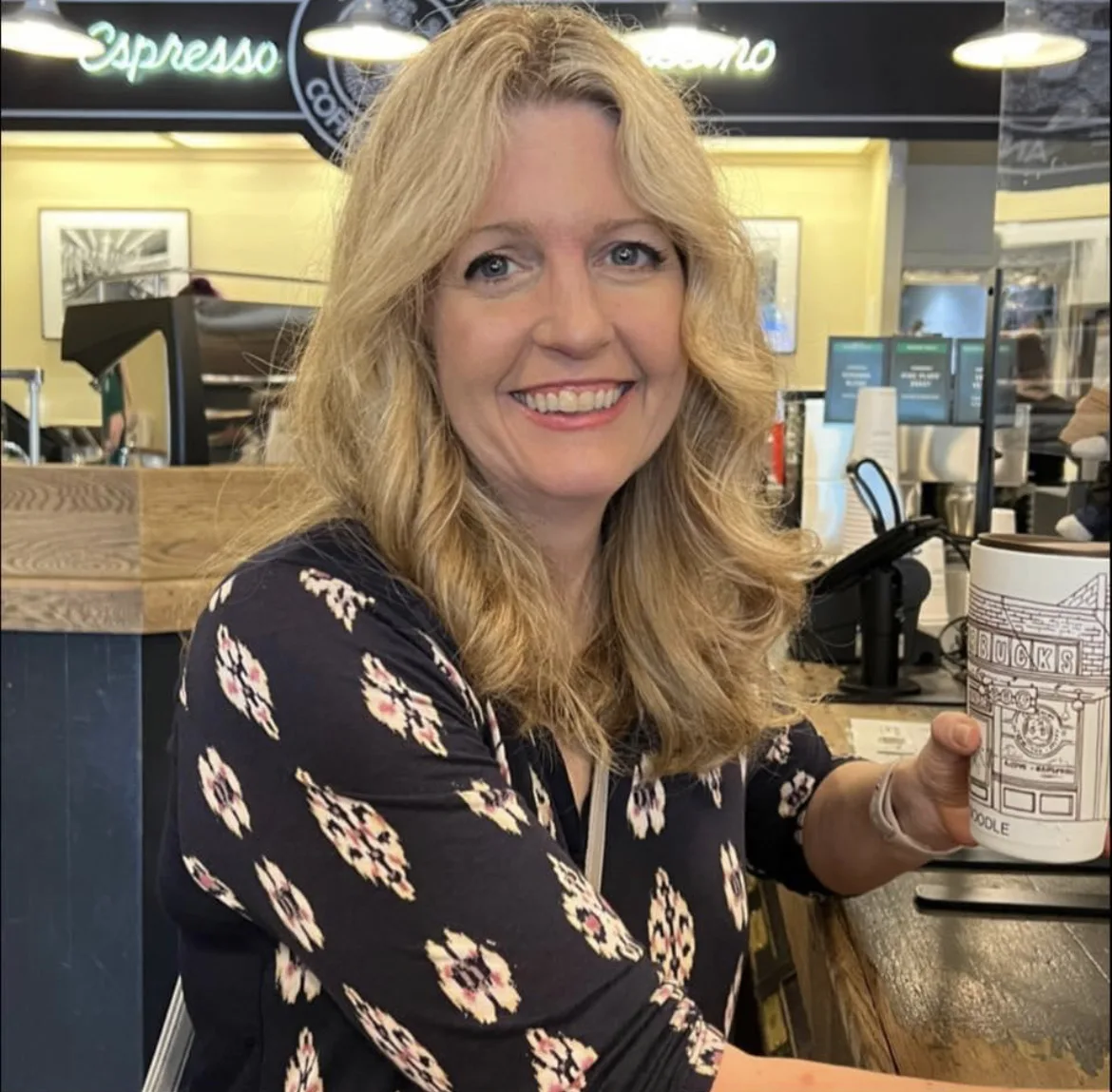 Michelle Platt is a content creator and certified personal trainer. Proving it's never to late to reinvent yourself, she's a former attorney and teacher who loves to do the research so you don't have to. She takes a deep dive into each topic and writes about her wellness journey here. She loves trying out new workouts, fitness tips, healthy foods, and products to share with you. This native New Yorker recently made the move to the suburbs of Minneapolis, where she lives with her husband, two kids, and two dogs.