A few years ago, I moved into a house with a stand-alone bathtub in my master bath. The bathtub is still one of my favorite features in my house.
As a mom, for years when I thought of bath time, it stressed me out. Bathing two kids two years apart is no easy feat. It involved tub spout covers, bath toys (and the accompanying mold and mildew), and crying when some water got into their eyes.
I forgot how relaxing taking a bath as an adult can be, especially at the end of a long day. I don't often have the time for lots of self-care (other than working out). Taking a bath is an easy way to relax, unwind, and much cheaper than a spa treatment.
When I say, "I'm taking a bath," my family knows not to bother me and to give me some "me time." I hope this list of bathroom accessories helps you to find some peace and relaxation in your day.
This post contains affiliate links. See my disclosure policy for more information. Some products were gifted to me but all opinions are my own.
Best Bathtub Accessories for a Spa-Like Bath
Overflow Drain Cover
The first time I took a bath in my new house, I went downstairs only to find water dripping from the lighting fixture above our kitchen table. Apparently, something wasn't installed correctly.
After it was fixed, I did some research and immediately bought this overflow drain cover.
Simply attach this silicone cover over your overflow drain. It allows you to add inches to your bath water. This affordable drain cover has more than 50,000 Amazon reviews and is dishwasher safe too.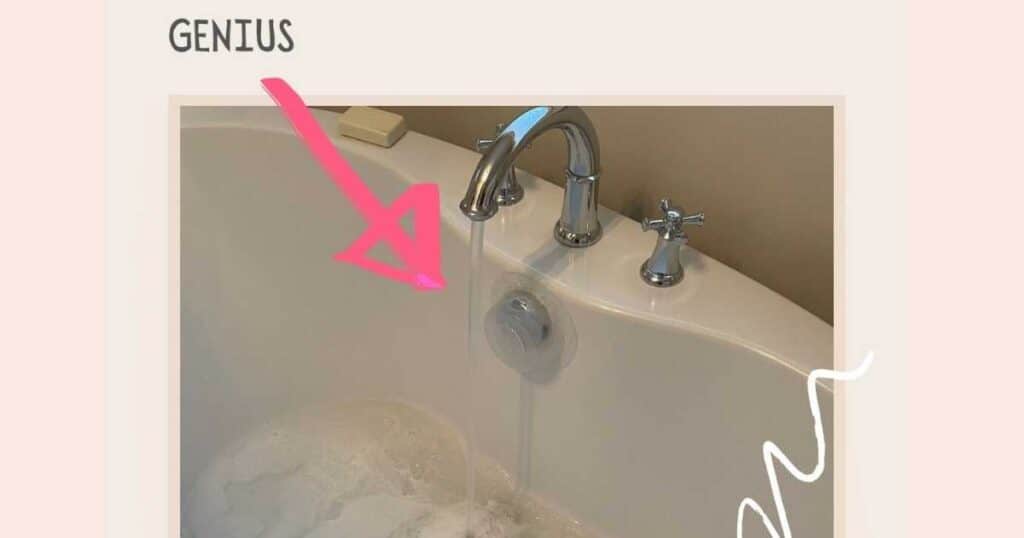 Bathtub Pillow
For months, I placed my head against the cold and uncomfortable edge of the tub. If you want the ultimate relaxing bathing experience, you need a bath pillow.
I have this one. It has strong suction cups that attach to the tub.
It's machine washable and even came with a bag to wash it in. Hang it up after each use to prevent mold and mildew. It's plush and provides excellent support for your neck and shoulders.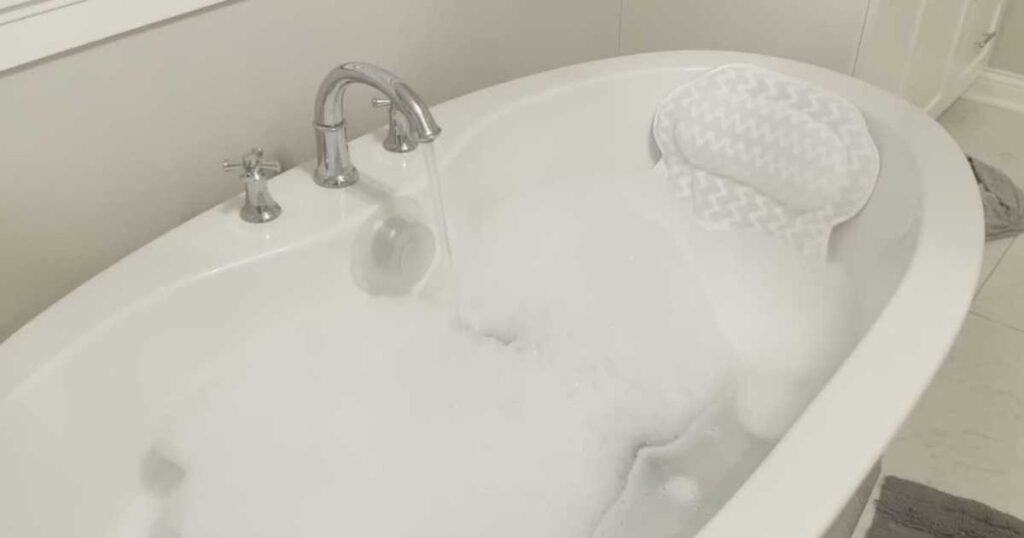 Bathtub Caddy Tray
This bathtub caddy tray was the latest edition to my bathtub and it elevated my bath to the next level. It has a place for all your bath accessories: a soap dish, plenty of room to hold bubble baths and lotions, a mug, iPhone, tablet, or laptop, and even a slot to hold a wine glass.
I chose this one because it's made of real wood (bamboo) and created by a small all-American business.
The bathtub tray expands to fit just about any tub from 29 ½ inches to 43 inches across.
It even includes silicone grips to prevent slipping and protect your bathtub.
Waterproof Kindle
While not specifically for your bath, I recently upgraded my Kindle Paperwhite to the Waterproof version. If you want to relax in a bath but get bored after a few minutes, try reading. Especially after a stressful day, there is nothing more relaxing than a bubble bath, reading a good book, and a cup of tea.
Check out MyPurseStrings on Substack. Get the newest blog posts, my favorite finds, and read all new and past newsletters there.
Bluetooth Speaker
If I'm not reading, I'm meditating in the bath.
I'm a huge fan of Peloton classes and often listen to their relaxation meditations while I bathe.
I use an Echo Dot Alexa speaker set up in my bathroom but any Bluetooth speaker would work well.
Phone Holder
If you want your phone at arm's reach and don't feel comfortable propping it up in the bathtub caddies, check out this phone holder.
This one comes with three hooks so you can easily change locations and place your phone in the bath, shower, or anywhere else in your house.
It's waterproof, doesn't affect the sound quality of your phone, and this one rotates 360 degrees.
It's perfect for catching up on your favorite Netflix show.
Teak Bath Mat
We've had this teak bath mat for years and it still looks as good as the day we bought it. While it's a splurge, it adds a bit of luxury to your bathroom.
It's non-slip, durable, and feels great on your feet when you get out of the bath.
Hair Catcher
If you're going to make baths a part of your routine and you have long hair as I do, you should invest in this hair catcher for your bathtub drain. We have one of these for our shower too. Better than a drain cover, this hair catcher fits inside your drain.
Rather than waiting and dealing with a clogged drain, this little device prevents the problem.
Scalp Massager
If you like to wash your hair in the bath, this scalp massager is one of my favorite products. I've had this one for years. It does a great job of removing shampoo buildup plus it feels fantastic on your scalp.
Shower Cap
If you're not washing your hair in the bathtub, try using this shower cap. It comes in a four-pack. I've had these for years and only opened two of them.
I have a ton of hair and it does a great job of keeping it dry in both the bath and shower.
Bubble Bath
When I take a bath, I need bubbles. This bubble bath contains Epsom salt and essential oils. I especially like the one meant to promote sleep but I also love their post-workout mineral soaks.
Check out MyPurseStrings on Substack. Get the newest blog posts, my favorite finds, and read all new and past newsletters there.
Gold Under Eye Patches
If you've been on social media lately, these gold under-eye patches are all the rage. This 20-pack is often on sale.
Put them under each eye for 20 minutes or so. They contain Hyaluronic acid, collagen, and 24K gold!
It's supposed to reduce dark circles, eye puffiness, and minimize fine lines and wrinkles.
Fighting aging while chilling out in the bath, sign me up!
Candles
If you want the look and sound of a flickering candle without actually needing to light one, I highly recommend this set. Like traditional candles, they are made of paraffin wax. They look real and even sound like a burning, crackling wick.
It comes in a set so you can put these candles all throughout your house, not just in your bathroom.
It runs on a timer but you can also turn it on or off with the included remote control.
Turkish Towels
Not only do they look beautiful hanging up in your bathroom, but Turkish towels are super absorbent and quick drying. Note, they're thinner than your traditional bath towel.
And, the more you wash them, the softer they get.
Bath Robe
This is the softest robe. I got one for my husband for an anniversary gift years ago and I steal it all the time. I finally got my own. It's a great product with tens of thousands of Amazon reviews.
Microfiber Hair Towel
If you shampoo your hair in the bath, I'm obsessed with these hair towels. I've been a fan of this company for years.
My hair is thick, coarse, and takes forever to dry. This towel has an elastic buttonhole to keep your hair tightly wrapped. It speeds up the dry time for my hair significantly. I'm also a fan of these microfiber scrunchies which also help my hair dry. more quickly.
Final Thoughts
If you're interested in product reviews like this, be sure to check me out on Amazon Live, where I livestream 2-3x per week.
Also check out my YouTube channel with tons of product reviews!
What's your favorite bathtub accessory? I'd love to hear from you. Comment below.