I'm kicking off my first Holiday Gift Guide series (and first giveaway).
Here's the ultimate holiday shopping guide for the Hot Mess Mom. How do I know? Because I am a hot mess and proud of it.
So share this guide with moms that you know and love, the moms who wear pajamas to drop-off, the moms who escape to Target for some alone time, and the moms who are doing their best, just like you.
Cheers to the Hot Moms in our lives! And, happy holidays!
Note, this post contains affiliate links.
Gift Guide for the Hot Mess Mom
By definition, the Hot Mess Moms runs all day long, trying to get it all done. Fact: Hot Mess Moms don't wash their hair every day. Hot Mess Moms may even workout without shampooing their hair afterward (gasp). Whenever I use this dry shampoo, my daughter tells me that I smell nice. This is the best dry shampoo that I've tried. A little bit of this goes a long way and it lasts forever. Another time-saver beauty product for moms from the same line is the In-Shower Styler which helps my hair to air dry into manageable waves rather than frizz.
Hot Mess Moms don't often have time to style their hair. I often wash my hair at night and wake up to unruly hair. I spray a little high heat protectant on my hair, run this flat iron through my hair, and in about ten minutes (I have a lot of hair), I have sleek hair. Since I switched to this flat iron with a smaller one-inch plate, I've been told my hair never looked so straight.
Hot Mess Moms don't have time to treat themselves to weekly manicures. This top coat nail polish makes the perfect stocking stuffer. Although it's marketed to use with the Sally Hansen Miracle Gel line of nail polishes, painting this top coat over any of your favorite brands extends the life of your home manicure. Mine has personally lasted over two weeks.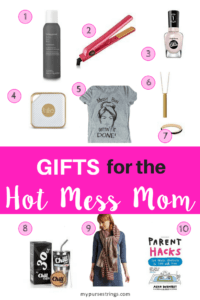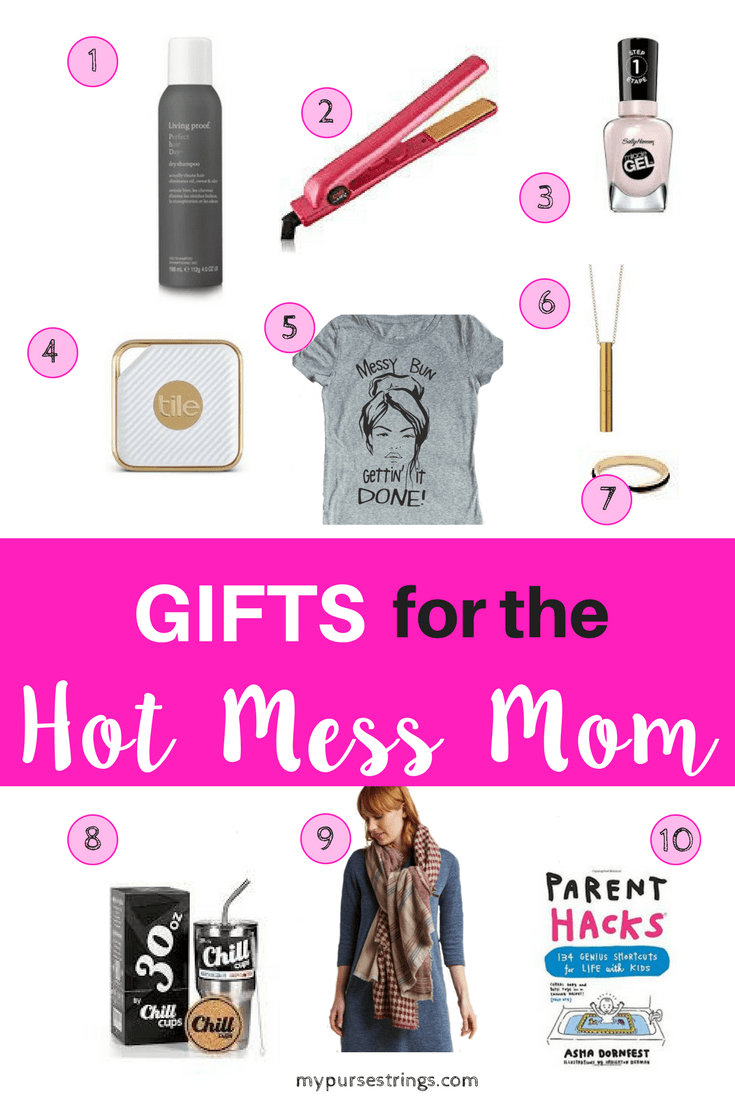 I purchased a bunch of these as gifts last holiday season. Now, Tile makes their key finder in several designs and sell as multipacks. How does it work? Download the app to your smartphone and attach the tag to your keychain, purse, or anything else you want to keep tabs on. They even make slim tiles to slip into your wallet. I love this product so much that I'm giving it away as part of my first giveaway. Click here to enter. Simply subscribe to the blog through this link for a chance to win.
This shirt says it all. Yes, your hair may be unwashed. Yes, you may be wearing your yoga pants for the third day in a row. But, girl, you are getting it done!
Hot Mess Moms love accessories. What makes a boring T-shirt cool? An awesome statement necklace. This 14-karat gold necklace is dual-purpose. Wait for it . . . Besides adding some style to your wardrobe, it also carries your choice of essential aromatherapy oils. The necklace comes with three blends: energy, focus, or calm. Not only do you get the benefits of essential oils (lavender alleviates headaches, peppermint is a natural stress-reliever and basil is a natural antibiotic), but you will smell good too!
Hot Mess Moms sport messy buns. They don't always start off the day with a messy bun. If they're like me, their accessory of choice is a hairband around the wrist. Not always the best look. This ingenious bracelet holds your hairband but looks like a beautiful gold or silver bracelet.
Most days, I'm either drinking cold coffee or reheating my coffee in the microwave. This insulated mug keeps your drinks either hot or cold for hours. Read the reviews. People love this mug.
It's a blanket and a scarf. When you're dashing out of the house, a blanket scarf can make any outfit look like you put some effort into choosing it. But really, you're just snuggled in your blanket. It's almost as good as wearing pajamas on the outside, which I hear is frowned upon.
Let's face it, half of parenting involves a hack of some kind. Bribery and hacks. This book is geared more towards parents of babies and toddlers, with tips ranging from organizing a playroom to interesting ideas on repurposing your child's artwork (besides the recycling bin).
More Holiday Gift Guides Coming Your Way
Well, there you have it. My first Holiday Gift Guide of the season. I've added a section on top of the blog called Holiday Gift Guides so please come back and check out the latest installment. (If you subscribe, you'll get these sent to you automatically).
I'm also proud to announce that you can now shop on my very own Amazon page. This list is curated by me to include some of my favorite products and will be updated regularly. You may recognize some of these products from past blog posts so it's an easy way to check everything out in one place.
As always, if you love a post, please share it with your friends! And, don't forget to enter the giveaway.