If you grew up in the 70s or 80s, you probably have at least one horrific sunburn story. For me, it was when my entire face peeled after a trip to Jamaica at the age of 14. However, this was not an isolated incident. At some point in the summer, I remember picking at my skin and peeling it. Peeling my skin! I can still feel the discomfort of sleeping under my sheets and feeling the fire under my skin, tossing and turning all night. I used sunblock even then when an SPF of 8 was considered excellent coverage. I had friends who regularly baked in the sun with tin foil and baby oil and I joined in occasionally. I worked as a lifeguard every summer and I don't remember ever running out of sunblock. Even in college, my friends and I bought sun tanning packages to get a base tan for our upcoming spring break trips. This was the norm in which I grew up.
Flash forward twenty years and I am a sunblock nut and rightfully so. My kids know this about me. I've had more than one serious skin cancer scare and now get a full body check every three months. I have scars to prove it. If either of my kids told me any of the above stories, I seriously think I would break down in tears. Just this March, I missed a spot on them while we vacationed in scorching Palm Desert. The pinkness disappeared by the next morning but I kicked myself saying, I cannot let this happen again.
As a parent, you can only protect your kids from so much. I can't reduce their risk of most types of cancers, but I can help to reduce their exposure to the sun and skin cancer risk. When people hear skin cancer, I think they often take it lightly. Maybe it's because we all know someone who has had skin cancer; it's the most common type although often not serious. However, patients are getting diagnosed with melanoma at alarming rates in recent years.
OK, my PSA is over.
As you can see, I take my sun protection extremely seriously. I am always searching for the best products.
These are my favorites:
Sunblock: I've tried them all. I gravitate towards the mineral-based products for my kids. Note: If you are unfamiliar with the Environmental Working Group, please check out their website for safe and environmentally friendly products.
For the price, protection, its consistent ranking on the EWG list, I buy Think. Many sunscre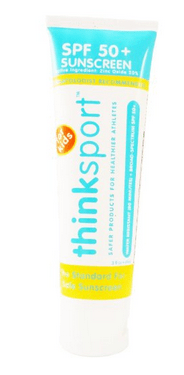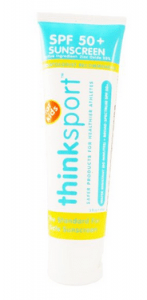 ens bother my kids' skin when I apply it, even the supposedly non-toxic ones. They never complain with Think. It goes on white but I like that because I can see that I haven't missed an area and it does rub into the skin. Each of Think's products gets the highest rating. The smaller size costs approximately $10, comparable with lesser-rated big-name sunblocks like Neutrogena. I buy it on Amazon on occasion, find it at my local health store. For the summer, I usually get a few of the larger 6 oz. containers. I've used them all on my kids, although I tend to buy the ThinkSport Kids or ThinkBaby. Of course, I use it on myself as well. 
I recently started using Goddess Garden which also ranks very highly on EWG's list. If you see the trial sized packages of their regular sunblock around, pick it up; it's great to throw in your purse. I have one in each bag. I don't love t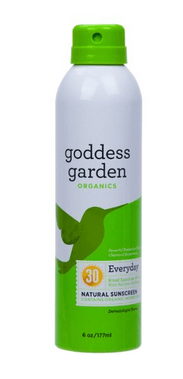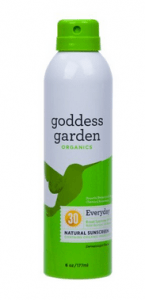 he consistency as much as other sunblocks; it feels very "natural." However, their of their organic spray  is amazing and makes it super easy to put on your kids. Yes, I know, sprays are not recommended for children but I feel better using all natural products and it comes out very controlled. I will definitely pack this in my kids' camp bag for the convenience factor as the counselors are not allowed to help in applying sunblock.
Sunglasses: I have to admit I balked at the price tag the first time I saw Babiator sunglasses in a local boutique. Prices range from $20 and up. However, these stylish aviator sunglasses have both UVA and UVB protection, and some are polarized (I'm convinced once you've tried polarized glasses, you can't go back). Most importantly, they are durable plastic that can be bent, and here's the kicker, if your child loses or breaks them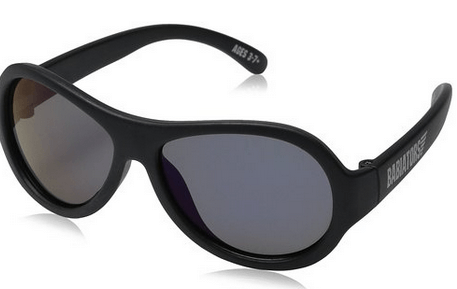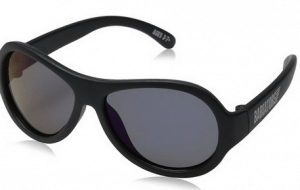 within the first year, they will replace it no questions asked. Just carefully look at the sizing: Junior Babiators fit 0-3-year-olds, Classic Babiators fit 3-7+, or Aces Babiators and also Navigator styles fit 7 to 14-year-olds.
UV clothing: For the last couple of years, I have been on a mission to buy cute UV clothing. I buy some for the kids at Target and Old Navy, but with the exception of bathing suits, their selection is small. I also buy a few items for myself each season at Athleta. Last year, I discovered Cabana Life and I am hooked. Cute rashguards for the family and UV dresses and shirts for my daughter and me. Last summer, my daughter's favorite dress was her UV dress. She can get it wet or just run around in it and I know s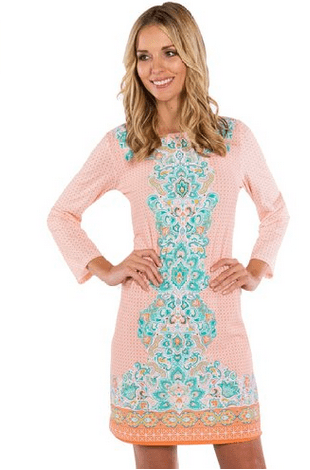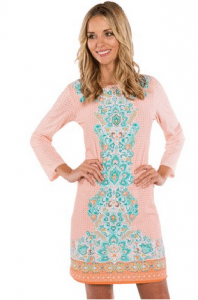 he is protected. Check out their selection on Amazon or go to directly to their website.
* As an Amazon affiliate, I get a small commission each time you purchase an item through one of my links. I only write about products I truly use and love. There are no sponsored products. So thank you for continuing to support my coffee habit. As always, I write for the love of writing. 
What are your favorite products? I'm always on the hunt.
Save
Save
Save
Save
Save
Save
Save
Save
Save
Save
Save