Like most of you, over the past couple of years, I've found myself cooking at home more than ever. Splendid Spoon makes it easy for busy parents to make healthy meals at home, easily and quickly.
There are lots of meal prep delivery services out there. And it's not the only plant-based meal delivery service either.
What differentiates Splendid Spoon from other companies is that other than heating their meals for a few minutes on the stove or in the microwave, you don't have to do anything else. No cooking means no clean-up. And, their meals are so fresh, your family won't believe it's not homemade.
This post contains affiliate links. See my disclosure policy for more information.
Click here to save on your first Splendid Spoon delivery.
I've never embraced cleansing or trendy diets. I believe in clean eating and long-term lifestyle changes, as does Splendid Spoon. If you're looking to try out a plant-based diet, it doesn't get easier or more delicious than ordering from Splendid Spoon.
If you're interested in wellness tips and other product reviews, be sure to sign up for the Friday Favorites email. You'll also get access to the free Resource Library with tons of checklists, including a Trader Joe's healthy shopping list and a go-to healthy snack list.
What is Splendid Spoon?
Splendid Spoon is a vegan and gluten-free, plant-based food company based in Brooklyn, New York, that delivers nationwide. Their tagline is an "easier way to eat healthy" and that is absolutely how I would describe my experience.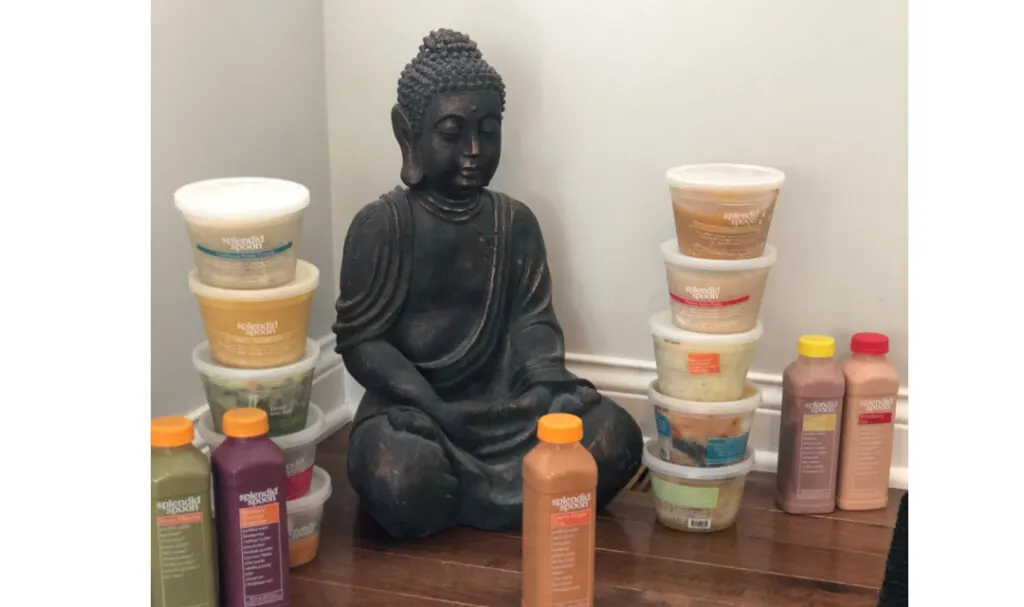 There are various plans available ranging from five breakfast smoothies per week to breakfast, lunch, and dinner options. The lunch and dinner options include 5 smoothies and 5 bowls per week. (However, as I discuss below, this lasts me more than one week).
You can also add wellness, detox, or digestion shots to any order. I describe the different plans in more detail throughout this article.
Personal Experience as a Long-Term Splendid Spoon Customer
While there may be lots of other Splendid Spoon reviews out there, I doubt many if not any of them have been a Splendid Spoon customer longer than me. Nicole Centeno founded Splendid Spoon back in 2011. I started ordering their soups soon after when I lived in New York through my local grocery delivery company, FreshDirect.
After a few years of always adding their soups to my cart, I decided to search for retailers with a bigger selection. I discovered the Splendid Spoon website and learned that they not only sold soups but smoothies too.
I loved their products so much that I became a Splendid Spoon ambassador. As an ambassador, I'm the first to try out new flavors and often receive complimentary boxes. Please note, that I only write about products I actually use and love. I've been recommending Splendid Spoon to friends and family for years.
Splendid Spoon Products are Vegan, non-GMO, and Gluten-Free
All of Splendid Spoon's plant-based meals are vegan and dairy-free, gluten-free, and non-GMO. While I'm a vegetarian, my family is not, but even my meat-loving family members each have their favorite meals.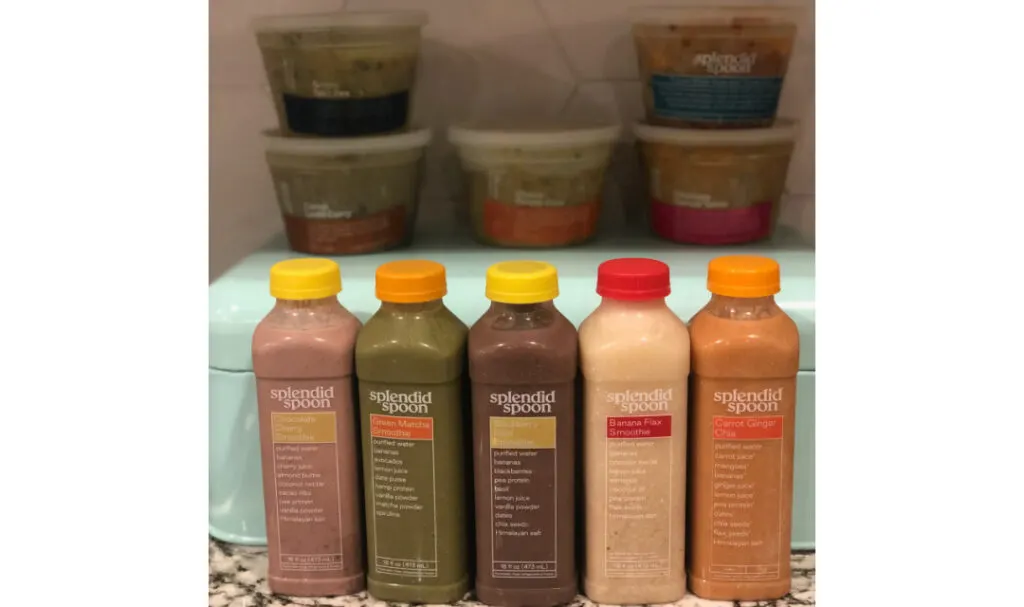 Is Splendid Spoon Organic?
Splendid Spoon's smoothies and wellness shots use 95 percent organic ingredients, however, their grain bowls and noodle bowls follow the Dirty Dozen list, which I also use as guidance when buying produce.
Splendid Spoon Nutrition and Weight Loss
Splendid Spoon's smoothies and bowls are generally low calories, low sodium, with no added sugars. They also have special lists of specific foods that meet the requirements for diabetics and those watching their salt intake. You can find more about special dietary restrictions on their FAQ page.
You can also filter and search their menu for products that are high fiber, high protein, low calorie, low fat, low sugar, and low carb, as well as low sodium, and avoid allergens.
Splendid Spoon focuses on clean eating. With that may come weight loss, though of course, it's not guaranteed. Meals are high-fiber, filling, and help to decrease bloating.
However, the breakfast + lunch + reset is the best plan to achieve your weight loss goals.
Add a reset day to your week
For the rest of the week, eat your daily soup or smoothie
Make a healthy dinner, like a salad
Drink lots of water
Limit your daily coffee consumption
Drink hot tea
Continue with the breakfast + lunch plan for the rest of the month, or add in an additional reset day as needed
Splendid Spoon does not guarantee weight loss. If weight loss is your goal, focus on eating the light soups such as Garden Minestrone and Lentil and Kale. Although these are part of the reset plan, you can also add them to your order with the other plans.
Splendid Spoon and WW (formerly Weight Watchers)
As I mentioned above, Splendid Spoon's meals are low-calorie which has helped when tracking my calories with the Lose It! app. However, you do have to take into account serving size when tracking using the WW app. I've been successfully losing on Weight Watcher's Purple Plan.
There are two schools of thought in Weight Watchers. The people who count their smoothies points because blended fruit actually contains a high amount of points versus the people who don't count the fruit and vegetables in their smoothies at all. Which one are you? If you're the former, be sure to only drink one serving to keep within your points.
Tip: If using the WW phone app, make sure that the serving size is actually correct. Sometimes users scan or manually add the nutritional information incorrectly.
Dieters also have success when combining Splendid Spoon and Noom.
Is Splendid Spoon Whole 30 Compliant?
If you're following Whole 30, you can't have the smoothies as they contain pea protein, a legume. However, you can have many of the soups and wellness shots. There is a list on the Splendid Spoon website.
Splendid Spoon's Serving Sizes
You have to remember that most of Splendid Spoon's items are two servings. For example, they say that a 16 oz. smoothie bottle contains one meal or two snack portions. However, the nutritional information considers half the bottle a serving or "snack". So, when I scan that bottle, it's two servings in Weight Watchers. I try to drink only half. The same goes for their soups and bowls. A serving is generally one cup or half the container.
Most of the smoothies and bowls are low calorie enough that you can drink the entire bottle or eat the entire container, as I often do, but if you're tracking WW points, you really need to stick to one serving.
Splendid Spoon's 1-Day Reset Program
When I first started with Splendid Spoon, their reset program consisted of drinkable soups in bottles. Honestly, I didn't love it.
They revamped this reset program a couple of years ago. Now, one day per week, eat a soup every two to three hours. Limit coffee or tea and increase your water consumption.
Check out my blog post on tips to drink more water throughout the day.
Splendid Spoon offers smoothies, soups, grain bowls, noodle bowls, their reset lighter soups, along with wellness, detox, and digestion shots. The noodle dishes are the most recent addition and probably my favorite thing to order.
Even though Splendid Spoon labels their soup and grain bowls as lunch bowls, I usually eat them for dinner. Similarly, I'll drink the smoothies as a snack or have them with my lunch.
Since I'm often eating one serving and not the whole container, I find that I have a lot of food leftover. One box lasts me closer to two weeks.
How much does Splendid Spoon Cost?
All of the above includes free shipping. To save on your first Splendid Spoon order, use this link.
Splendid Spoon Subscription
Are the Plans Flexible?
Absolutely!
Sometimes, I change it up and have oatmeal for breakfast and a smoothie for lunch. Then, I'll have my soup for dinner.
Other times, I have half a smoothie in the morning and finish the other half for lunch.

Splendid Spoon is a subscription program which means you need to remember to skip or cancel for weeks you don't want a box. You can order as often or as little as you like with the subscription plan. Personally, I like getting a box every two weeks or once a month.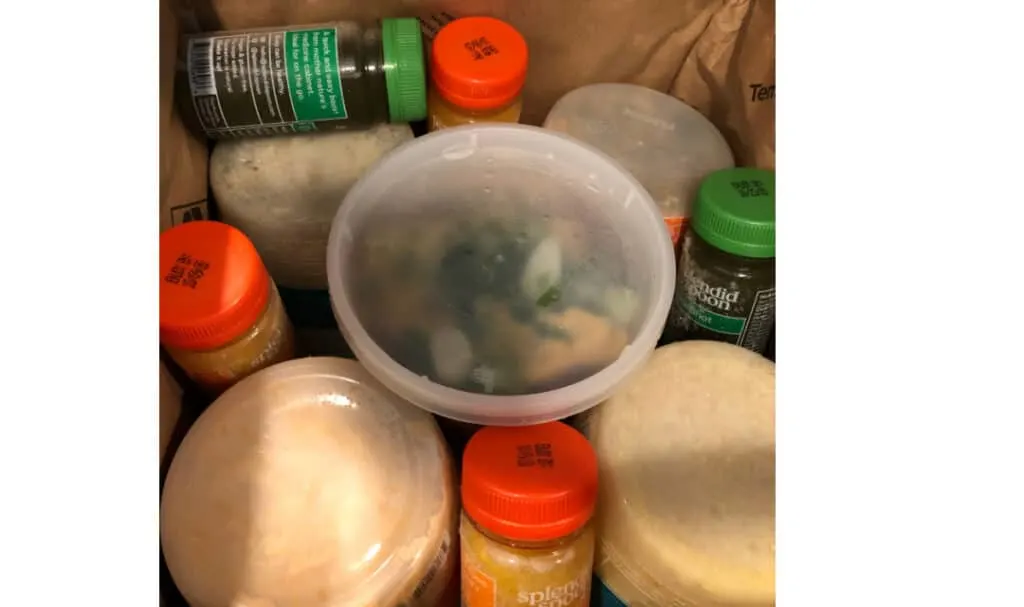 On-Demand Box
This year, Splendid Spoon introduced the on-demand box which allows you to order their products without a subscription. Note: you cannot use my $25 off promo code on these boxes. These boxes also come in handy between your deliveries and enable you, for example, to order just a box of noodle bowls. Prices range from $59 for the reset to $149.
Splendid Spoon Loyalty Program "Spoon Credits"
With every dollar you spend, you earn one point in Spoon Credit which you can use towards future orders.
Splendid Spoon Meal Plans: What Do You Receive?
The menu changes weekly and Splendid Spoon introduces new flavors all the time.
My favorite smoothies are AB&J, Chocolate Cherry, Dragon Fruit Berry, Raspberry Cacao, and Green Matcha. As for soups, I crave the Kabocha Congee (I would order this soup in my favorite restaurant). I'm a lentil lover and they offer many different recipes but Carrot Lentil Curry is my absolute fave. All recipes are plant-based and delicious.
Splendid Spoon Smoothie Flavors: My Favorites
There are lots of smoothies to choose from each week. They typically add 3 to 4 new flavors every season.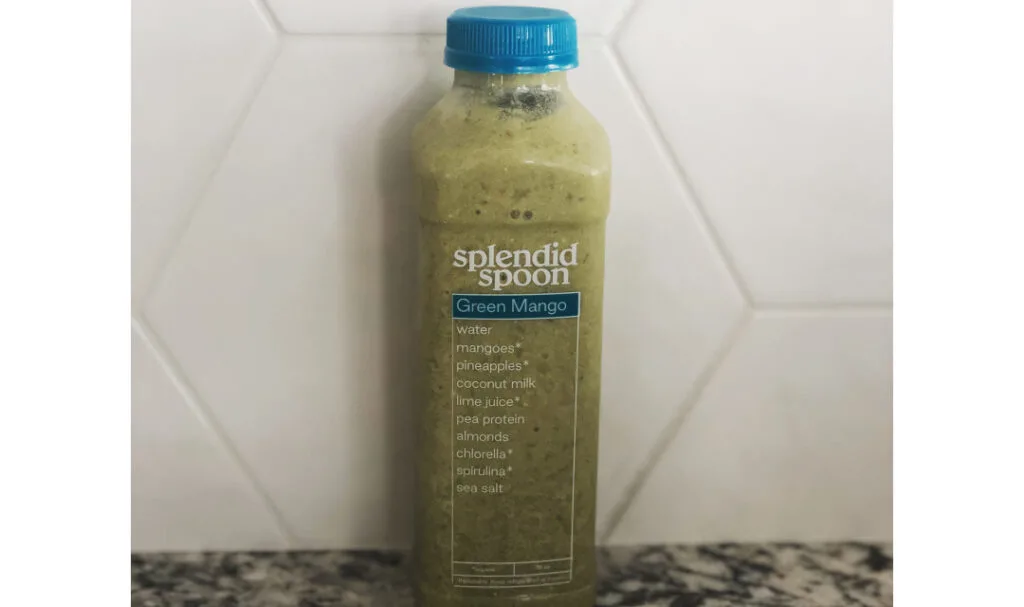 Some are labeled low-sugar. All of them contain antioxidants and protein.
Even though I technically could make a smoothie at home, I would never have most of these ingredients on-hand. Each day is a completely different flavor.
My top picks: Mint Chip, Chocolate Cherry, AB & J (aka Almond Butter & Jelly)
Splendid Spoon Soups: My favorites
Honestly, all the soups are good. Remember, the soups are what got me interested in Splendid Spoon in the first place.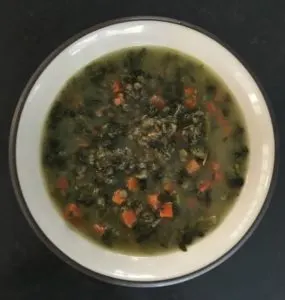 My favorite soups: Carrot Lentil Curry, Kabocha Congee, Ikranian Stew, Red Lentil Dal, Green Split Pea, and Beans and Greens.
Note: the last three were always in my FreshDirect rotation, all those years ago.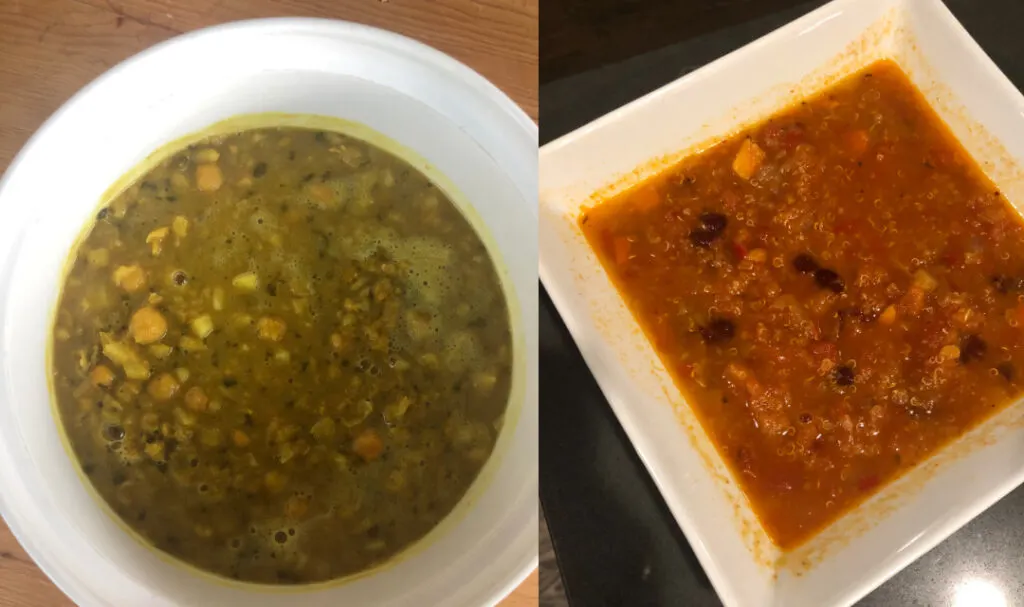 Splendid Spoon Grain Bowls: My favorites
I was so excited when Splendid Spoon added the Grain Bowls. As much as I love their plan, sometimes I'm in the mood for something heartier to chew. They are truly delicious and filling.
My favorite grain bowls: Cuban Black Bean bowl, Brown Rice Taco Bowl, Moroccan Spiced Buckwheat, Coconut Curry Rice Bowl, and Aloo Gobi Quinoa.
Splendid Spoon Noodle Bowls: My favorites
Splendid Spoon introduced the noodle bowl about a year ago. They are now my favorite product to order. Pair it with a salad for a perfect dinner. It's hard to pick a favorite because I like them all.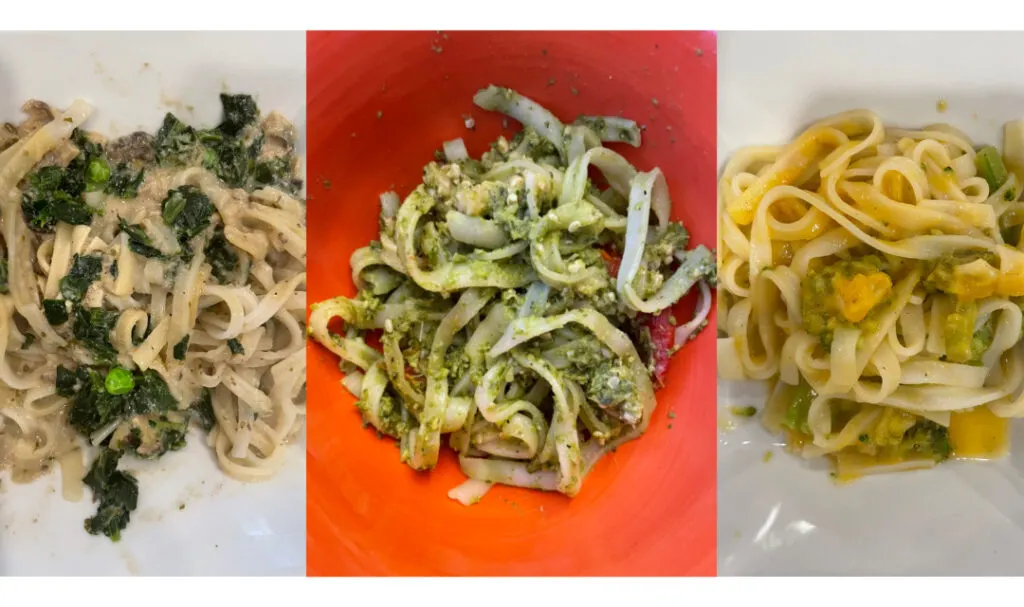 My favorite noodle bowls: Green Curry noodles (have a kick), Creamy Mushroom and Spinach, Vegan Meatballs and Marinara Noodles ("meat" by Dr. Praeger).
Splendid Spoon Shots
The shots come in 3 oz containers and contain ingredients such as turmeric, ginger, and apple cider vinegar. You can add a wellness shot, digestion shot, or detox shot to your order.
Honestly, I don't find myself reaching for the shots too often.
Splendid Spoon Juices
Splendid Spoon recently added cold-pressed green juices to its menu. They are supposed to help with digestion, immunity, and energy. They contain tons of vitamins and minerals. You can drink these juices anytime throughout your day.
How does Splendid Spoon Taste?
I wouldn't be a loyal customer for almost a decade if I didn't love the taste. I like to make my own soups and smoothies but they often fail to compare to the pre-made Splendid Spoon ones.
My son has an aversion to spinach but even when it's an added ingredient in the smoothies, soups, grain bowls, or noodle bowls, he doesn't complain.
The food is filling, with great consistency and texture. When you open the containers, you see the fresh ingredients: peas, broccoli, sweet potato sitting right on top.
If you're looking to avoid processed foods, you have to give it a try.
Splendid Spoon Meal Hacks
I love following Splendid Spoon and other ambassadors on Instragram. They have the most creative ideas. You can use the smoothies to create smoothie bowls. Or, I recently added the brown rice bowl to the inside of a roasted pepper. I got the inspiration from a food blogger.
Follow me on Instagram @mypursestrings and I'll share some ideas with you.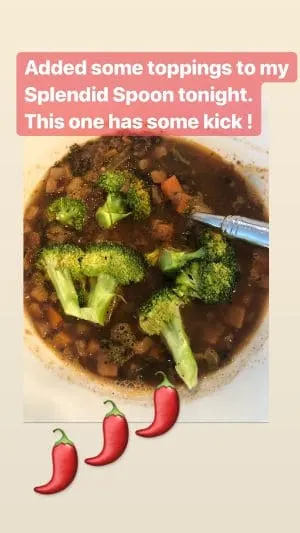 Check out MyPurseStrings on Substack. Get the newest blog posts, my favorite finds, and read all new and past newsletters there.
How is Splendid Spoon Packaged?
Splendid Spoon only uses sustainable packaging and all of it may be recycled. They only use BPA-free plastic. Splendid Spoon uses dry ice and recyclable insulation to keep their meals fresh and protected.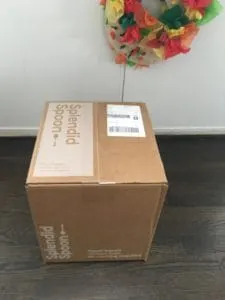 When I lived in New York, my Splendid Spoon orders arrived cold but usually not completely frozen. Now that I moved to the midwest, they're usually frozen solid.
But, I prefer that actually as I don't want them defrosted and then frozen again. You see, I select a few items for the upcoming days and place them in my refrigerator, usually two to three smoothies and bowls. The rest I place in the freezer. The refrigerator items get me through most of the week.
I have a constant supply of Splendid Spoon in my freezer and any time I want a healthy meal, I take it out and defrost it.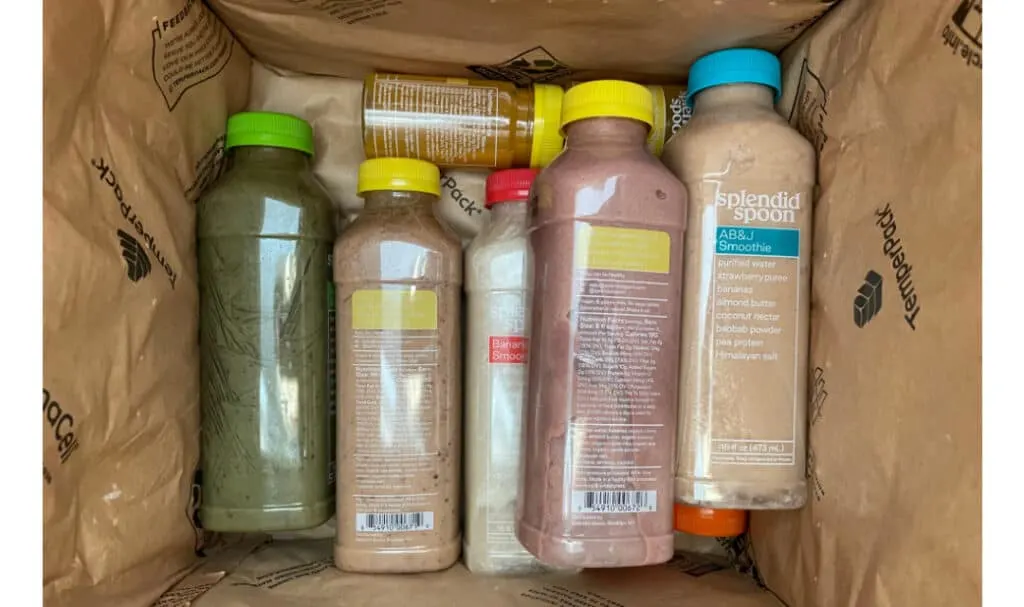 Benefits of Splendid Spoon
My energy remains high throughout the day. I felt less bloated. And, I love not having to even think about what to eat or prepare for each meal. There's seriously no prep time and no mess.
I'm a vegetarian and I often wonder if I'm getting enough of the right nutrients. Splendid Spoon takes away my worries. Not only do they combine ingredients and antioxidants that I would never have on hand, but they also vary the types of added proteins. Many smoothies contain pea protein.
For some reason, as a teenager, I pretty much avoided the bad skin phase. Yet, as an adult, I suffer from rosacea and breakouts. My skin without question looks better when I do Splendid Spoon.
I must have some sort of food intolerance. Sometimes at night, my stomach makes the strangest noises. But whenever, I do Splendid Spoon, the rumbling stops.
And, I can't deny that Splendid Spoon has helped me lose weight and maintain weight over the years.
Pin for later!
Pros and Cons of Splendid Spoon
Pros
healthy ingredients
no prep time and cleanup
low calorie, low sugar, high fiber meals
huge menu of over 50 items means you can always try something new
nutritionally dense and delicious meals
reduces bloating
can help with weight loss and maintenance
perfect for vegans or anyone wanting to try out a plant-based diet
you can save on your first order with this link
Cons
you have to remember to skip weeks you don't want a shipment as it is a subscription plan
smoothies and bowls are two servings per bottle and container
meals are not kosher
other than some soups, you cannot do these plans if you're following Whole 30
Splendid Spoon vs. Daily Harvest
When I mention Splendid Spoon, a lot of people ask if it's like Daily Harvest. One key difference is that with Daily Harvest, you have to blend the smoothies. Like Splendid Spoon, they use about 95 percent organic ingredients. Daily Harvest has harvest bowls and like Splendid Spoon, they're pretty much ready to go once heated. Daily Harvest does not have soups.
Splendid Spoon vs. Purple Carrot
If you're looking to do more vegan cooking at home, I highly recommend another of my favorite meal delivery services, Purple Carrot. You can read more about Purple Carrot here. You'll save $30 off your first order by using that link.
If you want to cook your own vegan or vegetarian meals from scratch, I recommend this list of go-to vegetarian cookbooks.
You can also make your own clean soups using this Splendid Spoon cookbook:
Final Thoughts
It's been amazing to see this company evolve over the years. You can read more about my Splendid Spoon journey.
This program put my healthy eating back on track, with a bonus of weight loss. I tend to eat the same things again and again. I appreciated the variety of ingredients in the meals, especially the added protein.
I hope you like this program as much as I do and I can't wait to hear your thoughts, especially from meat-lovers. Remember to click here to save on your first order.
The key to healthy eating is to make it easy. That's why I love Splendid Spoon.
Check out some of my Splendid Spoon posts on Instagram and let me know what you think!
FAQ About Splendid Spoon
Can You Buy Splendid Spoon at a grocery store?
No, although Splendid Spoon originally partnered with the online supermarket, Fresh Direct, Splendid Spoon is only available as a subscription-based delivery service.
How long do the Splendid Spoon meals stay fresh?
They stay fresh for about a week in your refrigerator. As I mentioned, I usually put half my order in the fridge and the other in the freezer, where they can stay fresh from 1 to 3 months.
Pin for later!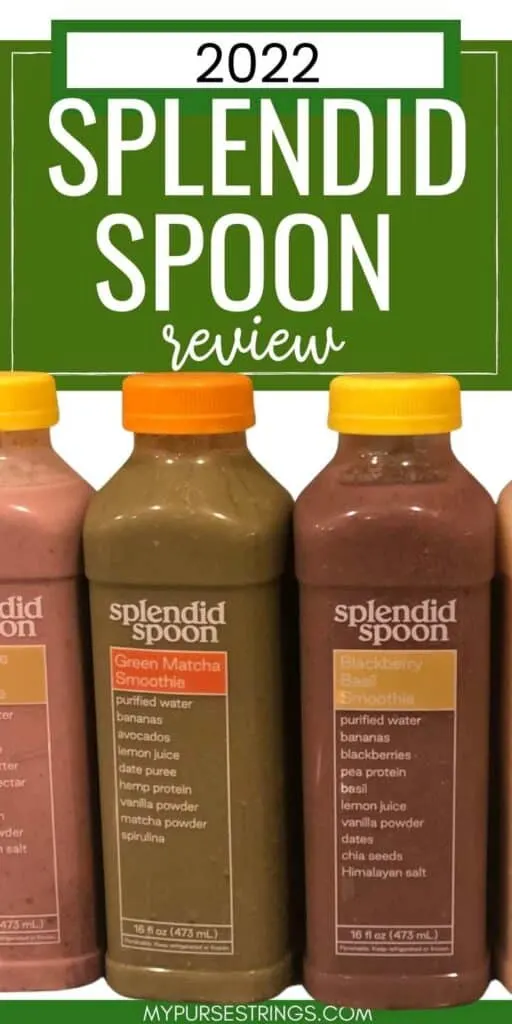 Related Health & Wellness Articles:
How to Motivate Yourself to Work Out (even when you don't want to)
I Tried Goat Yoga and You Should Too
How to Find the Most Fun Peloton Rides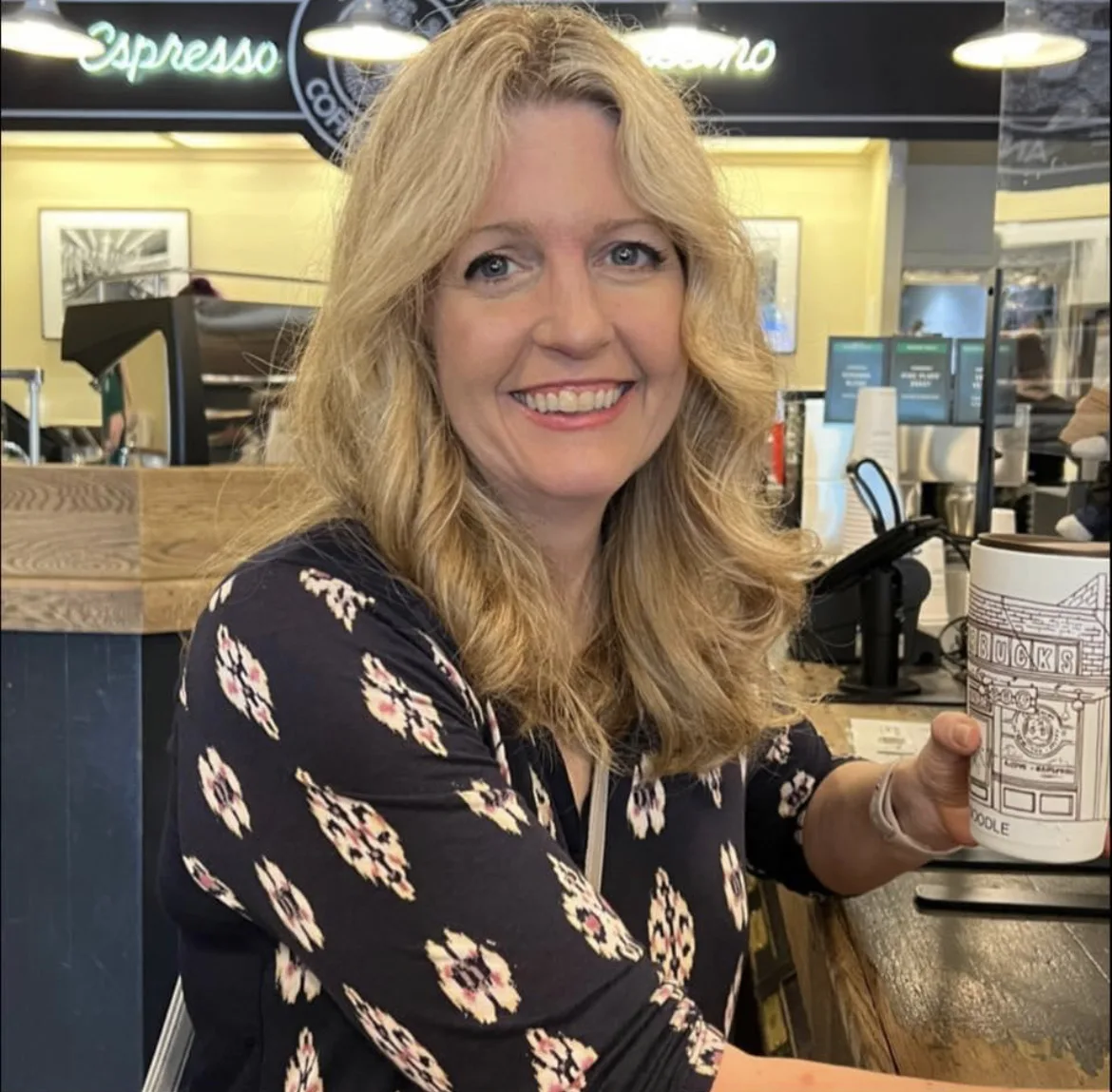 Michelle Platt is a former attorney and teacher who loves to do the research so you don't have to. She takes a deep dive into each topic and writes about her wellness journey here. She loves trying out new workouts and products to share with you. She is currently completing her personal training certification. This native New Yorker recently made the move to the suburbs of Minneapolis, where she lives with her husband, two kids, and two dogs.