Is there a better time than now to start cooking healthy meals at home? Purple Carrot, a vegan meal kit service makes cooking restaurant-quality food not only attainable but easy.
Unlike other reviewers on Purple Carrot, I wanted to try it out for a while before writing my review. I can now say, I'm a legitimate Purple Carrot fan and here's why.
This post contains affiliate links. See my disclosure policy for more information.
What is Purple Carrot?
Purple Carrot gives you all the tools you need to make the recipes at home. They send you the vegetables, even basic ones like onions and garlic, vegan butter, and seasoning packets. The only thing you need to retrieve from your own pantry is oil, salt, and pepper.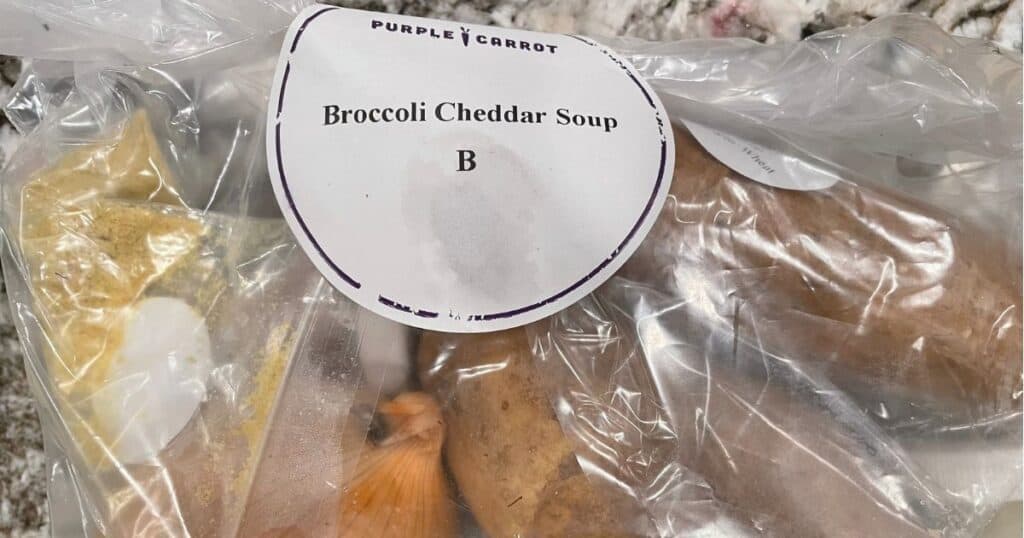 Why Is Purple Carrot Called Purple Carrot?
I'm only hypothesizing here. Purple carrot is a great name. I tend to buy bags of rainbow carrots from the grocery store. Purple carrots do not taste much different from regular old orange carrots but they're a bit sweeter, more eye-catching, and actually contain unique health benefits due to their powerful antioxidants.
So, it's no surprise that Purple Carrot decided to name their company after this special vegetable. Their foods include surprising ingredients that I tend not to include on my own, with important health benefits. And once prepared, they are beautiful on the plate!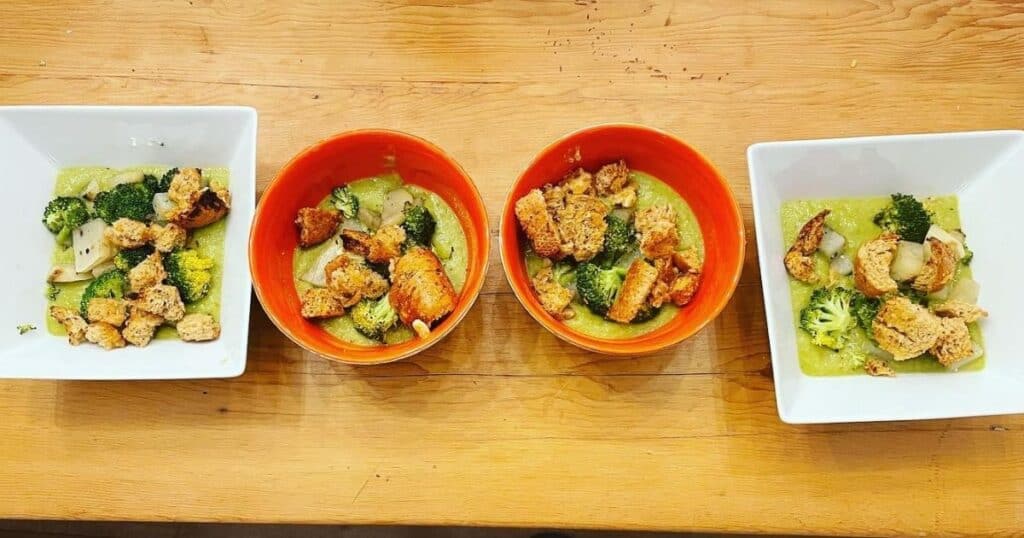 Is Purple Carrot for Vegans Only?
I live in a house of meat-eaters. OK, one of my kids lives solely on chicken nuggets and french fries, and the other dreams of steak. My husband eats beef jerky by the pound and dreams of starting his own beef jerky company one day.
Let's just say they're not the target demographic of Purple Carrot. Except for me: I'm a vegetarian but not a vegan.
What makes Purple Carrot so special is that you're not given any processed meat substitutes. Some dishes do contain tofu, tempeh, or seitan, but not all. The meals are so tasty, high quality, and filling that even the biggest carnivores won't miss the meat. The vegan butter tastes like butter. The vegan mayo tastes like mayo. You get my point.
How many Purple Carrot meals can you purchase each week?
Plans include three-meal option or four-meal options. You can also buy extra snacks and/or breakfast and lunch meals, although I have not done so yet. I hear they sell out quickly.
How large are the serving sizes?
Unlike most food companies, Purple Carrot's servings are generous. Two servings in my opinion is more than enough for two people. In fact, I can easily get four servings out of two.
How much does Purple Carrot cost?
I've been choosing the three-meal option, two servings each. But in reality, I get four servings out of each, enough to feed my entire family or have leftovers.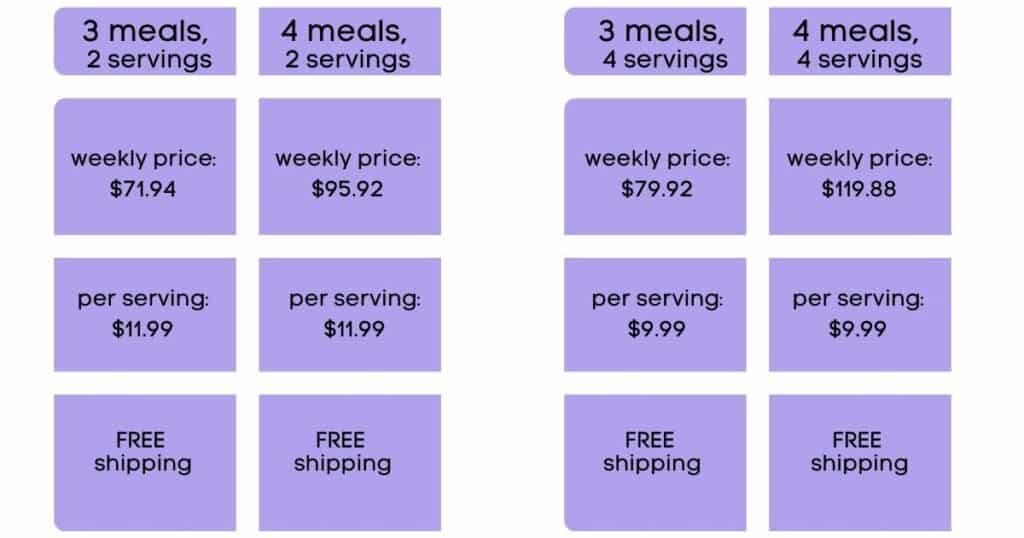 Why is Purple Carrot so expensive?
At first glance, it does seem expensive. But here are a few reasons why I find Purple Carrot not only reasonable but affordable:
Purple Carrot's servings are surprisingly large
This means that my plan (3 meals, 2 servings per week) comes out to just $5.99 per serving since I get double the amount of servings each week
These are high-quality ingredients and often hard to find on your own
Shipping is free
You'll spend a lot finding these ingredients on your own if you can find them at all
You can earn free boxes with each order to give to friends
Try it out yourself and save $30 off your first box with this link. That makes your first meal (assuming you get my plan) just $6.99 per serving (and even less if you stretch it as I do).
How difficult are Purple Carrot meals to prepare?
I find the prep time of these recipes pretty simplified as all ingredients come individually bagged with each meal. Most of the preparation involves chopping up the vegetables or heating up a pot or pan.
Even the most novice of chefs should find the instructions clear and easy. The actual cook time averages 25 to 35 minutes. I have yet to use my oven. It's all been done on the stove.
Can you replicate the Purple Carrot meals on your own?
You can absolutely recreate the Purple Carrot meals on your own. In fact, I think Purple Carrot expects you to do this which is why they include a recipe book for all the meals of the week. See below for more details on that.
However, depending on where you live, it may prove difficult to find some of these specialized ingredients. Even my local Whole Foods failed me and I had to find somewhat comparable ingredients.
Purple Carrot's New Prepared Meals
Don't feel like cooking? Check out Purple Carrot's new prepared meals. No cooking needed. Simply heat up your meal in the microwave and it's ready to go. You can read more about it here.
The Purple Carrot Recipe Booklet
An added bonus is that you do not just get a recipe card for the meals that you chose for the week. Instead, you receive a recipe booklet for all the meals available that week, eight in total, plus two breakfast and two lunch recipes.
I'm saving these recipe booklets and have already made several of the meals I did not select from Purple Carrot.
However, if you make these recipes on your own, be prepared to doctor the recipe a bit. For example, this General Tso's recipe called for tuxedo sesame seeds which apparently has an interesting nutty texture. I could only find regular sesame seeds.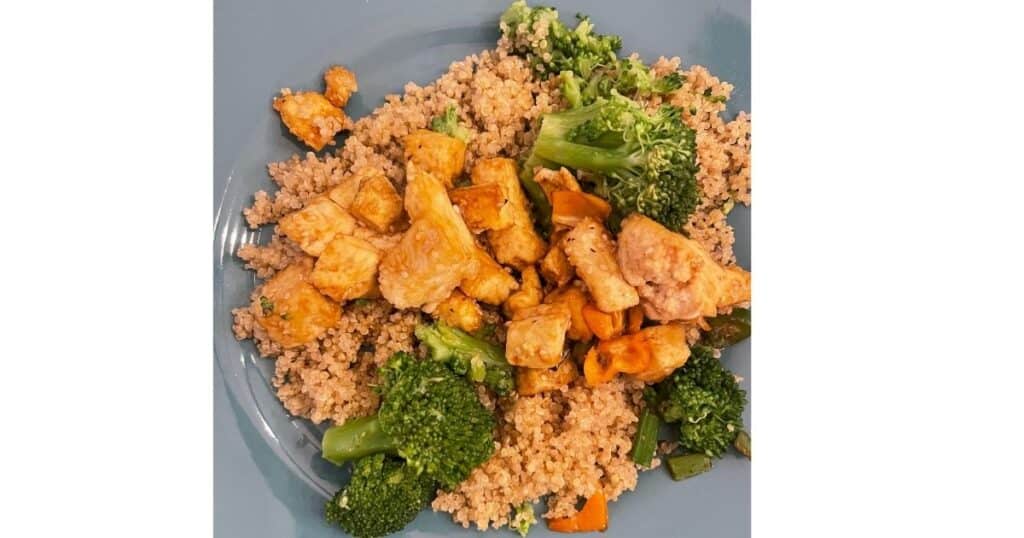 I also didn't have bird's eye chiles so substituted it with habeneros. Although the recipe said this dish was spicy, my version could have used a bit more heat.
And, the ingredients surprisingly added up to be quite expensive. By the time I purchased all the necessary ingredients needed for General Tso's Tofu and Indian Butter Tofu, I spent over $70. Granted, some of these ingredients will remain in my pantry for future recipes but not all.
How often does Purple Carrot rotate their meals?
From my understanding there is no set rotation schedule and it can often be months until you see your favorite recipe featured again. This is another reason to keep those recipe booklets so you can recreate them on your own.
How to decide on your Purple Carrot meals
Luckily, early on I stumbled upon this Facebook page. It's one of my favorite groups now. Everyone is supportive, kind, and helpful. Many members are long-term customers and it's easy to discover their favorite go-to meals by reading through past posts and comments.
Fan Favorite Purple Carrot Meals
From browsing the Official Purple Carrot Community Page, these recipes appear to rise to the top:
Mafaldine pasta
General Tso's tofu
Thai corn chowder
Chicken and dumplings
Cauliflower shawarma
Okonomiyaki
Potato Malai Kofta
Tahini Cauliflower Steaks
Sweet Potato Black Bean Tacos with Peach Kimchi & Citrus Aioli
Beet burgers
Lobster rolls
Purple Carrot Substitutions
You cannot substitute ingredients but there's enough variety each week that you should be able to avoid any food allergies or particular foods you don't like. Or since the ingredients come with your delivery box, simply do not use the ones you don't like and substitute them with your own favorites.
My Purple Carrot Meals
So far, I've made the following Purple Carrot meals: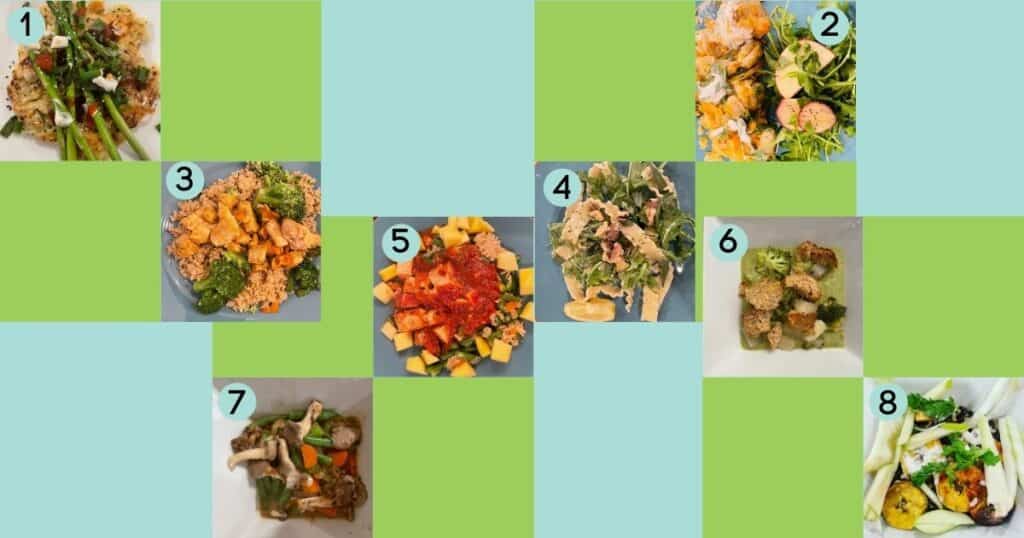 (1) Okonomiyaki with BBQ Sauce & Sesame Asparagus
⭐️ ⭐️ ⭐️ ⭐️ ⭐️
This dish tasted decadent and really unhealthy. I kept checking the nutritional information. What tasted like fried potatoes was actually made from cabbage and carrots. Next time, I would try eliminating the oil all together and making it in the air fryer. But there definitely will be a next time.
(2) Gnocchi with Dilly-Fried Cabbage & Apple Arugula Salad
⭐️ ⭐️ ⭐️ ⭐️ ⭐️
This was the meal that made my husband proclaim that he felt like he was eating in a restaurant. We both rated this as one of our top meals.
(3) General Tso's Tofu with Quinoa & Steamed Broccoli
⭐️ ⭐️ ⭐️
I made this meal on my own which is probably why it only got three stars. I undercooked the tofu, it didn't have as much spiciness as I hoped. Again, I'm blaming this one on myself. I bought different peppers and substituted regular sesame seeds for tuxedo sesame seeds.
(4) Mafaldine Pasta with Melted Leeks & Garlic Herb Cashew Cream
⭐️ ⭐️ ⭐️ ⭐️ ⭐️
I've made Mafaldine pasta before and thought it was good until I tried this recipe. Everything about it was outstanding, from the al dente pasta to the chopped walnuts. I'll be making this one again for sure.
(5) Indian Butter Tofu with Vegetable Briyani & Mango Chutney
⭐️ ⭐️
Again, I'm taking full responsibility for this low score as I made this one too on my own. I couldn't find mango chutney at the store and I didn't have enough time to create my own. So, I topped the dish with a few pieces of cut mango which didn't add enough flavor. The jalapeno added some kick but the sauce was still somehow bland.
(6) Broccoli Cheddar Soup with Miso Garlic Croutons
⭐️ ⭐️ ⭐️ ⭐️ ⭐️
This was the first meal I prepared. I used my Ninja at the end to blend it all together. I read some mixed reviews on the Facebook page but we both loved it. And you're correct. There was no actual cheese in this soup.
(7) Vegan Chick'n and Dumplings with Oyster Mushrooms & Green Beans
⭐️ ⭐️ ⭐️ ⭐️ ⭐️
This reminded me of French onion soup. My husband ate more than his fair share of dumplings and my kids loved this meal.
(8) Plantain Black Bean Bowls with Apple Fennel Slaw & Lime Crema
⭐️ ⭐️ ⭐️ ⭐️
I love plantains but I've actually never prepared them myself. They're surprisingly hard to peel. This meal was also tasty, just not as unique as some of the others. The fennel was pretty strong which is fine for some but I don't think either of us are the hugest fans.
Sign up below to get my Friday Favorites email, with the newest blog posts, favorite wellness products, and more. Plus, get access to the Free Resource Library.
Will I lose weight with Purple Carrot?
Of course, weight loss can never be guaranteed and this is only one meal out of your day. However, several members of the above-mentioned Facebook group have experienced significant weight loss.
All, I can say is that I've been ordering every other week for the last six weeks while tracking my points in the Weight Watchers app. I'm on the Purple plan which rewards whole foods. I've been trying to lose the same 15-20 pounds since my kids were born. This month, I finally lost my first ten and have kept it off.
Is Purple Carrot the reason why? It's hard to say. I'm generally a healthy eater, I workout daily, and have increased my strength training and water consumption. But, it definitely didn't hurt my weight loss.
Low Calorie Purple Carrot Meals
I tend to purchase the meals under 600 calories. The following above-mentioned meals fell under 600 calories: Okonomiyaki, Vegan Chick'n and Dumplings, Broccoli Cheddar Soup, and Indian Butter Tofu. The others came slightly above that amount.
Unlike many of the cookbooks that I own, I appreciate the nutritional information at the bottom of each recipe. Purple Carrot also advises you in the front of the booklet that each tablespoon of oil adds 120 calories.
Purple Carrot Helpful Tips
Pre-plan your deliveries weeks in advance (up to 3-4 weeks). Otherwise, your desired meals could sell out
The Purple Carrot Facebook Community Page has tons of reviews on various recipes. If you're interested in trying an item but not sure if it's for you, go on there and ask.
Reduce the amount of oil, switch it out for vegetable broth, use avocado oil spray, or cook it in the air fryer.
Want fewer dishes to clean, use an immersion hand blender.
Do you like an item you received from Purple Carrot but don't know where to buy it or even what it is? Ask Purple Carrot where they source their ingredients so you can stock up.
Pros of Purple Carrot
Try out or maintain a plant-based diet
Even if you're not the best cook, it's hard to mess up these meals
You know what you're eating. All nutritional information is provided.
Fresh ingredients all provided
Try out new flavors from around the world
Restaurant quality food
Keep the recipe booklets to make dishes on your own
Generous portion sizes mean you can get more for your money
View upcoming menus weeks in advance
Skip any deliveries you don't want
Earn free boxes to give to friends
Company is not preachy or judgmental about veganism. In fact, they say, they're pro-plant, not anti-animal.
Positive and helpful Facebook group.
Great customer service. If you want to recreate a dish and want to source an ingredient, simply ask them, and they will let you know.
Cons of Purple Carrot
You'll want to order every week which can get expensive
You need to remember to skip meals or else you'll get sent them weekly
Favorites sell out quickly so choose them as early as possible
If you like a meal, you may not see it return for a while
If you want to make meals on your own, it may not be so easy to find all the ingredients
Not all food is organic
Many of the dishes require oil (see tips above)
Delivery day is determined by location. You cannot pick it.
Final Thoughts
To be honest, I thought I would order from Purple Carrot, review it, and order it a couple of times. I can now proclaim myself a true and loyal fan. I plan on ordering twice per month. I tell everyone I know how much I love it. Even my beef jerky eating husband keeps asking when we're getting our next delivery.
To try it out, use the link below and save $30 off your first order.

To see more of my favorite wellness products and exclusive offers and promo codes, check out my favorites page.
If you'd rather not cook but still want to eat healthy, vegan smoothies, grain bowls, noodle bowls, and soups, check out Splendid Spoon. I order from them every week. You can read more about it in this blog post. Or, if you're ready to try them out, use this link to get $25 off your first Splendid Spoon order.
Related Wellness Posts:
Healthy Trader Joe's Picks and Weight Watchers Points
How to Stay Motivated to Workout (when it's the last thing you want to do)