If you're anything like me, there are days when you realize you haven't had more than a few sips, if any, of water all day.
Your morning starts with coffee followed by more coffee, and maybe some wine after dinner.
We all know the health benefits of water but it's hard to get in the recommended amount. And for those of us who think we should drink eight glasses per day, it's usually much more, especially if you exercise on a daily basis.
You don't have to get your intake strictly from drinking water. Fruits and vegetables as well as coffee and tea count too. But still, I don't come close to drinking enough water. I know it. And, I'm determined to change it.
This post contains affiliate links. See my disclosure policy for more information.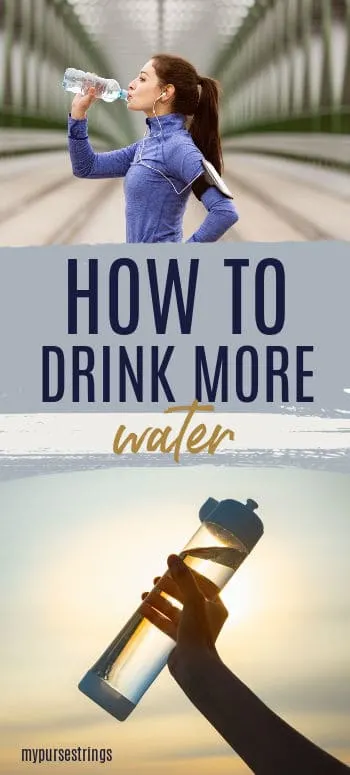 Here are some easy ways to stay hydrated throughout the day:
1. Carry your water bottle everywhere:
Fill it when you wake up and don't let it leave your sight until you go to bed. My bottle goes in the car, on walks, and when meeting friends. Bonus: think of all the money you'll save not buying drinks on the outside.
2. Keep Your Water Cold
Cold water just tastes better. Look for a well-insulated water bottle that will keep your water cool all day long. This tumbler and the Yeti Rambler both amaze me with their cooling power.
3. Time-Tracking Water Bottles
Time-Tracking Bottle
I've had a bottle similar to this one for years. It really does motivate you to drink more when you remember to use it.
Hidrate Spark Smart Water Bottle
A tracking bottle like above can definitely help you but if you're looking for even more motivation, I absolutely recommend the Hidrate Spark.
Our Pick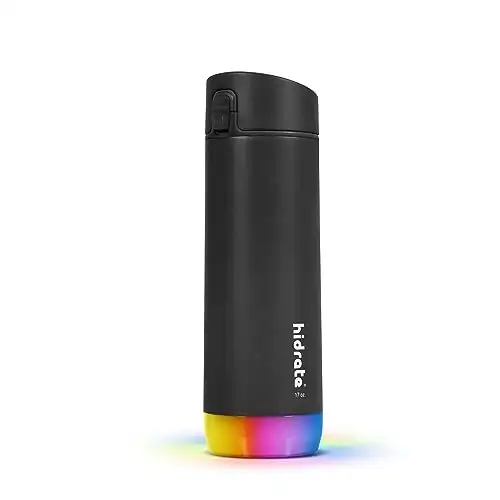 I first heard about Hidrate years ago when they were on Kickstarter. I thought the invention was ingenious. The Hidrate Spark water bottle syncs with your smart phone to track your water intake.
You download Hidrate's free app and it sets a daily goal for you based upon weight and activity level. When you're not drinking enough, it alerts you on your phone. But, the bottle also glows to get your attention.
I just started using it this week and I'm in love. Despite its high price tag for a water bottle, I truly think if you're looking to drink more water during the day, this product will help you.
And no one in my family is allowed to touch this bottle. It's mine, all mine.
You can get the Hidrate Spark 3 or 2 here on Amazon or buy it directly from Hidrate. Use code PURSESTRINGS10 for an extra 10 dollars off a Hidrate Spark 3 through 9/6/20. Check out their cool new stainless steel bottles.
4. Record Your Water Intake
You can manually keep track of how much water you drink every day. If you're using a calorie tracking app like WW or MyFitnessPal, you can also record it there.
The nice thing about the Hidrate bottle is that it automatically syncs your water intake to the Apple Health app or Fitbit.
Here are some other apps to help you track your water.
6. Filter Infused Pitcher
I'll admit it. One of the reasons I don't drink enough water is that I don't love its taste on its own.
Fill an infused pitcher with mint, cucumbers, lemon, lime, or berries, and your water tastes like fancy water they serve at your favorite spa.
7. Add Flavored Tablets to Your Water
Nuun
I'm so addicted to the Nuun tablets that I have them delivered to me monthly via Amazon's Subscribe and Save.
I drink the Nuun electrolyte tablets every time I work out. My son also brings his "electrolyte water" to all his sports practices.
Unlike other sports drinks like Gatorade or water enhancers like Mio, Nuun is completely plant-based and contains natural electrolytes. I also use their Vitamin tablets daily and their Rest tablets for nighttime.
It has just 15 calories and less than 1 gram of sugar.
Tip: the tablets are perforated in half, which is more than enough for me. One tube can last a long time.
8Greens
A friend recently introduced me to 8Greens tablets. It has a big celebrity following which is how she learned about it.
Like Nuun, you simply add it to your water and it adds a bit of fizz. However, the 8Greens tablets also contain greens, eight to be precise. It has no added sugar and only 15 calories.
It tastes similar to a limeade or lemonade. It does contain sorbitol. I haven't had a problem but some people with conditions like IBS have complained that it can upset their stomach.
Facial in a Bottle
Labeled a facial in a bottle, I couldn't resist 8Greens' newest tablets. These tablets also contain greens, with the addition of marine collagen (FYI, it's not vegan as the collagen comes from cod skin).
I will say, it's not at all as tasty in my opinion as the original blend. I taste a spinachy aftertaste. But if it helps my makes a difference to my dry, red, dull skin, I'll keep with it.
Goopglow Morning Skin Superpowder
With a name like that, I had to try it. Luckily, my friend had a packet to share with me. If you're looking for more taste than the Nuun tablets, the Goopglow powder tastes more orangey/peachy. It's sweet and tasty.
This product is vegan. Unlike the 8Greens skin tablets, I can see myself downing glasses of this drink. It comes with a 30-day supply so I'm going to see if it does in fact make a difference in my skin.
Hint Water
Although it's not a flavored tablet, my family loves Hint water. It contains no sweeteners and has zero calories. With fun little boxes, my kids feel like they're drinking juice when they're not. It's a staple in my fridge.
8. Carbonate It
I drink sparkling water every day. We also have Spindrift delivered through Amazon's Subscribe & Save.
If you drink sparkling water (or seltzer as I grew up calling it in New York), then I recommend getting a Soda Stream to make your own. I've had mine at least a decade and use it all the time.
Not only will you save money but it's better for the environment.
If you want to drink your homemade SodaStream on the go, check out this travel bottle.
9. Drink When You're Hungry
Instead of reaching for a snack, drink a bottle of water instead. I'm almost certain that a lot of my snacking actually comes from me either being bored or thirsty.
At night, rather than reaching for dessert, I often drink a cup of herbal tea to see if that does the trick, and it usually does.
10. Always Finish Your Workout Drink
When I work out, I hardly ever finish my bottle. But, I've been making a conscious effort to do just that. In the minutes following my workout, I make sure to empty the bottle. It's an easy tip that seems to be working for me.
Final Thoughts
I'm not a trainer, nutritionist, or a doctor. I'm just a busy 40-something-year-old mom of two trying to make better health choices.
Self-care is so important and drinking more water is just one small thing you can do improve your health.
Sign up below to receive the weekly Newsletter featuring the newest blog posts, product reviews, and my favorite things worth sharing that week.
Pin for later!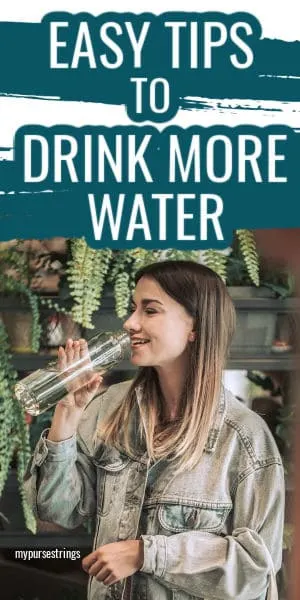 Related Health Posts:
Splendid Spoon Review: Vegan Soup, Smoothies, and Grain Bowl Delivery
How to Motivate Yourself to Work Out (When It's the Last Thing You Want to Do)
Best Home Workouts For Every Budget
Healthy Trader Joe's Shopping List with Weight Watchers Points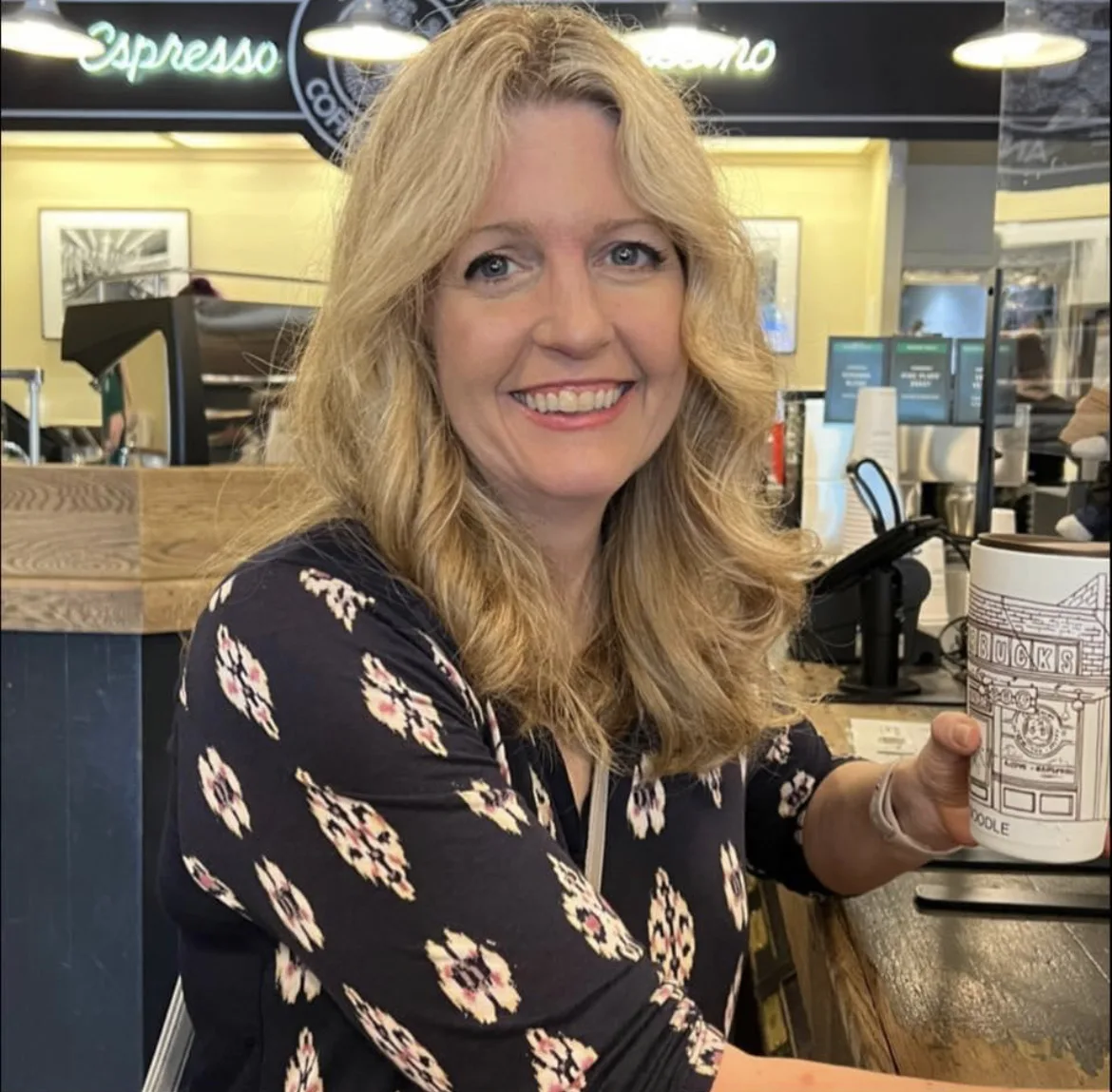 Michelle Platt is a former attorney and teacher who loves to do the research so you don't have to. She takes a deep dive into each topic and writes about her wellness journey here. She loves trying out new workouts and products to share with you. She is currently completing her personal training certification. This native New Yorker recently made the move to the suburbs of Minneapolis, where she lives with her husband, two kids, and two dogs.