I just bought my first pair of Warby Parker prescription glasses, and I'm so excited to share my experience with you. Warby Parker transformed the eyewear industry with their innovative approach and revolutionized the way people shop for glasses.
When I finally lost my 10-year old pair of Ray-Ban prescription glasses, I jumped at the chance to get a new set of frames from this trendy store.
If you're looking for a convenient and affordable alternative to traditional eyeglass stores, you'll want to read this review. I'll break down everything for you in this in-depth Warby Parker review.
This post contains affiliate links. See my disclosure policy for more information.
20 Things to Know About Warby Parker
Although I was familiar with Warby Parker (my husband has been buying from them), I was surprised and impressed to discover some items on this list.
1. Physical Locations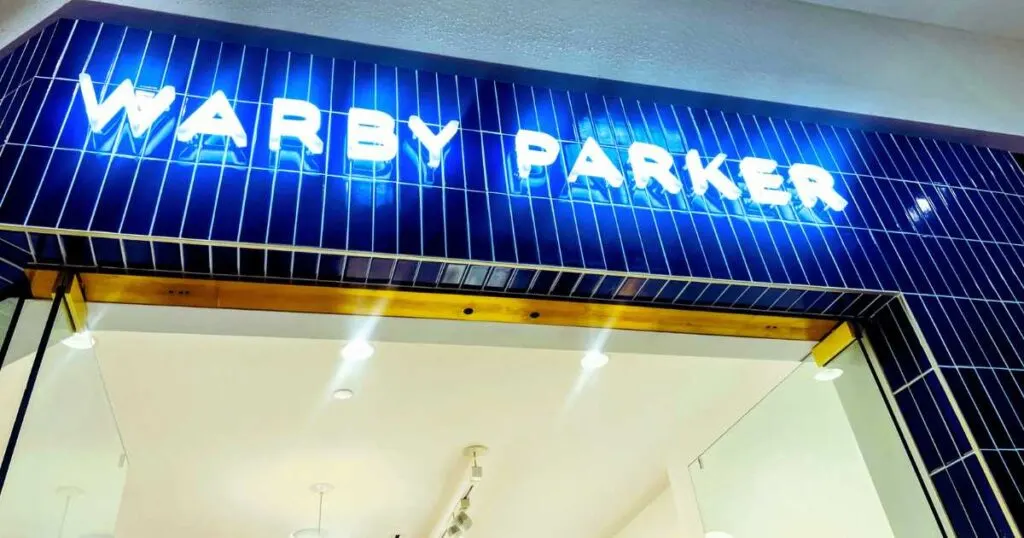 In addition to their online store, Warby Parker has over 200 brick-and-mortar stores in many cities across the United States and Canada. So you can try on frames, get adjustments, and consult with opticians in person.
When I resided in Manhattan, there was just a single Warby Parker store a few blocks away from my place. Now, with their stores and online presence, Warby Parker is accessible to almost everyone.
2. Comprehensive Eye Exams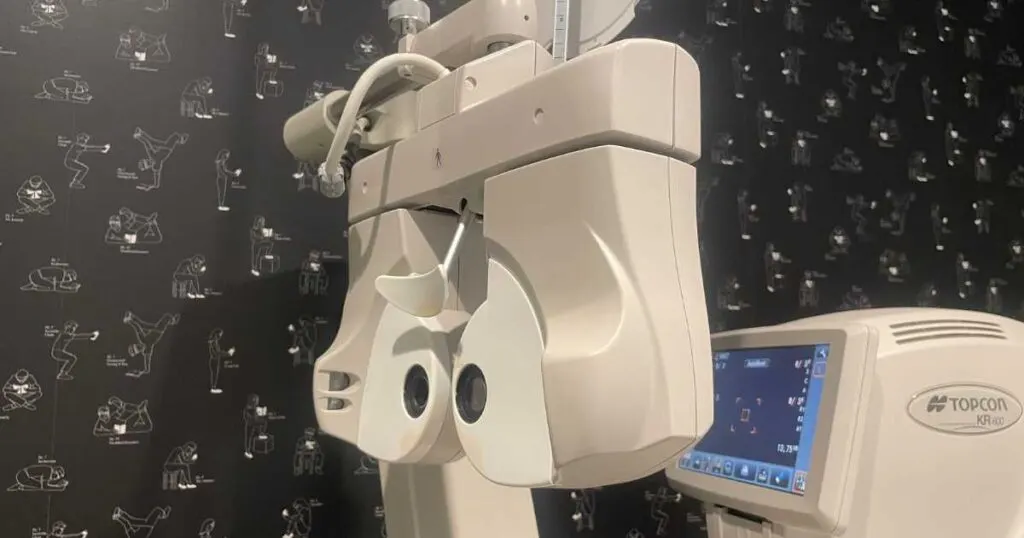 While not all physical locations offer eye exams, most do. Up until now, I'd been getting my eye exam done by an opthamologist, even though I don't have a medical reason to do so.
At Warby Parker, you can get your eyes examined by an optician. Eye exams start at $85.
My eye doctor was friendly, took her time with me, and answered my questions and addressed my concerns. And when I no longer had my prescription, she called my old doctor's office in another state to confirm it. She went above and beyond, and it was the most thorough exam.
3. Online Scheduling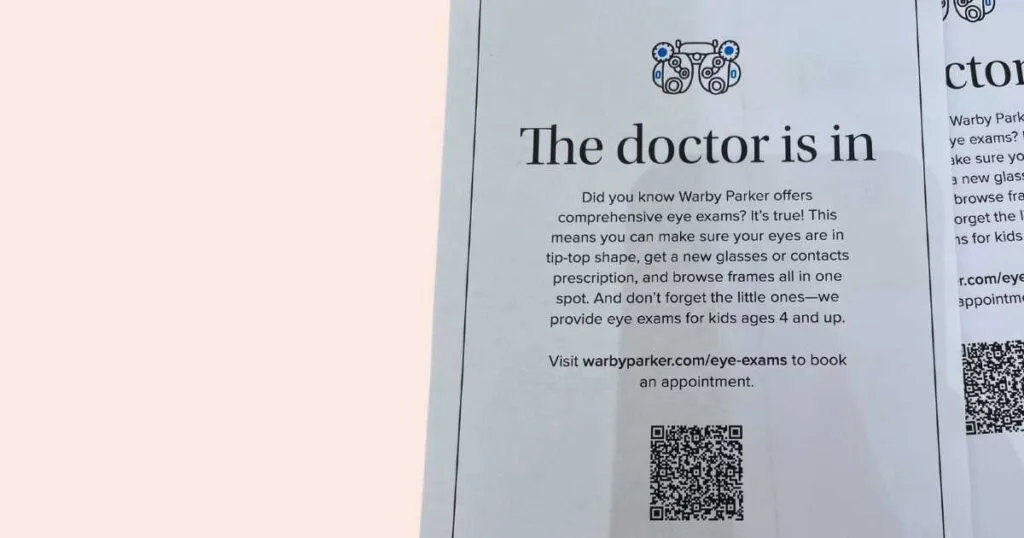 I booked an online appointment at my local Warby Parker store. Not only did I get a same-day appointment, but one within the hour.
4. Virtual Try-On Tool
If you're shopping online, Warby Parker offers a virtual try-on feature. With your phone or computer's camera, you can instantly preview how various frames fit your face.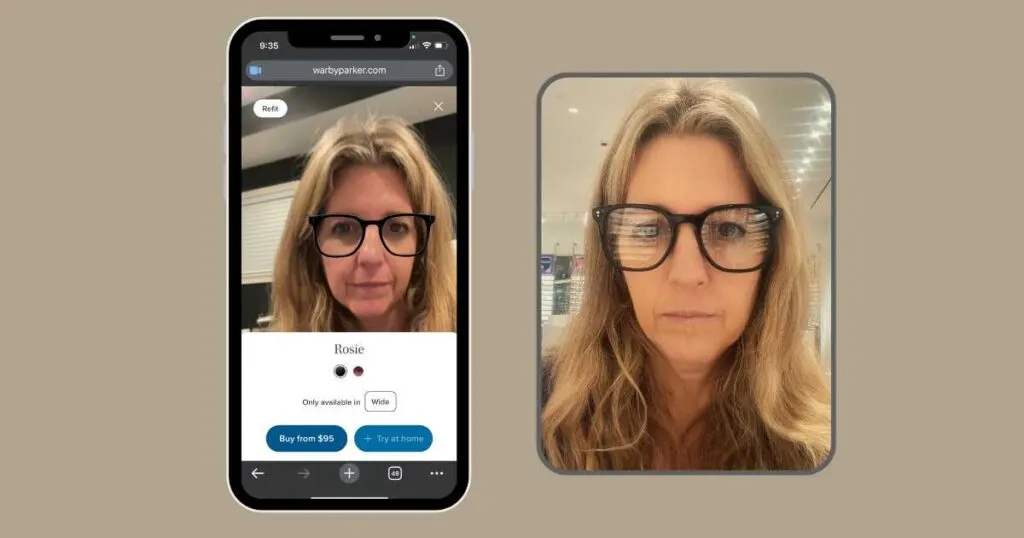 I tried out several different styles virtually and brought a list of my favorites with me:
5. Home Try-On Program
Warby Parker offers a Home Try-On program where you can select five frames to try on for five days at home. See how each frame feels and looks on you before purchasing.
Ask your friends for their opinions, take some selfies, style them with different outfits and then decide.
It even comes with a preprinted return shipping label so it costs you nothing, even if you return all five.
If you need help choosing the right frames, you can chat with a stylist who will provide expert advice on which frames best suit your face shape and style.
I didn't do the home try-on because I have a store less than 10-minutes from me. However, this is a good option, especially if your local store doesn't carry the style you want.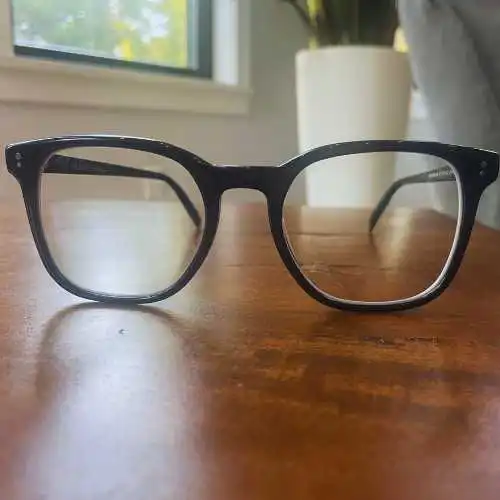 6. App
Did you know there's a Warby Parker app? Currently, only available for iOS, you can:
shop for new frames, even sorting by bestsellers and new arrivals
do a virtual try-on and save your favorites
order prescription eyeglasses and sunglasses, and contact lenses
see your current and past prescriptions
place an order
track an existing order
take a virtual vision test
get accessories (including clip-on sunglass attachments)
buy gift cards
find nearby stores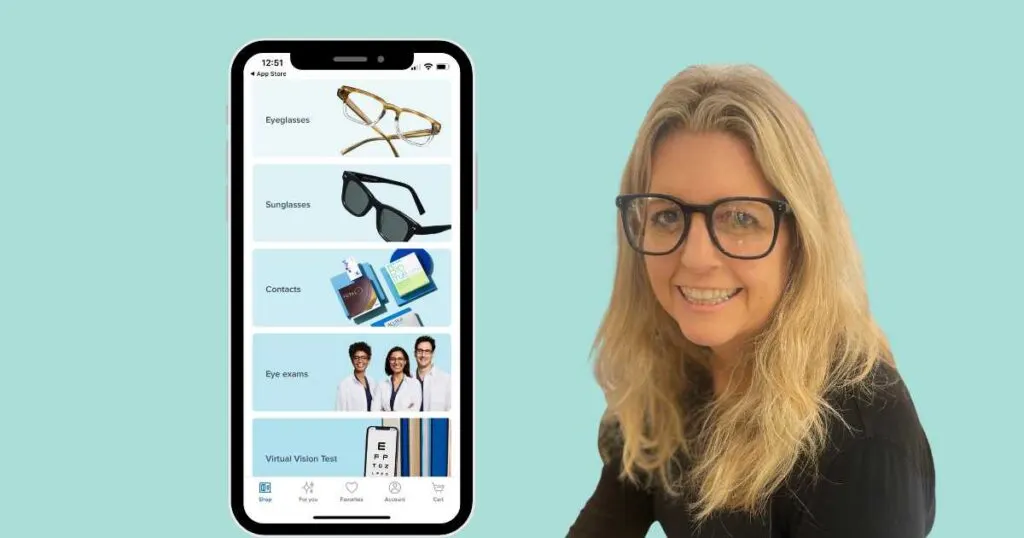 7. Cool Styles
Warby attracts many because of its stylish eyewear selections. While they do sell more traditional styles, you can also find bold frames, delicate frames, really anything to suit your personality.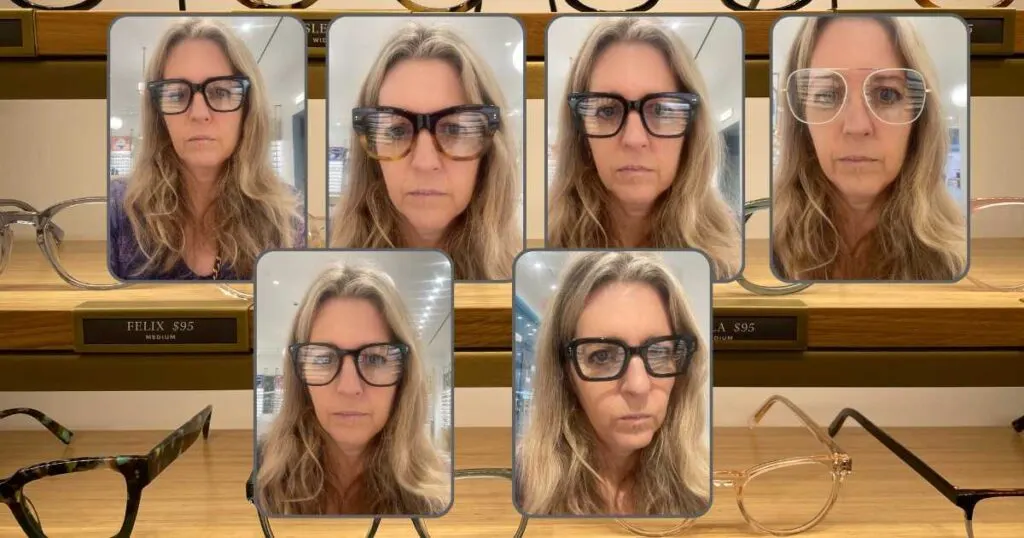 And if you can't decide which one to get, they're affordable enough to buy a second pair.
8. Exclusive Online Styles
Some frames are exclusive to Warby Parker's online store. This means that while you can try most frames in-store, there are special styles only available to online shoppers. Also, as I mentioned, not all stores carry the same styles. I went into two different local stores, each with a slightly different selection.
9. Progressive and Bifocal Lenses
For those who need multifocal lenses, Warby Parker provides both progressive and bifocal options.
They even offer a monocle if that's your preference.
8. Affordable Pricing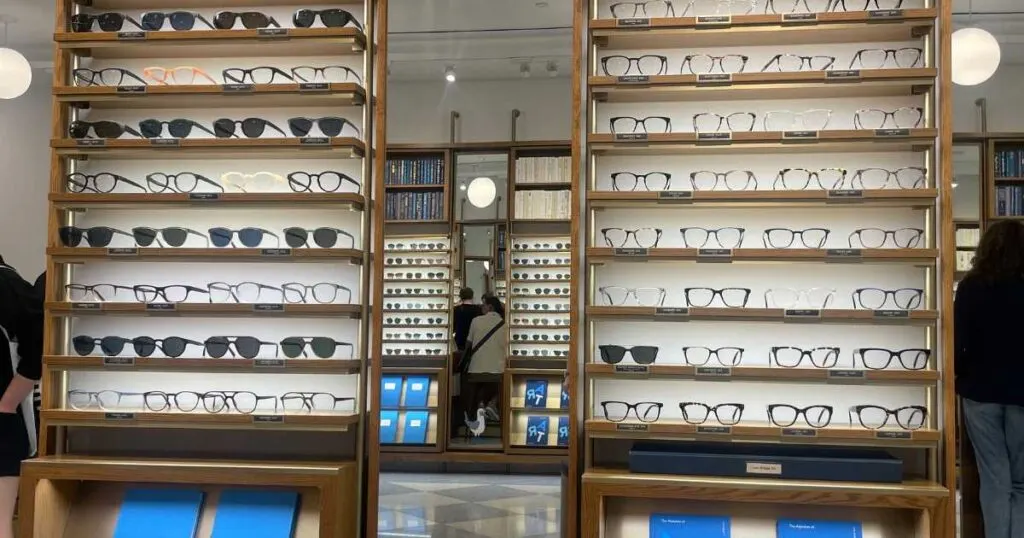 One of the key factors that sets Warby Parker apart is their direct-to-consumer business model.
Unlike traditional eyewear retailers, they cut out the middleman and sell directly to the consumer. This allows them to offer frames at a fraction of the price without compromising on quality. By eliminating unnecessary markups, they are able to provide customers with stylish and durable eyewear that won't break the bank.
Most of their glasses, including prescription lenses, are priced at a fraction of what you might pay at traditional optical stores. Plus, you can get a second pair, including prescription sunglasses, for 15% off.
I was shocked at the price, in a good way. My glasses (single vision frames) came out to $145 including a $50 blue light filtering optional upgrade. To put this in perspective, my old Ray-Bans themselves cost almost $200.
My husband bought new glasses progressive lenses that cost more than mine, coming in at $295.
9. Insurance Acceptance
While Warby Parker's prices are already affordable, they also accept certain vision insurance plans. It's worth checking if your insurance is compatible to get additional savings.
They partner with several plans in-network and out-of-network.
Unfortunately, my insurance, Medica, was not accepted. However, I was able to use my HSA card to pay.
10. Shipping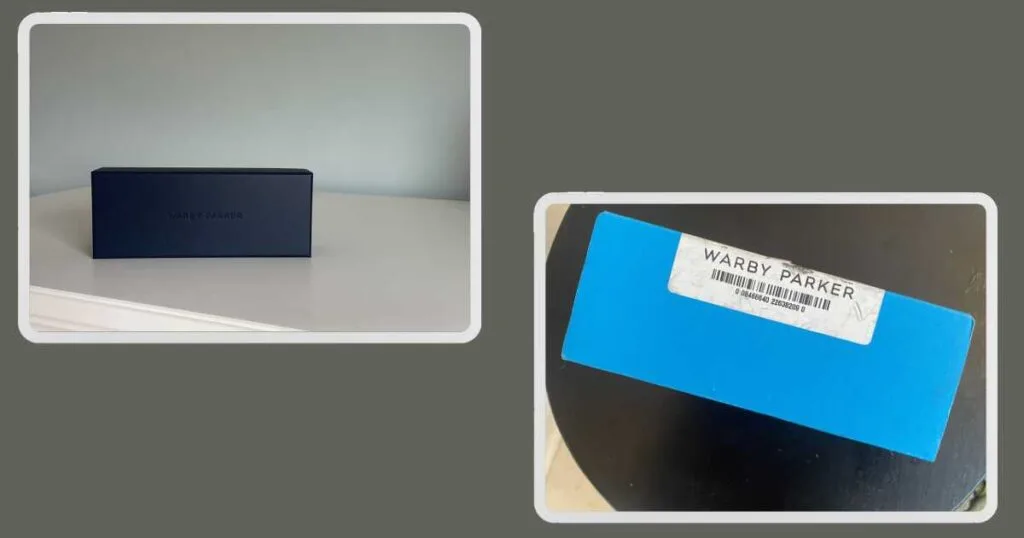 Warby Parker's standard shipping time is 5-7 business days. If you need your glasses sooner, you can choose expedited shipping for an additional fee. Expedited shipping takes 2-3 business days.
After I placed my order, I received an email confirmation, with shipping details and tracking info (via the USPS). I had my new glasses in hand less than 7 days later.
11. Scratch Warranty
Warby Parker glasses uses scratch-resistant lenses. If you scratch your lenses within the first 6 months, Warby will replace them, no questions asked as part of their scratch guarantee. If it's beyond then, it's worth reaching out as they may still replace it on a case-by-case basis.
12. Blue Light Filtering
For those who spend a lot of time in front of screens, Warby Parker offers blue light filtering lenses as an add-on to help reduce eye strain.
Even though my glasses are for distance, I actually added blue light filtering for driving as the sales rep told me it would help with the glare from headlights for night driving.
Blue light filtering was an extra $50.
13. Collaborative Collections
Occasionally, Warby Parker collaborates with celebrities, artists, and designers to release limited-edition frames.
14. Kids' Collection
Warby Parker isn't just for adults. They have a "Warby Parker Jr." collection, specifically designed for kids, ensuring that younger wearers can also find stylish and comfortable frames.
15. Frame Widths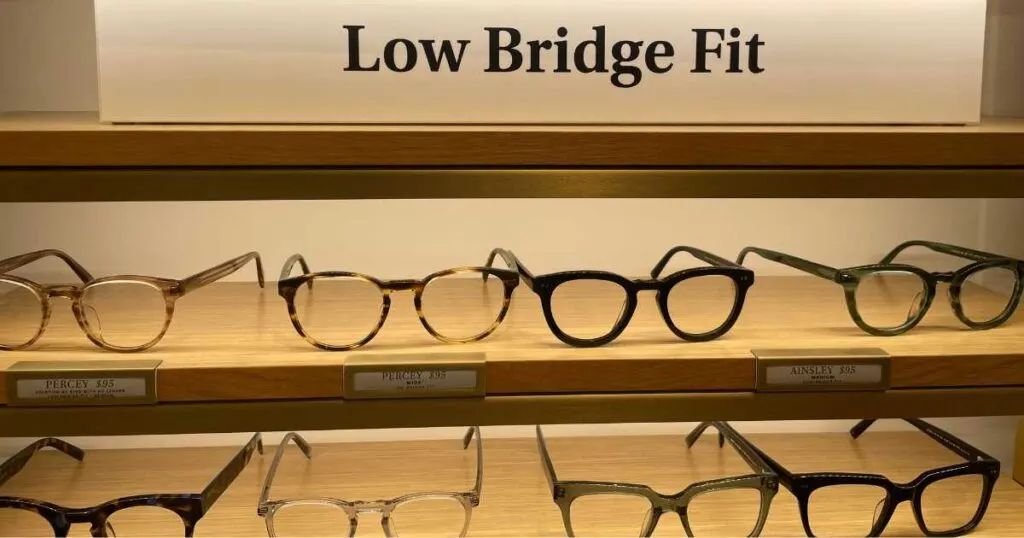 Warby Parker offers different widths for many of their frames. This ensures a better fit for individuals with wider or narrower faces.
You can get frames in extra narrow, narrow, medium, wide, or extra wide.
I chose a wider frame for an oversized fun look even though I don't have a particularly wide face.
16. Great Customer Service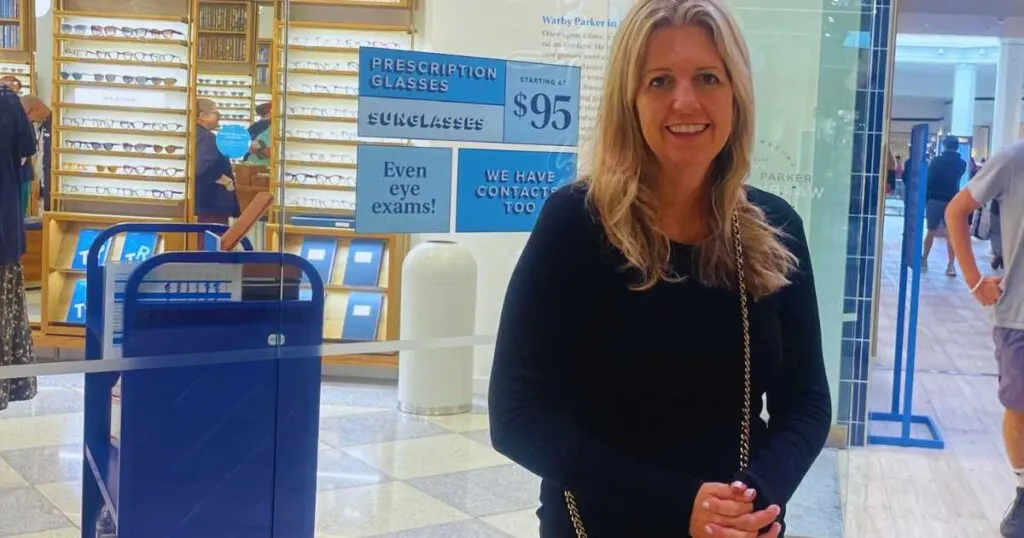 There are many ways to contact Warby Parker's customer service through email, phone, live chat, and of course, in person.
I found the customer service excellent at my local Warby Parker. I had two salespeople assisting me to pick the perfect frame.
I overheard other sales reps assisting the woman next to me, not focused on making the sale as much as ensuring she had the right fit. In the end, the one they chose for her looked great.
After my eye exam, my eyes were still dilated over 24 hours later. Apparently, this can happen with light colored eyes. I went into a different location, and not only did they reassure me, but they called my optmotrist at her home to consult with her.
17. Prescription Accuracy
Warby Parker has a reputation for ensuring that their prescription lenses are accurate. If there are any issues, their customer service is known to be responsive in addressing concerns.
18. Adjustments and Repairs
If you ever need adjustments to your frames or minor repairs, you can visit a Warby Parker retail location. They often provide these services for free or at a minimal cost.
When my glasses arrived, I was sure I would need them adjusted but they fit perfectly.
17. Charitable Mission
For every pair of glasses sold, Warby Parker donates a pair to someone in need through their "Buy a Pair, Give a Pair" program.
Check out some other companies that give back here.
18. Sustainability Efforts
Warby Parker is committed to sustainability. They utilize eco-friendly materials and practices, ensuring that their carbon footprint is minimized.
19. Easy Returns and Exchanges
If you're not satisfied with your purchase, Warby Parker has a hassle-free return and exchange policy. They offer a 30-day, no-questions-asked return policy.
You can get a full refund or exchange with free return shipping if you can't make it to into the store.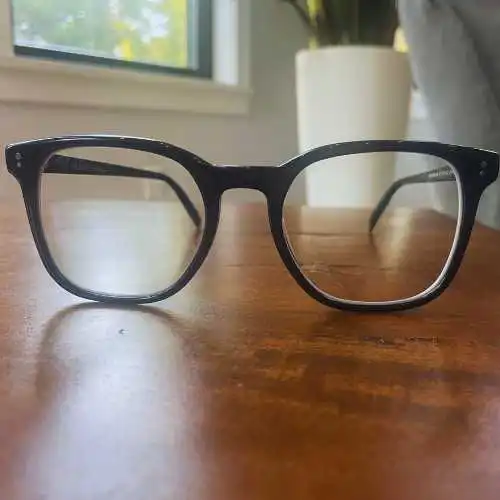 20. Customer Reviews
Before making a purchase, it's worth checking out the customer reviews on their website. These reviews can provide insights into fit, style, and comfort of indvidual frames, helping you make a more informed decision.
Plus, there's no shortage of YouTube, Instagram, and TikTok videos showcasing various styles. Before ordering, I checked out some of these video reviews to see how they looked on different people.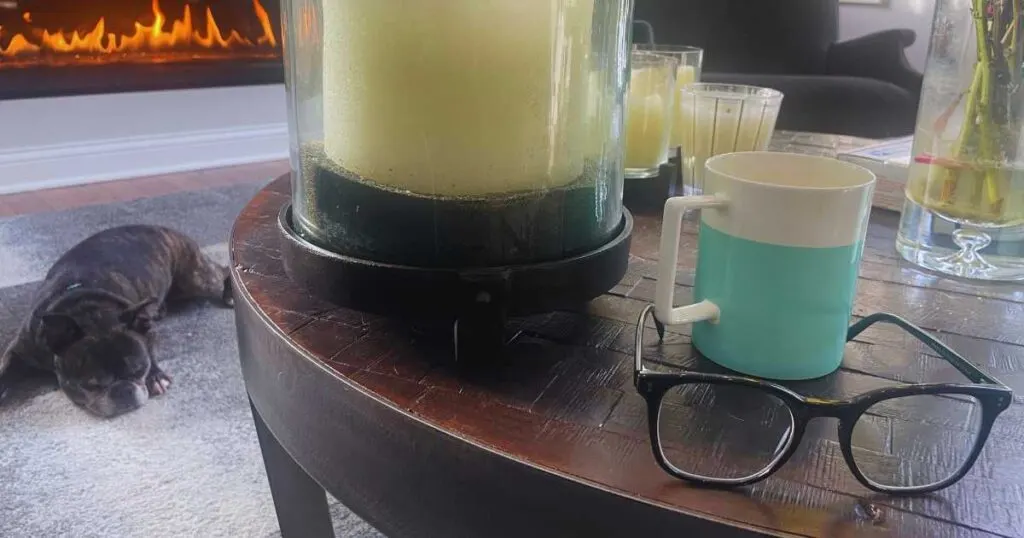 Weighing the Pros and Cons of Warby Parker Glasses
Pros:
Affordable Prices: Competitive prices compared to traditional eyewear brands
In-house design and construction: Warby Parker knows their product well because they make it. This also ensures quality control across the brand.
Stylish: Unique, stylish, and trendy designs, colors, and materials to choose from (especially when compared to a traditional eyeglass store or even Costco Optical).
Convenient: Easy, user-friendly shopping experience, especially the home try-on program.
Customer Service: Exceptional customer service and generous return policy.
HSA & Insurance: Use health savings accounts to pay and/or some insurance accepted.
Free shipping and returns: Warby Parker offers free shipping and returns on all orders, making it easy and risk-free to try out their glasses.
Cons:
In-Store selection: Not all stores have the same selection
Eye exams: Not all stores offer eye exams, so you may need to go elsewhere for that service.
Limited lens options: Warby Parker offers a limited selection of lens options, which may not be suitable for everyone's needs, especially if you have a particularly strong prescription or require specialized lenses.
Processing: Prescription lenses may take longer to process and ship compared to other retailers such as one-hour glasses from LensCrafters
Insurance: Does not work with all insurance companies
Quality compared to high-end brands: May not be as high quality as some expensive brands
My Experience
I was tired of boring old frames. I chose something big and bold, the Rosies in a black color, a statement. These are my favorite pair of glasses I've owned, and I know I'll be getting my next pair of frames from Warby Parker too.
I'm notorious for misplacing my frames. The first thing I did was to put an Apple AirTag in its case.
I've been receiving compliments whenever I wear them and each time, I recommend Warby Parker.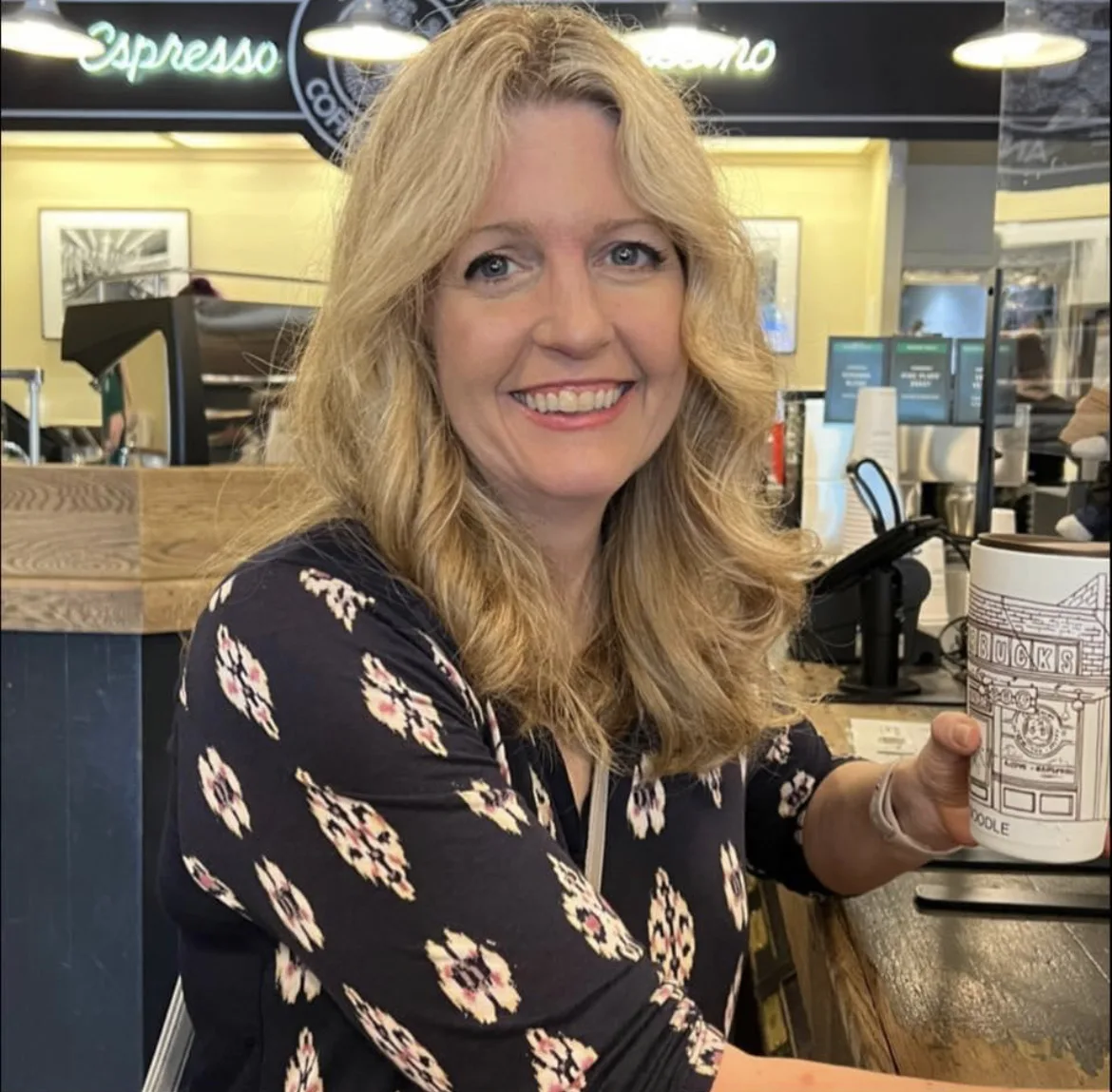 Michelle Platt is a content creator and certified personal trainer. Proving it's never to late to reinvent yourself, she's a former attorney and teacher who loves to do the research so you don't have to. She takes a deep dive into each topic and writes about her wellness journey here. She loves trying out new workouts, fitness tips, healthy foods, and products to share with you. This native New Yorker recently made the move to the suburbs of Minneapolis, where she lives with her husband, two kids, and two dogs.