I've been a fan of Purple Carrot for over a year now. Even my meat-and-potatoes (actually, pierogies) husband loves it when I cook Purple Carrot meals. And honestly, it's taken away from our restaurant experience together. We've both been known to say, "Hey, it's no Purple Carrot." However, Purple Carrot does involve some prep work: chopping, cooking (usually under 30 minutes), and clean-up.
So, when Purple Carrot came out with their new prepared meals, I knew I had to try them. I ordered two weeks of prepared meals and yes, that means two weeks of less cooking!
I was compensated for this post. This post also contains affiliate links and I will be compensated if you make a purchase after clicking on my links. See my disclosure policy for more information.
What is Purple Carrot?
Purple Carrot is a vegan meal-kit delivery service. You choose a different set of meals per week. Each recipe comes with a bag of all the fresh ingredients you'll need, minus oil, salt and pepper. You also receive a free recipe book with all the recipes for the week that you did not choose, complete with bonus breakfast and lunch ideas.
Purple Carrot Prepared Meals vs. Purple Carrot Frozen Meals
Purple Carrot Frozen Meals
Purple Carrot has sold its frozen meals in supermarkets nationwide, including Target for years. After purchase, you put these frozen meals into your freezer and later heat them up in your microwave.
Purple Carrot offers a few varieties of frozen meals including: Maple Chipotle Veggie Bowl, Sweet Corn Elote Bowl, Plant-Based Meatball Marinara, Udon Noodle Bowl, and Spinach Artichoke Cavatappi. I've tried all of them but the last one.
Purple Carrot Prepared Meals
The new prepared meals, which were initially tested out in small markets and are now available nationally, do not go into your freezer. And, you cannot buy them at the grocery store. Instead, you plan ahead and choose your meals on the Purple Carrot website. They get delivered all at once and since they contain all-natural, fresh ingredients, you must refrigerate them and eat them within a few days.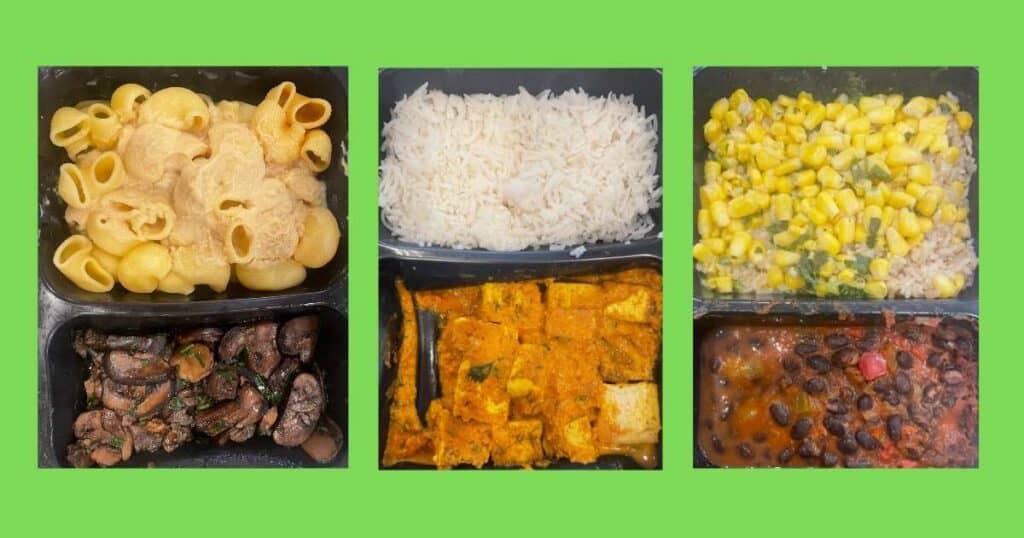 How Do You Cook Purple Carrot's Prepared Meals?
The instructions couldn't be easier. Simply remove the packaged food from the cardboard sleeve and pull back the plastic film about 1 inch. Then, microwave the meal for 2 minutes. Let it cool for a minute or so and then eat. That means in less than 5 minutes, you have a healthy, fresh, and delicious meal ready to eat.
Save $30 off your first Purple Carrot Order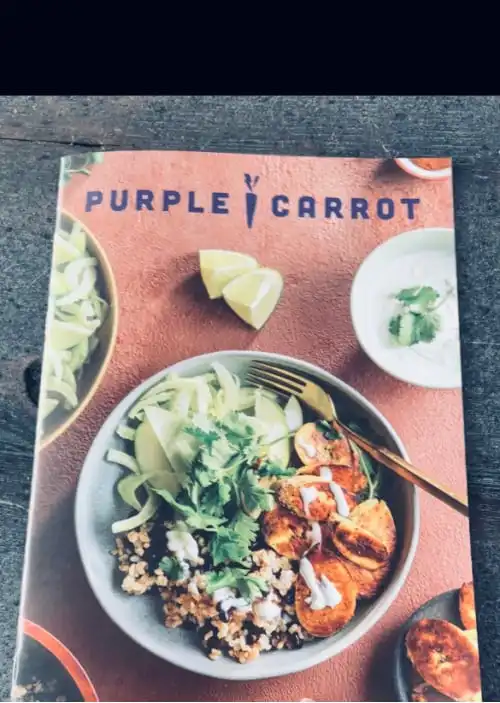 What Kinds of Prepared Meals Does Purple Carrot Offer?
Choose 6 prepared meals every week from 15 single-serving meal options. See the week's menu here.
Elote-Style Corn with Cuban Black Beans & Brown Rice
This is the lowest calorie prepared meal, at 480 calories. Ingredients include corn, short grain brown rice, black beans, coconut milk, and red bell pepper.
Indian Butter Tofu with Basmati Rice
This meal comes in at 490 calories and includes tofu, basmati rice, organic butter chicken sauce (vegetarian), and coconut milk.
Mac n' Cheese with Cauliflower Cream Sauce & Truffled Mushroom
This meal includes lumache pasta, cremini mushrooms, cauliflower, lemon, garlic, dairy-free parmesan, and organic white truffle oil. It has 500 calories.
Roasted Vegetable Pilaf with Sizzled Turmeric Vinaigrette & Ras El Hanout Chickpeas
This meal has chickpeas, fennel, carrots, wild rice blend (brown rice, red rice, wild rice), leeks, black Beluga lentils, and golden raisins. It's only 510 calories.
Thai Noodles with Peanut Sauce & Ginger Vegetable Stir-Fry
This 560-calorie meal is made up of ramen, carrots, Thai peanut sauce, edamame, and red bell peppers.
Italian Pasta Bowl with Pesto Cream & Tuscan Braised Kale
Ingredients include lumache pasta, cauliflower, cannellini beans, basil pesto, and dairy-free parmesan. It's just 570 calories.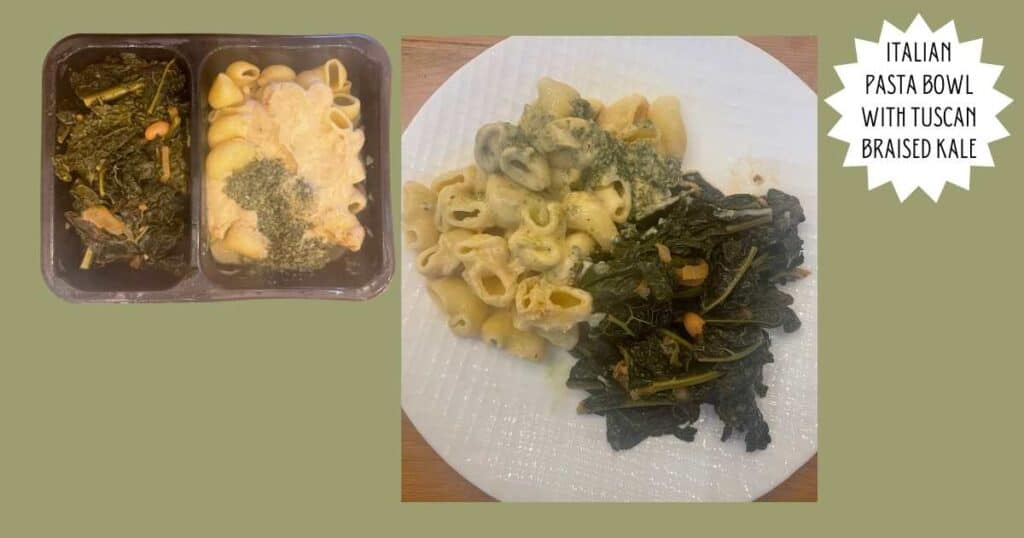 Tofu Palak Paneer with Carrot Biryani
This meal contains tofu and tons of vegetables including carrots, spinach, and onion. It also uses cilantro chutney and Turkish apricots, all just under 600 calories.
Tamarind Curry Noodles with Grilled Tofu & Ginger Vegetable Stir-Fry
Like the Thai noodles, this meal includes ramen, and also carrots, tofu, chutney, and edamame. It's 590 calories.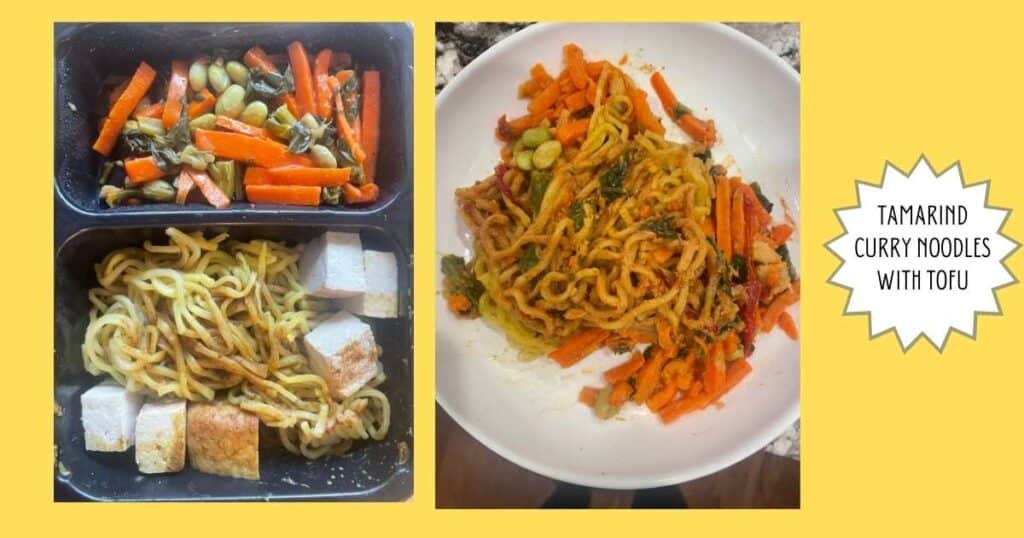 Chilled Three Bean Salad with Quinoa & Chipotle BBQ Sweet Potatoes
This salad is 620 calories and contains sweet potatoes, black beans, chickpeas, kidney beans, white quinoa, and BBQ sauce.
Pesto Corn Skillet with Herbed Orzo & White Beans
This 640-calorie corn dish aptly has corn as the first ingredient followed by cannellini beans, red and green bell peppers, orzo, and basil pesto.
Seitan Cabbage Stir-Fry with Sesame Orange Sauce & Brown Rice
This 680 calorie dish has shredded Cabbage, orange ginger sesame sauce, ginger root, short grain brown rice, yellow onion, edamame, and shallots.
Chilled Curried Chickpea Salad with Dates & Quinoa Red Pepper Pilaf
Surprisingly, this chilled salad has the most calories, but only 690. The ingredient list includes chickpeas, white quinoa, roasted red peppers, pecans, dates, and scallions. This requires no preparation. Peel the plastic and start eating.
How Many Servings Are in the Prepared Meals?
Unlike the Purple Carrot meal kits which come in 2-serving portions, the prepared meals are only one serving. These are perfect for those living alone or someone like me who is the only vegetarian in the family.
How Much Do Purple Carrot Prepared Meals Cost?
Each meal is $12.99 and there's a $75 minimum. That means you'll need to order six meals. Remember, they're refrigerated and not for the freezer so plan ahead.
But you can save $30 off your first Purple Carrot order with this link.
I also occasionally give away free boxes to my newsletter subscribers. You can subscribe below.
Are the Prepared Meals Good for You?
Ingredients
I'm not a nutritionist, however, the prepared meals I tried all have no added sugar and contain high amounts of protein. Purple Carrot also sources organic tofu, beans, soy sauce, and tempeh and is working on adding more to its organic list.
Sodium
Those who order meal kits can actually contact Purple Carrot to customize their kits. For example, some customers who have sodium concerns can choose to reduce the amount of salt needed in the recipe or omit certain sauces that can be high in sodium.
Can You Lose Weight with Purple Carrot?
I tried every packaged meal kit that Purple Carrot offers and the calories ranged from 480 calories to 690 calories, not bad for dinner.
Purple Carrot recently put out a press release on their findings on this very subject. They found that "eating dinners from Purple Carrot's meal kit showed a statistically significant reduction in both 'bad' cholesterol (LDL) and body weight as compared to dinners by a nationally-known non plant-based meal kit."
Further, in that study, scientists found that switching to a plant-based diet even a few nights per week can have a positive impact on heart and cardiovascular health.
Purple Carrot and Weight Watchers
I coincidentally started Weight Watchers during my trial period of the packaged meals. I found that I could only eat half the serving to stay within my points. This still kept me full and I got a bit creative. For example, I served steamed vegetables on the side of my half-portioned pasta or I added the Chilled Curried Chickpea Salad to a green salad.
Try a free month of Weight Watchers. Click here.
My Favorite Purple Carrot Prepared Meals
I tried all of the prepared meals except the Seitan Cabbage Stir-Fry with Sesame Orange Sauce & Brown Rice and the Chilled Three Bean Salad with Quinoa & Chipotle BBQ Sweet Potatoes. Some I had more than once.
Hands down, my absolute favorite meal was the Mac n' Cheese with Cauliflower Cream Sauce & Truffled Mushroom. The taste was so rich and delicious. Next was the Italian Pasta Bowl with Pesto Cream & Tuscan Braised Kale, which was actually the first meal I tried. What can I say? I love my carbs.
I also really enjoyed the Indian-inspired dishes like the Indian Butter Tofu with Basmati Rice and the Tofu Palak Paneer with Carrot Biryani.
Who are the Prepared Meals Best for?
These meals are great for anyone trying to introduce more plants into their diet or existing vegetarians. Even if you're not vegan (I'm not), you'll forget you're not eating real cheese.
These meals are great for weeks when you don't have time to cook but still want something other than processed foods or a boring salad for dinner. I also used some of these meals as side dishes. For example, I served my family the Elote-Style Corn with Cuban Black Beans & Brown Rice on our Taco Tuesday nights.
Final Thoughts
For me, the packaged meals work well when I have a crazy week and little time to cook. I don't like eating frozen boxed meals or unhealthy meat substitutes. I want to eat clean whole foods and that's what Purple Carrot delivers.
Honestly, I prefer the taste of the Purple Carrot meal kits to the prepared meals. I'd never been impressive in the kitchen until Purple Carrot came along. It's provided me with both confidence and culinary skills. There's something truly satisfying about making a home-cooked meal. Plus, Purple Carrot blends so many interesting flavors and ingredients together that I would never think worked well, but they do.
This is not going to replace the Purple Carrot meal kits in my home but it's a nice supplement and I'll definitely order again.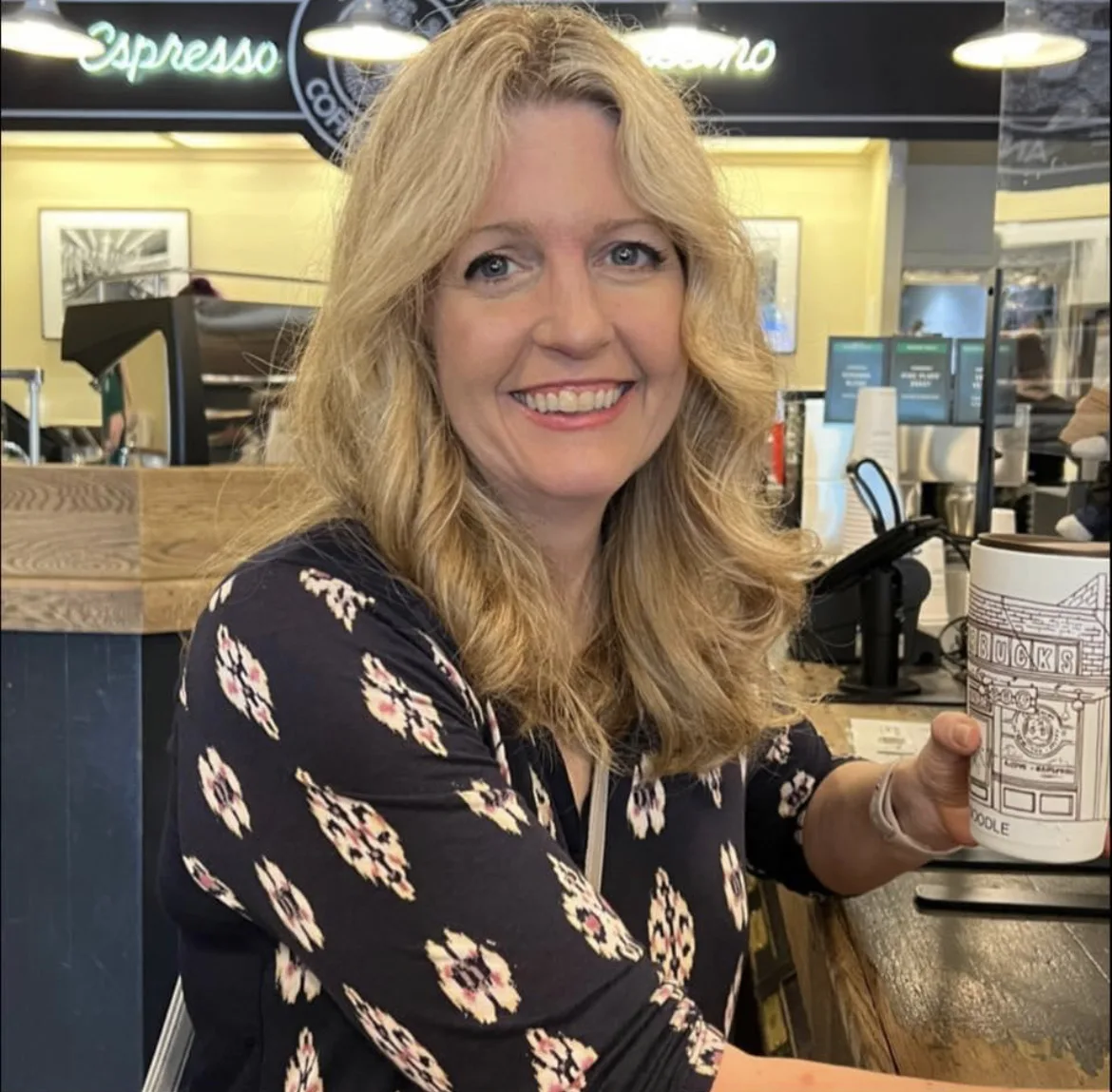 Michelle Platt is a content creator and certified personal trainer. Proving it's never to late to reinvent yourself, she's a former attorney and teacher who loves to do the research so you don't have to. She takes a deep dive into each topic and writes about her wellness journey here. She loves trying out new workouts, fitness tips, healthy foods, and products to share with you. This native New Yorker recently made the move to the suburbs of Minneapolis, where she lives with her husband, two kids, and two dogs.