We could all use more time in our day, right? Lately, I feel stretched thin as a self-employed busy mom. I appreciate any products that make life easier. Here are some of my favorite time-saving products from Amazon.
This post contains affiliate links. See my disclosure policy for more information. Some products were gifted to me but all opinions are my own.
One of the brands below has partnered with me to offer you a giveaway that runs until 6/24/22. So be sure to enter and let me know in the comments if you do.
17 Amazon Products to Make Life Easier
1. Air Fryer
Faster Cooking Time
An air fryer is essentially a mini convection oven. This means that its small size cooks your food in way less time than a traditional oven. While I have a convection oven, whenever possible, I choose my air fryer.
Just to give you an example, roasting vegetables in my oven can take 30 minutes or more and half that time in my air fryer.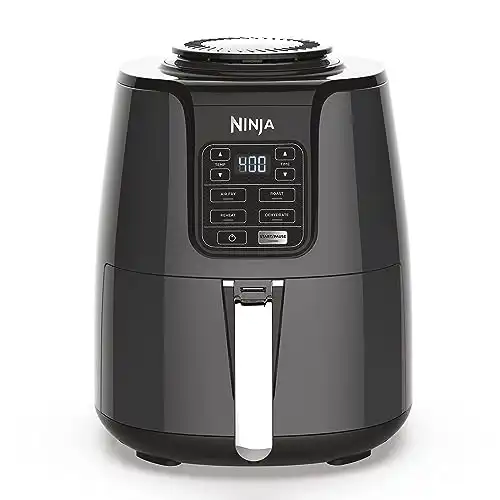 Health Benefits
There are health benefits too as you can reduce the amount of oil when cooking. Most times, I avoid oil completely and if I do use it, I spray just the smallest amount of avocado oil onto my food.
Easy Clean Up
To clean up, put the crisping plate and basket right into the dishwasher.
If you're looking for a larger air fryer, this is the 7-in-one oven I have which also has baking and toasting functions.
2. Sock Dock
Tired of wasting time matching or looking for missing socks? This ingenious product saves me so much time each week. Simply slide your pairs of socks onto the bungee hanger, throw them in the washing machine, then the drier, and all your socks will stay matched with one another.
3. Laundry Folding Board
Before buying this laundry folding board, I thought I had the art of folding laundry down pat. Since buying this board, however, I realized how much time I now save folding shirts and pants, how organized they look when put away, and how much fun I can have doing a household chore. Seriously, I actually enjoy it now.
Makes Folding Laundry Fast & Fun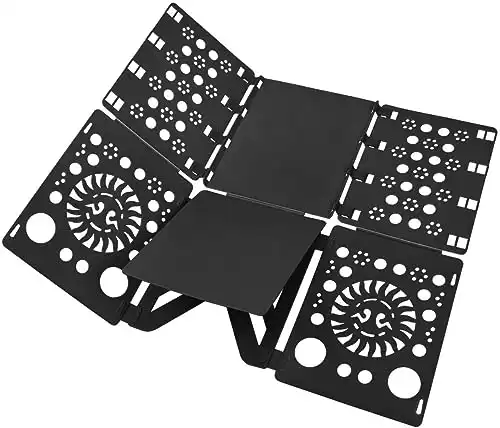 4. Instant Pot
The Instant Pot does have a learning curve, unlike the air fryer, but if you follow some recipes you will realize how much easier the Instant Pot makes meal preparation. The Instant Pot also has a slow-cook setting.
My favorite things to make in the Instant Pot are eggs (hard-boiled, poached, egg bites), soups, and stews. Again, throw the pot and any inserts into the dishwasher for easy cleanup.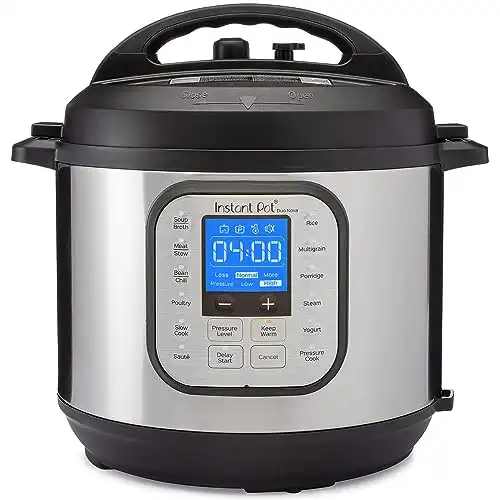 5. Click and Grow Smart Indoor Garden
Until we bought the Click and Grow, I'd never successfully grown herbs. This indoor garden makes it impossible to mess up the growth of your plants. You can grow vegetables, including lettuce, tomatoes, and peppers, herbs, greens, and even decorative flowers.
Our pick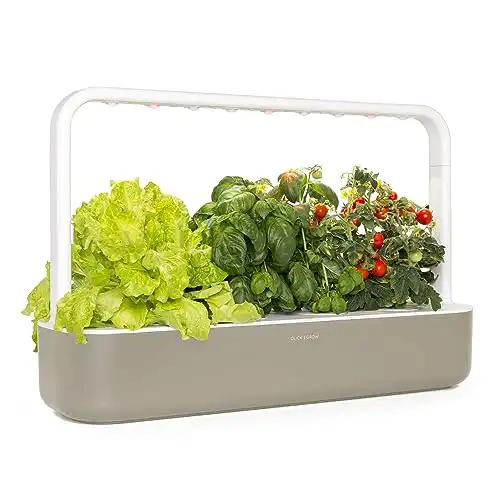 The reason I consider this garden a time-saving product is that you no longer have to run to the store to buy your herbs. I can make basil pesto, guacamole with cilantro, egg salad with dill, all without leaving my kitchen counter. You can read more about the Click and Grow here.
Sign up below to receive the weekly Newsletter featuring the newest blog posts, product reviews, and my favorite things worth sharing that week.
6. Car Trunk Organizer
I'm not the type of person who runs into the supermarket, Target, or Costco for a few things. Instead, I come out carrying 50 pounds worth of bags. This car trunk organizer neatly stores all the items in the back of my car.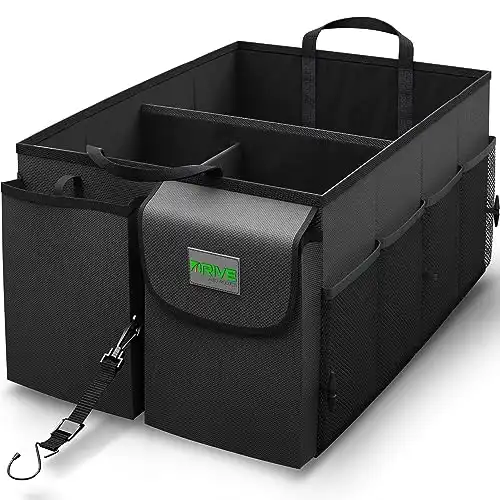 And, the carrying handles enable me to carry the entire shopping trip's bags (or nearly all of them) in one trip from the car to the house. Maybe it's all the strength training I've been doing lately (wink, wink) but this bag is a major time-saver.
7. Steering Wheel Desk
Like many of you, I work from home and try to get as much done while on the go. This car desk changed the productivity of my work when away from home.
I find myself using this car desk which easily attaches to any steering wheel more than I imagined. If I get to an appointment too early, I sit in my car and do work. Or every Thursday evening when my son goes to his guitar lesson, I get a ton of writing done.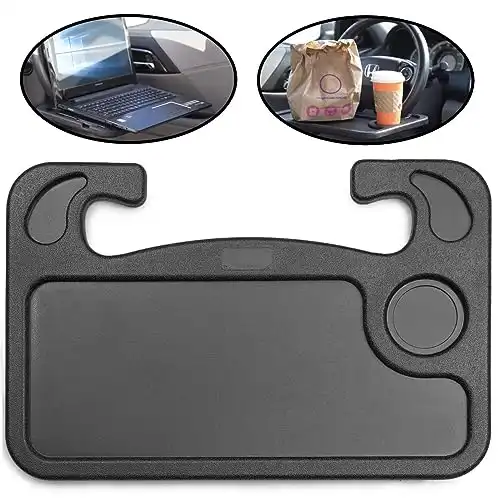 Sure, you can put your laptop or notebook on your lap but it's not the same as having the support of a mini-table underneath it. I keep this handy desk in my car at all times. Oh, and it doubles as a kitchen table for eating on the go.
8. Spice Organizer
If organizing doesn't come naturally to you, then you know how much time you can waste looking for things. Prior to owning this spice rack, I had my spices stacked up neatly on a tiered cabinet shelf like this one and still had to pull everything out, the cayenne pepper, the cumin, the garlic powder, only to find the turmeric hidden in the back.
This spice rack not only keeps things organized but its design allows you to find your spices within seconds. Each rack pulls out and down to give you a full view of every bottle.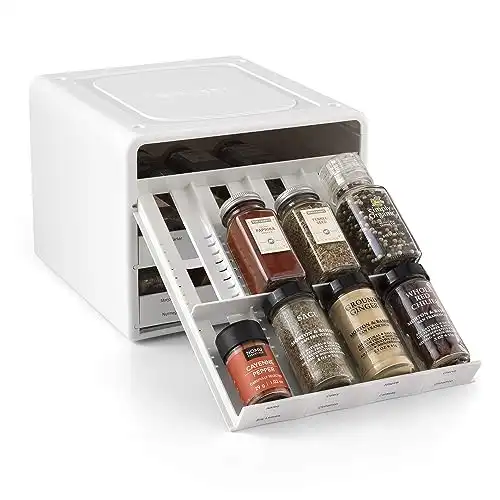 9. Dry Shampoo
Before becoming a mom, I washed my hair every single day. When I finally realized I didn't have to do that, I gained so much time in my week. I have the type of hair that takes forever to do.
Even though I work out every day, I still don't wash my hair daily. I've tried a lot of dry shampoo over the years but this one remains my favorite.

10. Microfiber Hair Accessories
Kitsch has two products that greatly reduce my hair drying time: their oversized scrunchie and their towel wrap.
Wrap your hair in a messy bun with the scrunchie and either go to bed with damp hair or let it air dry. My thick hair dries so much faster and even without styling gets a nice natural wave.
Their spa towel also hastens my drying time. Unlike most towel wraps, this one includes an elastic button attachment so it stays tight on your head.
I have too many of their scrunchies and towels to count. You can see me wearing one in the video below.
11. Revlon One-Step Hair Dryer
While on the subject of hair, I have to mention the Revlon One-Step Hair Dryer which completely changed my hair routine. My hair normally takes about 45 minutes to fully dry, not including the time it takes me to either flat iron or curl my coarse, thick hair.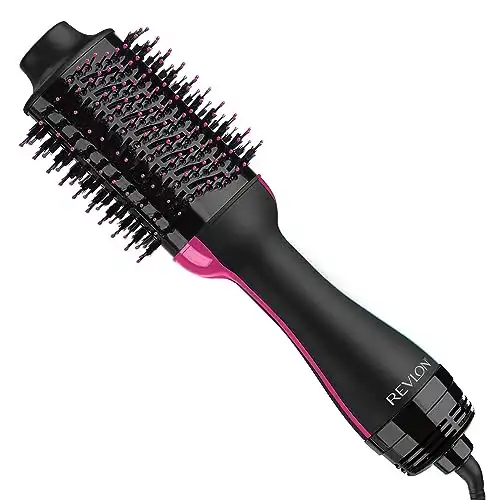 This hair-drying brush cut my styling time down to about 15 minutes. You can read more about my tips and full review here.
The newer version has three heat settings and a removable brush head, also designed to get closer to your roots.
Revlon Plus 2.0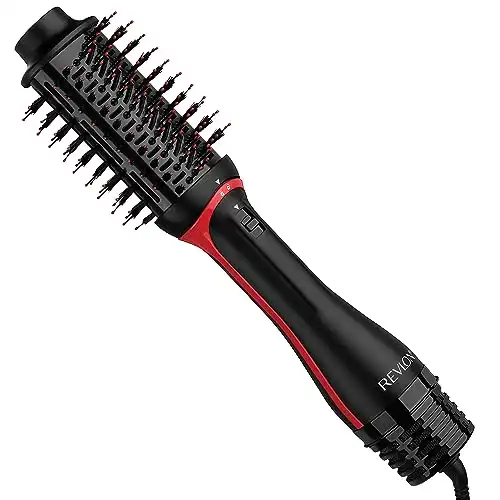 If you want to splurge, while not sold on Amazon, read how I saved when buying a Dyson Air Wrap.
12. Robot Vacuum
When my son was born, my mother-in-law gifted me a robot vacuum. Highly insulted at the time, I now think this is the best gift ever.
Robotic vacuums have come a long way. No longer do you need to place physical barriers to block off rooms as I did with my old Roomba, you just set no-go zones in the app.
After my initial robot vacuum died, I bought a series of brands including the Bob Sweep and Roborock. While each improved on the one before, it was until Trifo reached out to me and sent me their models that I realized what had been missing.
Do you remember the viral Reddit post when the robot vacuum spread dog poop all throughout someone's home? Well, that happens a lot and it happened to me twice! This is why I love Trifo's brand of vacuums.
09/21/2023 08:06 pm GMT
They have 1080dp cameras to not only avoid obstacles such as lamp wires or toys (the Lucy detects down to one inch) but they also act as security cameras. You can set up motion detection and even speak through the vacuum to your pets and kids. Control them with the app, Alexa, or Google Home.
13. Portable Charger
I can't tell you how many times I've had to either sit in my car waiting for my phone to have enough battery power or stayed home for an extra few minutes to charge my phone.
Charge on the go with this portable charger. It comes as a two-pack.
Even better, pair it with this vintage backpack that I have that not only has a slot for your portable charger but also a USB port so you can discreetly charge your device while on the move.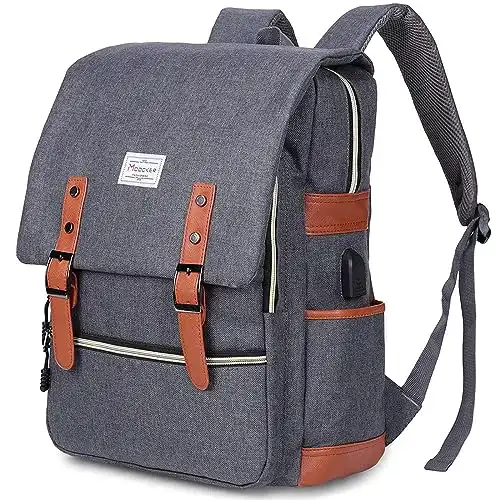 14. Stealth Core Trainer
While this looks like a regular plank board, this Stealth Core Trainer is so much more. It promised results in just 3 minutes per day. And while that may sound overpromising, I believe it. I've been using it over the last couple of years and in just a minute or two, I can feel the burn and I work out every day.
If you're a fan of old-school video games, you have to try the Stealth out. With the purchase of the board, you get a free app that includes several games. There's a paid version too but it's affordable and not necessary in the beginning. You'll have fun (really) while playing their versions of Astroids and Pac-Man.
15. Wad Free
If you're a fan of Shark Tank like me, you may know of the Wad Free. Whenever I dry my sheets, it always takes longer than expected because they ball up inside each other. This product separates your sheets so that doesn't happen. It works.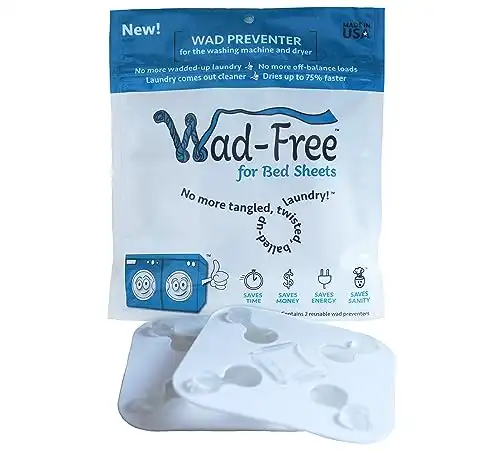 16. Bar Keepers Friend
If you have not tried Bar Keepers Friend, you'll thank me later. This powder cleaner is a staple in my house and I use it on all my All-Clad pans, stovetop, oven racks, basically everything. Instead of scrubbing endlessly, grease stains and stuck-on particles come right off. It's the only thing that keeps my pots and pans looking new.
17. Magic Eraser
This stuff is magic. I use it on everything. It removes dirt on the walls, cleans my shoes, and my bathroom.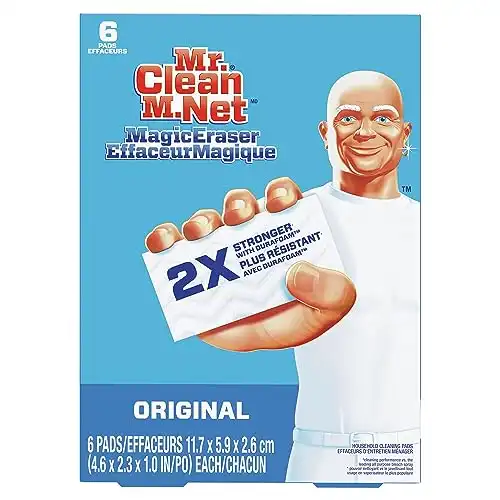 Final Thoughts
What are your favorite time-saving products? Comment below and good luck in the giveaway.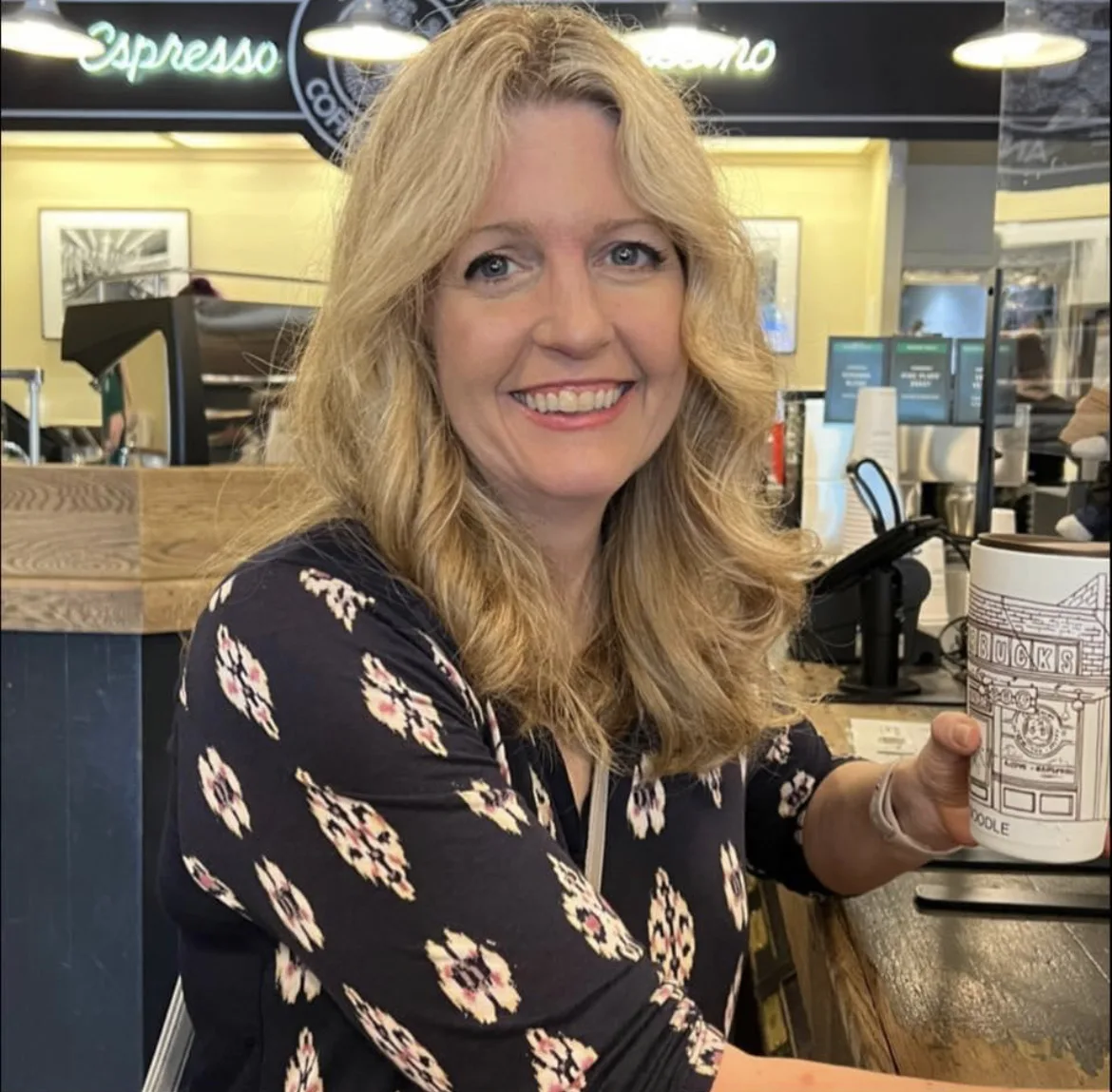 Michelle Platt is a former attorney and teacher who loves to do the research so you don't have to. She takes a deep dive into each topic and writes about her wellness journey here. She loves trying out new workouts and products to share with you. She is currently completing her personal training certification. This native New Yorker recently made the move to the suburbs of Minneapolis, where she lives with her husband, two kids, and two dogs.