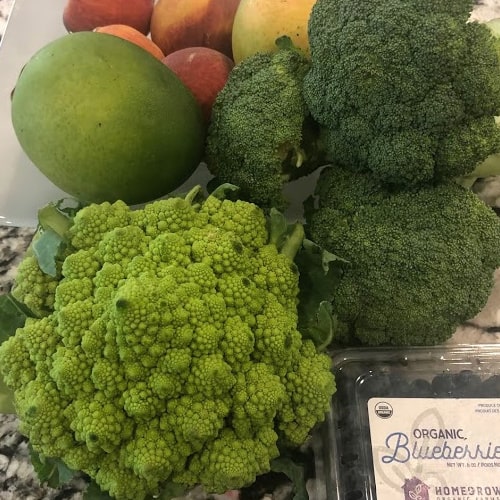 When I lived in New York, I remember seeing advertisements on the subway for Imperfect Produce (their former name) and their competitor Misfits Market, both selling ugly fruits and vegetables.
A year ago, I finally decided to give Imperfect Foods a try when a friend shared her $10 off coupon with me.
This post contains affiliate links. See my disclosure policy for more information.
You can get your own $10 off code right here using this link.
Lately, I've been so busy that I've relied on grocery delivery from Whole Foods, Amazon, and Instacart. I don't buy strictly organic foods (check out the Dirty Dozen list) but I do buy enough that I figured, why not give it a try? And, Imperfect Foods is so much more than produce.
After a year of deliveries, here's my Imperfect Foods review.
What is Imperfect Foods?
Founded in 2015, Imperfect Food's mission is to minimize food waste. They sustainably source their products and offer healthy produce, pantry items, and other staples at a discount to their consumers. (Scroll down to the price comparison chart to see how much I saved on my last order!)
Plus, they pay the farmers a fair price for produce which would have gone to waste, or earned them little to no money.
Is All of Imperfect Foods Ugly?
Most, but not all of Imperfect Foods sells, are ugly or surplus items and extra inventory (after food banks get their share). Imperfect Foods sell items that are:
Ugly: scarred or blemished
Off-Spec: does not mean lower quality but does not meet certain specifications by the buyer, such as too small apples or broken rice
Surplus/ Excess Inventory: a farmer has too much or a buyer backed out for some reason
Undervalued: an item with lower demand or a part of a vegetable not normally purchased
Packaging Change: a brand change or even a misprint like a typo
Short-Coded: an expiration date less than a few months away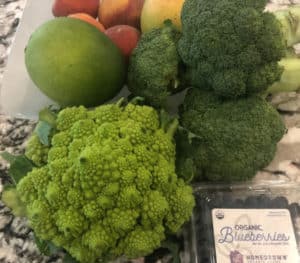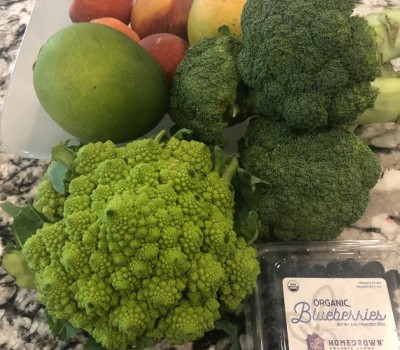 How is the Quality of Imperfect Foods?
Always read the labels and descriptions carefully before you add an item to your delivery box. While the quality may be fine, your family may not be satisfied with it.
For example, there are some organic apples that Imperfect Foods sells that are off-spec. While they look fine, they are tiny and as such, my family won't eat them. Another example: my family loves dried mango but it's expensive. My husband and son won't eat the Imperfect Foods dried mango as it doesn't look as pretty, yet, my daughter makes sure I add it to every order and devors it by the bagful.
On the flip side, Imperfect Foods sells many items that are perfectly fine (often surplus) and the exact same that you'll find at your local Whole Foods at a big discount. Some of my kids' favorite snacks come from Imperfect Foods.
Imperfect Foods also sells their own branded products. I've been very happy with their spices, oils, and tortilla chips.
If you're not happy with the quality of a specific product, you can always contact Imperfect Foods for a refund or credit.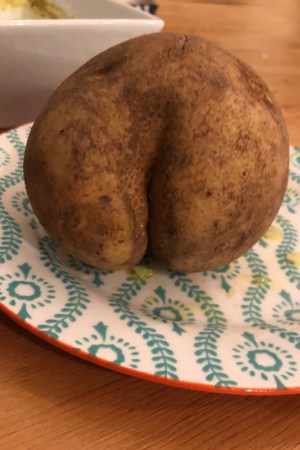 Is Everything that Imperfect Foods Sell Organic?
No, Imperfect Foods sells both conventional and organic foods and produce. But if you strictly want organic foods, you can specify that in your order.
Is Imperfect Foods Locally Sourced?
Imperfect Foods gets most of its produce from California but does outsource to other states and countries.
How much does Imperfect Foods Cost?
Can Customers Customize their Delivery Orders?
Technically yes, but you have a specific time period to customize your order. For me, I get delivery on Fridays. On Monday morning until Wednesday at noon, I can customize my order.
Tip: Customize your order as soon as your window opens as items do sell out.
If you forget to do so, like I often do, you get whatever Imperfect Foods gives you. One week, my husband wondered by I ordered tomatoes. Our outdoor vegetable garden was producing more tomatoes than we could possibly eat. The simple answer was I forgot to log into my Imperfect Foods account that week to customize my order.
While other subscription services like Misfits Foods fill the delivery boxes with produce on hand, Imperfect Foods allows you to customize each and every order. Add what you want and remove what you don't need. They want to ensure that you will actually use what you purchase, in an effort to further reduce food waste.
You can also add recurring items to your order. I always have eggs and blueberries delivered or you can say that you never want a specific item included.
How Much Is Delivery?
Delivery prices depend on which box you select and how many items you add to your order. I get a medium box delivered every week on Fridays. We are a family of four, one of us vegetarian, and this is more than enough food for us. You can also get deliveries less frequently or skip an order.
Imperfect Foods offers the following box sizes:
Small (7-9 lbs): $11-13
Medium (11-14 lbs): $14-16
Large (17-19 lbs): $17-19
Extra Large (23-25 lbs): $25-27
* Note: all these prices are starting prices as you can add items onto your delivery.
Additionally, you pay a delivery fee of $4.99 to $5.99. However, if your order is $65 or more (mine always is), they waive the delivery fee.
Do You Tip Your Driver?
Also, unlike other grocery delivery companies, Imperfect Foods does not allow you to tip their drivers. However, Imperfect Foods pays its drivers a fair wage and benefits.
Where Does Imperfect Foods Deliver?
Imperfect Foods delivers to most of the Midwest, Northeast, South Central region of the United States, and all along the West Coast, and is regularly expanding to more states.
You can enter your zip code here to see if Imperfect Foods delivers to you.
How is Imperfect Foods Packaged?
One of the first things you'll notice about Imperfect Foods is the packaging, or I should say, lack of packaging. In order to again minimize their carbon footprint, Imperfect Foods utilizes as few boxes and packaging materials as possible. I've never had a broken or damaged item before.
Can You Recycle Imperfect Foods Packaging?
Obviously, you can recycle the cardboard boxes but you can also recycle both the gel packs and insulated silver liners. Leave them out for your Imperfect Foods driver on the date of your next delivery.
Is Imperfect Foods Worth It?
There are pros and cons to Imperfect Food delivery.
Pros
Reduces Food Waste
Organic and other foods less expensive (usually)
Helps farmers and supports food banks
Introduced my family to many new brands and products
Convenience of weekly delivery
No need to tip or be home for a delivery
Great communciation–you receive a text when the driver is on his or her way and again when your boxes get delivered
Cons
Fruits such as apples, avocados, and plums can be small–read the description carefully
Less packaging could mean loose items like blueberries or some moisture in the box (rare)
If you miss your window to order, you may get stuck with items you don't want
Prices not always cheaper than your local store
You get a delivery day, not a specific time (items have stayed cold for me even when I'm not home)
Items can appear once in Imperfect Foods and never again
On a rare occasion, I've had my delivery delayed or even canceled
Price Comparison
I compared my last order from Imperfect Foods with the prices at my local supermarket.
Item
Imperfect
Foods
Grocery
Store
Notes
Fruit Strings
$4.99
$4.39
compared to YoYo's fruit rollups
Conventional Mango
$2.65
$2.99
Organic Blueberries
$3.59
$4.99
local store not organic
Boneless Chicken Breast (14 oz)
$4.49
$7.99
local store 16 oz
Organic Valencia Oranges
$2.19/lb
$2.99/lb
Organic Peaches
$2.99/lb
same
Organic Red Potatoes
$1.25
$2.00
Organic Yellow Onion
$1.19/lb
$2/lb
Organic Baby Rainbow Carrots (12 oz)
$2.99
same
local store did not have rainbow
Organic White Mushrooms
$2.99
$3.99
Grass-Fed 85% Lean Ground Beef (16 oz)
$6.49
$8.99
Seasoned Beef Skirt for Fajitas (14 oz)
$7.99
$13.99 (16 oz)
local store unseasoned
Organic Raspberries
$3.89
$4.99
Goat Cheese Chevre
$1.99
$3.99
different brand
Fresh Mozzarella (8 oz)
$3.99
$4.99
same brand
Grass-Fed European Style Unsalted Butter
$3.99
same
different brand
Organic Valley Reduced Fat 2% milk
$4.49
$4.99
Organic Valley Half and Half
$3.99
$5.19
Kimchi (18 oz)
$5.99
$8.99
local store only 16 oz
Bubbie's Dill Pickles (16 oz)
$5.99
$6.19
Cold-Pressed Orange Juice (32 oz)
$3.99
$7.99
local store only 16 oz
Organic Apple Cider
$3.99
$6.69
Stash Peppermint Tea
$3.49
$4.29
Potato Gnocchi
$4.98 for 2
$7.38 for 2
different brand
Organic Broccoli
$3.29
$3.98
Cento Crushed Tomatoes
$1.99
$3.59
Basil Pesto
$2.99
$3.49
different brand
Artichoke Pesto
$2.99
$6.99
different brand
Organic Romanesco
$3.55
$5.99
local store didn't carry (price for organic cauliflower)
Conventional Garlic
$.99
$1.00
Conventional Crimini Mushrooms
$2.99
$4.59
Coconut Water (17.5 oz)
$4.98 for 2
$4.58
different brand. local store only had 10.5 oz
Conventional Plums
$1.99
$2.49
Gluten-Free Chocolate Chip Cookies
$3.49
$5.49
different brand
BoomChickaPop Sea Salt Popcorn
$3.49
$3.39
Organic Mini Sweet Peppers
$4.29
$4.99
TOTAL: $131.60
TOTAL: $178.54
Imperfect Food Savings: $46.94
How Much Did I Save with Imperfect Foods?
I'll admit, I never compared prices before, and I'm floored. Imperfect Foods saved me almost $50 and was over 30% cheaper.
Favorite Products
I've been ordering from Imperfect Foods for a full year now. Here is a list of my favorite products:
Produce
Organic & Conventional Broccoli
Organic & Conventional Cauliflower
Organice Blueberries
Organice Strawberries
Organic Blackberries
Organic Rainbow Carrots
Pantry Items and Can Goods
Nuttzo Nut Seed Butter
Cento Black Beans and Chickpeas
Various brands of tomato sauce and pesto sauces
Fruit Jerky (Imperfect Foods)
Fruit Strings (Imperfect Foods)
Unsweetened Dried Mango (Imperfect Foods)–although only my daughter and I like it
Yellow Corn Tortilla Chips (Imperfect Foods)
Ugly Potato Chips (Imperfect Foods)
Whole Almonds (Imperfect Foods)
Fancy Nuts (Imperfect Foods)
Seasoning for All Things (Imperfect Foods)
Olive Oil (Imperfect Foods)
Pipcorn popcorn
Skinny Dipped Almonds
Refrigerated Items
85% Lean Ground Beef (Imperfect Foods)
Boneless Chicken Breast (Imperfect Foods)
Goat Cheese Chevre
Free Range Eggs
Graziers Grass-Fed European Style Salted Butter
Hope Foods Hummus
Organic Valley Half-and-Half
Organic Valley Milk
Field Roast Plant-Based Apple Maple Breakfast Sausages
Lightlife Tempeh
Bubbie's Kosher Dill Pickles
Mozzarella, Cheddar, and various cheese trays
Cold Pressed Orange Juice (Imperfect Foods)
La Croix sparkling water
Breads, Pasta, and Pastries
Anna Potato Gnocchi
Angelic Bakehouse bread and pizza crusts
Dave's Killer Bread and their bagels (included Dave's in my post on Companies that Give Back)
Bakerly French Crepes: my kids' favorite breakfast but haven't seen them in a while
Various pasta
Sign up below to receive the weekly Newsletter, featuring the newest blog posts, product reviews, a virtual book club and my favorite things that week.
Final Thoughts
In my case, I saved a ton of money shopping with Imperfect Foods. I love the convenience of home delivery.
Am I always happy with what I receive? No. This is especially true with tree fruits like apples, plums, and avocados. They're smaller than I would choose if I were picking them myself in a supermarket. But the more you order from Imperfect Foods, the better you get at finding your favorites and those foods to avoid. Again, nothing is wrong with those fruits, other than their size.
Read the descriptions carefully and you'll almost always know to expect. I've been impressed with the quality of the meats and cheeses. The pasta and sauces I've bought are more high-end than I typically would buy and cheaper too.
Want to give Imperfect Foods a try? Here's $10 off your first order. Use this link. When you order from Imperfect Foods, you'll get your own referral code to share with friends.
Sign up below to receive the weekly Newsletter, featuring the newest blog posts, product reviews, a virtual book club and my favorite things that week.
Related Blog Posts: