If you're like me, Bloom Greens and Superfoods Powder started blowing up your social media feed this year.
Bloom Greens and Superfoods powder markets itself as a convenient and easy way to get your daily dose of greens. Admittedly, I'm a bit skeptical of the supplement industry
​So, I decided to purchase it and try it for myself.
Would I buy Blooms Greens again? Probably. Do I love the taste? Not exactly. Do I believe the hype? Possibly. I break it all down for you in this in-depth review.
This post contains affiliate links. See my disclosure policy for more information.
What is Blooms Green & Superfoods Powder?
Bloom Greens Powder is a product of Bloom Nutrition, a women's wellness supplement company. They have pre-workout drinks, vitamins, and gummies, but their green powders really took off.
Mari Llewellyn co-founded the company along with her husband in 2019. She had amassed a huge social media following (now over 1.5 million followers on Instagram), sharing her weight loss tips and workouts.
Bloom Greens Powder contains over 50 essential nutrients, including whole fruits and vegetable blends, fiber, probiotics, organic green superfoods, antioxidants, digestive enzymes, and adaptogens.
This superfood dietary supplement is designed to improve gut health, boost immunity, and provide natural energy levels.
Bloom Greens Powder is made with high-quality, handpicked ingredients and is manufactured in the USA under Good Manufacturing Practices.
It's a sweet alternative to grassy-tasting greens powders for those who want to supplement their diet with essential nutrients.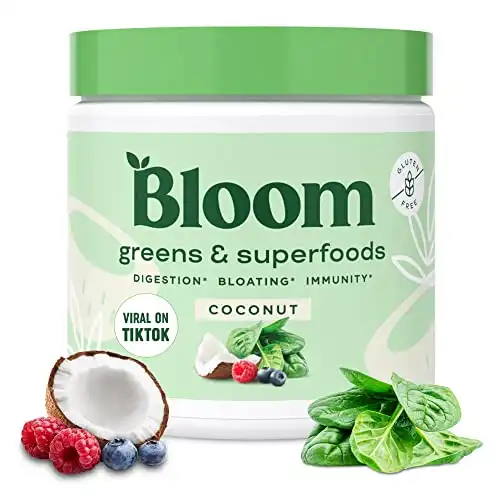 Bloom Greens Powder Flavors
Bloom Greens Powder is available in 6 flavors:
Strawberry Kiwi
Mango
Berry
Coconut
Citrus
The product can be mixed with water, smoothies, or other beverages, making it a versatile supplement to incorporate into your daily routine. To get it ultra smooth, I use a frother.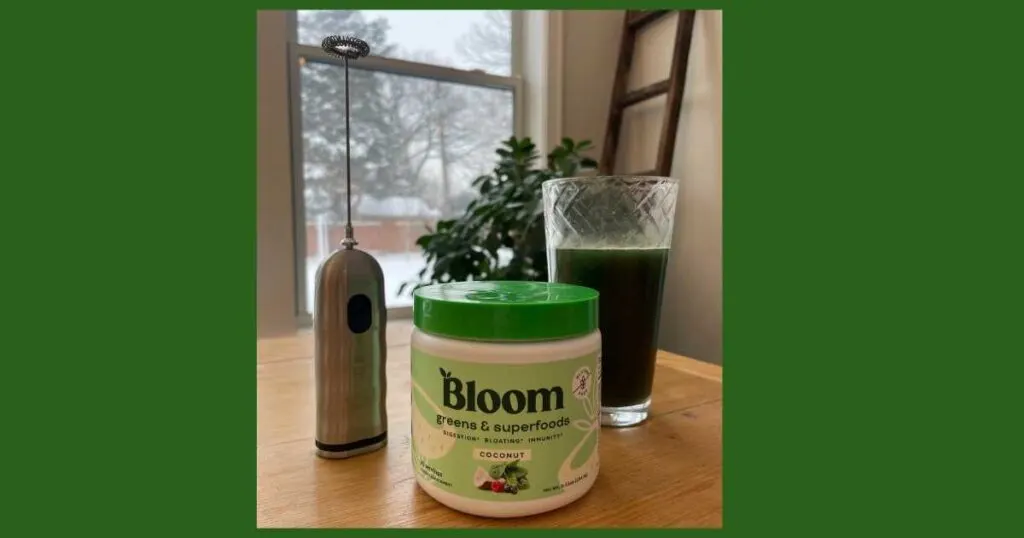 Dietary Restrictions
This greens supplement is manufactured in the USA.
Bloom Greens Powder is gluten-free, non-GMO, dairy-free, keto-friendly, low carb, soy-free, sugar-free, and certified vegan, which makes it suitable for people with dietary restrictions.
Main Ingredients of Bloom Greens Powder
Bloom Greens powder contains just 15 calories per serving and less than 1 gram of sugar.
This superfood supplement blends more than 30 high-quality ingredients. It is designed to provide you with a daily dose of essential nutrients that are important for maintaining good health. It contains:
1. Fruits and Vegetables
Bloom Greens Powder contains a powdered blend of organic fruits and vegetables that are rich in vitamins and minerals.
The supplement includes leafy greens such as carrot powder, beet powder, spinach and kale, broccoli, ginger root and other veggies.
Antioxidant Beauty Blend
It also contains antioxidants found in various berry powders like goji, cranberry, and acai, as well as matcha tea, horseradish tree leaf, and grape seed extracts.
​Superfoods
The blend contains organic barley grass powder, organic spirulina powder, organic wheatgrass, organic alfalfa leaf powder, organic chlorella powder, as well as chicory root fiber and flaxseed.
2. Key Nutrients and Vitamins
In addition to fruits and vegetables, Bloom Greens Powder also contains a variety of other key nutrients. The supplement is high fiber, which is important for weight loss, maintaining healthy muscles and digestion.
It also contains a variety of vitamins and minerals, including vitamin A, vitamin C, potassium, and iron. These nutrients are important for maintaining good overall health and can help to prevent nutrient deficiencies.
3. Adaptogens and Enzymes
Bloom Greens Powder also contains an adaptogenic blend of ingredients, which claims to help to reduce stress and improve mental clarity, such as ashwagandha and rhodiola root powder.
These ingredients include digestive enzymes, which can help to improve digestion and nutrient absorption.
Claimed Health Benefits of Bloom Greens Powder
This greens powder claims to support digestive health, boost immunity and energy levels, and have beauty benefits.
Digestive Health
Bloom Greens Powder contains probiotics and digestive enzymes that can help improve your gut health by aiding digestion and reducing bloating. The fiber blend in this powder can also help regulate your digestive system and promote regularity.
Boosting Immunity and Energy Levels
Bloom Greens Powder is packed with antioxidants and other nutrients that can help support your immune system. This powder can also help boost your energy levels, thanks to its combination of whole food ingredients and energizing nutrients.
Skin and Overall Health
This powder contains a blend of organic whole foods that are rich in vitamins, minerals, and other nutrients that can help manage your skin health and support your overall well-being.
First Impressions
When you first open the container, you will find the scoop (one per serving). You will notice that the powder has a natural looking green color and a fine consistency.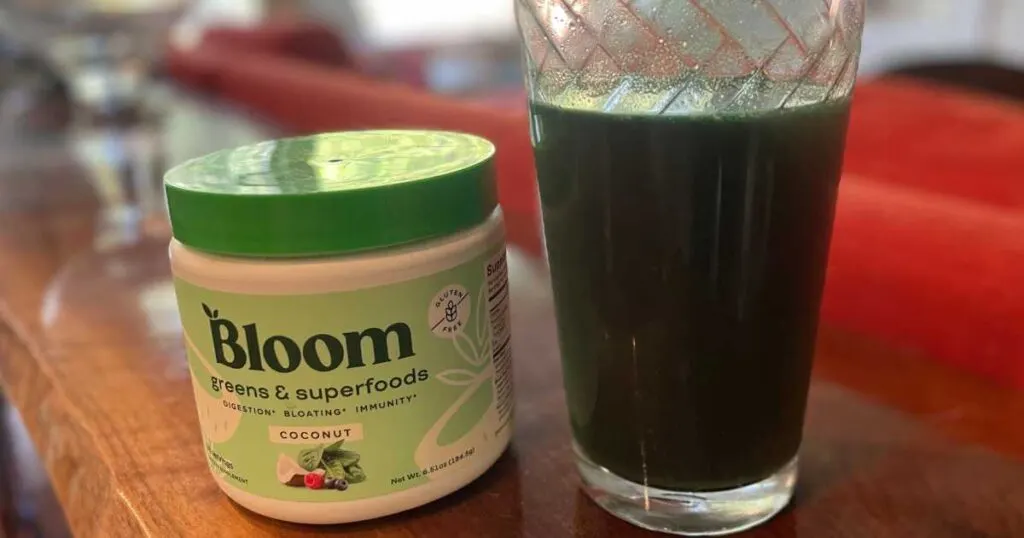 ​It has a distinct scent, grassy and fruity at the same time.
Taste and Sweetness
Personally, I dislike wheatgrass or any earthy drinks. So, I was a bit hesitant to try this product. I read through the reviews and ultimately chose the Coconut flavor, a popular one on Amazon.
Bloom Greens Powder has a sweet taste that comes from the natural ingredients used in the powder, such as stevia and monk fruit.
When I drink it on its own, it takes a few sips for me to get used to the flavoring. But I can drink it quickly. I'm not sure I love the taste on its own. I usually toss a scoop into my smoothie.
My Experience with Bloom Nutrition Greens & Superfoods
My tween daughter was very excited when I purchased this product (thanks to TikTok). I had a hard time choosing the flavor, torn between coconut and mango. I knew I couldn't stomach the original flavor.
Both of us don't like anything too sweet. We decided to drink a glass every day for a couple of weeks.
Neither of us complained about the taste, although I actually think she likes it more than I do. I'm not sure I would be able to tell you what flavor I was drinking if it didn't state it clearly on the label, but it definitely has a fruitiness to it.
Unlike many kids her age, my daughter is an extremely good eater. She gravitates towards whole foods, fresh vegetables, and fruits, only drinking still or sparkling water.
I didn't notice a change in my immunity as listed on the front on the container, although that's hard to gage.
I also didn't experience any bloating or real digestive issues either, nor does she, but again, it's hard to say if it made a difference.
​I did like that if I'm going to be drinking a glass of water, that it has some extra health benefits.
Although I'm a vegetarian, I still struggle sometimes to eat a variety of greens, as I seem to choose the same ones on a daily basis.
If you're someone who truly struggles eating enough fruits and veggies, especially greens, then this could be a good thing to keep in your pantry as it has a long shelf life.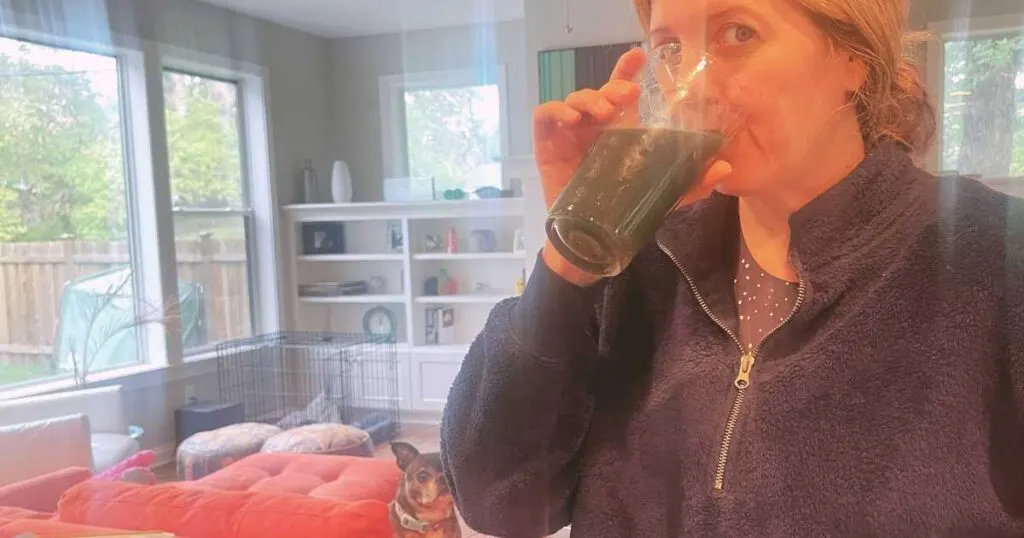 Honestly, as for the taste, unless it's in a smoothie, I have to force the first few sips down. Then, I don't mind it. However, if you're not as sensitive to the flavoring of wheat grass or sweetness in general, you'll probably like it. I also have a hard time eating sprouts.
Do people need this? I'm not sure.
If you're not eating a well-balanced diet, this drink is a move in the right direction. And if you're already making healthy lifestyle choices, this is just another way to get a more balanced diet.
Serving Suggestions
Bloom Greens Powder can be served in various ways. You can mix it with water, juice, or your favorite beverage. You can also add it to smoothies, yogurt, or oatmeal for an extra boost of nutrition.
Mix one scoop of Bloom Greens Powder with 8-12 ounces of water, tea or to your favorite beverage. You can also add ice cubes for a chilled drink.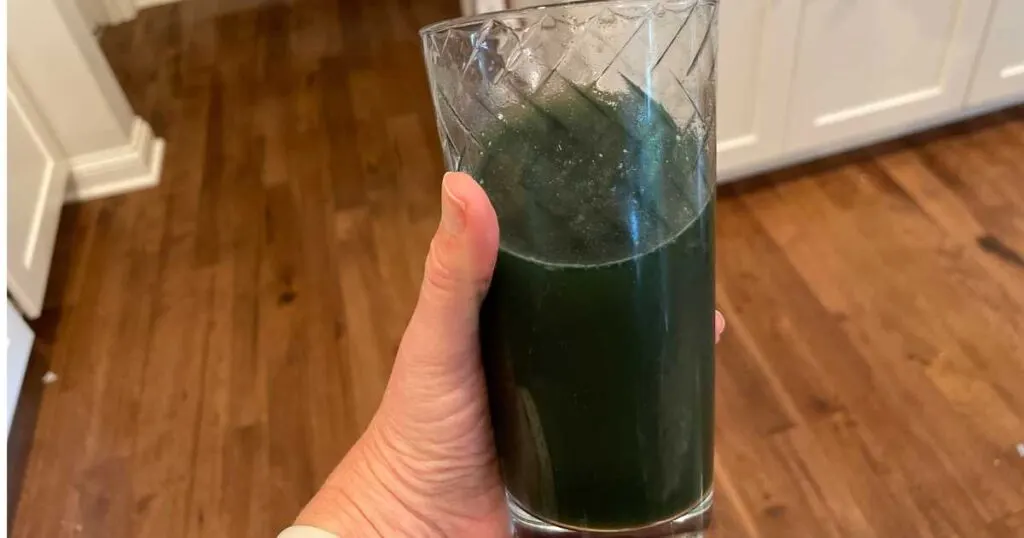 Product Availability and Pricing
Bloom Greens Powder is available from several different retailers. You can find it on Amazon, as well as on the official Bloom Nutrition website. It is also available in some Target stores.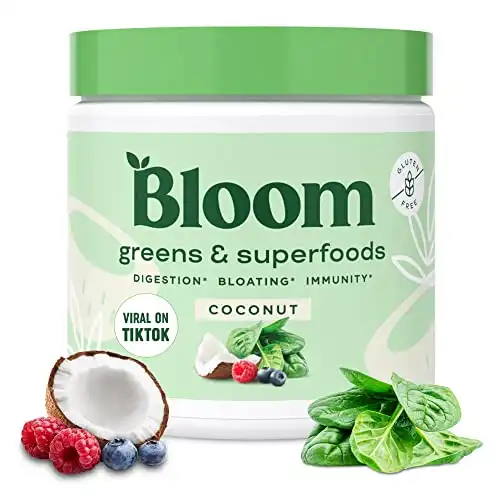 Discounts
Teachers and students can sign up on the Bloom Nutrition website for a 10% discount on each order.
Check out MyPurseStrings on Substack. Get the newest blog posts, my favorite finds, and read all new and past newsletters there.
Pros and Cons
Bloom Greens Powder is a popular superfood powder that claims to provide you with all the necessary nutrients your body needs. However, like any other product, it has its pros and cons. Here are some of them:
Pros
Minimal added ingredients: Bloom Greens Powder contains only natural ingredients, without any added sugars, artificial sweeteners, or preservatives. This makes it a healthier option than many other greens powders on the market.
Digestive support: The formula includes digestive enzymes and probiotics, which can help improve your gut health and aid in digestion.
Blends well: The powder mixes well into water, making it easy to drink. This is especially important for people who don't like the taste of greens powders.
Cons
Lack of clinical research: While Bloom Greens Powder contains many beneficial ingredients, there is a lack of clinical research to support its effectiveness. This means that the benefits of the product are based on anecdotal evidence and not scientific studies.
No specific nutrient amounts: The product does not provide specific amounts of each nutrient, making it difficult to know exactly how much of each nutrient you are consuming.
Taste: While Bloom Greens Powder is sweet and does not have a grassy taste, some people may find it too sweet or not like the taste at all.
Incomplete nutrient profile: While the product contains many beneficial ingredients, it may not provide all the necessary nutrients your body needs. It's important to consume a varied diet to ensure you are getting all the necessary nutrients.
Price: You will go through this product rather quickly if you consume it daily, and it's not inexpensive.
Overall, Bloom Greens Powder is a decent option for people who want to improve their health and consume more greens and superfoods. However, it's important to keep in mind the product's pros and cons before making a purchase decision.
Bloom Greens vs. Athletic Greens
Another superfood greens products I've bought is Athletic Greens.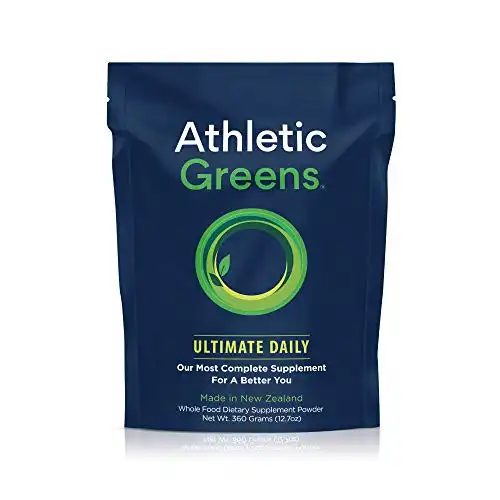 Both are good choices if you're looking to add green supplements to your diet.
Bloom Greens & Superfoods has attracted a more female demographic, mainly through their targeted social media marketing. They specifically list beauty ingredients on their packaging, although anyone can benefit from the product.
Athletic Greens on the other hand, was created with athletes in mind and has plenty of known ambassador's including Peloton instructor Robin Arzon and Neuroscientist Andrew Huberman.
Bloom has over 30 natural ingredients while AG1 has 75 high-quality natural ingredients, vitamins, and minerals.
AG is more than double the price of Bloom, although it does have a 90-day money back guarantee.
Both contain stevia
Frequently Asked Questions
Are there any potential side effects of Bloom Greens Powder?
Bloom Greens Powder is generally safe for most people. However, some people may experience digestive discomfort, such as gas, bloating, or diarrhea. If you experience any adverse effects, stop taking the supplement and consult your healthcare provider.
What is the recommended dosage for Bloom Greens Powder?
The recommended dosage for Bloom Greens Powder is one serving per day, which is equivalent to one scoop. Mix one scoop of the powder with water, juice, or your favorite beverage and drink immediately.
Pin for later!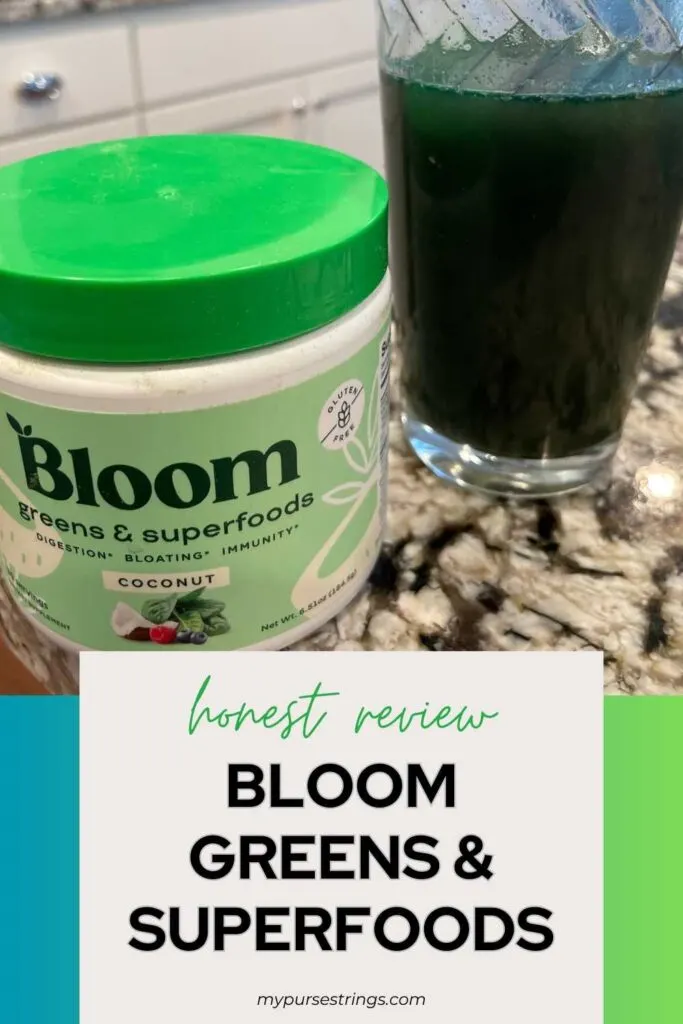 Check out my reviews of protein bars like Built Bars, GoMacro Bars, and Aloha Bars.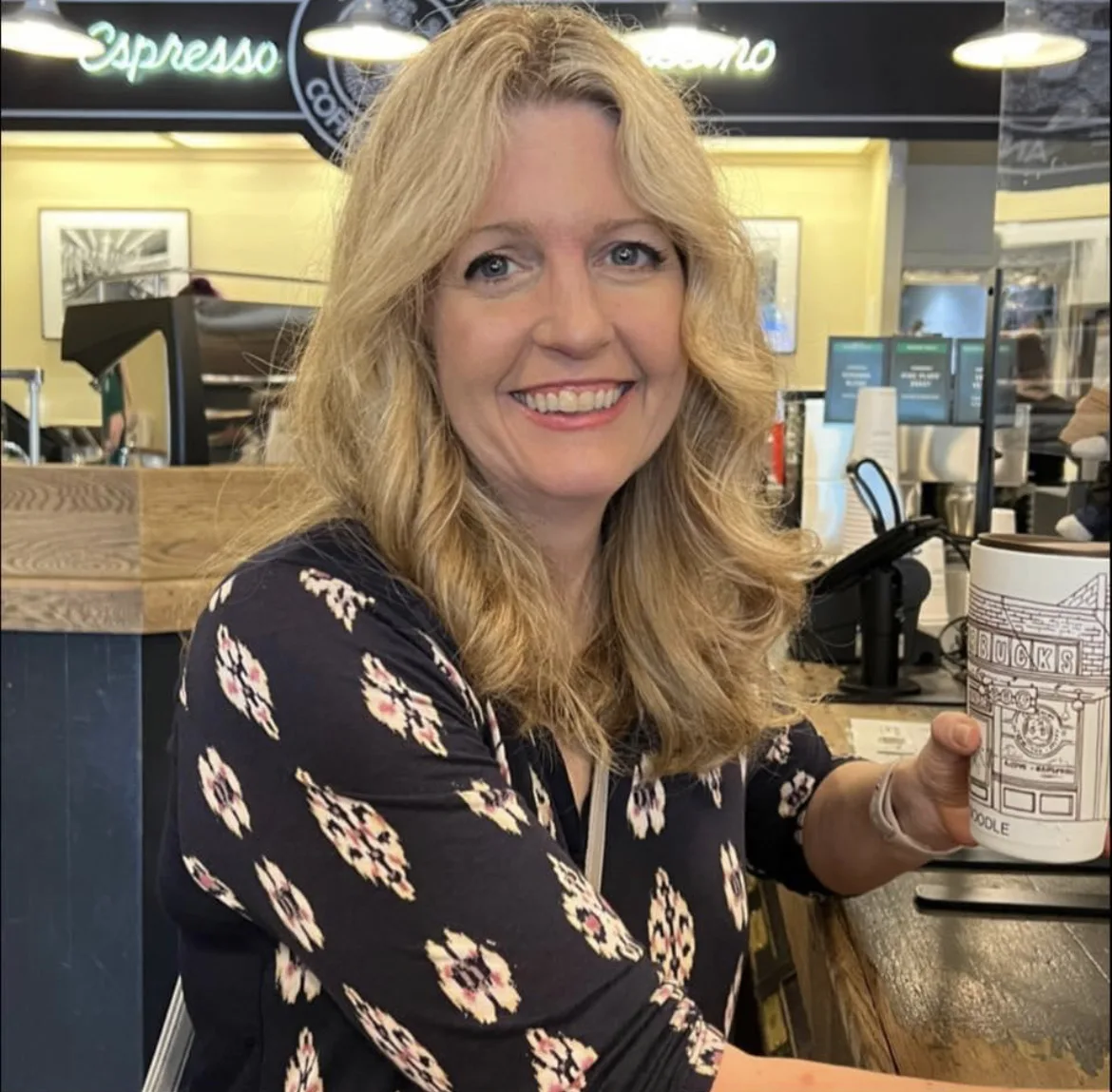 Michelle Platt is a content creator and certified personal trainer. Proving it's never to late to reinvent yourself, she's a former attorney and teacher who loves to do the research so you don't have to. She takes a deep dive into each topic and writes about her wellness journey here. She loves trying out new workouts, fitness tips, healthy foods, and products to share with you. This native New Yorker recently made the move to the suburbs of Minneapolis, where she lives with her husband, two kids, and two dogs.