Lululemon is a brand that needs no introduction. Known for its high-quality, comfortable, and stylish activewear, Lululemon has expanded its product line to include accessories such as the Belt Bag. If you don't own one, you probably see them any time you're running errands.
The versatility of the Lululemon Belt Bag is popular among women, moms, teens, and tweens, basically anyone who wants to keep their hands free while on the go. Designed to be worn around the waist or slung over the shoulder as a crossbody bag, it has a sleek and minimalist design.
No longer a fanny pack only suited for a day at the amusement park or walking the dog, Lululemon's Everywhere Belt Bag is literally, everywhere.
In this Lululemon belt bag review, I break down its features, compare it to competitors, and help you to determine whether this viral bag is worth buying.
This post contains affiliate links. See my disclosure policy for more information.
Design & Features of the Lululemon Belt Bag
It's rare that a fashion accessory appeals equally to both kids and adults, but it's easy to see why the Lululemon Everywhere Belt Bag does due to its:
Compact Size: The Everywhere Belt Bag typically comes in a few sizes (mini, 1.8L, 2L, 2.5L) but clearly, the most popular size is the 1L.
Capacity: The 1L has plenty of room inside for a phone, sunglasses, portable charger, car keys, lip gloss, hair ties, hand sanitizer, AirPods, and a small wallet.
Material: This popular bag comes in both a nylon and polyester version, as well, as fleece. The nylon version is made of water-repellent fabric, which helps to protect your belongings from light rain or accidental spills.
Multiple Pockets: unzip the large opening to reveal the main compartment, two mesh interior pockets (one divided), and a hidden inside exterior pocket to carry valuables close to your body.
Adjustable Strap: adjustable long straps enable it to be worn around the waist or slung across the body.
Design and Colors: Lululemon frequently adds fun new colors and patterns to its belt bag lineup.
Comfort: A padded back panel ensures that the bag is comfortable to wear, even for extended periods, whether worn as a waist bag or cross-body.
Versatility: Its design is suitable for various activities, from running and hiking to traveling or just running errands around town.
Durability: Lululemon products are known for their quality, and the Everywhere Belt Bag is no exception. It's designed to be durable and long-lasting.
Easy Access: The design of the bag allows for easy access to belongings without the need to remove it.
Sleek Aesthetics: The Everywhere Belt Bag boasts a modern and minimalistic design, making it a stylish accessory for both workout and casual outfits.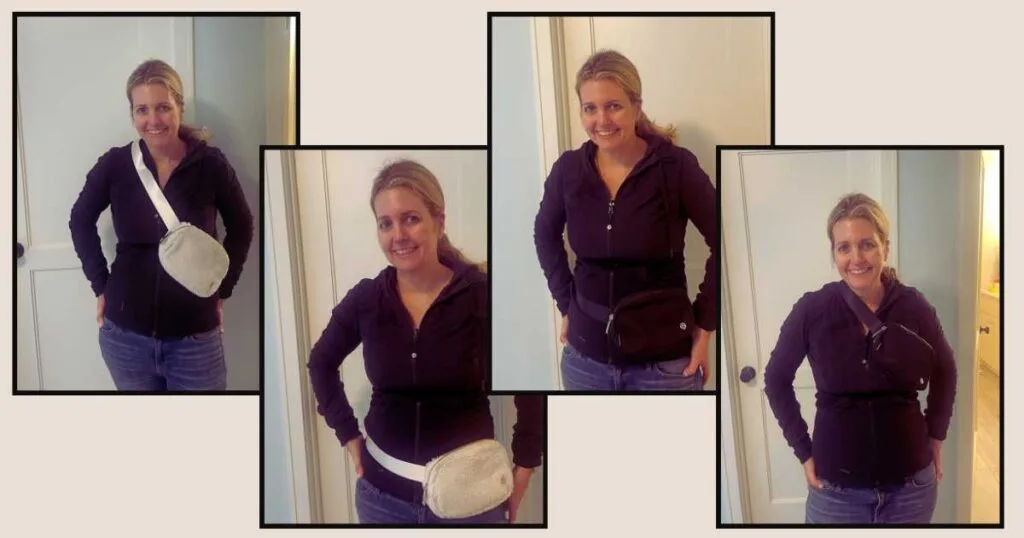 Care and Maintenance
This bag is made of recycled polyester and clearly says on the instruction label to spot clean only. However, I have washed the bag on delicate in the washing machine in a mesh lingerie bag and laid it flat to dry. Do not put it in the dryer. In my case, it came out fine.
My Experience with the Belt Bag
When the Belt Bag trend took off, I eagerly visited my local Lululemon store, only to discover they were all snapped up. They also were sold out on Lululemon's website.
In a pinch, I settled for a dupe, planning to use it temporarily for a girls' getaway to Seattle. I figured it'd be handy for solo travel, especially at the airport to keep my ID and boarding pass close. To my surprise, I became so fond of it that it replaced my regular wallet for over a year.
It was my go-to for Target runs, neighborhood strolls, and even evenings out. Instead of lugging around my hefty wallet, I'd simply toss the belt bag into bigger purses.
But it wasn't without flaws. The bag's clip snapped, it wasn't water-resistant (a fact I discovered during an unexpected downpour), and overall, it felt somewhat flimsy. I had a similar experience with another brand's faux fleece style.
Meanwhile, I gifted my tween daughter the sought-after Lululemon Belt Bag in the classic black color, the most popular one amongst girls her age and those in high school. I tried to convince her to get the vibrant hot pink one too, but no dice. It's the perfect size for her petite frame.
For myself, I opted for the fleece bag in a chic white opal.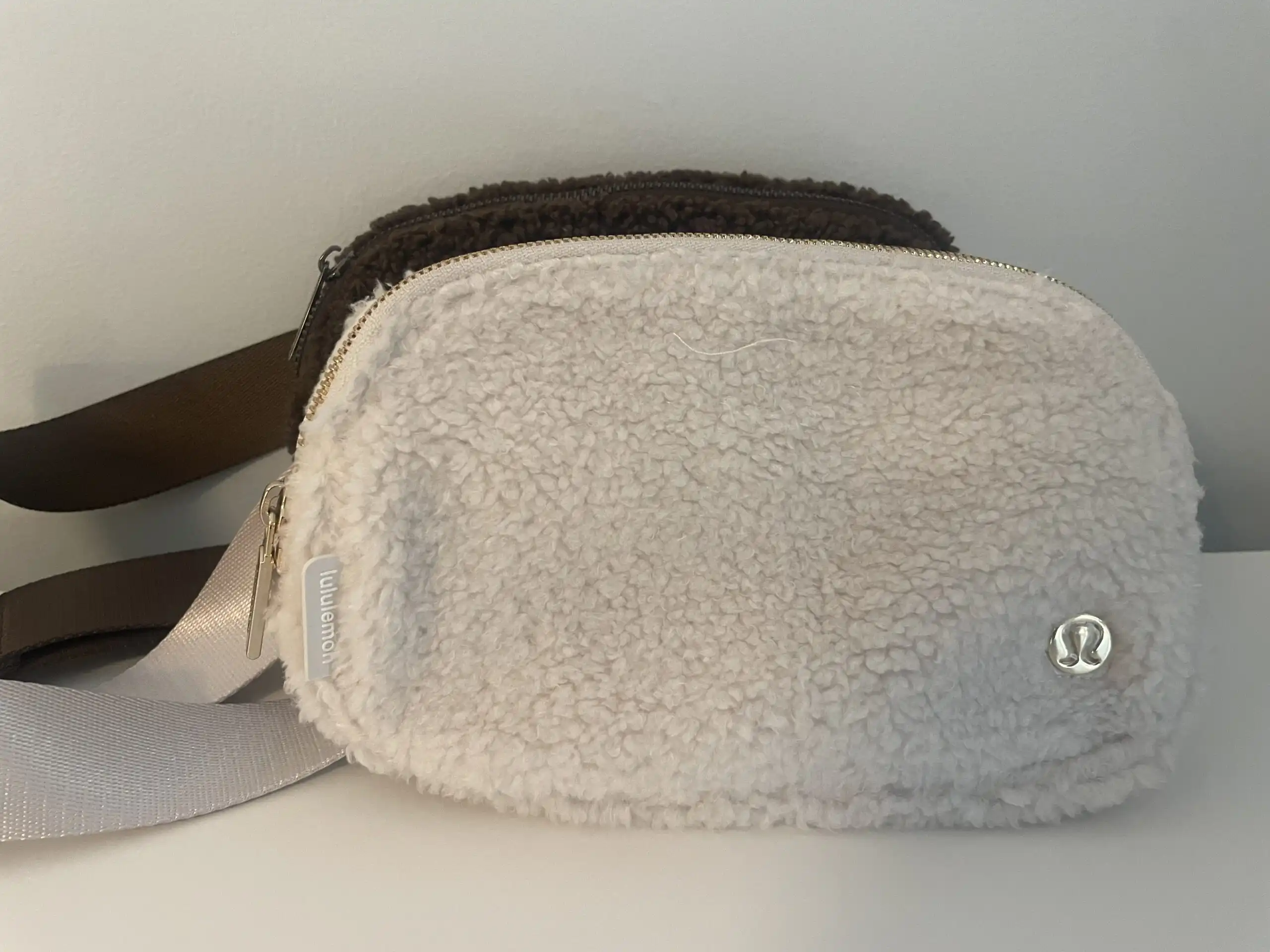 Comparing these two bags to the less expensive ones I've been using until then, the superior quality of the Lululemon Everywhere bag was evident right away.
My favorite thing about his bag, apart from its athleisure vibe is how adaptable it is. I've hung out with friends flaunting their high-end purses, yet I've felt equally trendy with my belt bag. Trend or not, it's the first bag I reach for every day.
And in case you're wondering, I wear it across my left shoulder like a sling bag about 70% of the time, and like a traditional fanny pack the rest of the time.
Price and Value
Lululemon often has sales. You can check the We Made Too Much or the Like New sections or see if you qualify for a discount. Some colors often get discounted but they sell out quickly.
While you can find Lululemon on Amazon, I don't recommend buying from there as they don't have an official Amazon Storefront and you're taking a risk buying from third-party sellers.
Weighing the Pros and Cons
Like any product, there are pros and cons to the belt bag:
Pros
sleek and minimalist design
comfortable to wear
can be worn as a standard belt bag or as a cross-body shoulder bag (my preferred way)
comes in tons of colors
lots of storage for everyday smaller items and daily essentials
quality bag with meticulous stitching, reinforced seams, an easy-to-open zipper, and a sturdy adjustable strap with plastic buckle
water resistant material
compact size
lightweight
comfortable
hands-free design making it great for moms or anyone on the go
you can tuck the excess strap into the nylon loops
the inside pocket has a rubberized pull tab zipper making it easy to open in a hurry
Cons
no credit card slots (unlike my cheaper version)
the smaller size may not fit everyone's needs. (You may prefer the larger 2L size).
no front exterior pockets, just the large zippered compartment and inside pockets
pricier than many competitors, as it starts at $38 for the 1L size
often sells out on both the Lululemon website and local stores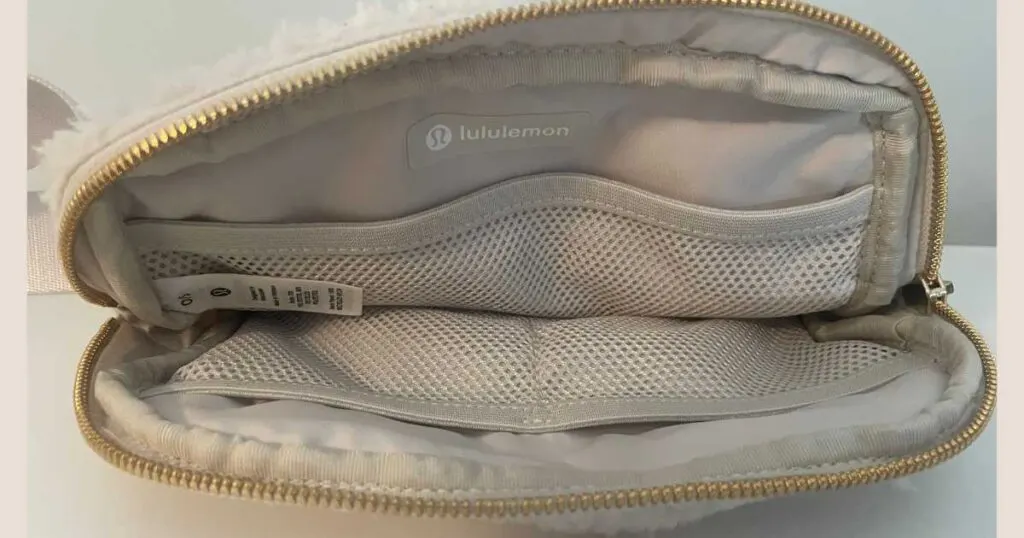 Alternatives
There are plenty of competitors to this bag. I found two on Amazon.
Our Pick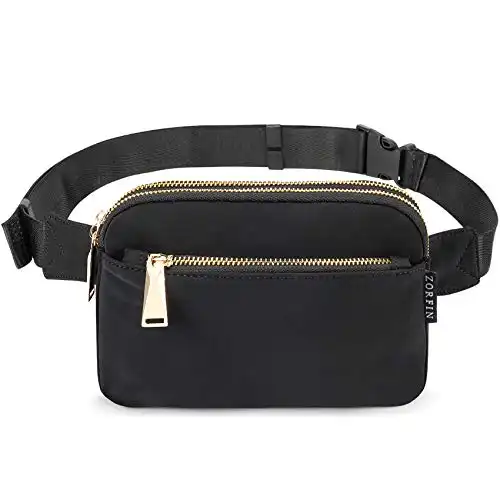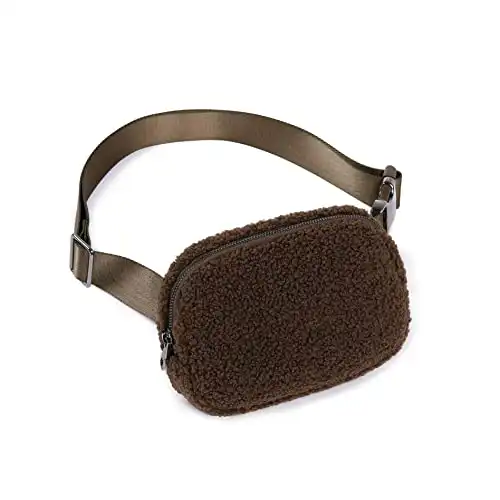 However, after using two different brands for a long time, and then comparing them to the Lululemon one, I have to say, there's a good reason why the Everywhere Bag is one of the most popular items at Lululemon. The quality is apparent and I am confident the Lululemon bag will outlast any of the cheaper ones I purchased.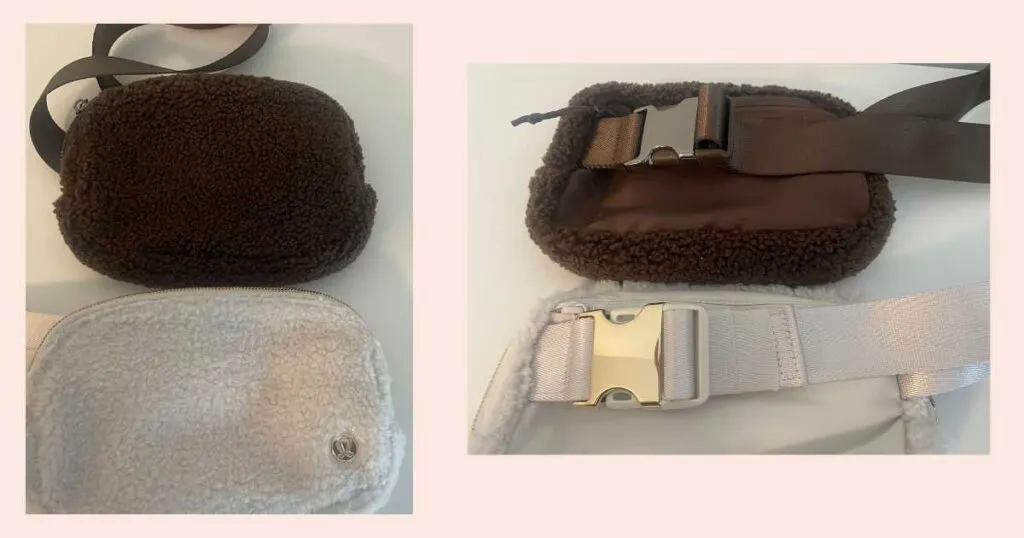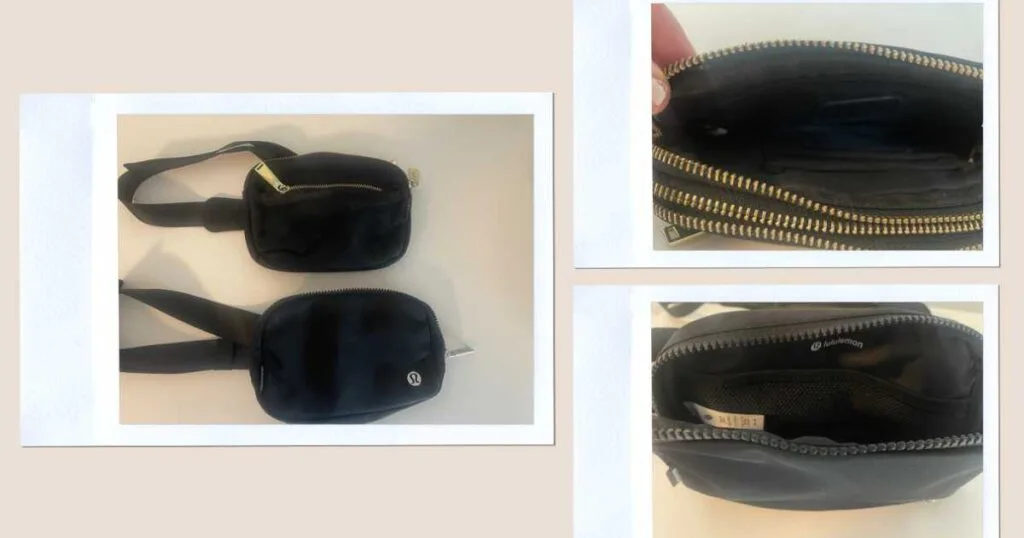 While it may not be the cheapest option on the market, this versatile bag's quality and features make it worth buying, Whether you're pairing this hands-free belt bag with workout clothes or everyday wear, if you use it as much as I do, it's worth every dollar. This is one of those fashion trends that I hope sticks around.
Make sure to read this post if you're looking for a great gift for teens and tweens and don't want to break the bank at Lululemon.
Check out some of my other Lululemon posts here: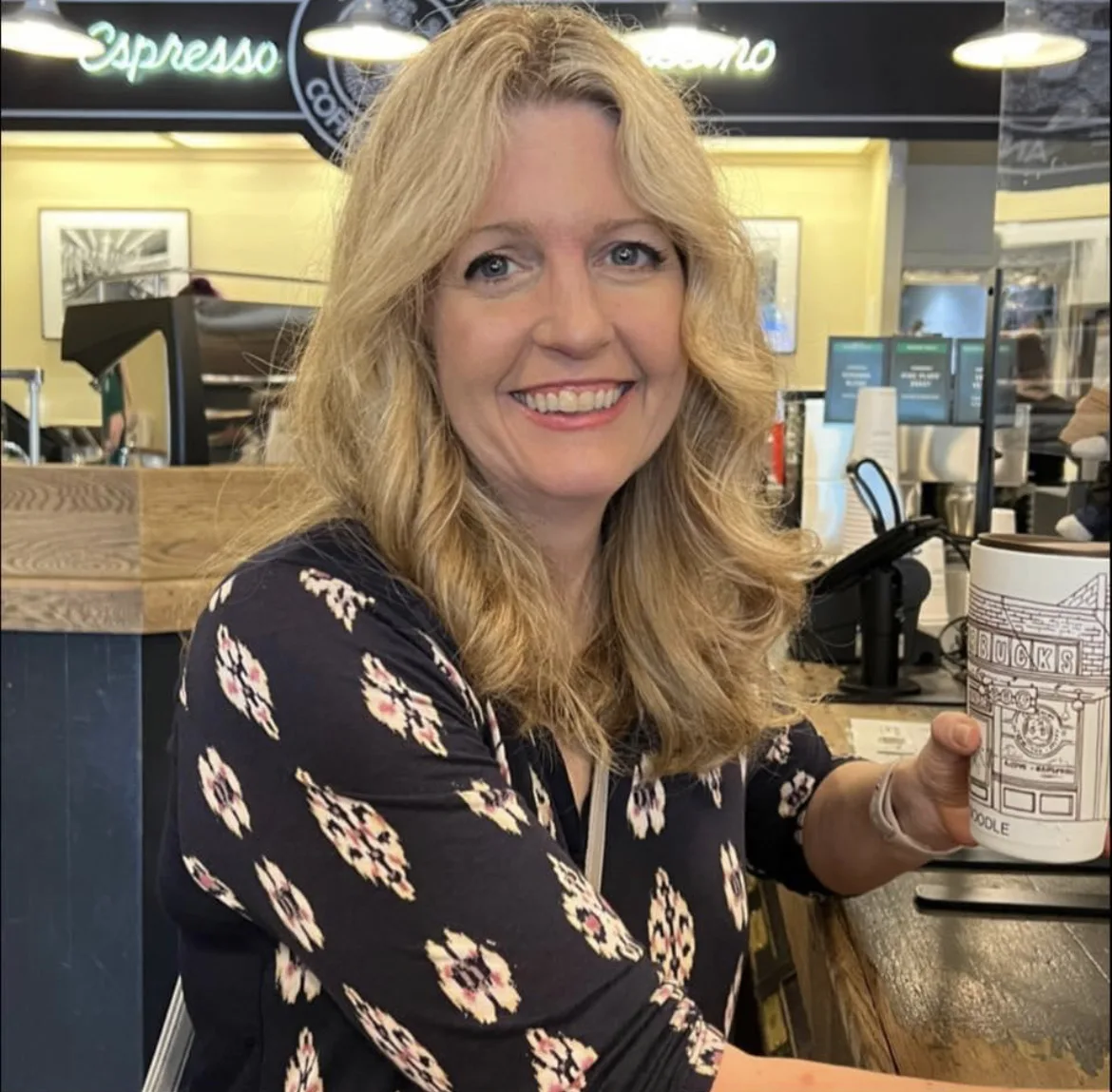 Michelle Platt is a content creator and certified personal trainer. Proving it's never to late to reinvent yourself, she's a former attorney and teacher who loves to do the research so you don't have to. She takes a deep dive into each topic and writes about her wellness journey here. She loves trying out new workouts, fitness tips, healthy foods, and products to share with you. This native New Yorker recently made the move to the suburbs of Minneapolis, where she lives with her husband, two kids, and two dogs.