I first heard of the Immersive Van Gogh Exhibit on an episode of Emily In Paris. After almost two years of no travel and limited group experiences, I jumped at my in-laws' offer to get tickets when it came to Minneapolis in September 2021.
You can find the Immersive Van Gogh Exhibit in 19 U.S. cities and Toronto, Canada.
This post contains affiliate links. See my disclosure policy for more information.
See the clip below from the show to get a glimpse of the exhibit in Paris.
Gogh with Lifeway Kefir Immersive Yoga Classes
But did you know that some cities offer an immersive yoga class within the exhibit walls? After doing some research, it seemed that my city was not one of the five cities to do so. But, happily, that was not the case and they did in fact host classes there. A week later, I was back at the exhibit, yoga mat in tow.
TIP: If you're unsure, it's best to call your local Van Gogh Exhibit to confirm whether or not they hold yoga classes. Information does not seem to be up-to-date online.
For other unique yoga classes, check out my review of goat yoga.
How Much Does Yoga Cost at the Van Gogh Exhibit?
It's not cheap. A 35-minute class costs $54.99. But you get the option to stay (they say for 25 minutes but I stayed longer) to walk around the exhibit afterward.
Tickets to just the Exhibit itself sans yoga start at $39.99 (off-peak) and up. So in my opinion, it's best to take advantage of the yoga class deal.
Most of the yoga classes are offered early morning. It's a smart way to attract more people to the exhbition during off-hours.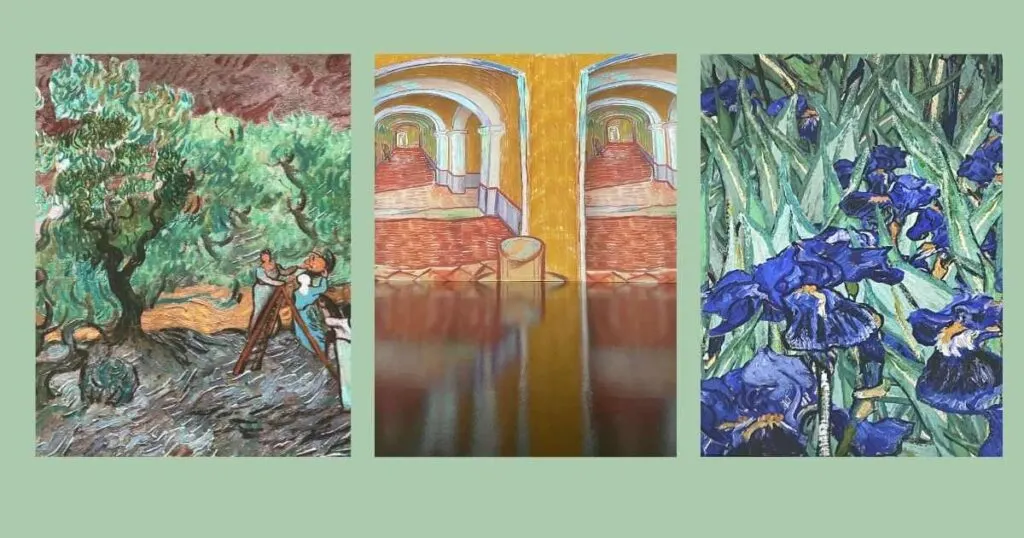 What Do You Need to Bring to the Yoga Class?
Bring your own mat, face mask (required in my class), and water bottle. There are no changing rooms or lockers. I placed my gym bag on a bench behind me.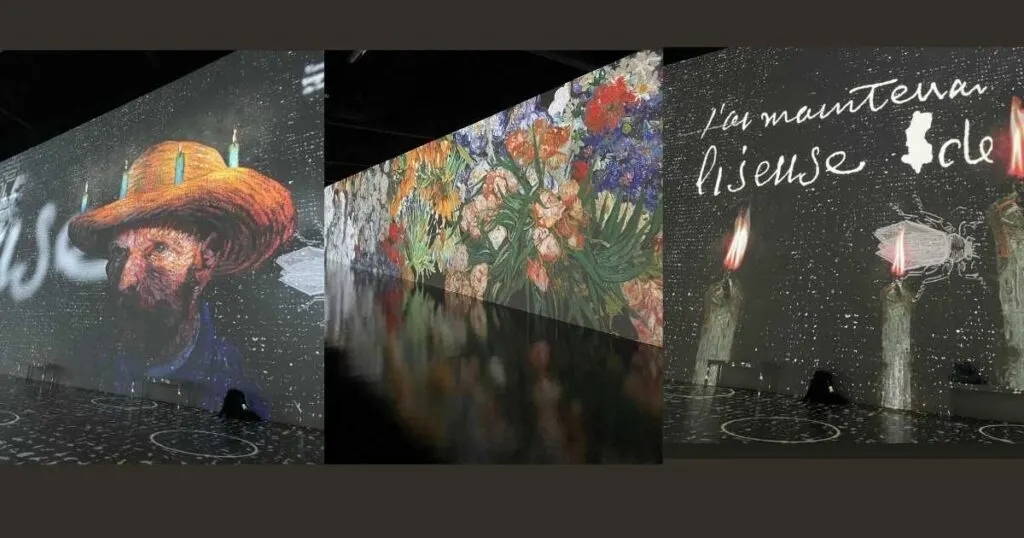 The class is sponsored by Lifeway Kefir so you'll receive a complimentary drink after the class and a coupon.
Who Should Take a Class at the Van Gogh Experience?
I practice yoga fairly regularly but I'm not super flexible or advanced. This class is suitable for all levels. The certified yoga instructor explained everything in layman's terms. For example, "Move your arm back as if you were rolling a bowling ball" she said more than once.
If you're looking for a high-energy difficult class, this is not it. But that's also not the point.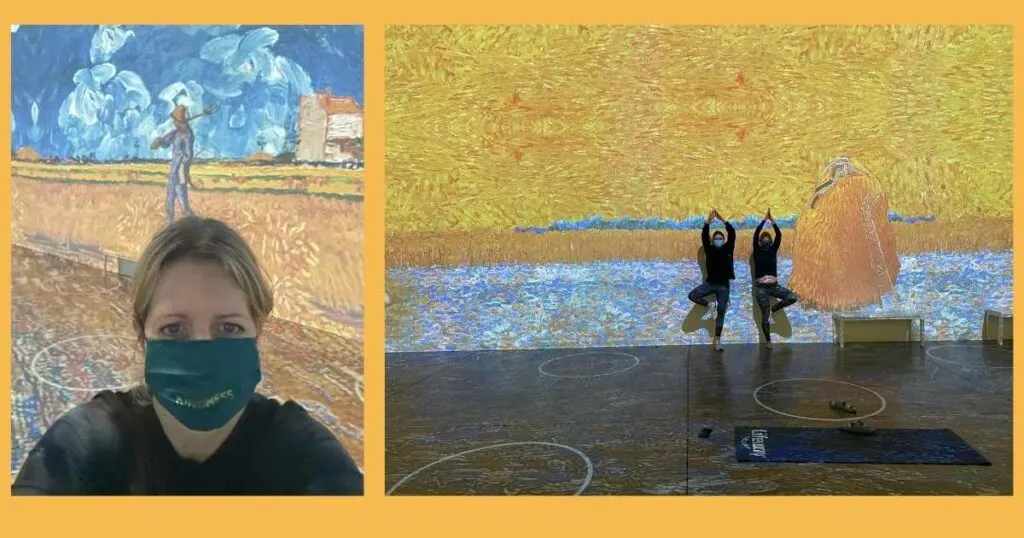 What To Expect at the Yoga Class
You will be amongst people of all levels. It was clear to me that the man next to me was an experienced yogi. He modified some moves. The women beside me were obviously newer to yoga.
What makes this experience memorable (and it really was for me) is that as you take the class, you immediately become engrossed in the art and the music.
It is a surreal experience. While the class itself may not be dificult, it still has some challenging moments. The projected art is all around you on the ceiling and the floor.
I had a hard time balancing on one foot in dancer's pose. I felt as if the floor had dropped. When we switched legs, I made sure to focus intently on a bench in front of me.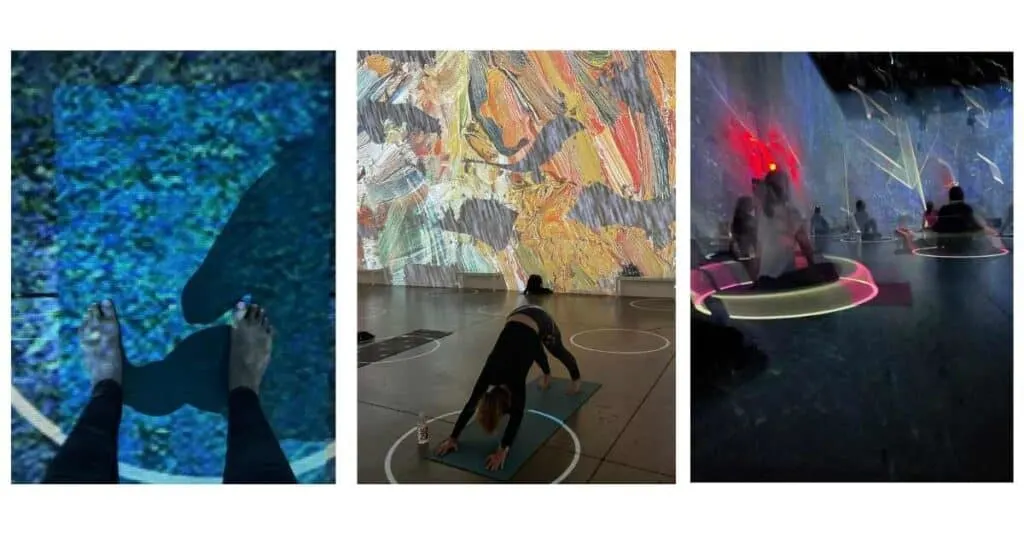 Listen to the Official Van Gogh Immersive Playlist here on Spotify. (I'm listening to it now).
Exit Through the Gift Shop
Of course, after the class, you are escorted through the gift shop where you can purchase a $60 umbrella or $45 tumbler.
Is the Van Gogh Yoga Class Worth Going To?
Absolutely. In two years, I won't remember the Van Gogh Exhibit but I will remember taking this yoga class. It's unique and a great way to experience Van Gogh in an all new way.
I moved to Minneapolis from New York almost three years ago and this is one of my favorite things I've done in my new city.
Have you been to the Van Gogh Exhbit? I'd love to hear your experience in your city. Comment below.
Sign up below to get my Friday Favorites email, with the newest blog posts, favorite wellness products, and more. Plus, get access to the Free Resource Library.
Pin for later!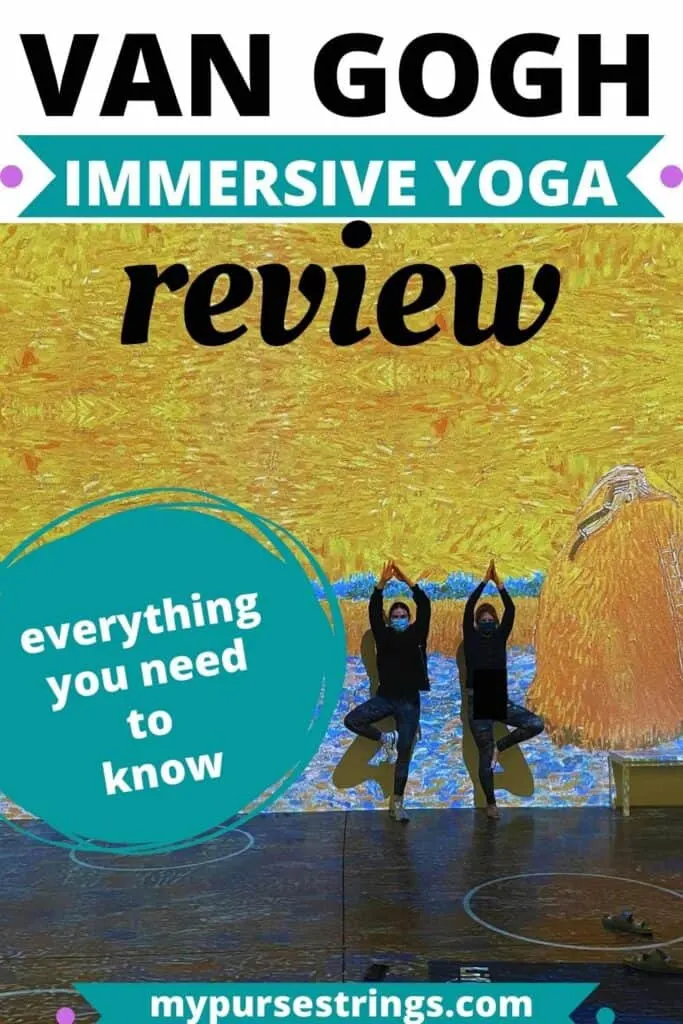 Related Fitness Posts
How To Motivate Yourself To Workout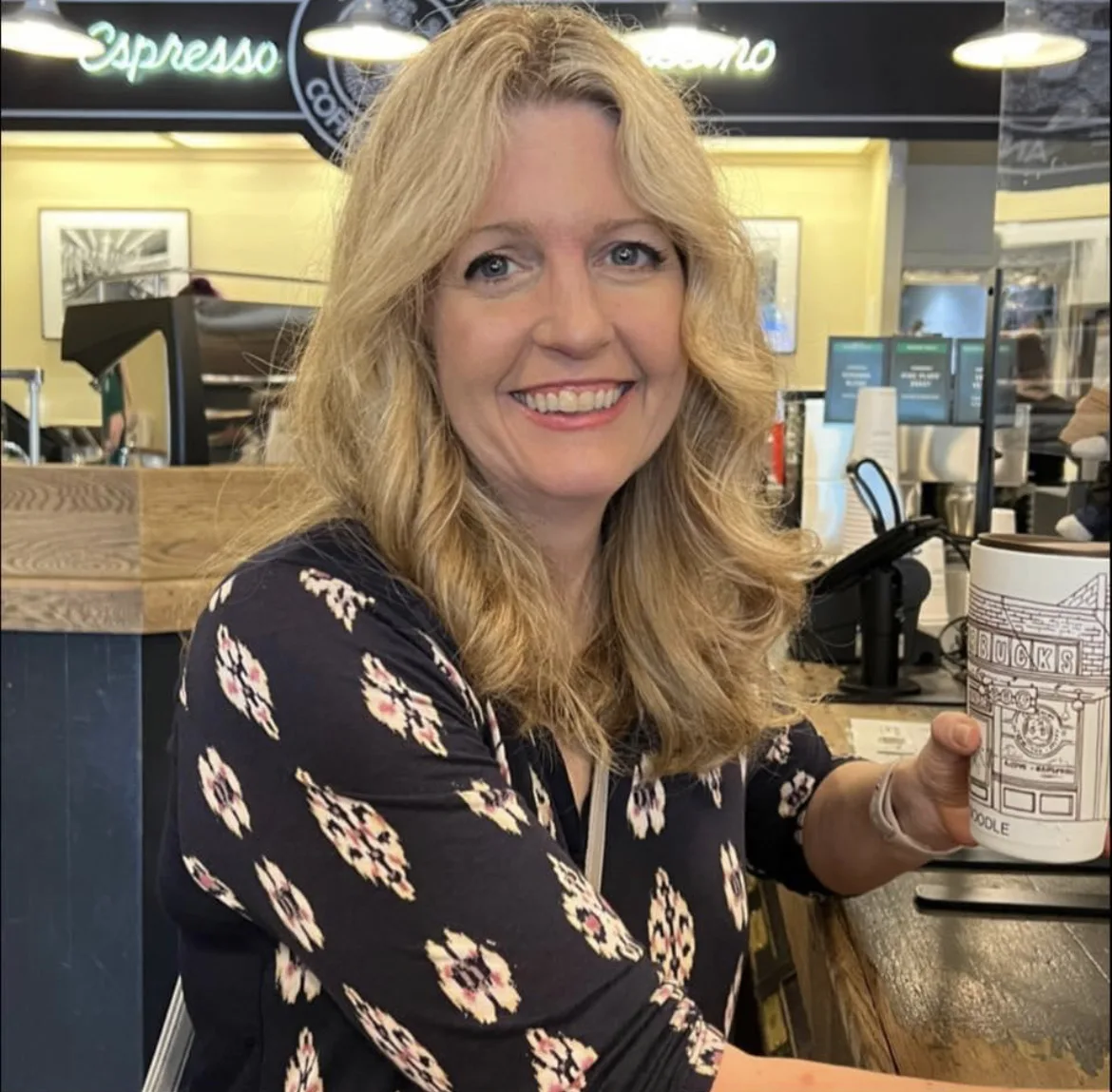 Michelle Platt is a content creator and certified personal trainer. Proving it's never to late to reinvent yourself, she's a former attorney and teacher who loves to do the research so you don't have to. She takes a deep dive into each topic and writes about her wellness journey here. She loves trying out new workouts, fitness tips, healthy foods, and products to share with you. This native New Yorker recently made the move to the suburbs of Minneapolis, where she lives with her husband, two kids, and two dogs.