Since I started reviewing protein bars here, friends and family have been telling me that I need to review the Kirkland brand protein bars. Although I'm a regular shopper at Costco, I'd never tried them before. I'll break down my thoughts on these popular bars and let you know how they compare to other protein bars on the market.
This post contains affiliate links. See my disclosure policy for more information.
Kirkland Signature Protein Bar Flavors
Costco sells its protein bars in packs of 20. They sell four different flavors:
Chocolate Chip Cookie Dough
Cookies and Cream
I usually see their variety pack in my local Costco store, which is a bit misleading as it only contains two flavors. However, I have yet to see the Chocolate Peanut Butter Chunk and Cookies & Cream box.
Kirkland is Costco's private label. And if you've ever set foot in a Costco, you'll see the name Kirkland everywhere. It's intriguing to read online speculation regarding the manufacturers behind each Kirkland product. For instance, some suggest that Pureology, the renowned haircare brand, is the secret force behind Kirkland's shampoo line.
Where to Buy Kirkland Bars
While you are right to think that Costco sells Kirkland bars, you can also find these protein bars on Amazon and Walmart. Without a doubt, Costco provides the most affordable prices. If you want doorstep delivery, consider ordering Kirkland bars through Instacart.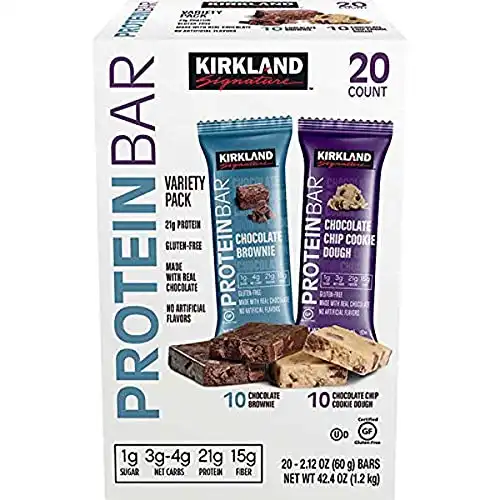 What are the Main Ingredients in Kirkland Protein Bars?
The main ingredients in these bars are:
​protein blend (milk protein isolate, whey protein isolate)
soluble fiber
cashew butter
unsweetened chocolate
erythritol (sugar alcohol)
cocoa butter
natural flavors
sea salt
sunflower lecithin
stevia
Check individual boxes for the full ingredient list and nutrition facts.
They're also made with real chocolate and contain no artificial flavors.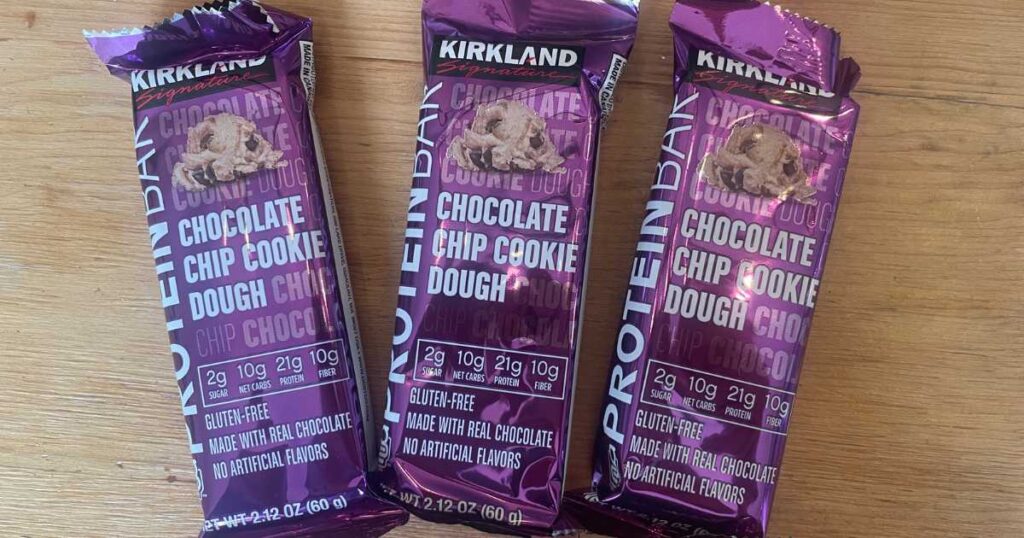 Carbohydrates and Sugar
The bars have 22 grams of carbohydrates. However, as someone who monitors macros, I'm more interested in net carbs, which amount to 10 grams in these bars.
Sugar content is impressively low, with just a single gram per bar.
Allergens and Dietary Restrictions
The Kirkland bars, although high in protein and gluten-free, might not be suitable for everyone.
Nut-Free
These bars and not nut-free as they all contain cashew butter.
Gluten-Free
The bars are gluten-free.
Keto-Friendly
Due to the high amount of net carbs (total grams of carbs, then subtract dietary fiber grams, and also subtract sugar alcohol), the Kirkland bars are not a keto-friendly protein bar.
​Vegetarian
I'm a vegetarian. While you might think that most protein bars are vegetarian, that's not the case. For example, Built Bars contain gelatin. However, the Kirkland protein bars are vegetarian, but not vegan.
They are also Kosher.
How Much Protein Do the Kirkland Bars Have?
All of the Kirkland bars contain 21 grams of protein, which is a lot compared to other brands I've reviewed. This is crucial for me as I aim to get enough protein in my diet.
​How Do They Taste?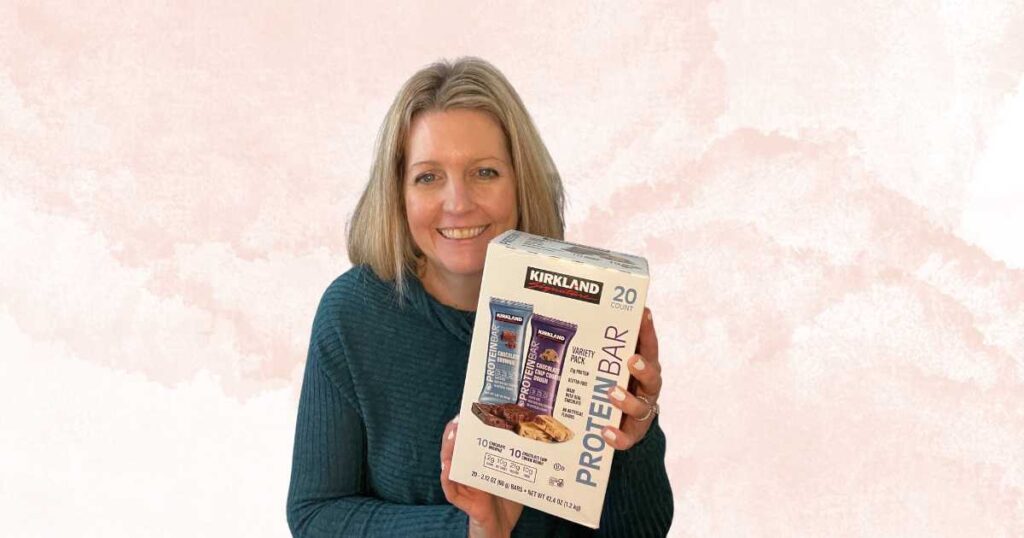 Despite the fave reviews from my friends and family, in my opinion, these are not the best tasting protein bars. Perhaps I prefer a bar with a less dense texture. The bars have a chewy texture but taste very much what you expect a protein bar to taste like.
I only tasted two flavors: Chocolate Brownie and the Chocolate Chip Cookie Dough protein bars, which I heard are better tasting than the other two flavors.
Out of the two, I prefer the taste of the Chocolate Chip Cookie Dough bar.
​In my opinion, I prefer the consistency of GoMacro bars or Aloha Bars. And although I have not reviewed them yet, I love the taste of Barebells protein bars.
Why Are Kirkland Protein Bars So Popular?
One of the primary reasons for their popularity is their convenience. If you're a Costco member, you'll rarely face the disappointment of these bars being out of stock.
Not only are they rich in protein and certified gluten-free, but they are also incredibly economical. At about $1.20 per bar, they present an affordable alternative to brands like Quest and GoMacro bars, which can cost up to $2 or more per bar.
Kirkland Protein Bars vs. Other Bars
I've created this side-by-side comparison of Kirkland bars to other popular protein bars on the market. I created this chart below to help you navigate through selecting the perfect protein bar for you.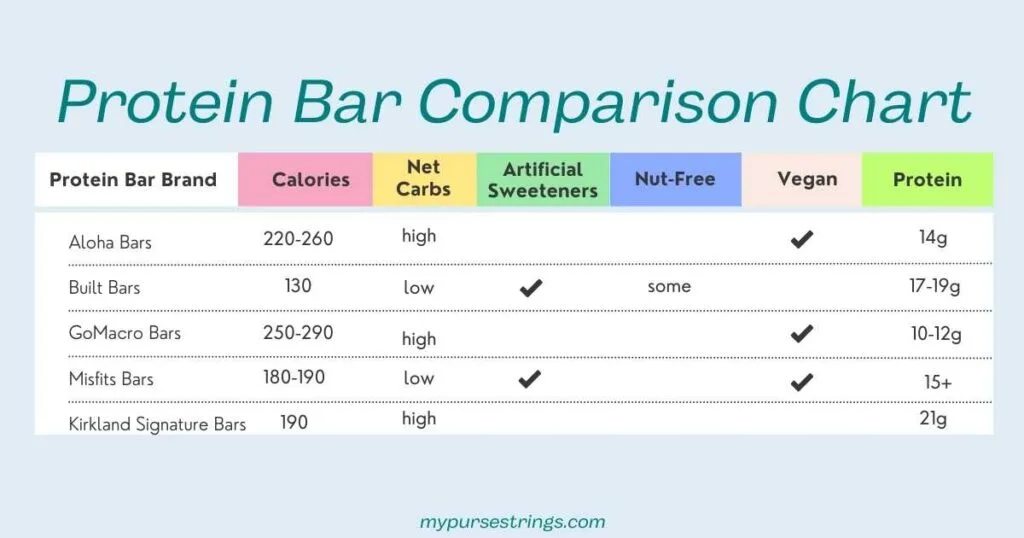 It's probably not a coincidence that my favorite bars taste more like a candy bar, have more calories, and contain more sugar.
​Kirkland Protein Bars vs. Quest Bars
I definitely prefer the taste of Quest Bars over Kirkland. A Quest Bar however, has less protein than a Kirkland Bar, and about the same number of calories. They're also a great plant-based option. In terms of protein, most of their bars are comparable.
​Kirkland Protein Bars vs. GoMacro Bars
I also prefer the taste of GoMacro Bars over Kirkland. But GoMacro bars are higher in calories and lower in protein.
Kirkland Protein Bars vs. Aloha Bars
​Again, I think Aloha Bars are tastier than the Kirkland bars. But like the GoMacro bars, they too have a lot of calories and about half the protein.
Kirkland Protein Bars vs. Built Bars
Kirkland wins here for me as I'm a vegetarian and Built Bars are not. For Keto-friendly diets, Built Bars win here as they have lower net carbs and also almost the same amount of protein. For non-vegetarians, Built makes a great protein bar.
​Kirkland Protein Bars vs. Misfits Bars
In terms of taste, these two bars are probably a tie for me. Both have that chalky protein taste but the Costco bars have a good deal more protein. They're similar in calories. Although the Misfits Bars win out here for vegans, they lose points for using artificial sweeteners.
Who are Kirkland Protein Bars Best For?
Kirkland Protein Bars may be the best option for those who:
are following a Keto diet
aim to increase their protein intake
adhere to a high fiber diet
must avoid gluten
follow Kosher dietary laws
are vegetarians
prefer to avoid artificial flavors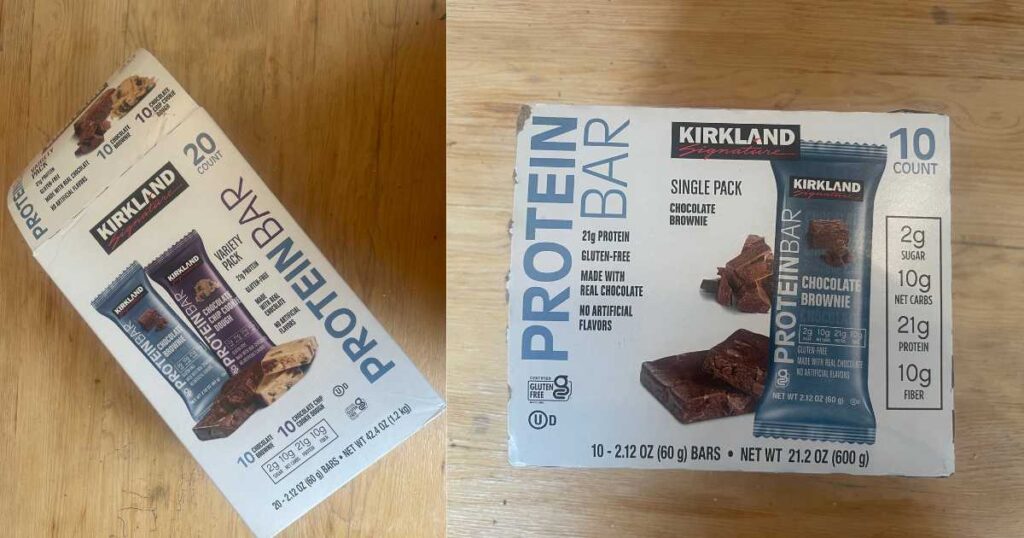 Who Should Not Buy Kirkland Protein Bars?
The Kirkland bars might not be suitable for vegans and those following a low-fiber diet.
Check out MyPurseStrings on Substack. Get the newest blog posts, my favorite finds, and read all new and past newsletters there.
Final Thoughts
When it comes to protein and sugar content, Kirkland protein bars are a great option, and the price point is unbeatable. In recent times, I find myself reaching out more for protein bars due to their convenience and the fact that they are excellent sources of protein.
However, there's no denying that these bars are processed food items. As someone who strives to consume clean and unprocessed food, this is something of a dilemma. Tracking macros often necessitates incorporating a protein bar into my diet to ensure sufficient protein intake.
Taste-wise, however, Costco protein bars wouldn't top my list. What about you? Have you sampled these bars or any of the others mentioned in this post? I'd love to hear your thoughts and experiences. Feel free to share in the comments section below.
​Trying to intermittent fast? Read my Prolon Fast Bars review here.
​
​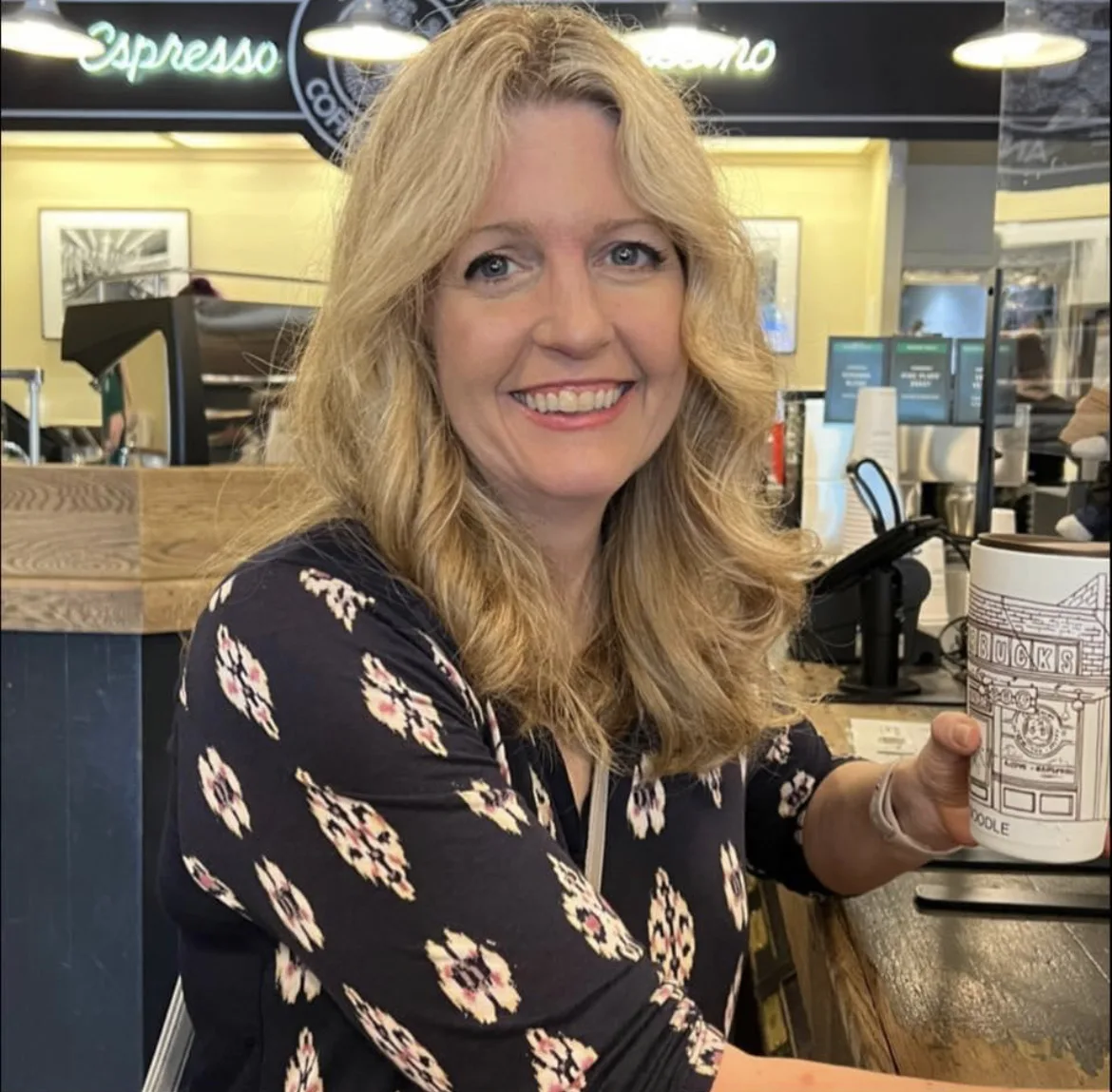 Michelle Platt is a content creator and certified personal trainer. Proving it's never to late to reinvent yourself, she's a former attorney and teacher who loves to do the research so you don't have to. She takes a deep dive into each topic and writes about her wellness journey here. She loves trying out new workouts, fitness tips, healthy foods, and products to share with you. This native New Yorker recently made the move to the suburbs of Minneapolis, where she lives with her husband, two kids, and two dogs.