With thousands of Peloton rides on demand, it can be overwhelming to decide which classes to take. If you're anything like me, finding that perfect class can be a daunting task. Some people stick to the same instructor. Others only take live rides, while others avoid them altogether.
Peloton displays its trending rides and top picks but searching the archives for past rides isn't always easy. Lucky for you, I've curated a list of more than 40 fun themed Peloton rides and fan favorites (and I'm constantly updating). These are some of the best Peloton classes around.
What if I told you that I took it one step further and created a set of cards from which you can randomly select one of these classes? I've provided a space to write down the dates you take the class and your output. These classes are so much fun that you'll likely take them again and again. (The Greatest Showman is my happy ride). Wouldn't it be nice to track your progress? You can also fill out some of the blank cards with your own favorites.
This post contains affiliate links. See my disclosure policy for more information.
To find out how to get a free printable downloadable deck of "Most Fun Themed Rides & Fan Favorites" cards, scroll down to the bottom of this post!
How do you search for a particular ride?
If you're in front of an actual Peloton bike, that's the easiest way to search for a ride. It's not foolproof. Peloton classifies many of their rides in less than intuitive ways.
For example, try searching for an Abba ride. While 15 classes come up with Abba songs, the playlists contain only one to two of their songs. Yet, if you were to search for Dancing Queen Musical, well then, you'd find an entire class dedicated to Abba. As another example, years ago there were a couple of Top Gun rides. You couldn't find them unless you knew to search for Maverick.
Searching for a specific class on the Peloton bike
Go onto the bottom part of your screen. You will see the following: Home, Classes, Schedule, Challenges, More
Click on classes
In the search bar on top, type in the name of a class title or music artist
Search through the matching classes
Bookmark it. You may never find it again. (To bookmark, click on the bookmark icon in the upper-righthand corner).
Once the classes get bookmarked, you can find them anywhere: bike, app, or computer.
Bookmarking without the bike
If you're not near your bike when someone recommends a class or if you are a digital app rider and can't do the above steps, what do you do?
As of today's date, you can't search for a particular class without a bike. Even if you own the bike, you still can't conduct a thorough search via the digital app or on a laptop.
So, what's the alternative?
If you're not a member of the Official Peloton Member Facebook page, join it right now.
There, on any given day, people will recommend their favorite rides. You can search the archives for past rides or seek out the advice of others (there are almost 200,000 members).
Someone may ask: Is there a Lady Gaga ride? Members chime in and direct them to that ride. Oh, and in case you're wondering, there's no longer a Lady Gaga ride since the recent music purge (more about that below).
Once you have that information, you'll have to go onto the digital app and utilize its next best option: the filter. Then bookmark it! You'll find all your bookmarks in the filter tab.
1. Use the Peloton filter on a computer
To use the filter on a computer or laptop, go onto Peloton's class schedule. It's not too easy to find so I would bookmark this page on your computer. From there, you can use the filter.
You can filter classes by class length, type, instructor, and genre. You may have to search for a while to find the class you're looking for and once you find it, bookmark it.
2. Use the Peloton filter on the digital app
Click classes, then cycling. The filter pops up there.
If you have any questions on how to search with the app, go onto the Peloton App Users Facebook group. That group is very active and you'll either find all your answers already asked, or someone is more than able to help you out quickly.
For more information on using the app with your own equipment, check out my posts on the best bikes or best treadmills to use with the Peloton app. And, if you've been eyeing the Peloton treadmill, here's everything you need to know about the Peloton Tread.
3. Click on the links provided in the list below and bookmark the classes
I've included links to all classes on the Fan Favorites list. Simply click the link and bookmark it.
The New and Complete List of the Most Fun Themed Peloton Rides So Far

Listed in order of oldest ride to newest:
Note: if you're a Peloton member, bookmark these rides so you can find them easily. You'll have to log in. Click on the links below to do so.
Remember, feel free to bookmark and print from this list but if you want a fun way to select and keep track of your rides, download the cards. You'll find out how at the end of this post.
*Jenn Sherman's Musical Legends series also includes Elton John and Billy Joel rides.
I've already revised this list. Make sure to subscribe to automatically receive access to all updated lists.
For more fun Peloton rides, check out Peloton Soundtracks post featuring the complete list of TV, movie, and Broadway musical playlists.
Pin for later!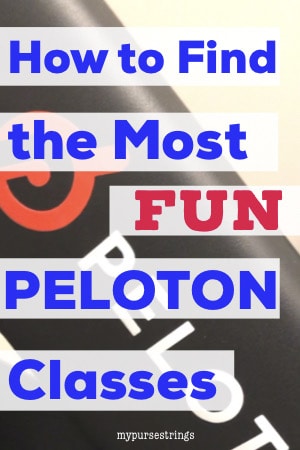 Do Classes Stay in The Peloton Library Forever?
Funny, you should ask. These rides are here today but could be gone tomorrow.
The last time I published a list of rides to my Resource Library, I woke up to find that Peloton purged about 25 percent of those classes overnight.
Peloton occasionally purges classes from its library for an array of reasons. Remember, Peloton is a software company first and foremost. Sometimes they remove very old rides or those from former instructors. Sometimes, they're freeing up space in their library. Other times, they're in the midst of a music licensing lawsuit. And if you're thinking, why didn't Peloton get the license in the first place? Well, it's not so clear-cut. There are several different types of licenses out there and Peloton is in a unique situation and it's very different from a gym or the radio. We'll just have to see how it plays out.
While some have complained that their favorite rides have disappeared, as you can see, there's no shortage of classes and there's something for everyone. I really miss A Star is Born. Lady Gaga is one of the artists involved in this litigation.
Please keep me updated if one of these classes gets removed or if you want me to include another fan favorite.
To get the free downloadable deck of cards "PELOTON FAN FAVORITES," sign up below. You'll always have free access to my lists in the Resource Library and get notified when I make important updates to these files.
How do you use this deck of cards?
The images are set to postcards size
Print them out on cardstock
You can also use a binder ring to hold them together
When printing, select double-sided
Print 4 pages on each side, meaning that you have 4 cards (with the class) on the front and 4 on the back (to write the dates you take them and your stats)
You can also add a border when printing
Cut out the cards with scissors or use perforated card stock.
Randomly select a card with a ride on it.
Repeat
You'll also receive my newsletter and the newest blog updates.
Related Health & Fitness Blog Posts:
Splendid Spoon Review: Vegan Soups, Smoothies, and Grain Bowls
Apple Watch Review: 5 Reasons why Every Mom Needs One