What to Do When Sirius' Promotional Plan Ends
If you recently purchased or leased a new car, your car probably came with a free subscription plan to SiriusXM Radio. But once that promotional period ends, if you're like me, you'll be shocked by the sticker price. I saw a charge of more than $100 on my credit card statement.
I called Sirius immediately and they explained that my trial period had ended they claimed that they had no promotional offers available. They offered me their lowest plan, an abbreviated version of what I currently had, with half the stations at a price of $10.99 per month.
I decided to cancel.
That's when the offers came rolling in. First telephone calls, then emails and snail mail, all trying to lure me back with an attractive price. Finally, they offered me $4 a month for the Select, their highest package, an offer I could not refuse. Granted, this only gave me another five months of service but I set a reminder on my iPhone to call a few days before that date.
How to Cancel Your SiriusXM Radio Plan
The day before my plan was set to expire, I called Sirius. "My plan is about to expire," I told them. "I currently have a great deal. What promotions do you have available?" Apparently, I used the wrong lingo when trying to negotiate. Quickly, they informed me that they had no promotions and gave me the same rigamarole about switching to their cheapest plan, under which I would lose CNN, one of my favorite stations.
Up until this point, I have paid only $24 for almost a year of their best plan, the Select. So, if I downgraded to their basic "Mostly Music" plan I would pay $132 for the year, almost triple my current bill, and if I decided to keep the Select plan, I would pay $208 per year, about five times my current charge.
I called back a few minutes later and told them I wished to cancel. "We hate to see you go," they told me. "What if we offered you a better plan? Would you be OK paying $25 for five months?"
So, now I'm paying just $5 per month for the Select. Again, I put another reminder on my phone.
Update: on November 30, the day before my promotional deal was set to expire and increase to $15 per month, I called again to cancel, or at least take a break over the holidays. I love Sirius but I can live without it. The representative quoted me $99 for a year, or $8 a month. I told him I would think about it and call back later. "Hold on, let me see what I can do . . . I've moved some numbers around and I can offer you again five months for $25." A two-minute call saved me hundreds of dollars.
From past experience, I have learned that if you allow your promotional deal to expire, Sirius will not give you a deal. You must call a few days before the actual expiration date and speak to a representative who handles cancelations; they cannot help you on Live Chat.
Do Not be Afraid to Negotiate
The moral of the story: do not be afraid to negotiate.
As a rule, companies do not want to lose customers. Ask them if they can give you a better deal.
Negotiate with all of your Providers
Cable Provider
I canceled cable years ago and although I will never go back, the offers continue to this day. (Read more about how I saved money by canceling cable).
Cell Phone Carrier
About once or twice a year, I check in with my cell phone carrier to ask how I can save money. Often, they will add more services to my plan for the exact same price or lower my monthly bill.
Credit Card Company
Same goes for my credit card company; when I have them on the phone for something, I routinely ask if they would recommend me switching to one of their other cards. They've lowered my APR significantly with just a quick phone call.
Final Thoughts on How to Save Money Paying for Sirius XM Radio
Yes, I know, it's hard to make time for these things, so we often just go along and pay things without question. However, these inquiries often take minutes. If you can, try live chats for customer service; I seem to get the quickest responses and can still multi-task.
*This post originally posted on July 22, 2016, has been updated to reflect new information.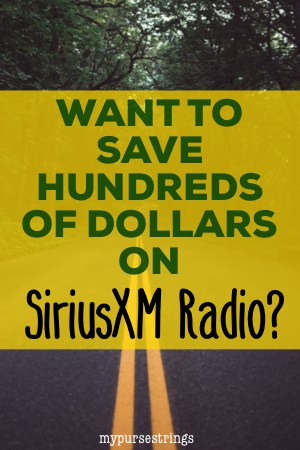 Check out these Related Money-Saving Posts:
How to Turn Your Loose Change into Cash
Save Money by Buying Yourself a Gift Card
Alternatives to the Peloton Tread
What are your tips for negotiating a better deal?
Save
Save
Save
Save
Save
Save
Save
Save
Save
Save