Many of us are working from home and not driving the distances we had in the past. But, we're still paying full price for Sirius.
When I first published this post, I did so because changing your plan was such a hassle that I wanted to give my readers some tips.
Now, it's easier than ever to save money with Sirius. Here's how.
This post contains affiliate links. See my disclosure policy for more information.
Be sure to scroll down to the bottom of this blog post to subscribe to the weekly email, filled with deals, my favorite things, and more.
*This post originally posted on July 22, 2016, has been updated to reflect new information.
What to Do When Sirius' Promotional Plan Ends
If you recently purchased or leased a new car, you probably received a free subscription plan to SiriusXM Radio. But once that promotional period ends, if you're like me, you'll be shocked by the sticker price. I saw a charge of more than $100 on my credit card statement.
How to Modify or Cancel Your Sirius Subscription
In the past, this is what you needed to do to change your plan:
Call Sirius
Tell them you wanted to cancel. If you said you simply wanted to change your plan, they'd say they had no promotional offers available. So, I'd cancel and then live without Sirius for a few days. Or, you'd have to stay on the phone with a representative who may not give you the deal you want.
If you chose to cancel, you'd receive phone calls, then emails, and snail mail, all trying to lure you back with an attractive price.
You'd take advantage of one of their offers (I snagged $4 per month for their highest package "Select" but it only gave me 5 months of service).
You'd have set a reminder to yourself in your phone before the expiration date and repeat steps #1-4.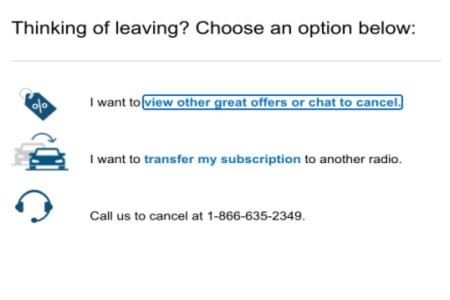 Now, this is all you have to do:
Make sure you have an online account. Set up a username or password.
Log into your account and click on "I want to cancel" (not modify). If you were to click on "change my subscription," you will get various plan options. As of today's date, they're offering me plans from $12.99 (80 channels) to $21.99.
But if you click on "I want to cancel my subscription," you get much better pricing options. You then get to "view other great offers" or "chat to cancel" your subscription.
Give them a reason why you're thinking of leaving. Mine brings up the same plans as above but now it's $10.95 for 325 channels (compared to 80!) or $11.99 per month for the highest plan mentioned above. It's a 45 percent savings.
You used to have to call (which I admit was a pain and time-consuming) but now if you don't choose one of those proposed plans, you can "chat with an agent." Do this!
Now, you will get the real deals. (I'm currently paying $4.99 per month for 12 months)
It's best to cancel in the days leading up to your subscription expiring, not after it has renewed.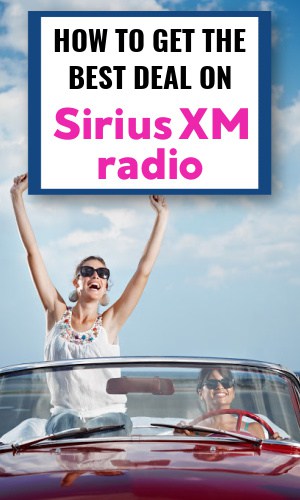 Why You Should Chat Online to Change Your Sirius Plan (rather than calling)
Calling is a headache. This is a summary of a conversation I had with a Sirius representative last year.
The day before my plan was set to expire, I called Sirius. "My plan is about to expire," I told them. "I currently have a great deal. What promotions do you have available?" Apparently, I used the wrong lingo when trying to negotiate. Quickly, they informed me that they had no promotions and gave me the same rigamarole about switching to their cheapest plan, under which I would lose CNN, one of my favorite stations.
Up until this point, I have paid only $24 for almost a year of their best plan, the Select. So, if I downgraded to their basic "Mostly Music" plan I would pay $132 for the year, almost triple my current bill, and if I decided to keep the Select plan, I would pay $208 per year, about five times my current charge.
I called back a few minutes later and told them I wished to cancel. "We hate to see you go," they told me. "What if we offered you a better plan? Would you be OK paying $25 for five months?"
A two-minute phone call or chat can save you hundreds of dollars.
Do Not be Afraid to Negotiate
The moral of the story: do not be afraid to negotiate.
As a rule, companies do not want to lose customers. Ask them if they can give you a better deal.
You are not doing anything wrong. You are being a smart and savvy consumer.
Negotiate with all of your Providers
Cable Provider
I canceled cable years ago and although I will never go back, the offers continue to this day. (Read more about how I saved money by canceling cable).
Cell Phone Carrier
About once or twice a year, I check in with my cell phone carrier to ask how I can save money. Often, they will add more services to my plan for the exact same price or lower my monthly bill.
Credit Card Company
Same goes for my credit card company; when I have them on the phone for something, I routinely ask if they would recommend me switching to one of their other cards. They've lowered my APR significantly with just a quick phone call.
For more ways to save money, check out this blog post.
Final Thoughts on How to Save Money Paying for Sirius XM Radio
Yes, I know, it's hard to make time for these things, so we often just go along and pay things without question. However, these inquiries often take minutes. If you can, try live chats for customer service; I seem to get the quickest responses and can still multi-task.
Sign up below to receive the weekly Newsletter, featuring the newest blog posts, product reviews, a virtual book club and my favorite things that week.
Check out these Related Money-Saving Posts:
How to Turn Your Loose Change into Cash
Save Money by Buying Yourself a Gift Card
Alternatives to the Peloton Tread
What are your tips for negotiating a better deal?
Save
Save
Save
Save
Save
Save
Save
Save
Save
Save