Peloton's Tread has had a lot of people, including me researching treadmills. Peloton's newest and less expensive Tread sells for almost $2,000 less than their Tread + (manufacturing currently halted). On January 31, Peloton will include a charge of $350 for delivery and assembly of their treadmill. This raises the price from $2495 to $2845. (Note, they also will charge for delivery and assembly of their original bikes).
This post contains affiliate links. See my disclosure policy for more information.
Should You Buy the Tread?
Like the bike, the Tread has all the bells and whistles: an interactive touch screen, cushioned track, and incline and speed adjustments with the touch of a button or turn of a dial. (For more about this, check out my post Everything You Need to Know About the Peloton Tread).
Whenever I go on vacation, I take Tread classes using a hotel treadmill. In addition to the Outdoor Runs on the Peloton App, I also use the Tread classes to do my own outdoor runs.
Peloton does it right. Their classes are effective, motivating, and fun. I especially loved the Fun Runs.
Peloton Treadmill Recall
UPDATE: In May 2021, Peloton issued a voluntary recall on all their treadmills. They canceled any existing orders and you can no longer order either the Tread or Tread Plus. For more on the recall, read Peloton's statement here.
Peloton Tread and Tread Plus Dimensions
But . . . this treadmill is HUGE, with a 67-inch rubber track and it measures 72.5" L x 36.5" W x 72" H. While this appeals to many, not everyone has the room for something so large, especially if they already have a Peloton.
The 2021 smaller Tread features a belt design as opposed to the Tread's slats and it measures measuring at 68" L x 33" W x 62" H.
You can read more about the Tread specifications here. Neither treadmill folds.
Peloton Tread Price
Then, there's the price. The original Tread retailed for $3,995. There's also the monthly subscription, however, if you're a Peloton bike owner or app rider, you already have access to the classes. Otherwise, it's $39 per month. Note, Effective June 1, 2022, Peloton raised the monthly membership to $44 per month.
The newer Tread Plus will retail for $4295 (plus accessories) and the smaller Tread sells for $2845 including delivery and assembly (plus accessories).
If you decide to order the Peloton Bike or Tread, feel free to use my referral code GCSRDR to receive up to $100 towards Bike or Tread accessories. Note: this code must be used at the time of order. You must use the entire credit at one time.
The Peloton App for Tread Classes
Remember, Peloton is first and foremost, a technology company. The company, active on social media, listens to its users' wants and needs.
Peloton does not ignore its app riders. They know that many people opt to use their own spin bikes with the app. It may come as a surprise, but many users choose bikes that cost as much, if not more than the Peloton Cycle.
Over the last few years, Peloton members regularly wake up to software updates (scroll down to the bottom of this blog post to see some of the updates made available to those using the app with non-Peloton bikes).
The point is Peloton gives you a great experience whether you are using their manufactured equipment or not.
How to DIY a Treadmill to Use with the Peloton App
Unlike the bike, you don't really need to DIY anything to make your treadmill work with the Peloton App. All you need is a treadmill, heart rate monitor, and the Peloton app on your device. You can even view the classes on a smart TV or using a device like the Roku. You can find the full list of compatible Peloton streaming devices here.
It's worth noting that unlike using the Peloton App with a spin bike, your metrics won't sync. If your treadmill features Bluetooth heart rate monitoring, then that information will get sent to the Peloton App. If you have an Apple Watch and start the workout on your phone, it will send the mileage to the app.
Price of the Monthly Peloton Digital App Membership
Peloton just lowered the monthly membership for digital app users to $12.99 per month. You can also sign up for a free 30-day trial membership. While you're considering the treadmill or waiting for your Peloton delivery, here are some things you can do.
Remember, if you decide to use your own treadmill, you can still access all of their classes (cycling, runs, walks, core, and yoga) via the app.
Do you have a treadmill at home gathering dust? Now's the time to try out the Tread classes.
Curious about what types of spin classes Peloton has to offer? Check out my free downloadable checklist, featuring favorite rides and fan favorites at the end of this post!
You can access this and all of my other checklists and files in my Resource Library.
If you don't have a spin bike check out this post: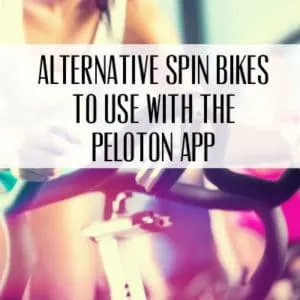 Using the Peloton app with a regular spin bike requires lots of add-ons. but not with a treadmill.
To download the Peloton IOS App, click HERE.
To download the Peloton Android App, click HERE .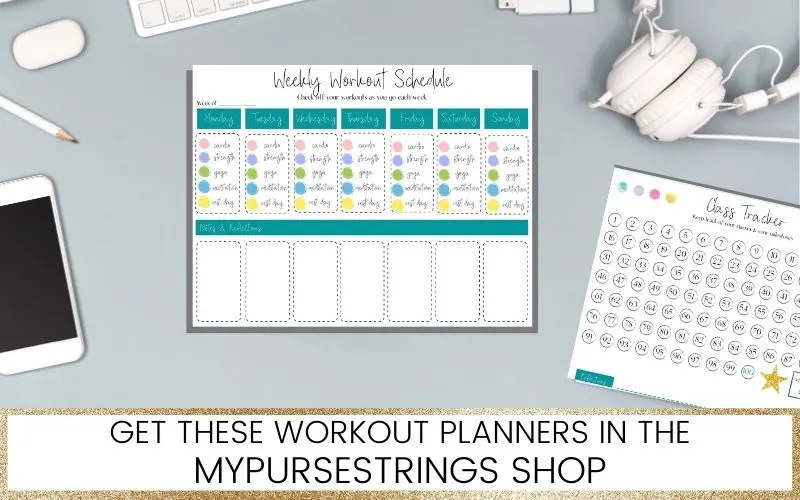 Peloton Tread Features
When doing comparisons, take note of the following:
The Tread Plus
Speed 0 to 12.5 mph
Incline 0 to 15 percent grade
2 HP AC Motor
72.5" L x 36.5" W x 72" H
67″ L running mat
slats
weight limit 455 pounds
does not fold
The Tread (less expensive model)
Speed 0 to 12.5 mph
Incline 0 to 12.5% grade
3 HP DC Motor
68" L x 33" W x 62" H
59" L running mat
belt
weight limit 290 pounds
does not fold
Pin for later!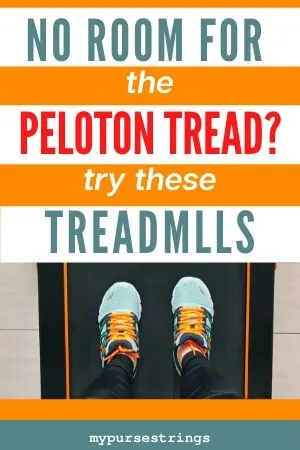 Alternatives to the Peloton Tread
Most of you will probably want to utilize the Peloton classes for your runs but realize that many of these treadmills come with their own fitness programs.
I created this list based upon online user reviews, bestseller lists, and crowdsourcing. I eliminated those with short tracks or limited inclines, as well as those that can't handle intense workouts.
If you order from Amazon, always cross-check the prices. I've seen great deals and treadmills going for twice the normal price.
The following treadmills are ranked from least expensive to most, at time of writing.
Note: Prices subject to change
Treadmills Under $1000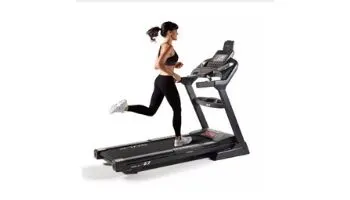 This affordable treadmill is very popular with Peloton users. It has a 3.0 HP motor, incline up to 15 percent, tablet holder, and 325 lb. weight capacity.
Warranty: lifetime coverage for the frame and motor, three years for the parts, deck, and electronics, and one year of labor.
It has a 20×60 inch running deck and measures 82″ L x 35″ W x 57″ H. Although it's much longer than either Peloton Tread, this one folds.
This is the treadmill I bought. You can check out my Horizon 7.0 AT review here.
Our Pick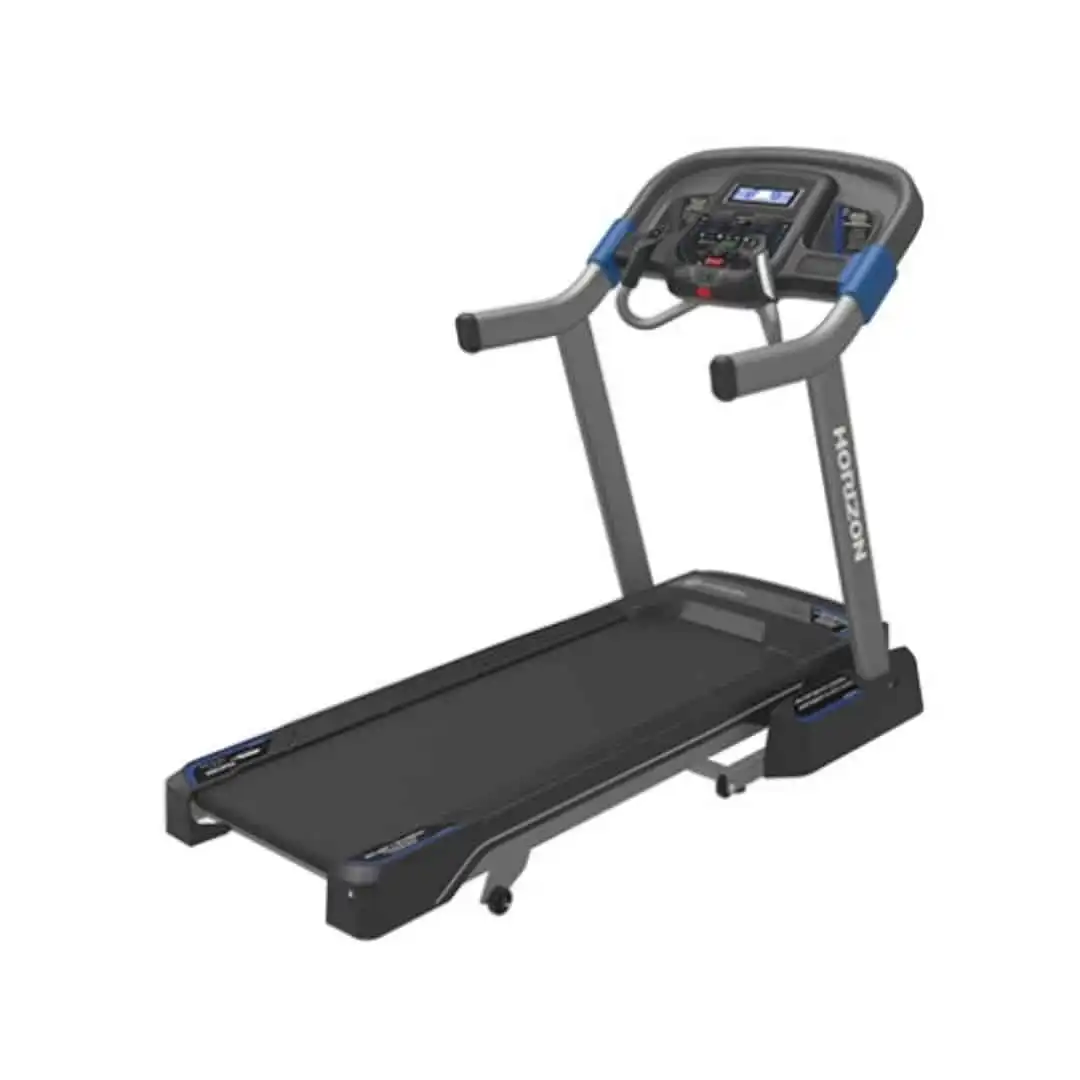 Although it has a smaller running deck than the other AT models (at 20 inches wide vs 22 inches), this treadmill is well-loved in the Peloton community.
It measures 76.5″" L x 36″" W x 59″ H, a bit smaller than their other models.
It features a 3.0 CHP motor and if you order from Horizon directly, you will get the newest model with quick dial controls.
If you're a big long-distance runner, you may prefer the 7.4 or 7.8 models (shown below). This treadmill also has a shorter warranty than those higher models. The 7.0 has a warranty of 3 years on parts and 1 year on labor vs. 5 years on parts and 2 years on labor.
Full disclosure, this model is more than enough to meet my needs and is the one I ordered for myself. Plus, you can't beat the price! I did pay for assembly as I plan to use it in an upstairs bedroom. Honestly, for my sanity, it's worth it rather than assembling it with my husband.
Horizon currently has free shipping on this model but a local Dick's Sporting Goods may have it in stock.
Treadmills Under $2000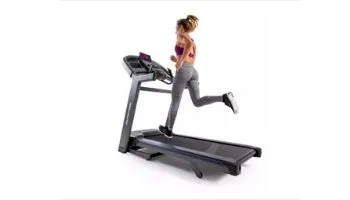 The Horizon 7.4 AT treadmill is popular with Peloton Digital App users. It connects via Bluetooth to their included wireless chest strap heart rate monitor. It features a 3.5 CHP motor and a running deck of 60 inches, just one inch longer than the new Peloton Tread.
It has a 15 percent incline like the Peloton and goes up to 12 mph (the Tread is 12.5). While doing a Peloton run, you can rest your iPad and phone on the ledge.
Warranty: lifetime frame, 5 years on motor, 2 years on parts. It has a weight limit of 325 pounds.
It's worth noting that this treadmill is even longer than both Treads, measuring at 76″ L x 37″ W x 63″ H, however, unlike the Tread, this treadmill folds.
Horizon 7.4 AT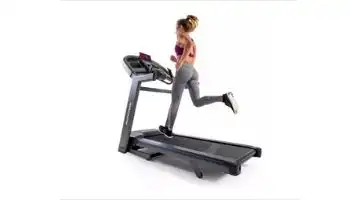 Both the Horizon 7.4 AT and Horizon 7.8 AT fold to the same dimensions: 42″ x 37″ x 71″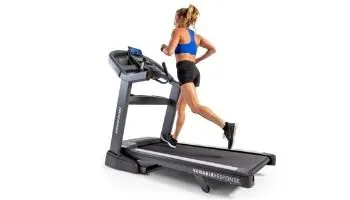 Since this treadmill debuted in late 2019, it's been most compared to the Peloton Tread. Like the Peloton, it has controls on the handles to quickly change your speed and incline.
Like the Horizon 7.4 AT, it has a 60 by 22-inch running deck. It has the same top speed of 12 mph and an incline of 15 percent. Both have the same warranty. Both come equipped with a Bluetooth-enabled heart rate monitor and connectivity to the treadmill. They also have a water bottle holder and built-in fans.
The 7.8 however, features a 4.0 CHP and has a greater weight capacity (350 lbs.), a larger screen, although you'll still need a separate tablet to utilize the Peloton app. The treadmill itself is one inch wider, measuring at 76″ x 37″ x 64″.
Fastest Motor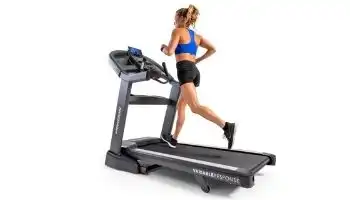 This treadmill inclines up to 15 percent, the same as the Tread, and nearly the same speed: 12 mph (vs. the Tread's 12.5). It folds to save space and has a running deck of 20″ W x 60″ L. It has a limited warranty of only 10 years for the frame and 2 years on mechanical. Note, the weight capacity of 300 lbs.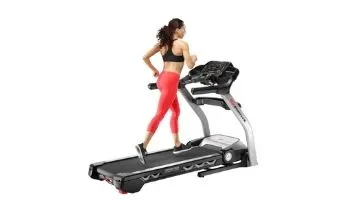 With a powerful motor (4.0 CHP) and thick 3-ply running mat, this treadmill measures 22″W x 60″L and folds to save room.
It also features side handle controls to adjust speed and incline. It includes a built-in fan and wireless chest strap.
This treadmill inclines up to 15 percent and speeds up to 12 mph, with an easy power incline and decline with the touch of a button.
It gives you a wider running belt (22″W x 60″L), with a cushioned run option that you can turn off, and easily folds. It has a cool feature where you can use Google Maps for a scenic run. Note, the weight capacity of 300 lbs.
My Top Peloton Tread Alternative Picks
You really can't go wrong with any treadmill, as long as you use it!
The Treadmill I Selected For Myself
When I started writing this post, I was set on getting the Horizon 7.8 AT. I liked the strength of the motor (4.0) and the dials for incline and speed. I also like that it folds.
As I researched more, however, I started leaning towards the 7.4 with a 3.5 CHP motor. Honestly, I'm not the fastest runner and I can't see it replacing my spin bike obsession. Did I really need to spend an extra $400 for a better motor?
Then I found out the 7.4 was backordered. I started learning more about the 7.0. The most recent update included the speed dials, and I was sold.
Yes, it only has a 3.0 CHP motor and the running belt measures 2 inches narrower than the other models. Still, this treadmill is half the price of the 7.8 and $600 cheaper than the 7.0.
For a casual jogger like me, I really think the 7.0 is more than adequate and people love it! I joined Facebook groups and asked questions of people using the 7.0 with the Peloton app, and the consensus overall was not buyers remorse but extreme satisfaction.
Again, if you'll be using a treadmill every day with multiple users and running heavily, the 7.0 may not be the right fit for you.
My second choice for a treadmill under $1000 is the Sole F63 however, I heard that the running surface is harder than the Horizon treadmills. I'm not getting any younger and more cushion in my step couldn't hurt.
For the Peloton fans in your life, check out this Ultimate Peloton Gift Guide blog post including Peloton-inspired products and exclusive My Purse Strings promo codes.
What's Next for Peloton?
Peloton just introduced the Rowing Machine. Find out why I didn't get one here.
To stay updated on the latest updates, be sure to sign up for our newsletter and follow me on Facebook.
To get the free downloadable checklist of "PELOTON CYCLE FAN FAVORITES," sign up below. You'll always have free access to my lists in the Resource Library and get notified when I make important updates to these files.
Check out MyPurseStrings on Substack. Get the newest blog posts, my favorite finds, and read all new and past newsletters there.
Related Peloton Posts:
15 Ways to Keep Your Peloton Streak Going
10 Tips to Choosing a Peloton Leaderboard Name
10 Things to Do While Waiting for Your Peloton Delivery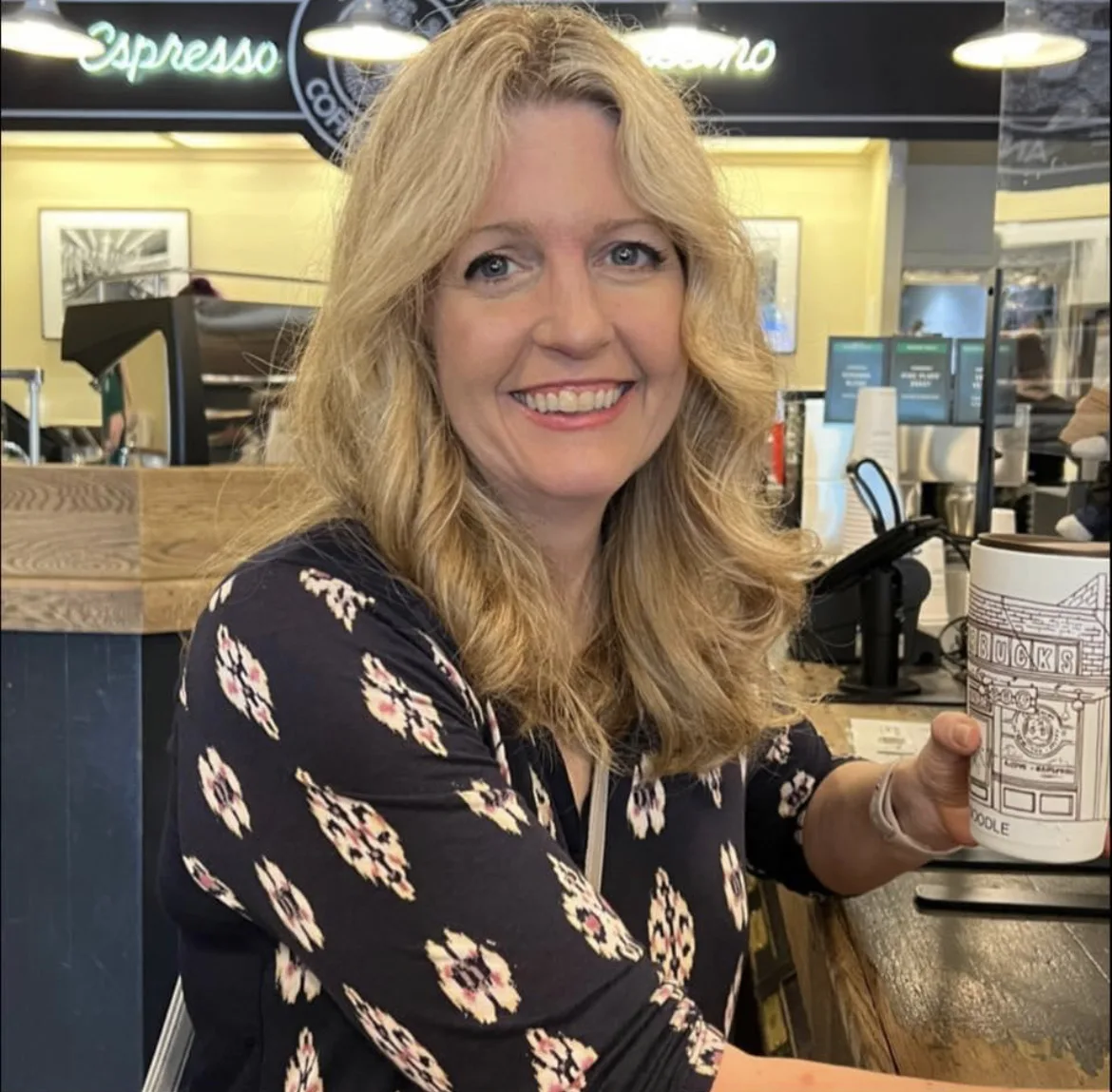 Michelle Platt is a former attorney and teacher who loves to do the research so you don't have to. She takes a deep dive into each topic and writes about her wellness journey here. She loves trying out new workouts and products to share with you. She is currently completing her personal training certification. This native New Yorker recently made the move to the suburbs of Minneapolis, where she lives with her husband, two kids, and two dogs.