This holiday season, my petite and short 11-year-old told me she could fit into Lululemon. Adamant that they didn't have a size small enough to fit her (since their now defunct kids' store Iviva closed in 2020), I marched her right into the store to prove her wrong. Well, that backfired. The salesperson pulled out multiple pairs of Lululemon leggings that all fit her like a glove.
Lululemon is not just workout gear anymore. They carry a wide array of everyday activewear and accessories that are (unfortunately, for my pocketbook) all the rage now amongst girls.
If you're not ready to fork over that much money (around $100) for a pair of kids' leggings, here are some other Lululemon items that make a great gift for a tween or teen. And if your daughter is set on getting a pair of leggings, you've come to the right place. I have some great ways to save you money.
This post contains affiliate links. See my disclosure policy for more information.
Lululemon Gifts at Every Budget
I've found Lululemon gifts for every price point.
Tip: If you find a top or pair of pants too large, Lululemon offers free hemming at no extra charge. And remember, girls prefer the oversized fit right now, especially in sweatshirts.
Oh, and if you're looking to buy on Amazon, they're probably fake.
Jump down to the bottom to see my teen daughter's wish list.
Under $25 for your Tween or Teen Girl
Glow On Hair Ties 3 Pack
These elastic hair bands feel comfortable whether you're wearing them on your wrist or in your hair. I have thick hair and these do a great job of holding my hair all day. They also come in a 6-pack.
Unlike other Lululemon products, these always seem to be in stock, so they make a great last-minute gift option. Girls love the metal Lululemon Athletica logo.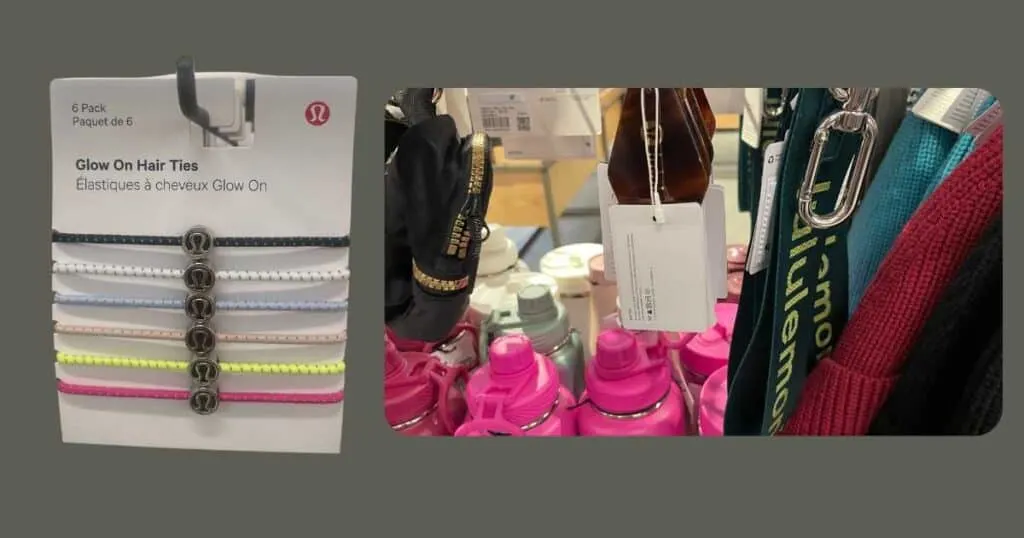 Lululemon Key Chain
Lululemon offers lots of cute keychains that any girl would love. This simple one gets great reviews but this mini City Adventurer Backpack Nano keychain always catches my daughter's eye. It looks like a backpack made for a barbie doll and is small enough to carry lip gloss, AirPods, or gum. Attach it to a larger bag or belt loop.
Headband
This classic stretchy Fly Away Tamer Headband comes in lots of prints and costs under $15. It does a great job of keeping flyaway hair out of your face and girls love the prominently displayed Lululemon logo.
Lululemon Gifts Under $50 for your Tween or Teen Girl
Water Bottle
Although this reusable water bottle is pricey, it's comparable to other trendy stainless steel water bottles like the HydroFlask or Stanley Tumbler. It looks great and keeps a cold drink chilled for hours. Plus, it's a great way to get your favorite girl to drink more water.
The Back to Life Sport Bottle comes in two sizes, 24 or 32 oz. My daughter also pointed out this 17 oz bottle which apparently is very popular at school.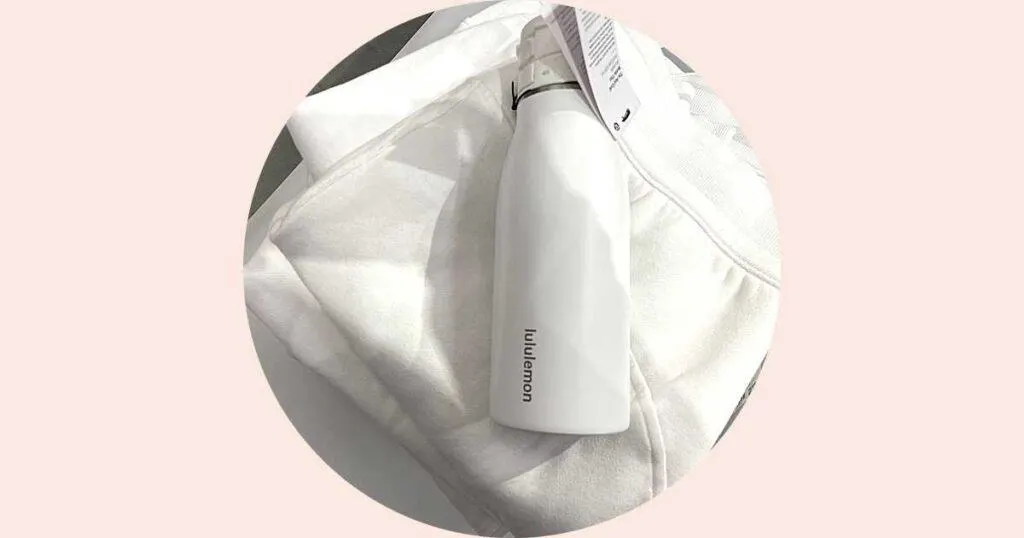 Curved Wristlet
Big enough to hold a school ID, credit cards, cash, sunglasses, and a phone, this wristlet is all a girl needs on the go. You can even use it as a wallet inside a larger handbag.
Lululemon Gifts Under $100 for your Tween or Teen Girl
Everywhere Belt Bag
The Lululemon Everywhere Belt Bag comes in lots of different colors and is one of Lululemon's hottest-selling accessories. It constantly goes in and out of stock. If you're looking for a less expensive alternative, you can get this one or this one from Amazon at a fraction of the price. I own both.
The fleece one is adorable for fall. And if you're still calling these bags fanny packs, the new term is belt bag. Wear it across your waist or cross-body. This is the perfect gift if you can get your hands on it.
Read my full review of the Lululemon belt bag here.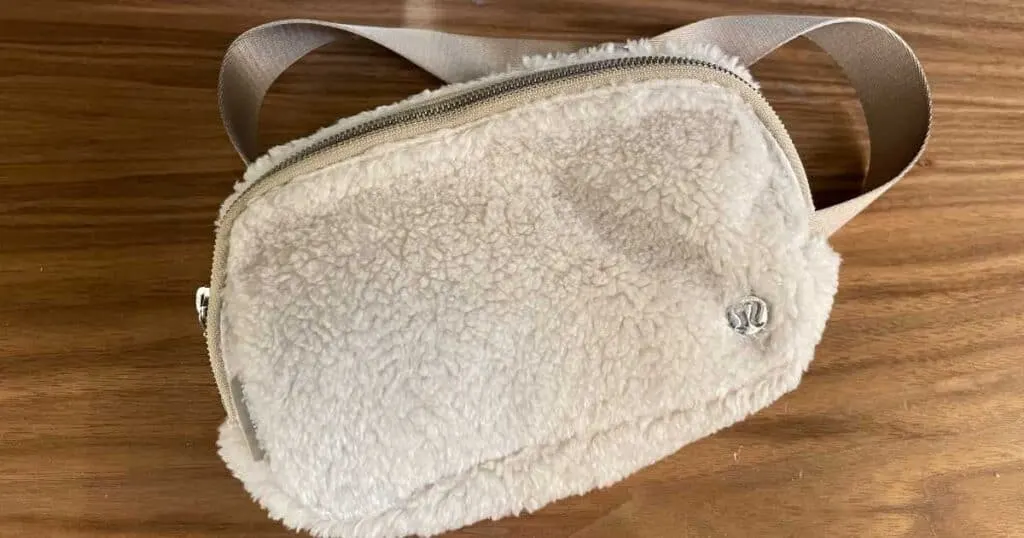 All Night Festival Bag
The All Night Festival Bag was my favorite everyday bag until my husband accidentally spilled some car oil on it (true story). Although it is water-repellent, apparently it's not oil-repellent. It has room for everything.
If you're shopping for a more petite girl, check out the micro version of the Festival bag. It actually converts from a cross-body into a belt bag. It also sells out often.
Lululemon Align High-Rise Pant
The Align leggings come in different lengths (from 21 to 31-inch inseams) which is why even at her short stature, my daughter can find a pair that fits her.
If you can get the cropped version at either 21 or 23 inches, you'll save 10 dollars. Unfortunately, the 25-inch inseam fits my daughter best in a size zero.
But if they're in between lengths, definitely size up. You want to get as much use as possible from these leggings. The Align high rise leggings range from $88-138 last time I checked. That's a lot of money for an 11-year-old who will grow (fingers crossed) substantially over the next couple of years.
My friends who've bought these pants for their daughters tell me they wear them pretty much every day. So even though it's a splurge item, they will wear them at least until they outgrow them.
If you take care of them, Lululemon leggings will last you a long time. I have many pairs that are over a decade old. I wash them on a delicate cycle and never put them in the dryer. They still look new and the buttery fabric has retained its softness.
If your daughter is pretty tall for her age and not growing much more, this may become one of the most versatile pieces in her closet. Bonus points if you have another daughter or younger cousin to pass it on to in the future.
Although you can wear the Align leggings for virtually any type of workout, most girls wear them to school or to hang out with friends.
Lululemon Wunder Train Tights
Similar to the Align, the Wunder Train leggings are probably the next popular style. If you can find either the Align or Wunder Train on sale today, any girl would be happy with either one. If you're looking to save on a black pair, good luck.
Align vs Wunder Train Leggings
My daughter prefers the feel of the Align tights to the Wunder Train. She kept saying the Wunder Train felt too tight although they were the same size. She wasn't used to having compression in her leggings. Honestly, for day-to-day wear, not playing sports, she doesn't need it.
The Align is made of Nulu fabric, a buttery soft material that feels like nothing against your skin. It has a 4-way stretch and the waistaband lies flat.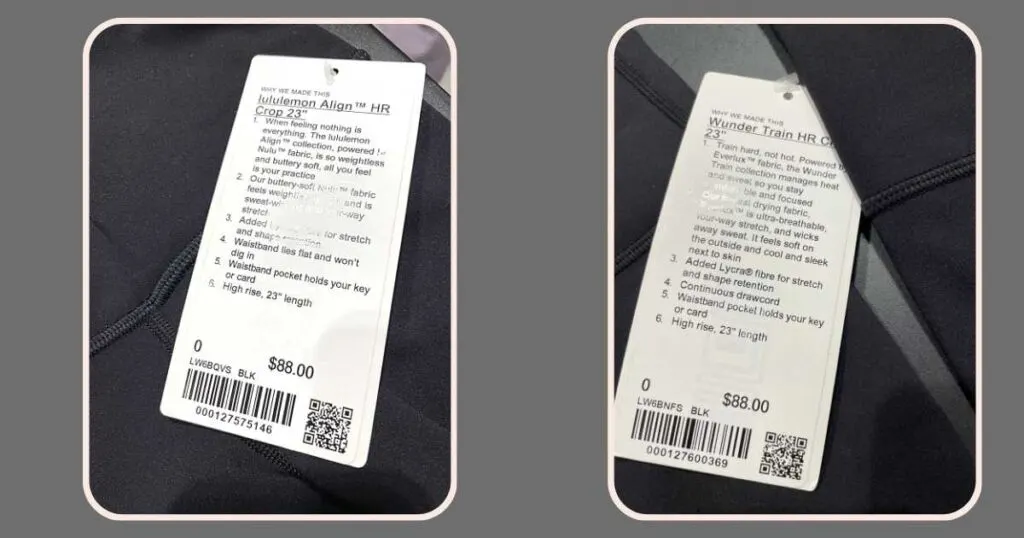 The Wunder Train is made of Everlux fabric to manage heat and sweat. It's a tighter fit with some compression.
Both have 4-way stretch and both are available with or without pockets. Interestingly, the salesperson told us that the Wunder Train is more durable. She asked if we had pets (we do) and said the Wunder Train will last longer especially if they jump up on you and also repels hair better than the Align.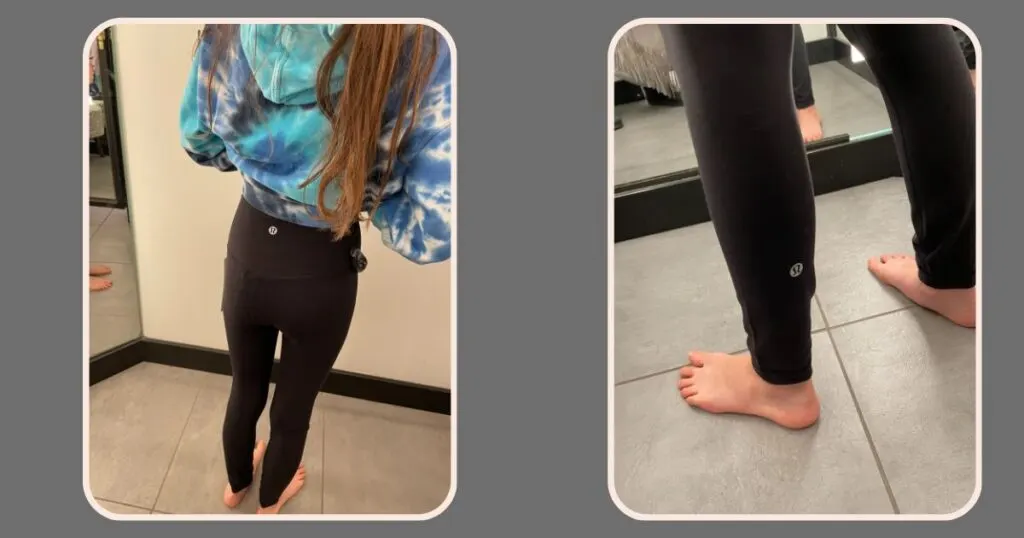 A quick way to tell the difference between the two styles is that the Aligns feature the logo on the lower back while the Wunder Train has the logo on the lower calf.
Swiftly Tech Long Sleeve Shirt
This style has been around for a long time. Gray is popular.
I've had versions of it throughout the years. According to my daughter, "everyone has this shirt." At least, it won't go out of style. It comes in short or long sleeves.
Define Jacket
If you're looking for another piece that has longevity, the Define jacket has been around for years. However, it took my daughter to teach me something. She learned it from TikTok of course. The elastic band holding the logo is actually an emergency hair tie. I confirmed it in the store. Who knew?
I lost mine recently and it was my absolute favorite Lululemon piece. I would wear it instead of a sweatshirt, on spring days, or under a puffy vest for extra warmth.
Lululemon Lunch Bag
My daughter stopped using her lunch bag for school. Instead, she now carries everything in the small Lululemon reusable shopping bag, free with purchase.
Apparently, this is what every girl in her school uses now. So, if you want to make a tween or teen happy, just give them one of your bags.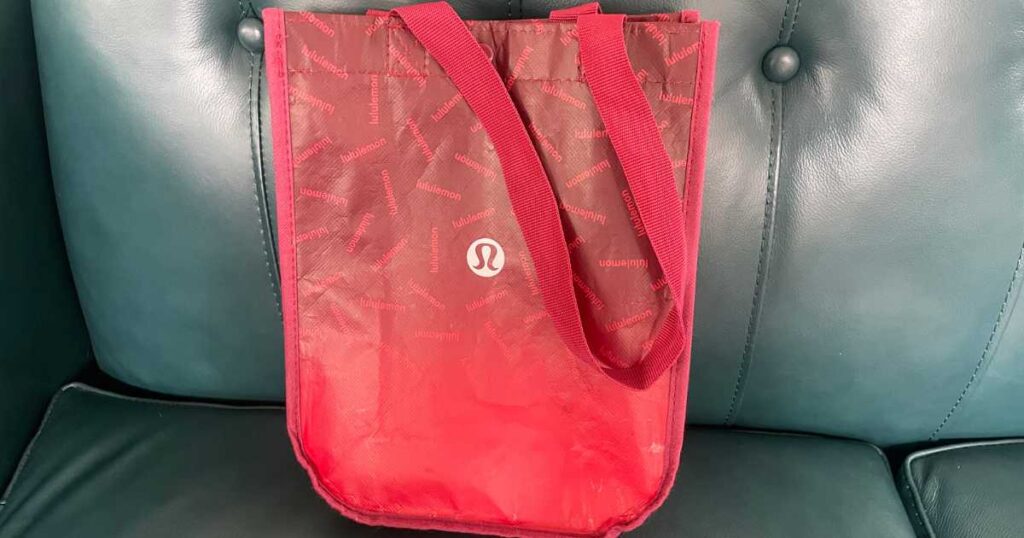 How to Save Money When Buying Lululemon for your Teen or Tween
There are a few ways to save money on Lululemon:
Shop "We Made Too Much" on their website or app
Create alerts on the Lululemon App (read about becoming a free member here)
Buy used:

Check out eBay
Keep an eye out on your local Facebook Group
Search Poshmark
Buy directly from Lululemon's own resale shop, their "Like New" program
However, the most popular leggings are the Aligns in black so you will have a tough time finding those but if you're open to other colors, you can often find great deals.
Lululemon Wish List for Teens and Tweens
I'm grabbing this right from my daughter's wish list. Here's what's most popular amongst her friends:
Just because she wants all of this doesn't mean she's getting it.
Final Thoughts
I have a hard time justifying buying Lululemon for my tween daughter. First of all, she has a lot of growing to do. Secondly, it's a splurge purchase even for adults. Thirdly, she's my only daughter so it's not like I can pass it down to a younger sister.
Still, even an inexpensive item from their store makes a great gift.
Hopefully, this article gave you some gift ideas and I showed you some ways to not spend a fortune while buying from Lululemon. Have you bought Lululemon for your teen or tween girl? Please let us know in the comments below.
Know someone who works in fitness or is an athlete? Read my review of the Lululemon Sweat Collective program here.
Check out some of my other Lululemon posts here: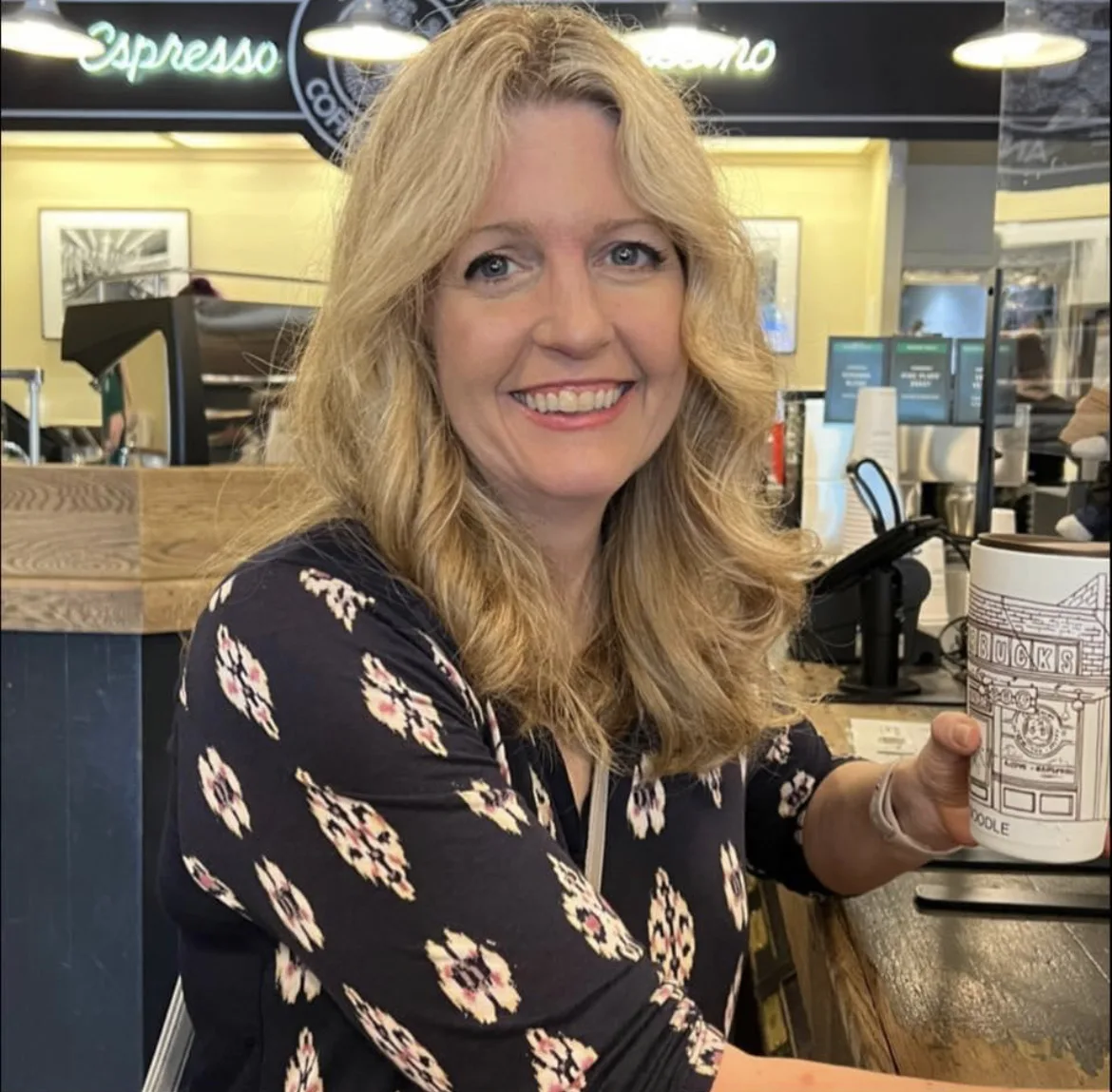 Michelle Platt is a content creator and certified personal trainer. Proving it's never to late to reinvent yourself, she's a former attorney and teacher who loves to do the research so you don't have to. She takes a deep dive into each topic and writes about her wellness journey here. She loves trying out new workouts, fitness tips, healthy foods, and products to share with you. This native New Yorker recently made the move to the suburbs of Minneapolis, where she lives with her husband, two kids, and two dogs.