On August 24, 2022, Peloton officially launched some of its products on Amazon. Prior to that, you could find off-market Peloton products but nothing actually made by Peloton.
When I first tried out the Peloton in 2016, I didn't know that you could only purchase it from Peloton directly. I did an online search which led me to the Peloton app.
Through this search, I discovered a basic no-frills inexpensive spin bike with great reviews. I ordered it on Amazon and within a few days, I was taking Peloton classes. And it cost me under $500. What I found led to this viral blog post and the launch of this very blog.
This post contains affiliate links. See my disclosure policy for more information.
So which Peloton items can you buy on Amazon and is it worth it? Read on to learn more.
Does Peloton Have a Store on Amazon?
Yes, you want to make sure that whenever you buy a popular brand on Amazon, you are buying directly from that store and not a knock-off site with counterfeit products. As of August 2022, Peloton has its own storefront on Amazon.
Note, not all products are available on Amazon so you still may need to order online or through one of their brick-and-mortar stores.
Which Products Does Peloton Sell on Amazon?
As of today, you can buy the original Peloton Bike, Peloton Bike +, the Peloton Guide, accessories, and a limited selection of their apparel.
1. Peloton Bike
Over the years, Peloton has raised and lowered the price of their bikes. (In August 2022, Peloton raised the price of the Bike Plus to $2495. They also raised the price of their treadmill by $800).
If you have Amazon Prime as I do, you get free delivery and can get it delivered within 2 days!
If you don't have Prime, click here to get a free 30-day trial.
What's the Difference Between the Peloton Bike and the Peloton Bike Plus?
In a nutshell, the biggest difference between the two bikes is that the Peloton Bike Plus has auto-resistance and a screen that swivels so that you can easily take classes off the bike.
I have the original Bike and added this accessory so that I can swivel my touchscreen on the original bike. It's my favorite Peloton accessory.
Will You Save Money If You Buy the Peloton Bike on Amazon?
No. Whether you buy the Bike on Amazon or directly through Peloton, you pay the same price: $1445. However, Amazon guarantees 2-day Prime shipping so you may get it faster.
Remember, you still need to sign up separately for an All-Access Membership either way which costs you $44 per month.
Is Peloton Delivery Free Through Amazon?
If you have Amazon Prime, you will get free 2-day delivery. This includes delivery into your room of choice and free assembly.
Do You Have to Assemble the Bike Yourself?
As of now, all delivery and assembly options are free. You can choose to order the bike and assemble it yourself but you don't save any money.
I just checked and where I live, I would get delivery in 2 days if I assembled it myself and just 3 days if I wanted it assembled by a professional.
I've already moved my Peloton out of state and up and down stairs. Unless I'm saving some big bucks, I'll have someone assemble it for me and wait the extra day. I found it worth the extra money when I bought my treadmill.
Please let me know in the comments if you see a price difference or bigger delivery delay in your area.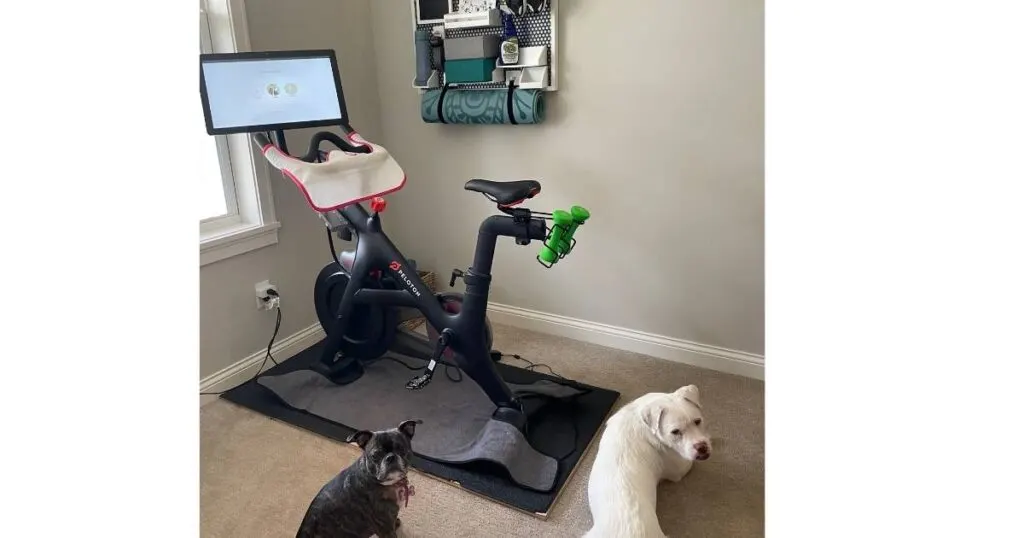 How much space do you need for a Peloton Bike?
The bike itself measures 59" L x 53" H x 23" W. You need to position your bike near an outlet. You'll also want ample space to fully extend your arms both front and back and side to side. If you plan on using the Peloton for other classes besides cycling, you will want to keep an area clear for strength and yoga classes.
Should You Buy the Peloton on Amazon?
If you are in the market for a Peloton bike, I say go with it.
With all the delivery issues Peloton has had over the last few years, I say why not. You'll pay the same price, get quicker delivery, and if you have the Amazon credit card as I do, you'll save 5 percent off your purchase.
Plus, Amazon has the best customer service, in my opinion, so you'll be dealing with Amazon directly for any returns.
2. Peloton Guide
I bought the Peloton Guide the first week it came out and I love it.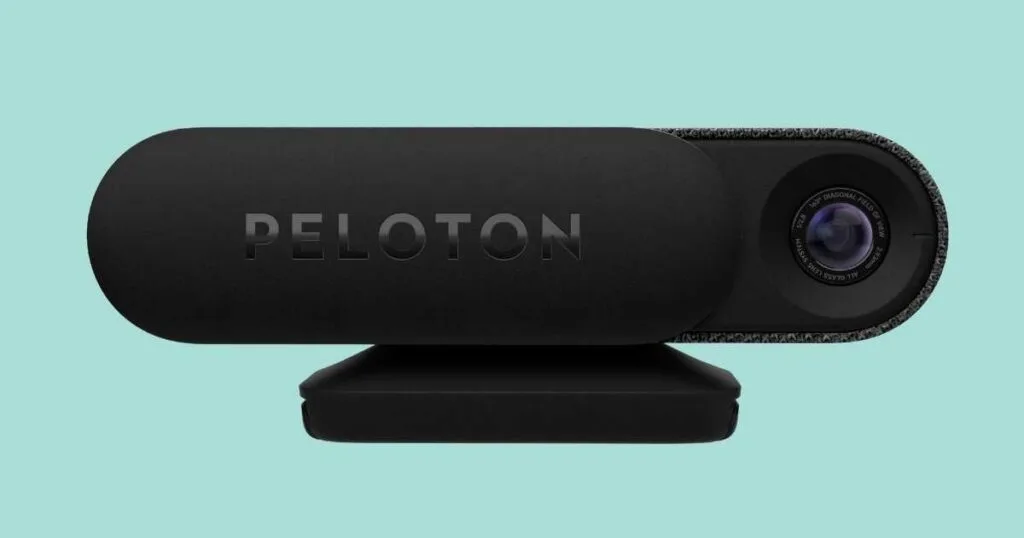 What is the Peloton Guide?
You can read my initial review of the Guide here. The Peloton Guide is a web-camera that attaches to a TV. It enables you to view yourself on the screen next to the instructor during classes. There are specific classes made for the Guide too. For those classes, you must close a circle that appears on screen to get credit for the movement.
For me, the Guide provides extra motivation to focus on strength training. I like seeing my form on the screen. It does not count repetitions, however.
Peloton also introduces certain programs to the Guide weeks earlier (like my favorite Arms with Tunde) than to other members.
Do You Need a Peloton Bike or Tread to Use the Guide?
No. You can buy the Guide as a stand-alone piece of equipment. If you have the Peloton bike or tread, the membership fee is already included. However, if you have only the Digital Membership (or none at all), you will have to pay $24 per month. This gives you access to all of Peloton's library, including live and on-demand classes.
I think the Peloton Guide would also make a great gift.
How much space do you need for the Peloton Guide?
You need enough room for a yoga mat and a set of weights. For the most part, you'll stay on the mat but you will need room to extend your arms and legs front and back and side to side.
Should You Buy the Peloton Guide on Amazon?
I don't see any reason not to buy it there. It's the same price and again, if you're a Prime Member, you get free 2-day delivery.
Want to stay up to date on Peloton news, blog posts, class lists, and favorite rides? Be sure to scroll down to the end of this blog post to sign up for the Friday Favorites newsletter.
3. Peloton Accessories
While you can't get all of Peloton's accessories on Amazon, you can get most of what you need:
Peloton Shoes
Peloton has two styles of shoes, both available on Amazon. Sizes start at 5 for women and 6 for men and go all the way up to a size men's 15.
Peloton uses Look Delta cleats. If you already have cycling shoes, you can use those instead.
When I had my Peloton bike assembled, I asked them to install my SPD pedals onto the bike. I had used those on my inexpensive spin bike. I've never used Look Delta compatible shoes.
Many choose to change out their pedals to SPD like me because they're easier to clip in and out of and there are many more shoes to choose from that are SPD compatible so you can find the best one for your feet. I also like that the cleats on my SPD shoes are recessed so I can walk around the house in them without scratching the floors.
One great thing about buying shoes on Amazon is that you can use their Try and Buy program. This means you have a week to try out up to 6 pairs of shoes and don't get charged so as long as you return them on time.
Heart Rate Monitor
I have this one but I have to be honest, since the Apple Watch integration on all platforms, including the Guide, I no longer wear my armband heart rate monitor. I picked up this Apple Watch on Amazon last month. If you don't have an Apple Watch (series 3 or later), you'll want a heart rate monitor.
This is the armband heart rate monitor one I used for years.
I also find Peloton's heart rate monitor annoying to charge. It doesn't come with a block and while you can plug it into the Peloton touchscreen, I find it clunky and usually charge it with my Macbook instead.
Peloton Weights
Weights for Strength Training
If you're doing any sort of strength training, you'll need a set of weights. I recommend getting a starter set beginning with 5-pound weights and going up to 15 or 20 lbs. For exercises on the bike, use 1 to 3 pound weights.
You'll pay a lot more for Peloton weights whether you buy them directly from Peloton or through Amazon. The nice thing about the Peloton weights however is the square shape, especially when doing moves on the floor like a dumbbell pushup row. People love their weights.
Peloton weights range from 5 lbs to 30 lbs for a set. (Tip: if you're not buying weights from Peloton, always double-check the description as you'll often have to buy them individually and not a set of 2).
I don't have Peloton branded weights. I have these heavier weights from Amazon and these dumbbells from Target.
Weights on the Bike
You may also want light dumbbells for exercises on the bike. While you can get Peloton branded weights, you'll save money if you buy this set.
Peloton Mat
Bike Mat
Personally, I think you can skip buying Peloton's bike mat. When I had my bike on hardwood floors, I didn't use a mat at all. But if you sweat a ton and want to protect your floors, you'll want a rubber mat.
When I moved my bike to a carpeted room, I did add a mat for stability. I also placed a piece of plywood underneath the mat. This is the mat I recommend and have used for years.
Workout Mat
I do have this workout mat from Peloton but only because they included it as part of a bundle when I bought the Guide. It's extra thick, red on one side and black on the other. It's much heavier than my other mats.
I don't think it's necessary to buy Peloton's mat. This is the workout mat I used prior for strength training, stretching, and yoga.
Yoga Blocks and Strap
You can buy these Peloton branded yoga blocks but personally, I've had these for years and love them (and they're much cheaper). I own Peloton's yoga strap. It's fairly priced but honestly, I hardly ever use it.
Peloton Water Bottles
Peloton's water bottle looks great and fits on the bike. But I prefer a water bottle that has a spout and not a screw-off top while on the bike. I'm obsessed with this bottle that tracks my water intake and sends reminders. It's the one I use.
4. Peloton Clothes
Let's get to the fun part, Peloton apparel. While Peloton only has a limited selection on Amazon, it includes many of its basics. I think Peloton will add more items to their apparel store in the future.
I live in Peloton zip-up sweatshirts like this one.
How to Save Money on Peloton Apparel
Peloton clothes are not cheap but I find them to be well-made. If you want to save money on Peloton clothes, using your referral link is your best bet. You get 6 referrals per year if a friend or family member buys through your link. However, it's use it or lose it, meaning you have to spend the $100 in one shot. You also have to pay for shipping.
Shipping on Amazon is free if you have Prime.
Peloton Apparel Accessories
Car Magnet
I have this car magnet. I can't count how many conversations strangers have initiated with me once they notice it. This is also a great gift!
Peloton Yeti
I have so many of these Peloton Yetis and I love them. I also tend to give Yetis as gifts. You can buy a Yeti without the Peloton logo but you'll only save about five dollars.
I have this Yeti water bottle from Peloton and it's my son's favorite. He's adopted it as his own. It keeps his water cold all throughout soccer practice. Get this accessory if you prefer drinking out of a straw rather than the chug cap.
Read my Yeti water bottle Review here.
Hair Accessories
I wear this headband and all the time. I recently cut way too many layers in my hair and this keeps wisps out of my face while working out.
If you like that brand, you can buy a two-pack without the Peloton logo and save a ton.
Pros and Cons of Buying Peloton Equipment & Accessories on Amazon
Pros to Buying a Peloton or Peloton Accessories on Amazon
quick delivery
free assembly of bike
same price as buying a Peloton in the store or online
avoid Peloton delivery problems
deal with Amazon customer service (which can be better than Peloton)
shipping is free if you have Prime while Peloton charges $7 to ship accessories
Cons to Buying a Peloton on Amazon
only the original Bike
cannot buy the Bike Plus
cannot use referral credits towards free apparel
limited choices of Peloton apparel on Amazon
often more expensive than other brands
membership not included
no in-person help
no bundles or special sales
What's Worth Buying on Peloton's Amazon Shop?
There are so many reasons why buying on Amazon beats buying from the Peloton store or online. Is this good for the company? Only time will tell.
In my opinion, if you've been thinking about buying the Peloton Bike anyway, I'd get it on Amazon. I also love the Pivot and would definitely make that a must-have addition to the bike.
I'd also get the Guide on Amazon. As for the accessories, I would probably get their heavy weights on Amazon. I really like their shape. For the lighter weights, I would buy a non-Peloton brand.
Things like mats and heart rate monitors, I would not buy from Peloton. I don't think their products are any better than less expensive competitors.
The Try and Buy Program makes it really easy to try out shoes and clothes, so those I would buy from Amazon. However, it's slim pickings from now in the apparel department. And if you have referral credits, always use those to get your clothes. You'll still have to pay shipping but it's way cheaper than full price.
And speaking of price, Peloton adds a delivery charge to all their accessories. You'll avoid this by buying on Amazon. So I would get the car magnet, Yeti, and other inexpensive products directly on Amazon.
I hope this helps. Let me know in the comments.