One can't help but notice two things about Peloton instructor, Tunde Oyeneyin: her signature bright red lips and her muscular and toned arms.
In this article, you will learn about the official Arms with Tunde Program, originally available to only Peloton Guide members but now available to all Peloton members and how it compares to the unofficial Peloton Arms Challenge.
This post contains affiliate links. See my disclosure policy for more information.
Who is Tunde?
Unlike most of the other Peloton instructors, fans refer to Tunde by her first name only. If you've never taken a class with her before, she will inspire you with her words and of course, her famous guns.
When Tunde, a former celebrity makeup artist, joined Peloton in 2019, she had long hair, often braided. Then during the Pandemic, she surprised riders during a Women's History Ride, with a shaved head, something she wanted the courage to do for a long time.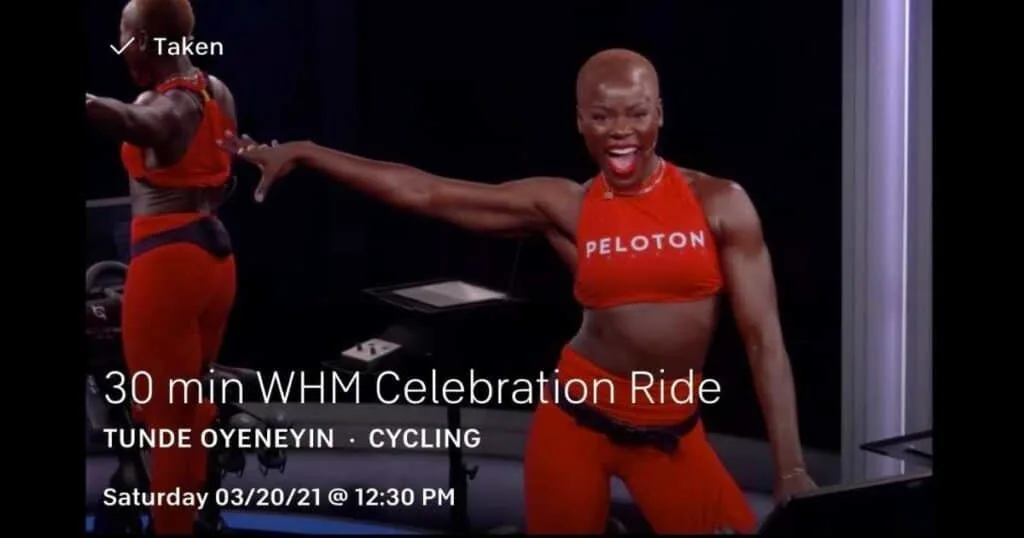 What I love about Tunde is her realness. She reminds newbies that every day is a win about her journey to become the strong woman she is today.
In fact, at the age of 13, she weighed close to 200 pounds. A self-proclaimed "cardio junkie," it took her a long time for her to pick up a set of weights. She set out to lose 50 pounds and lost 70.
Once she got over her fear of lifting weights and strength training, she found power and she wants to share that feeling of empowerment with all of us.
New York Times Bestseller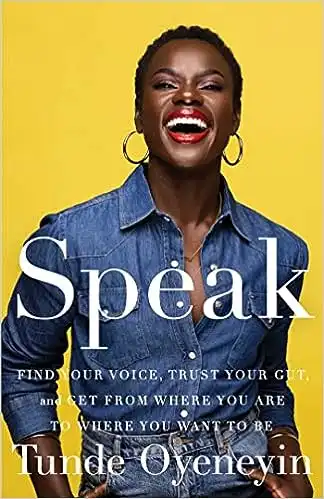 If you search under Peloton's strength classes, Tunde doesn't teach any strength classes with heavy weights. While toning is great, we all know that Tunde did not get that physique from lifting 1 to 3-pound dumbbells.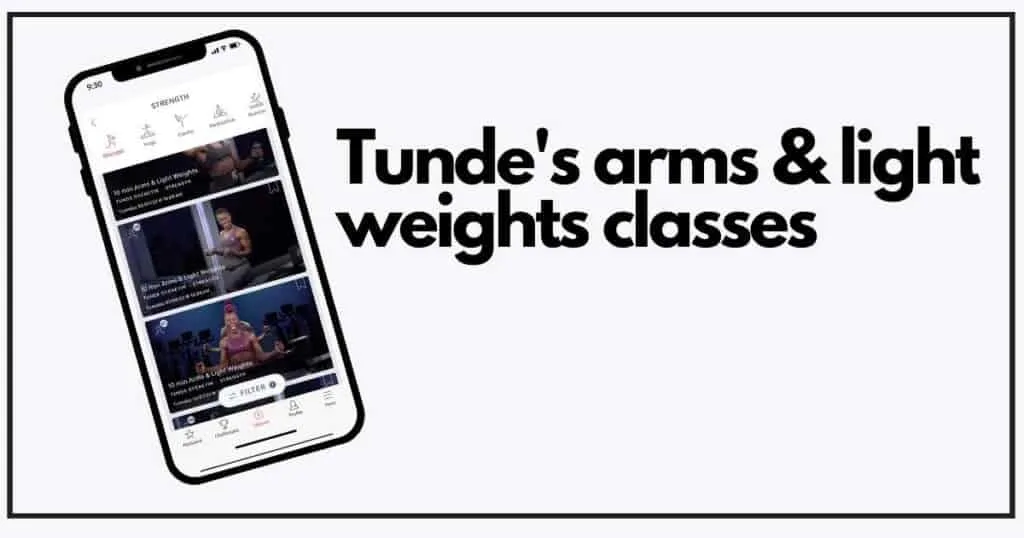 Tunde Arms Challenge vs. Arms with Tunde Program
Tunde Arms Challenge
Until June of 2022, there was no official Tunde Arms program. She did try to drop a new arms class (on the bike) once a month and fans of hers created their own unoffical programs. The latter is what people refer to as the Tunde Arms Challenge.
Search through Facebook or Google it and you can find many different versions. Most of the challenges required you to take one of her arms classes on the bike and repeat it 3x per week. Then, move on to the next class and repeat, etc. This often occurred over the course of 6 weeks.
Various bloggers, Facebook groups, and Instagram accounts offered structure and/or downloads and printables. You can find a lot of information in the Hardcore on the Floor Facebook Group or the @StayHomeStayMotivated Instagram account.
Arms With Tunde Program
Soon after the release of the Peloton Guide in the summer of 2022, Peloton and Tunde released an official Arms With Tunde Program.
No Peloton Needed: Attach to Any TV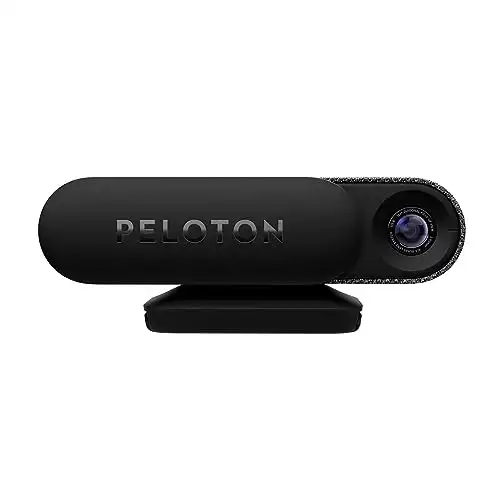 The major difference for me between the Arms Challenge and the Arms With Tunde Program is that I think of the first as being more for toning with lighter weights while the latter is really more of a weight lifting program with heavy weights to build muscle, not just to tighten your arms.
What is the Arms with Tunde Program?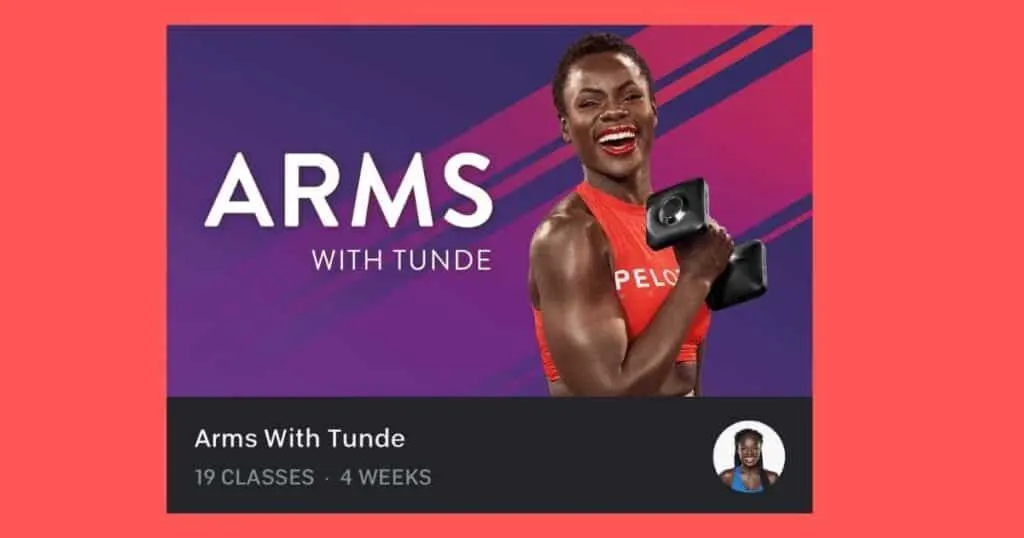 This month-long program was at first only available to Guide owners but after 7 weeks was introduced to all members.
The Arms with Tunde Program consists of 4 weeks of training, 19 classes in total, including the 5-minute warm-ups. Most classes are just 10 to 15 minutes. Rest days are encouraged and built into the program.
The exercises are not difficult but are performed quickly with little if any rest in between. Even if you can normally lift heavy weights, you'll have a hard time sustaining it throughout the entire class.
Remember even in Tunde's light weights and arms classes, lifting a two or three-pound weight can feel impossible at times. This program is very much like those classes but with much heavier weights. Be prepared to feel humbled.
Where Can You Find the Arms with Tunde Program?
On a phone app or computer, click on "classes" and you'll find all programs in a folder within the top menu. On your Bike or Tread, you can find it in Programs on the main home page screen.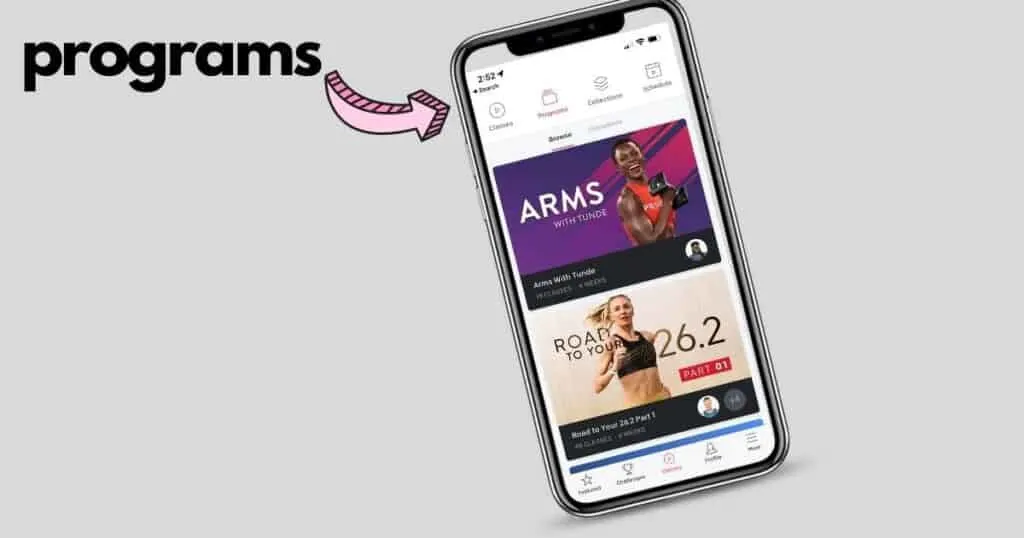 How do Peloton Programs Work?
After completing a Peloton program, you earn a specific badge that appears on your profile. I am not a fan of the rigidity of the programs. In theory, I understand why Peloton does what it does but it can be challenging to complete a program.
For example, I participated in Peloton's Power of Sleep meditation Program. It consists of 15 classes to be taken within a 2-week period, 7 days per week. On the very last night of the Program, I got home late, curled into bed, and started my sleep meditation class. Turns out it was 12:01, too late to count.
You can earn bronze, silver, or gold depending on how many classes you've completed within a specific program. Or if you don't do enough classes, they're classified as unearned. I have a mixture of all of these in my profile. Click on "Programs" and "Completed" to see yours.
I have more unearned programs than those earned. And that's because if I miss a day or two, it will no longer count towards a badge. I usually start the program from the beginning (retaking all the classes already taken) or give up on it entirely.
You also cannot skip ahead in any program which I think is a good thing so you must follow each class in its intended order. You unlock each class as you progress through the program.
It took me three tries to complete the Arms with Tunde Program.
What Equipment Do You Need for the Arms with Tunde Program?
For each class, you need a yoga mat, a set of weights, a heart rate monitor (optional and you can use an Apple Watch, series 3 or later), and a bottle of water. Some people like to do strength training barefoot. I alternate between barefoot and these shoes.
I wrote this initial review of the Peloton Guide right after I purchased it. Since then, I use it for every strength training workout and honestly, love it.
What Size Weights Should You Use for the Arms With Tunde Program?
The answer to which size weights you should use in this program really varies for each individual. Tunde recommends a set of medium sized weights and a set of heavier weights.
My advice is to have a range of weights you feel comfortable using. I like to have 5, 10, 12, and 15 pounds in front of me. Tunde mostly asks you to grab the 10-pound weights but of course but you can go higher or lower.
I often start with 10's and then drop down to 8's halfway through an exercise or vice versa.
Peloton Dumbbells (1, 2, 3 pounds)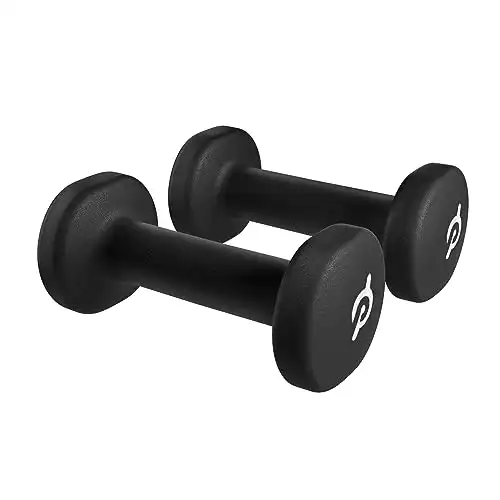 Which Muscles Do You Work?
This is an upper body workout. You mostly work your biceps, triceps, and shoulders.
Each day is different and builds on the last in terms of intensity and difficulty. You will do a lot of tricep pushups, bicep curls, hammer curls, and lateral raises. There are also planks, skull crushers, and concentrated curls.
Can You Modify the Exercises?
Tunde not only demonstrates modifications but encourages them and often makes modifications even for herself.
Some examples of this include push-ups on knees, alternating arms, or dropping a weight down to one.
Arms with Tunde Program: Pros and Cons
Pros
Tunde is beyond motivating with her stories, her infectious smile, her strength, and oh yes, her muscles
The Program is well thought-out and progresses nicely, building on the class before
The classes are short (10-20 minutes) giving you plenty of time for an additional workout
You won't get bored
Tons of modifications
You'll gain confidence and muscle
Cons
There are only a few warmups so you'll be repeating them often
The stretch in the warmup that supposedly feels good according to Tunde made my wrists tingle each time
If you miss a class, you can go back but it won't count towards your badge
You may have to re-start the program several times as I did until you manage to complete it
The exercises are fast-paced but don't feel discouraged and go at your own pace
Tunde will make lifting heavy weights look easy (read above)
There's not much rest in between sets
My Results
On the second to last day of the Program, while explaining how to use it alongside the Peloton Guide, Tunde made a comment along the lines of "if you stop to flex for your children to show them your muscles, you won't get credit for movement on your Guide."
This made me laugh because that same morning my daughter stopped me while I was typing away on my MacBook to compliment my muscles and compare mine to hers.
Also, I've been doing a lot of videos lately (shameless plug: follow me on Amazon Live, YouTube, and Instagram) and I have to admit, I noticed my arms. They have way more definition than when I started.
And I feel stronger and more confident. Yesterday, at the grocery store, an employee asked if I needed help walking to my car. Nope. I carried several bags, a couple of cases of sparkling water, and a heavy watermelon without breaking into a sweat.
I will definitely repeat this program again and soon after. I'm curious to see my progression and improvement and take note of the weights I choose this time around.
Side note, has anyone noticed Hannah Frankson's arm definition? Can we get a program from her too? Goals!
Other Peloton Strength Training Programs Worth Taking
In the last couple of years, Peloton began to work on and strengthen (pun intended) its strength program. While Peloton started with indoor cycling classes, they soon added light weights and arms classes, either in the class itself or short 5-minute classes to be taken seated on the bike.
Now, Peloton has a ton of programs to choose from. My favorites are all strength: Roll Call (which focuses on a different part of the body each day at 7:30 am EST), Floor Bootcamp with Jess Sims and Selena Samuela (my favorite), and the Splits Program with Callie Gullickson, Adrian Williams, Robin Arzon, and Matty Maggiacomo.
Have you tried the Arms With Tunde program or any other Peloton program? Let me know in the comments below. And, if you have any questions, I'll be happy to answer them.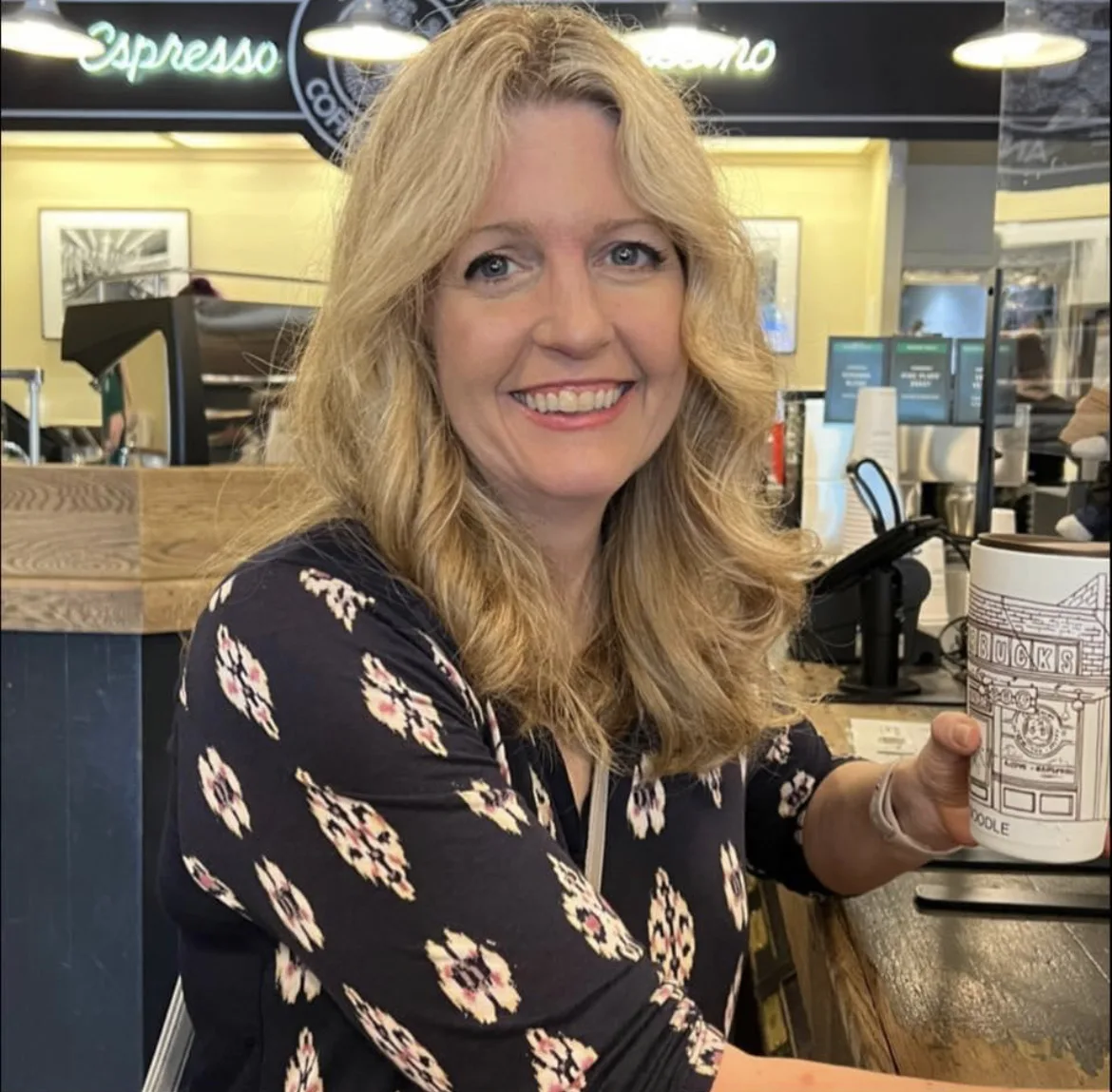 Michelle Platt is a former attorney and teacher who loves to do the research so you don't have to. She takes a deep dive into each topic and writes about her wellness journey here. She loves trying out new workouts and products to share with you. She is currently completing her personal training certification. This native New Yorker recently made the move to the suburbs of Minneapolis, where she lives with her husband, two kids, and two dogs.