Peloton instructors like to drop juicy tidbits about their lives throughout their rides. I mean can you even count your ride unless Christine mentions her big thighs, Robin mentions how she wasn't always an athlete, and Cody shares his love for Britney?
We all feel like we know these Peloton instructors. They become more than coaches, they feel like friends of ours. However, I can confirm after Matt Wilpers sat down next to me on a tram ride one summer, he does not in fact know me.
This post contains affiliate links. See my disclosure policy for more information.
Want to stay up to date on Peloton news, blog posts, class lists, and favorite rides? Be sure to scroll down to the end of this blog post to sign up for the Friday Favorites newsletter.
What did Peloton Instructors Do Before Peloton?
1. Robin Arzon
I totally have a girl crush on Robin. She's fierce and she's smart. And she reminds us that you don't have to be born an athlete to be an athlete.
Robin did not grow up playing sports. As the child of immigrant parents (her mother is a doctor, her dad is an attorney and former law professor), academics was very important in her family.
She went to law school, practiced for seven years, and then ran from the law (Hey, I get it, I ran from the law too and never looked back).
Now Peloton's VP of Fitness Programming and Head Instructor, Robin's story reads like a Hollywood film and not the sappy rom-com kind. One night, while attending undergrad at NYU, a deranged man took Robin and the other patrons hostage in a wine bar, using her as a shield and holding her by the hair for hours. He doused the bar in kerosene. You can read more details here and in her bestselling book.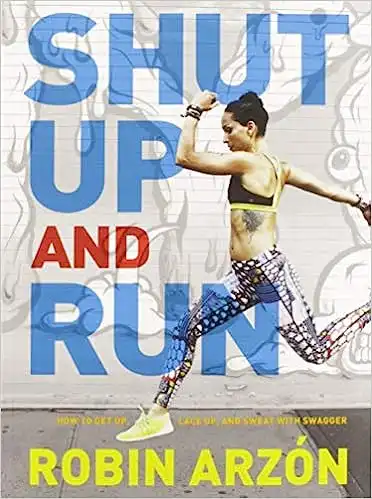 To get past the trauma, Robin started running, first a block, then two, and became an ultra-marathoner. Remember, she didn't start exercising until she was in her 20's.
While working at the prestigious law firm Paul Hastings, she counted down the hours to get her runs in until one day, she decided to leave her law career behind.
Robin's also a Type-1 Diabetic. You'll see her insulin patch on her arm during rides. See, totally fierce.
Robin became a mother this year to baby girl Athena and wrote her first children's book.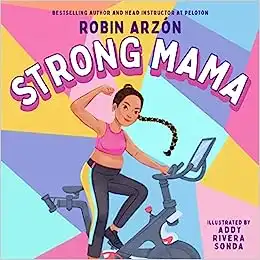 Strong Mama
Buy Now
We earn a commission if you make a purchase, at no additional cost to you.
09/22/2023 04:50 am GMT
2. Olivia Amato
Olivia, a powerhouse in a tiny frame, is bright and tough.
She played all sorts of sports growing up on Long Island, New York: hockey (captain), track, lacrosse, and cheerleading. After college, she became an analyst and trader on Wall Street. She liked taking her clients to fitness classes instead of dinners.
Realizing she needed a change, she started taking boxing lessons and became a certified instructor teaching at Shadowbox in NYC. She eventually became a SoulCycle instructor, where she befriended future Peloton Tread instructor Rebecca Kennedy.
3. Christine D'Ercole
If you take Christine's classes, you will learn that she wanted to be a ballerina. She also aspired to become an actress and model. Told she was too big for some parts and not big enough for others, she struggled.
However, she soon realized working as a bicycle messenger in Manhattan that her big strong thighs were made for speed. She started entering bike races and winning. She became a certified Schwinn spin instructor and got a job teaching indoor cycling classes at Equinox and then SoulCycle.
If you're interested in how Christine's dress code has changed over the years, read this article in which she's described as the "Pirate." Christine has been with Peloton since 2014. I started taking Peloton classes in 2016 and I still remember her bandanas.
As a professional cyclist, Christine gives great advice on and off the bike, especially related to form and bike setup.
4. Matt Wilpers
A cross-country track star in college, Matt Wilpers studied accounting at Georgia State University and received his Masters there.
After graduation, he worked for KPMG and Goldman Sachs as an analyst. During this time, he ran marathons, started spinning, competed in bike races, and started his coaching business. He finally quit accounting and focused on coaching full-time and gained celebrity clients. Oh, and he also studied pre-med at NYU. Whew!
5. Alex Touissant
There's a reason why pro athletes often favor Alex's classes. He's regimented and expects achievable success from his rider Sent away to military school at the age of 11, then returning home and playing high school basketball, Alex worked his way up in the fitness industry.
After dropping out of college, he took a job mopping floors and doing maintenance work at Flywheel Sports (a local and now national spin studio) in East Hampton, New York, where he grew up. He listened as he worked and approached the owner to audition as an instructor, despite the fact that the had never actually been on a spin bike before. He became a star instructor, teaching in Manhattan the Dubai studios.
6. Denis Morton
A natural athlete, Denis played college football; he snowboards, surfs, does aerial acrobatics, and plays the guitar (I know that's not a sport but still, swoon).
After college, Denis worked in production for a short time. He then worked as a self-employed massage therapist for almost 9 years. He moved to California from Florida. An avid surfer, he started taking yoga classes and then started teaching classes.
Like other Peloton instructors, he taught at SoulCycle NYC. He then taught at a boutique spin studio in Texas that he helped grow.
7. Jenn Shermann
If you've taken any rides with Jenn, you know this Jersey girl graduated from Syracuse University.
Like me, she didn't start spinning until her 30's when her kids started school. She started teaching at a local spin studio and when she read about John Foley's innovative company, she practically begged him to hire her. He did and she became Peloton's first instructor.
8. Kendall Toole
Kendall was a child actor living in California. She went on to study cinema at the University of Southern Toole where she served as a USC Spirit Leader (cheerleader).
She worked as a production assistant and then as a story editor at Snapchat. She started boxing and found her passion, becoming a trainer at an LA studio.
Peloton just added a shadowboxing program and boxing bootcamp. If you're looking for more classes, check out this boxing workout app I'm using.
9. Tunde Oyeneyin
It's hard to believe that Tunde, the embodiment of lean power, weighed over 200 pounds as a 13-year-old. You can read more about it in this Today Show interview.
The child of Nigerian immigrants, Tunde grew up in Houston, Texas. She moved to California and found success as a celebrity makeup artist. Notice how Tunde's always wearing the perfect shade of lipstick on every ride. Prior to working at Peloton, she taught at the Sweat Shoppe in L.A.
Check out my review of the Arms with Tunde program.
New York Times Bestseller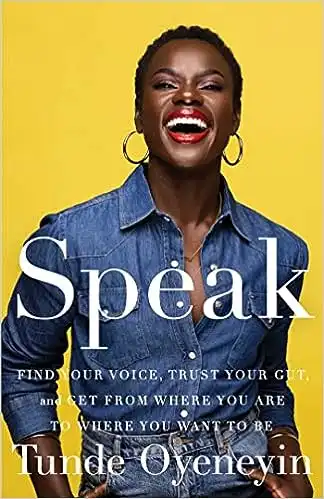 10. Sam Yo
Ready for this one? In his 20's, Sam Yo was a Buddhist monk. And if you don't believe me, it's right in his Instagram bio. How did I miss this? People magazine wrote an article about his experience.
Sam Yo was born in Thailand and raised in England. He's steadily worked as an actor (you can see some clips in his Instagram feed).
He became a trainer and worked at various boutique studios across London, including spin, HIIT and boxing classes.
11. Ben Alldis
Like Olivia, Ben worked in finance in private equity and investments. And like she and Robin, he spent his days itching to get to the gym.
He started personal training on the side, while still working full-time. Eventually, he quit his finance job but only in 2018!
Cody recruited Ben to Peloton after taking one of his classes.
12. Erik Jager
Erik Jager had a successful career in Germany, training celebrity clients, before coming to Peloton. He also started his own training program there.
13. Irene Sholz
Irene Sholz grew up playing sports as a kid, including volleyball and ballet, and became a spin instructor at the young age of 17. She studied business and marketing in college and worked as a group fitness instructor for over 10 years in Germany.
She then moved to South Africa to try to improve her English and wound up getting a job with Adidas as a project manager. She opened her own gym in Capetown, South Africa, and started coaching before coming to Peloton.
Irene announced in May 2021 that she was leaving Peloton.
14. Hannah Frankson
Hannah Frankson, worked at various marketing jobs, including at Puma. Growing up, she was a competitive triple jumper. She became a personal trainer and worked at Equinox in London for five years before getting hired by Peloton. She also models.
15. Cliff Dwenger
Peloton riders are loving Cliff Dwenger's vibe and energy, even if they don't speak German. He's worked as a personal trainer since 2016 and in 2018, he became the first hip-hop artist to make it to the semi-finals on Germany's The Voice.
16. Mayla Wedekind
Champion surfer Mayla Wedekind lived in Bali for years before joining Peloton, where she taught surfing, yoga, and fitness classes (and studied psychology as a distance learner). Check out her Instagram to see her envious abs and travel adventures.
17. Bradley Rose
Meet the newest Peloton instructor. Brit Bradley Rose began working for Peloton in March 2021 in their U.K. studio. Prior to Peloton, he worked as a model, actor, and voice-over talent.
Check out his most recent acting role in this Hallmark movie.
He's also worked as a boxing instructor in Manhattan.
The Dancers
It's no surprise that many of the Peloton instructors had a career in dance prior to their current gig.
18. Cody Rigsby
No, despite that Mickey Mouse tattoo, Cody did not work for Disney. Yes, I know, you can easily picture him as part of the cast of The Mickey Mouse Clubhouse alongside Britney Spears, Justin Timberlake, and Christina Aguilera.
Cody had various jobs working in fashion and marketing, followed by a successful dance career, performing with Katy Perry, Nicki Minaj, and at industry events. (You can find some of these on YouTube).
19. Jess King
Do you recognize Jess King from So You Think You Can Dance? In 2008, she was a Top Ten finalist but had to withdraw from the competition after she broke two ribs and fractured another.
Check out this video of Jess King's first episode on SYTYCD below.
She performed as a lead dancer in the Las Vegas production of Cirque Du Soleil. And, when she met with John Foley, the founder of Peloton, she had never been on a spin bike before!
20. Ally Love
Ally Love's energy commands a presence. Prior to Peloton, Ally was a New York Knicks dancer/cheerleader and toured with ballet companies across the United States.
Scroll through her super-photogenic Instagram feed and it should be no surprise that she also worked as a model for big brands like Macy's and Under Armour.
She continues to be the in-arena host of the Brooklyn Nets basketball team at the Barclays Center.
21. Emma Lovewell
Emma started her career dancing for acts including the Rolling Stones, Bjork, and Snoop Dogg. She became a Wilhelmina fitness model working alongside Ally Love (long before their epic Prince ride). Check out their early Instagram photos together.
She even appeared in a Peloton commercial long before she started teaching. Look at her commercial reel. This girl's appeared in tons of ads.
After dancing, she became a personal trainer and Pilates teacher and later a popular SoulCycle instructor in their Manhattan studios. Emma's now known for her Listening Party rides but did you know she even worked as a DJ?
Emma and I do have something in common, and it's definitely not our abs. We're both bloggers. She started her wellness website in 2015 when she wanted to document her month without sugar.
22. Hannah Corbin
Hannah (Marie) Corbin also worked as a professional dancer in New York. She appeared in the Off-Broadway production of Fuerza Bruta! (part of the De La Guarda trilogy that I saw when I lived in Manhattan). The shows are part-dance and part aerial acrobatics, which explains all those crazy splits Hannah so easily gets into in as you can see in her social media feed. She performed with that production in Japan too.
In Hannah's recent Broadway ride, she mentioned that she met her husband when he worked on one of the shows she was in and that she hopes to return to the stage one day.
23. Leanne Hainsby
Leanne Hainsby, one of the U.K. instructors, worked as a professional dancer for 12 years. She danced for Katy Perry, Paul McCartney, One Direction, Kesha, the X-Factor, and in the London Olympics and Paralympics closing ceremonies.
Before coming to Peloton, she worked as a HIIT instructor in a London boutique studio.
Fun fact: Ben and Leanne are a real-life couple and are engaged. They met at Peloton.
24. Camila Ramon
Camila Mariana Ramon was born in Argentina and moved to Miami, Florida at the age of 7. She is the newest cycling instructor to join Peloton. She teaches in both English and Spanish. Her premiere class aired on October 5, 2021.
During college, she danced professionally, working with stars Ke$ha and Pitbull.
Camila started her career in real estate, and then served as a brand representative and spokesmodel for health brands including VitaCoco coconut water. She then worked as an account executive for a public relations agency. In 2016, she moved to Los Angeles with her husband. She got a job teaching as a Flywheel instructor and created her own Spanish language personal training app called Power by Camila in 2020.
Let's Tally It Up
Professional dancers: 7
SoulCycle instructors: 4
Flywheel instructors: 2
Finance jobs: 3
Reality TV contestants: 2
Former lawyers: 1
Models: 5
For more information about the Peloton Instructors
Much of this information, I learned from taking my rides with the instructors. I've been fascinated about this topic ever since Robin shared bits and pieces of her story. This ultimately brought me down a wormhole of researching and learning everything I could about the instructors' past professional lives.
Other information I found directly on Peloton's website in their "Meet the Instructors" section. However, MOST of the information I found in the instructors' LinkedIn profiles. When I got information elsewhere, I linked to them throughout the article.
If you want to learn even more, check out this post I wrote about Peloton Instructors and their dogs. Get ready for cuteness overload.
Who surprised you the most?
I would love to hear about it in the comments below.
For the Peloton fans in your life, check out this Ultimate Peloton Gift Guide blog post including Peloton-inspired products and exclusive My Purse Strings promo codes.
Sign up below to receive the weekly Friday Favorites emailed directly to your inbox, featuring the newest blog posts, product reviews, wellness tips, and my favorite things that week.
Pin for later!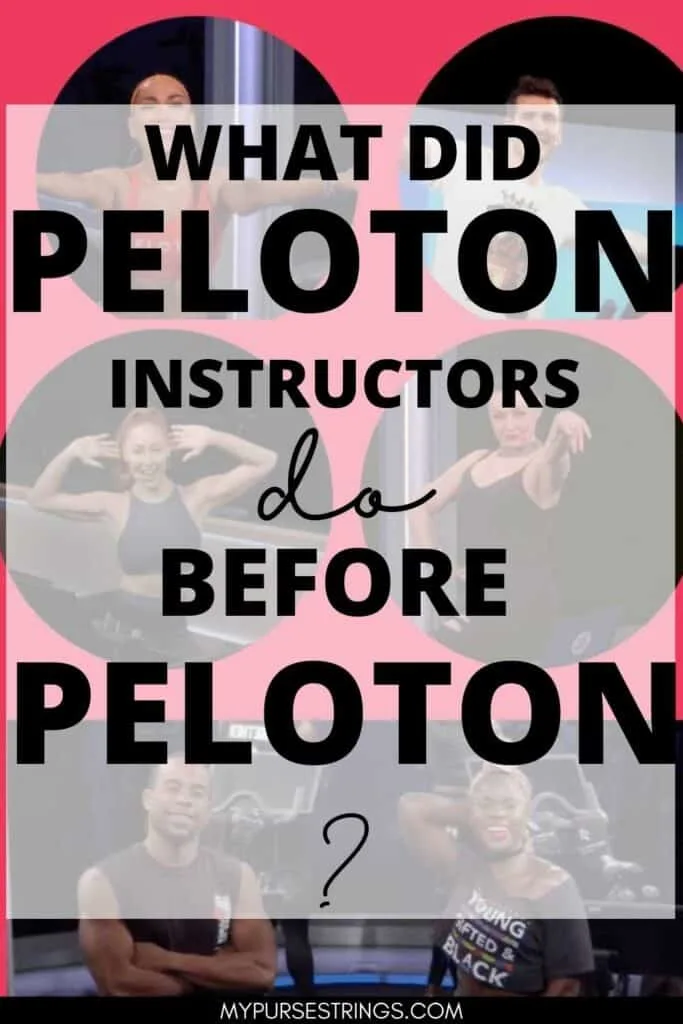 Related Peloton Blog Posts
Must-Have Accessories for the New Peloton Rider (or App User)
Peloton Soundtrack Rides: The Complete List of TV, Movies & Broadway Musical Playlists
Treadmills to Use with the Peloton Tread App
15 Ways to Keep Your Peloton Streak Going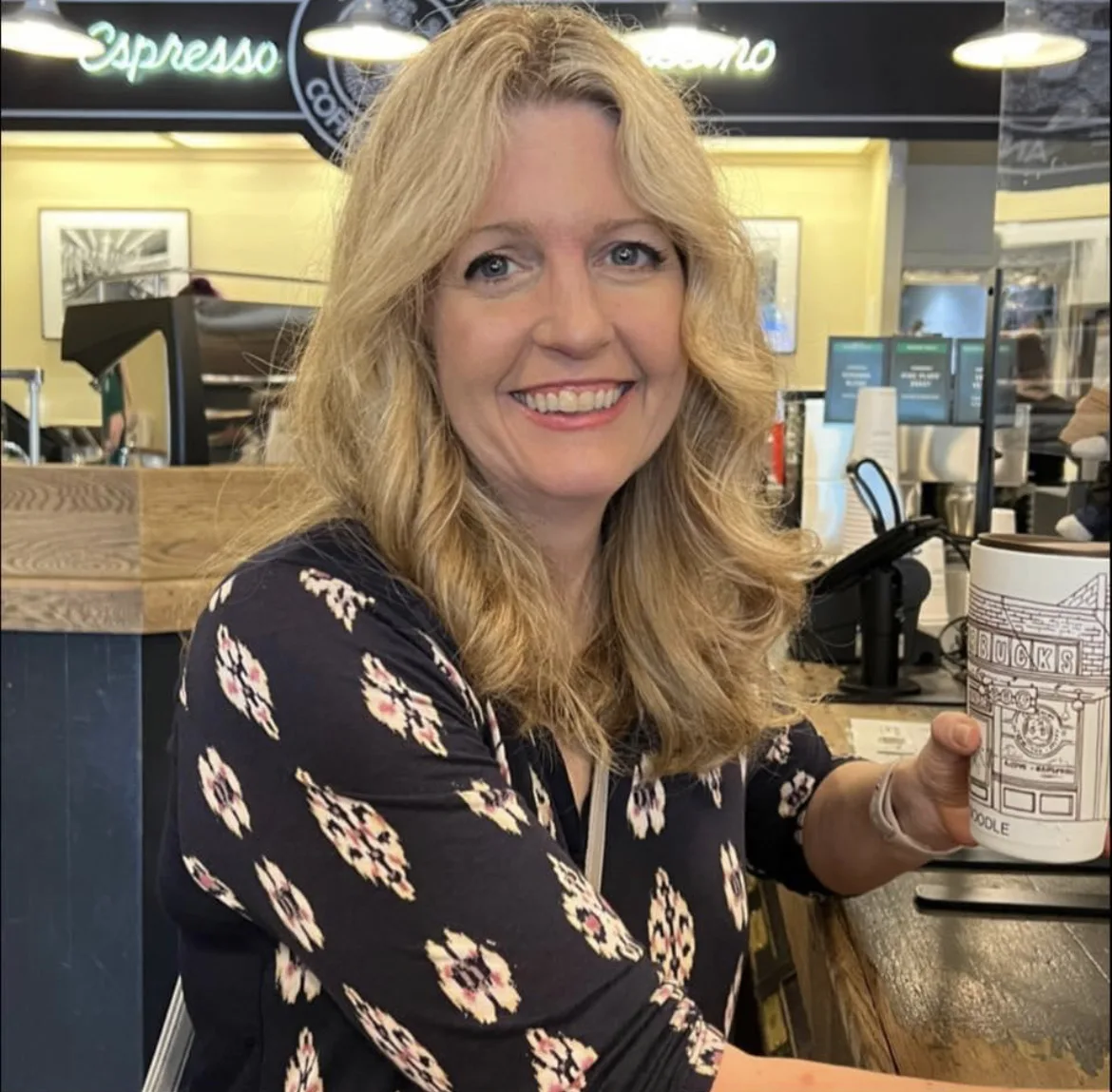 Michelle Platt is a former attorney and teacher who loves to do the research so you don't have to. She takes a deep dive into each topic and writes about her wellness journey here. She loves trying out new workouts and products to share with you. She is currently completing her personal training certification. This native New Yorker recently made the move to the suburbs of Minneapolis, where she lives with her husband, two kids, and two dogs.