In November of 2021, Peloton and Delta Airlines introduced a series of classes called "Classes in the Clouds."
I recently tried out a few of these classes on a flight from Minneapolis to West Palm Beach, Florida and then on another trip back home from Nashville. Here's what Delta passengers can expect on their next flight.
If you're a Peloton member, you'll enjoy seeing a familiar face on the seatback televisions. And, if you've you've never taken a Peloton class, this is a great way to meet some of the popular instructors and try out the app.
This post contains affiliate links. See my disclosure policy for more information.
What are the Classes in the Clouds?
Delta Air Lines and Peloton formed a new partnership. One aspect is Classes in the Cloud. As part of its in-flight entertainment options, passengers can discover travel-friendly exercises to do in the air.
Peloton designed a curated selection of classes, either relaxing meditations or stretches, taught by a handful of its instructors.
It's the first time Peloton content is offered anywhere other than the Peloton bike, treadmill, rower, or app.
At the end of each class, you have the option of signing up for the Peloton App using code DELTA to get a free 30-day trial.
Peloton members will not be able to find this exclusive content on Peloton's app.
Do You Need a Peloton Membership to Take the Delta Classes?
Non-members
No. In fact, there is no way for members to log in and get credit for taking a Peloton class mid-flight and the class itself seems to target new members to sign up for a Peloton membership free trial.
I think this is a brilliant marketing campaign to familiarize people to the Peloton app on an non-Peloton platform. Many people don't own Peloton equipment, have never even seen an actual Peloton bike, don't live anywhere near a retail store, or have the ability to take a class in the Peloton Studio. These stretch and meditation custom classes are their first exposure to Peloton.
Peloton Members
As you can't log in, this means these classes will not count towards your Peloton streak, milestones, nor can you high-five other members during class.
You also cannot take these classes at a later date as they are exclusive to Delta flights and do not appear on the Peloton App.
Check out MyPurseStrings on Substack. Get the newest blog posts, my favorite finds, and read all new and past newsletters there.
Are the Classes in the Clouds Free?
Yes, as with all in-flight entertainment on Delta, you don't have to pay anything to take the Peloton classes. Even the earbuds are complimentary.
How Do You Access the Classes in the Clouds Classes?
On your seatback screens, you'll see the option to take Classes in the Clouds. You can also search by shows A-Z. On my flight it was listed right before "Curb Your Enthusiasm."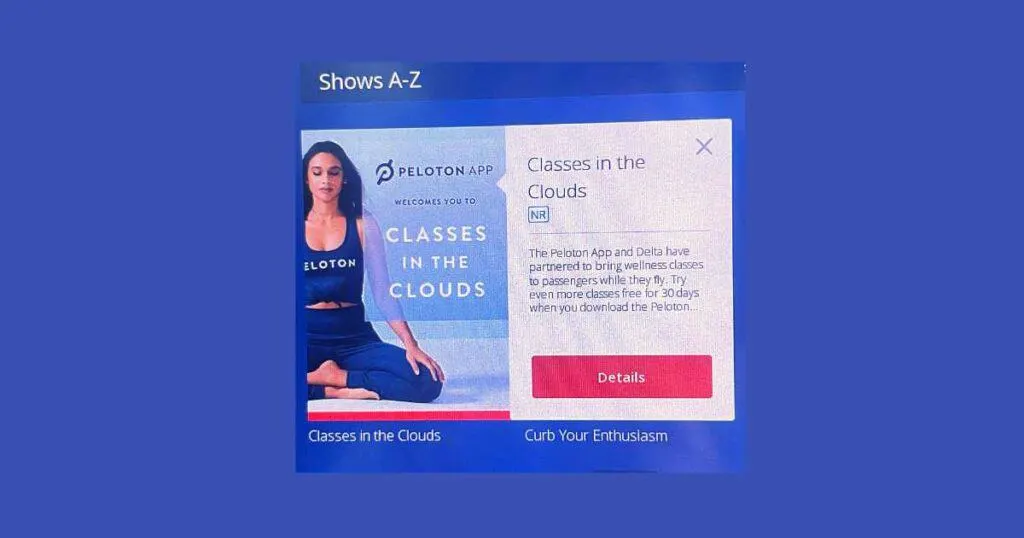 What Equipment Do You Need to Take the Classes?
No equipment is needed as all these classes are meant to be taken in your seat during the flight itself. You will want wired headphones to hear the audio content.
Who Teaches the Peloton Classes in the Cloud Classes?
Although Peloton may expand this collection, as of now, the Peloton Classes in the Air instructors are:
Anna Greenberg
Chelsea Jackson-Roberts
Ross Rayburn
Adrian Williams
Aditi Shah
Note, Mayla Wedekind was listed on the schedule but it turned out to be taught by Adrian.
What Types of Classes are Offered?
You'll find short meditation and stretch classes. These classes range from 5 minutes to 20 minutes. All classes went a bit over time as the instructors included an introduction beforehand.
There were five classes offered. These classes "refresh periodically" according to Delta. This seems to be the case as I've heard that Matty Maggiacomo teaches classes too but he didn't appear on my schedule.
These were the Peloton classes on my Delta flight (December 2022):
10-minute Body Scan Meditation, Anna Greenberg
20-minute Breathing Meditation, Chelsea Jackson Roberts
15-minute Sleep Meditation, Ross Rayburn
10-minute Stretch, Anna Greenberg
5-minute Seated Stretch, Adrian Williams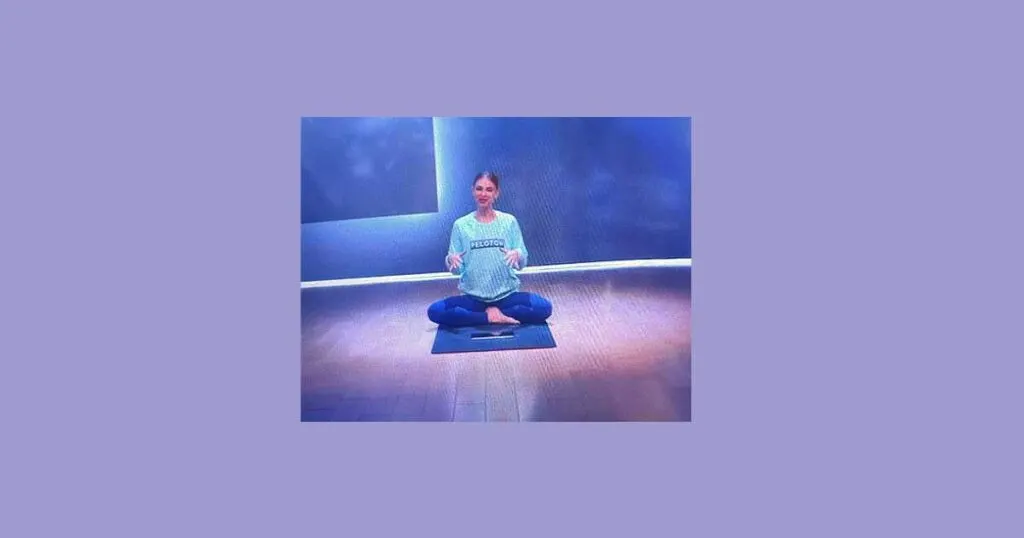 These were the Peloton classes on my Delta flight (January 203):
10-minute Body Scan Meditation, Aditi Shah
20-minute Breathing Meditation, Chelsea Jackson Roberts
15-minute Sleep Meditation, Ross Rayburn
10-minute Stretch, Anna Greenberg
5-minute Seated Stretch, Adrian Williams
Made for Travel
Once you land, you can take advantage of the Peloton Delta Airlines partnership even more. Search the Peloton App under Collections and you will find "Made for Travel."
This collection consists of 45 cross-training classes. None of them require any equipment. Classes include runs, walks, shadowboxing, meditation, bodyweight strength classes, HIIT cardio, core strength, and yoga.
This is also where you'll find many of the chair yoga and standing yoga classes. I love this foldable yoga mat and take it with me on every trip.
Peloton and Delta also furthered their collaboration this holiday season by offering Delta customers a free 2-month Peloton trial and also $50 off an apparel purchase.
My Personal Experience with Classes in the Clouds
Body Scan Meditation
I started with the body scan meditation class with Anna. It takes me a while to get into a meditation class in normal situations but I tried. At one point, the elderly man seated in the window seat needed to use the bathroom. My daughter and I obliged and got out of our seats. This clearly messed with any feelings of mindfulness or zen.
Sleep Meditation
I'm not the best sleeper and rarely nap on flights. We had an early flight that morning and I was exhausted from packing and getting the house ready for the dog sitter. I decided to take Ross Rayburn's sleep meditation. After about 10 minutes, I fell asleep. (Peloton sleep meditations are now the only way I can fall asleep quickly at home).
With five minutes left to go, I was awakened by the entire plane singing happy birthday to Kayla seated a few rows behind me.
Seated Stretch
I took Adrian's class last (even though it listed Mayla on the schedule). This seated stretch involved holding my arms at the elbows atop my head and reaching for my back and circling my neck. I felt a bit silly after a few minutes so I gave it up.
Final Thoughts
I am not an anxious flyer but if you are, I definitely recommend these classes.
Peloton offers some of the best fitness content around and I'm excited whenever someone experiences it for the first time. With the addition of sleep meditation classes, Peloton's meditation classes have become more popular. But many members have never taken a class before. I only started regularly taking their meditation classes last year.
I don't know what magic is in the Peloton studios but the sleep mediations have changed my nighttime routines. No more lying in bed waiting to fall asleep. I now put on a sleep meditation class and fall asleep within minutes.
Next time, I will start off with the sleep meditation class and see if I can actually close my eyes and relax on the next flight.
If you want to relax even more, Delta offers curated Spotify playlists and podcasts. These focus mainly on music to help you relax and unwind and mood boosters.
I look forward to seeing new classes added to the series. Have you taken a class? What did you think? Let us know in the comments.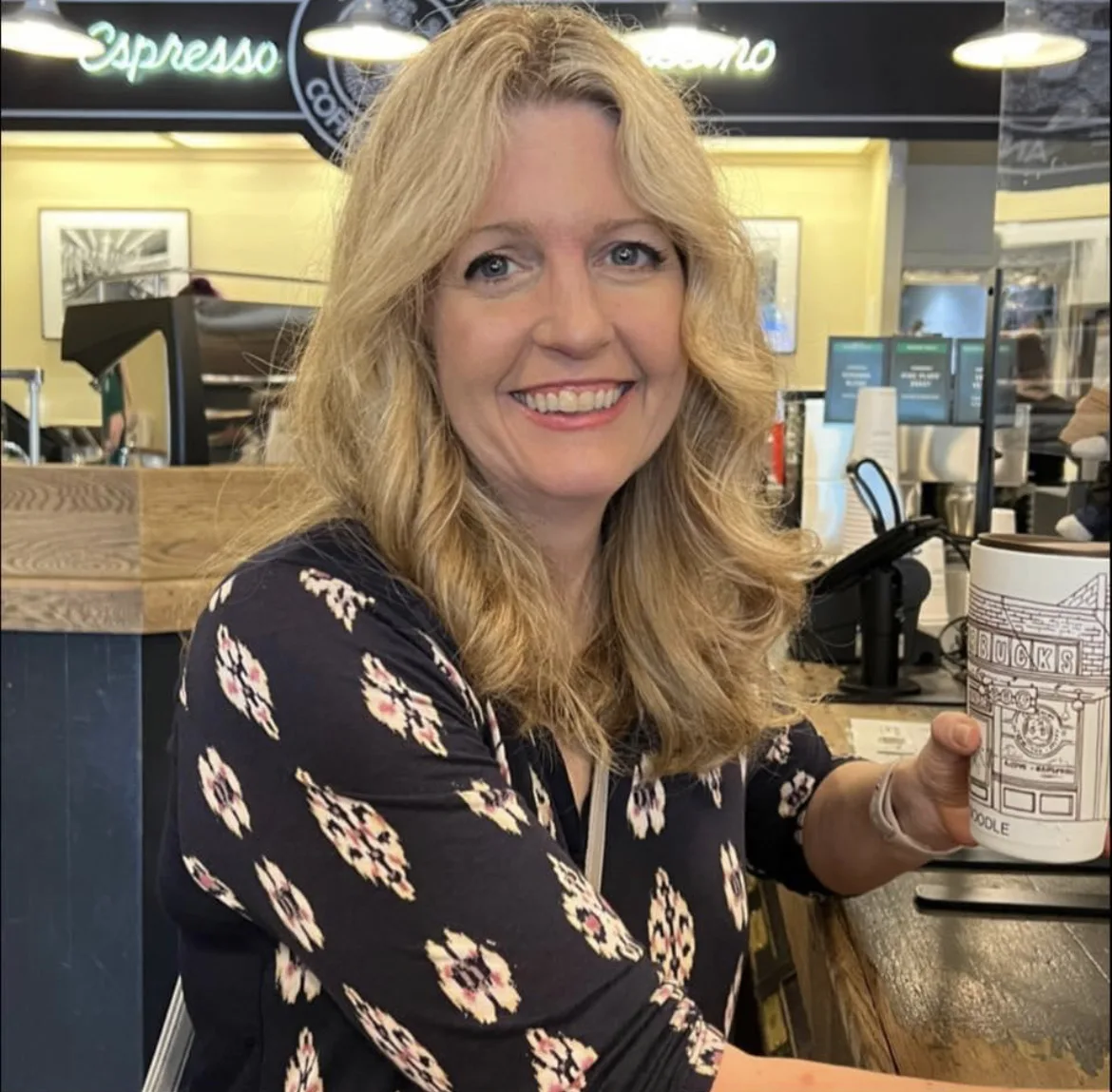 Michelle Platt is a content creator and certified personal trainer. Proving it's never to late to reinvent yourself, she's a former attorney and teacher who loves to do the research so you don't have to. She takes a deep dive into each topic and writes about her wellness journey here. She loves trying out new workouts, fitness tips, healthy foods, and products to share with you. This native New Yorker recently made the move to the suburbs of Minneapolis, where she lives with her husband, two kids, and two dogs.