If you've been following my blog for a while, you may remember my very first post about using the Peloton App with an off-brand spin bike. So it should be no surprise that I started using the Peloton rowing classes with the app too.
Here are my honest thoughts as a certified personal trainer and after almost 6 months of taking Peloton rowing classes on an inexpensive rowing machine.
This post contains affiliate links. See my disclosure policy for more information.
Peloton Rowing Classes
offer a low-impact, total-body workout
have some of your favorite Peloton instructors and some expert rowing coaches to train you
available on the Peloton Row or the Peloton App
have a variety of classes to choose from for the advanced rower or a novice
It took months after the long-awaited introduction of the Peloton Row for rowing classes to become available to app users. Peloton Row classes combine both strength and cardio.
The Peloton Row
The Peloton Row costs $2,995, including delivery. It has several innovative features, making it the easiest way to take Peloton rowing classes:
Magnetic resistance
Preset but adjustable Drag Factor (resistance levels)
Swivel touchscreen (23.8″)
Rear and front-facing studio quality speakers
Metrics: output, distance, pace, and stroke rate
Personal Pace Targets so you can work at your own ability level
Leaderboard for friendly competition
Form Assist

visual feedback on your form (you can see areas highlighted on the screen)
personalized calibration: sensors recommend changes in your position to improve your form

Footprint of 94″ x 24″ x 45.5″
Vertical Storage
But not everyone is convinced that's it's worth the price tag. I'm not going to spend too much time discussing the Peloton Row today. Instead, I want to focus on the rowing classes.
Taking Peloton Rowing Classes using the App
If you're a fan of Peloton's rowing classes but don't own a Peloton rower, you might be wondering if it's possible to take those classes on off-brand machines. The answer is yes, but there are some things to keep in mind.
To take Peloton rowing classes on a different rower, you'll need to use the Peloton Digital App. This app is available on both iOS and Android devices and allows you to stream Peloton classes on your phone or tablet.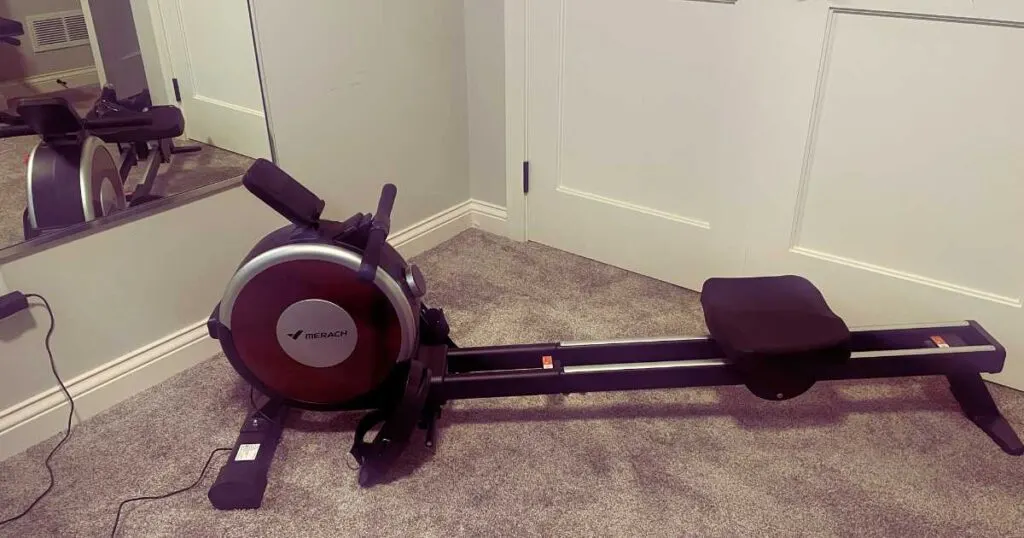 New to Peloton
If you're new to Peloton, you can often get a free trial for 30 to 60 days. After you can opt for:
Free App: limited classes
Peloton App One membership: up to 3 cardio classes per month ($12.99 per month or $129 per year)
Peloton App + membership: unlimited classes ($24/month or $240 per year)
Existing Peloton Members
If you already have Peloton equipment and pay for the All-Access membership ($44 per month), you can find the Peloton rowing classes at no additional cost on your app.
Types of Peloton Rowing Classes
Peloton offers a diverse range of on-demand and live classes to cater to different fitness goals and levels. Whether you're a beginner or an experienced rower, there's a class for you. Here are some of the types of Peloton rowing classes you can expect to find:
Learn to Row Program
Perfect Your Pace Targets
Beginner Row(and Advanced Beginner Row)
Form & Drills Row
Extra 5
HIIT Row
Tabata Row
Intervals Row
Tabata Row
Recovery Row
Endurance Row
Warm Up Row
Cool Down Row
Music Artist, Genre, and other Theme Rows
Row Bootcamp
Just Row
Scenic Row
You can read more about the differences between each rowing class here. Note, the only classes not available on a non-Peloton rower are the scenic rows.
I highly recommend taking the Learn To Row program (17 classes over 3 weeks) to learn correct form and movements.
My Experience Taking Rowing Classes Using the Peloton App
Rower
I considered getting a water rower but preferred having magnetic resistance like the Peloton rower machine.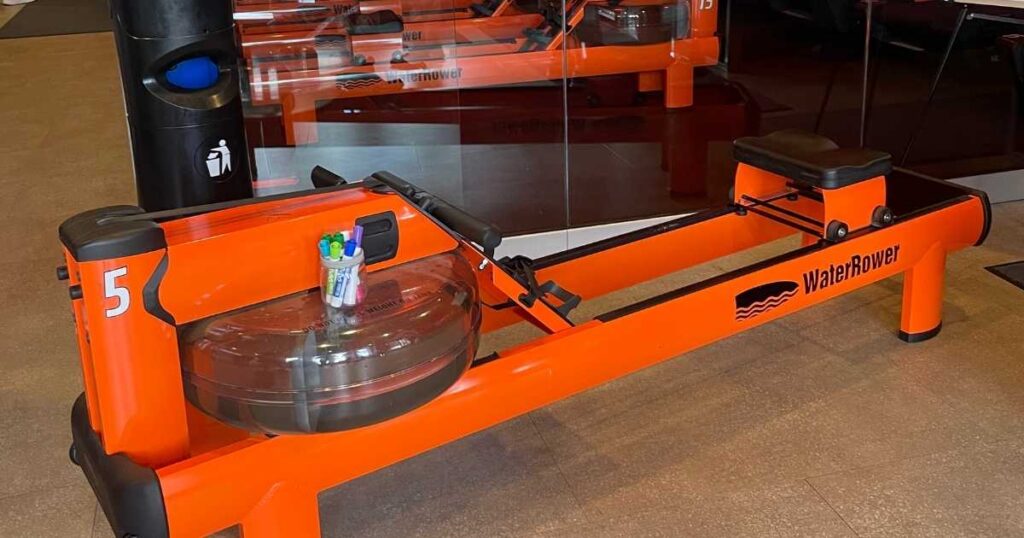 I already have the original Peloton Bike, a non-Peloton treadmill, the Peloton Guide, dumbbells, medicine balls, a TRX, and everything I could want in a home gym. I also have a full-size mirror so I can check my form.
I've used a rowing machine before at Orange Theory and most recently used the Apple Fitness App on a WaterRower. I knew I didn't want to spend a significant amount of money on a rowing machine that I would use likely at most, once a week.
I've been using the Merach Q1S Magnetic Smart Rower since June of 2023. This rower was sent to me for my review. I also considered buying the Hydrow Wave, Aviron, and Concept 2. You can read about my comparisons of the different rowers here.
My rower also stores vertically against the wall, although I usually leave it open.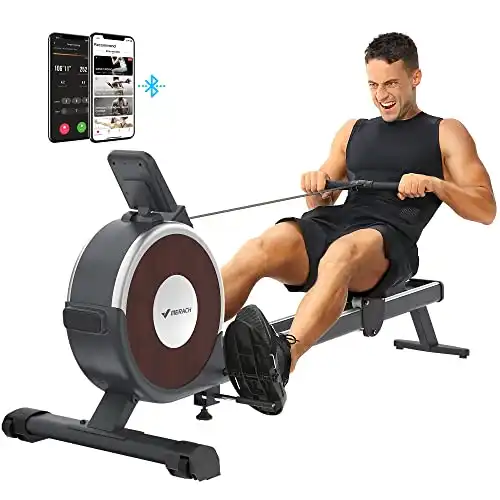 Streaming
I pop my iPhone on the tablet holder and stream classes that way. I have my bike nearby and often forget that you can't stream treadmill or row classes from there. It would be so easy since my Pivot allows my bike's touchscreen to swivel around.
However, if I want my classes on a larger screen, I can access them on my TV using the Peloton Guide. I like this option when I do the Peloton bootcamp classes.
No Peloton Needed: Attach to Any TV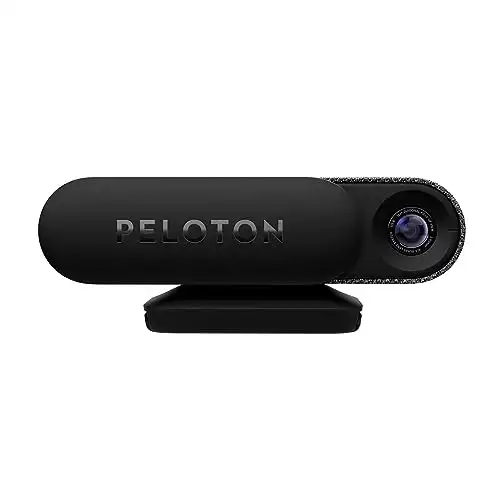 Classes
I started with the You Can Row program and I'm glad that I did. I learned a lot, mostly about technique and the mantra "legs, body arms" and then "arms, body, legs." Even though in theory I knew that a rowing class is a full-body workout, I didn't realize that it's 80% legs, 15% body (core), and 5% arms.
If I want a fun class that goes by fast, I gravitate towards Katie Wong's music classes. I love her energy.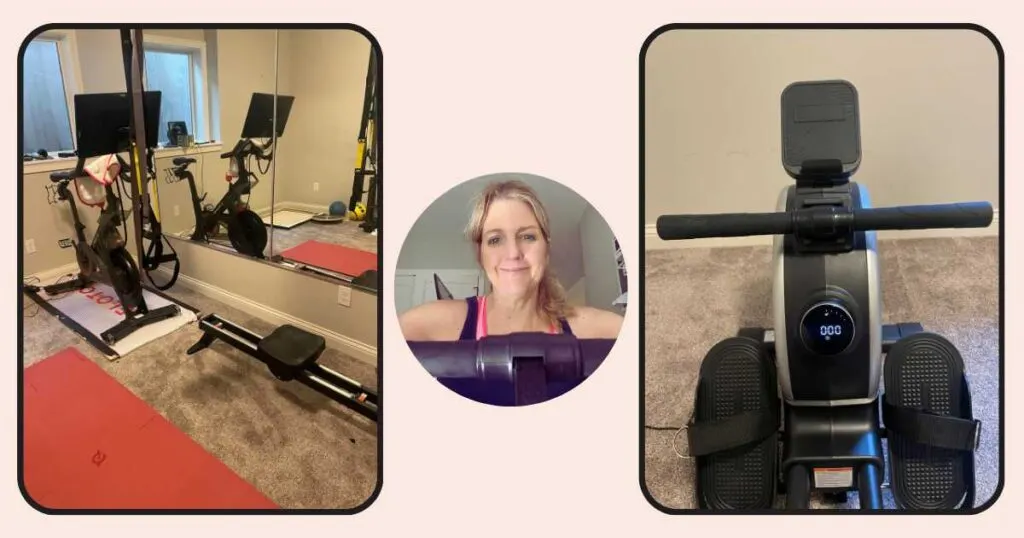 Metrics
I connect my Apple Watch to my rowing machine. I don't worry about any of the other metrics appearing on the app. My rower has an easy-to-read digital display that shows my split time, stroke, watts, and time.
At the end of my workout, in the Peloton App, I can see my body activity (parts of the body used) highlighted in blue, heart rate, and strive score.
Workout
I tend to do shorter row classes and often stack them with yoga classes or some strength training. There are periods of rest (unlike spin classes) which I appreciate.
Drawbacks of using the Peloton App for Rowing Classes
One of the biggest challenges of taking Peloton rowing classes on an off-brand machine is dealing with incompatibilities. For example, your off-brand machine may not track certain metrics like stroke rate or distance traveled, which can make it harder to follow the class.
Metrics
When using an off-brand rowing machine, you won't be able to connect it directly to the Peloton app. To address these issues, you can use third-party apps or devices to track your metrics and sync them with the Peloton app such as ErgData for Concept 2 rowers and mPACELINE.
Resistance
You can also adjust your resistance manually to match the instructor's cues, even if your machine doesn't have the same level of resistance synchronization as Peloton's rower.
Real-Time Feedback
While my wall mirror helps me with my form, I think having form correction and real-time feedback sounds helpful, especially to a newer rider like me.
Understanding Peloton Rowing Classes
Peloton Rowing Classes combine both strength and cardio.
Class Structure
Peloton Rowing Classes are structured similarly to Peloton cycling classes, with a leaderboard, metrics to track your progress, and instructors to guide you through the workout. The classes range in length from 5 to 60 minutes, with options for all skill levels.
The workouts are tailored to help you build endurance, burn calories, and improve your overall fitness level.
The Instructors
Peloton Rowing Classes are led by some instructors you're already familiar with and new instructors who are experts in the rowing world:
Matt Wilpers
Adrian Williams
Ash Pryor
Alex Karwoski
Katie Wang
Each instructor has their own style and approach to teaching, so you can choose the one that best fits your personality and workout preferences. Some instructors focus more on technique and form (Alex and Matt), while others are more focused on motivation and encouragement.
Benefits of Peloton Rowing Classes
Peloton Rowing Classes offer a wide range of benefits for people of all fitness levels. Here are some of the benefits you can expect from taking Peloton Rowing Classes:
Full-Body Workout
Rowing is a full-body workout that engages all of your major muscle groups, including your legs, core, back, and arms. By taking Peloton Rowing Classes, you can get a complete workout that targets all of these muscle groups, helping you to tone and strengthen your entire body.
Low-Impact Exercise
Rowing is a low-impact exercise that is easy on your joints, making it a great option for people who are recovering from an injury or who have joint pain. With Peloton Rowing Classes, you can get the benefits of a challenging workout without putting unnecessary stress on your joints.
Cardiovascular Health
Rowing is an excellent form of cardiovascular exercise that can help improve your heart health and endurance. By taking Peloton Rowing Classes, you can boost your stamina and build your aerobic endurance, helping you to stay healthy and active.
Personalized Coaching (if using the Row)
With the Form Assist feature, you can receive personalized feedback on your form and metrics after every workout, helping you to improve your technique and get the most out of each session.
Tips for Maximizing Your Peloton Rowing Experience
If you're new to Peloton Rowing, it can be challenging to know where to start. Here are some tips to help you get the most out of your Peloton Rowing experience.
Proper Rowing Form
Proper rowing form is essential to get the most out of your Peloton Rowing experience. It can also help prevent injury. Here are some tips to help you maintain proper form:
Sit up straight with your shoulders relaxed and your core engaged.
Keep your feet on the footrests and strap it over the widest part of your foot.
Lightly grip the bar with your fingers.
Keep your arms straight and your wrists flat.
Use your legs to push off the footrests and extend your legs before pulling the handle towards your chest.
Lean back slightly at the end of the stroke before returning to the starting position.
Community Aspect of Peloton Rowing Classes
In addition to the sense of community that is created during the classes themselves, Peloton also offers a variety of community features that allow you to connect with other rowers outside of class. For example, there is a Peloton Rowing Facebook group where you can connect with other rowers, share tips and advice, and find inspiration.
Check out MyPurseStrings on Substack. Get the newest blog posts, my favorite finds, and read all new and past newsletters there.
Interested in Peloton meditation classes? Check out my review here.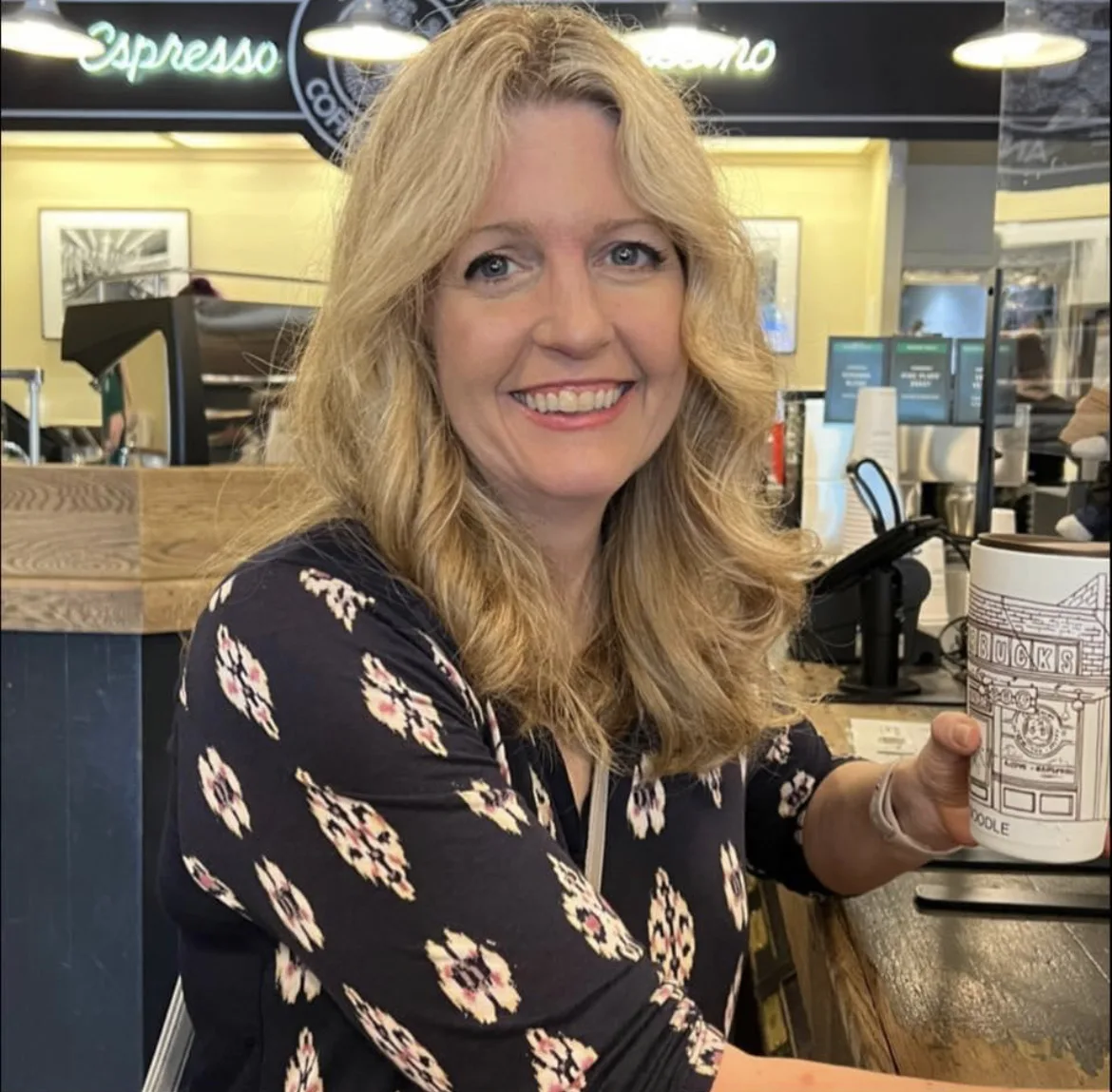 Michelle Platt is a content creator and certified personal trainer. Proving it's never to late to reinvent yourself, she's a former attorney and teacher who loves to do the research so you don't have to. She takes a deep dive into each topic and writes about her wellness journey here. She loves trying out new workouts, fitness tips, healthy foods, and products to share with you. This native New Yorker recently made the move to the suburbs of Minneapolis, where she lives with her husband, two kids, and two dogs.