Since I started my website back in 2016, I've gotten a lot of questions about which Peloton bike to buy: the original Peloton bike, the newer Bike Plus, or to use the Peloton App.
Much of this decision is personal to your specific circumstances but I hope this article will offer you some guidance as to which bike is best for you.
I've been lucky enough to try out all three options.
If you're looking to add a spin bike to your home gym and are considering the Peloton bike or using another stationary bike with the Peloton app, read through this article carefully. I break down the main features of each bike and the major differences to help you make your decision.
This post contains affiliate links. See my disclosure policy for more information.
Price: Peloton App, Peloton Bike, Peloton Plus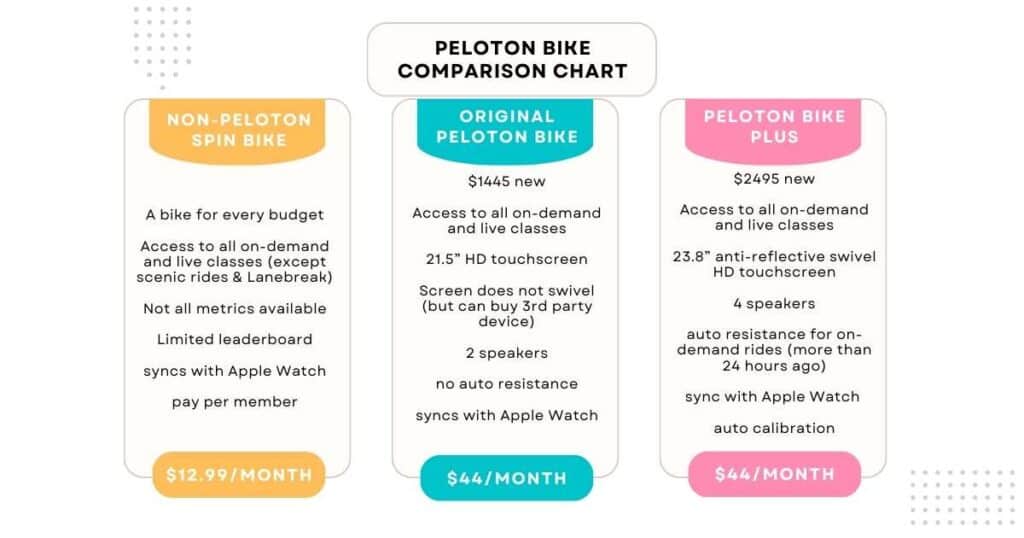 Peloton App
Cost of a Spin Bike
You can use the Peloton App with any spin bike at various price points ranging from less than $200 to thousands of dollars.
In fact, many people choose not to buy the Peloton bike, not because of the price but because they prefer another bike's look and feel. There are a lot of high quality indoor cycling bikes on the market.
Peloton App Price
If you use a regular spin bike with the Peloton App, the app will cost you $12.99 per month per user. Note, this is different than the All-Access membership for Peloton Bike owners which does not go by person but by household.
This price has fluctuated over the years. It was free when I found it, went up to $12.99, then $19.99, and back down to the current price. There is talk of a new tiered program that gives different access to members but not much is known about that yet.
Original Bike
Original Peloton Bike Price
When I first discovered Peloton, the Original Bike was the only option. Including delivery and accessories, it would cost me close to $3000. This price has dropped in recent years and you can now purchase a new Peloton bike for $1445.
Original Peloton BIke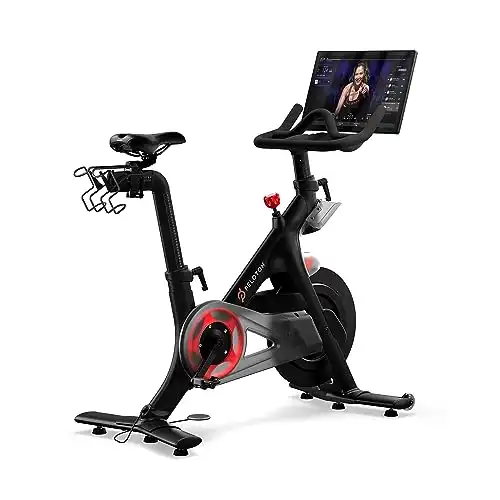 There are ways to save money on the bike, including buying a refurbished bike directly from Peloton for $1145.
You can also buy the original bike on Amazon or from Dick's Sporting Goods. Amazon occasionally runs sales on the bike (for example, on Prime Day). Dick's Sporting Goods sometimes has a gift card promotion if you buy from them.
You can read about more ways to save on a Peloton bike here.
Peloton All-Access Membership Price
The Peloton App (for members who own equipment) is $44 per month. This includes up to 20 users at one residential address.
Peloton Guide
I bought the Peloton Guide when it first came out in 2022. If you already have a Peloton Bike membership, these classes are included at no extra cost. However, Peloton Digital App members (those using their own equipment) must pay an additional monthly fee.
No Peloton Needed: Attach to Any TV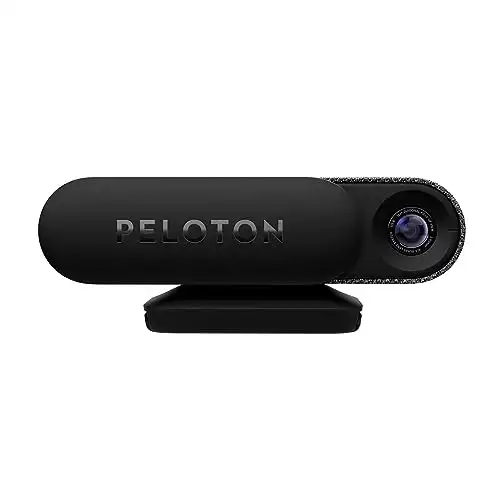 Peloton Bike Plus
Peloton Bike Plus Price
The Peloton Bike Plus retails for $2495. You can buy a refurbished bike from Peloton for $1995.
Peloton Bike Plus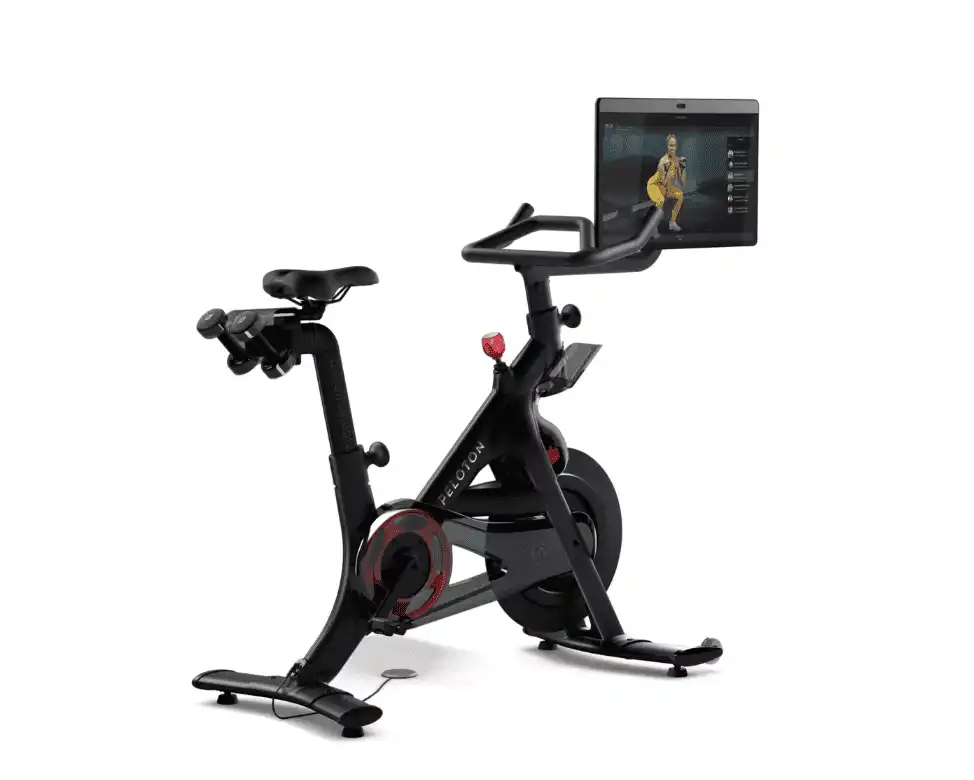 Peloton Bike Accessories
Remember for both the original bike and the Bike Plus, you will need to buy accessories separately. You'll need at the minimum spin shoes, a bike mat, a heart rate monitor, and weights. You can see some of my recommended Peloton accessories here.
Peloton All-Access Membership Price
The Peloton Membership costs the same for all Peloton Bike owners ($44 monthly), whether you own the original bike or the Plus.
Check out MyPurseStrings on Substack. Get the newest blog posts, my favorite finds, and read all new and past newsletters there.
Bike Features
Non-Peloton Spin Bike
You can read more about getting the Peloton experience without the price tag. Here are my recommendations for the best exercise bikes to use with the Peloton App.
Metrics: Cadence, Resistance, Heart Rate
Depending on the bike, some display cadence and resistance levels on screen.
With the improvement of the app over the years, Peloton App users can now sync their Bluetooth heart rate monitor directly to the app.
Classes
Despite false information out there, Peloton App users get access to the same class types as bike users, including all live and on-demand classes, with one caveat. Peloton Digital App members cannot access scenic rides or the newer Lanebreak classes.
Original Peloton Bike
Metrics
Cadence
The Peloton Bike displays cadence and resistance right on the touch screen.
Heart Rate
You can also seamlessly sync your heart rate monitor so that displays on the screen too.
I like using my Apple watch. Simply tap on the Peloton app on your watch and start your class on the bike. I've used lots of heart rate monitors in the past (Scosche, Peloton heart rate monitor, and others) but the Apple Watch integration works best for me.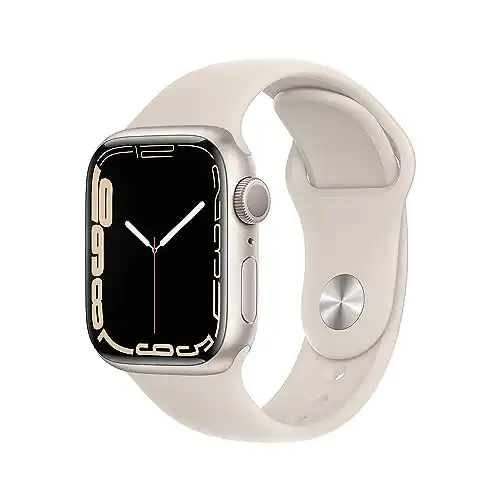 Resistance
To change your resistance during the class, manually control and turn the resistance knob to your desired level. There is no auto resistance feature like the Peloton Bike Plus offers. Your resistance numbers are displayed on the Peloton screen in real time.
Touch Screen
The Peloton Bike has a 21.5" HD screen.
Although the screen tilts, the Original Bike does not have a swivel screen. However, I bought this hardware from Top Form Design that turns your regular screen into a rotating screen just like the Bike Plus.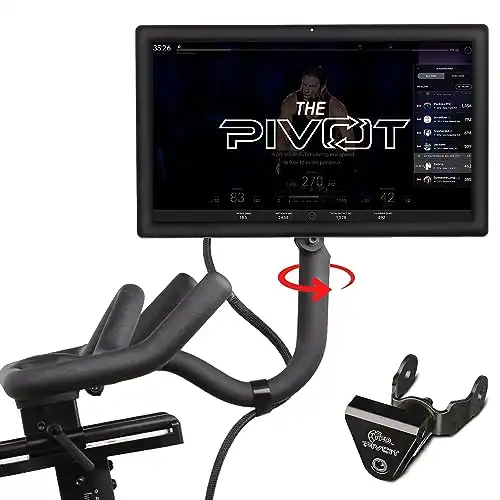 I don't know how I managed without it. It's a great option for anyone who wants to do floor workouts off the bike, from meditation to bootcamp or strength classes.
Audio
The bike has 2-channel audio with 2×10 watt speakers. If you like your music really loud, you can always sync to wireless speakers or wear headphones. There is a headphone jack but I use my AirPods wirelessly.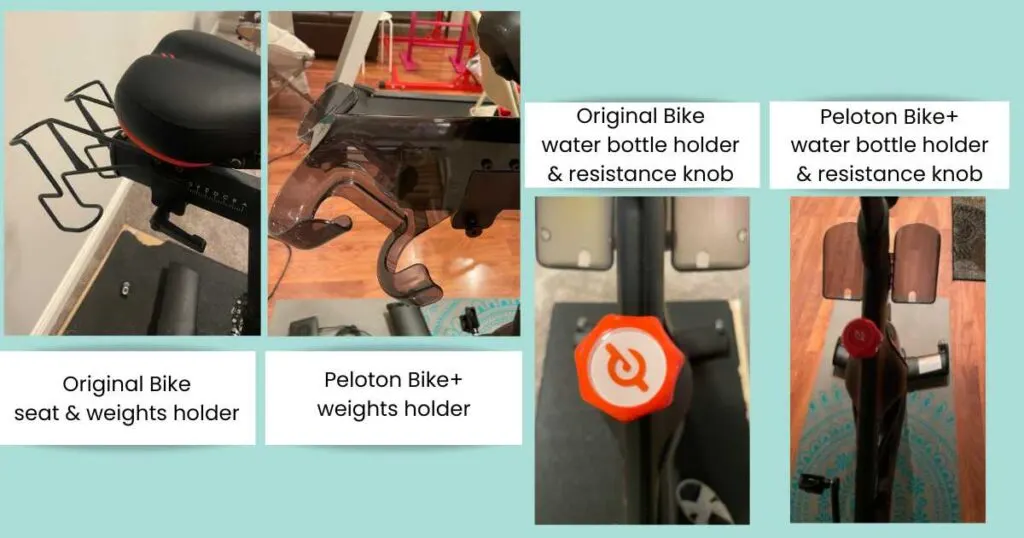 Peloton Bike Plus
Peloton introduced the Bike+ in September 2020. They added many new features to the new bike. It's up to you if you think it's worth the price difference. I'll go into details below.
Dimensions
The Bike+ has the same footprint as the original bike but is 6 inches taller.
Hardware
The Bike Plus also has a quicker processor than the older bike and more RAM.
Metrics
Cadence
You still manually control your cadence, how fast you are going, with the movement of your legs. You can see your cadence clearly displayed on the Peloton screen.
Resistance
The biggest difference between the Original Bike and the Plus is the optional auto-resistance, sometimes called the auto-follow feature.
Note, if you find yourself mainly taking live classes, this feature is probably not too important for you. You can only use auto-resistance for on-demand classes, which take 24 hours to populate But if you prefer on-demand classes, you may enjoy using this feature.
Within the Peloton community, people have conflicting opinions on the importance of auto-resistance and some claim not to use it at all.
Even after years of riding the Peloton, I have a hard time keeping my cadence up when my resistance gets too high. Even Peloton has stated that matching your cadence to that of the instructor is more important than matching their resistance. This is mainly to minimize injuries.
Calibration
The Peloton Bike Plus does have one feature that I wish I had, auto-calibration. Admittedly, I've never calibrated my bike and I probably should.
Basically, your bike may lose the ability to properly gauge metrics over time due to a magnet shift on the flywheel. This could happen due to a physical move or just over time.
If you follow any calibration discussion on the Peloton Facebook page, you will see calibration is blamed for underperforming on the bike. Others point fingers at those who are obviously overperforming due to poor calibration.
If you have the original bike, you need to send away for a calibration kit, watch a video on how to calibrate, and get out a screwdriver to remove the water bottle holder. It seems like a hassle so I haven't done it.
But if you have the new Peloton Bike Plus, you can easily calibrate your bike with a few touches on the home screen.
Touch Screen
Yes, the Bike Plus features a larger screen (23.8 inches, two inches bigger than mine) and it swivels. I've never really thought my Peloton bike screen size was inadequate and as I mentioned earlier, the Pivot from TFD enables my bike screen to swivel too.
Unlike the Original Bike, this screen is anti-reflective and anti-smudge. I don't have a big issue with glare on my screen. I never turn on the overhead lights and remember, the screen tilts.
Also if you really want a large screen, you can also screencast your Peloton bike to a television or use the Roku Peloton App like I do when on my treadmill.
Both the original Peloton Bike and the Bike Plus have a front-facing camera but this equipment was rendered useless when Peloton discontinued the video chat feature in June of 2022.
Apple GymKit
This was a big deal when it first came out because if you had the original Peloton Bike you could not connect your Apple Watch to Peloton, a much-requested feature. Then, the Bike Plus came out with this capability. It even connected to strength workouts using GymKit, although they lost that capability quickly.
But now, Apple Watch users, including those with the Digital App, can easily connect their Watch (Series 3 or higher) to any Peloton class.
Even with the Peloton Guide, it takes mere seconds to connect your Apple Watch and use it as a heart rate monitor.
Although Peloton still advertises the Apple GymKit as a feature of the Bike Plus, it's really a non-feature in my opinion.
Audio
Admittedly, the Peloton Bike Plus has a better sound system with "4-channel audio with tweeters and full-range drivers" with two front-facing speakers and two rear-facing speakers. The original Peloton bike only has rear-facing woofers.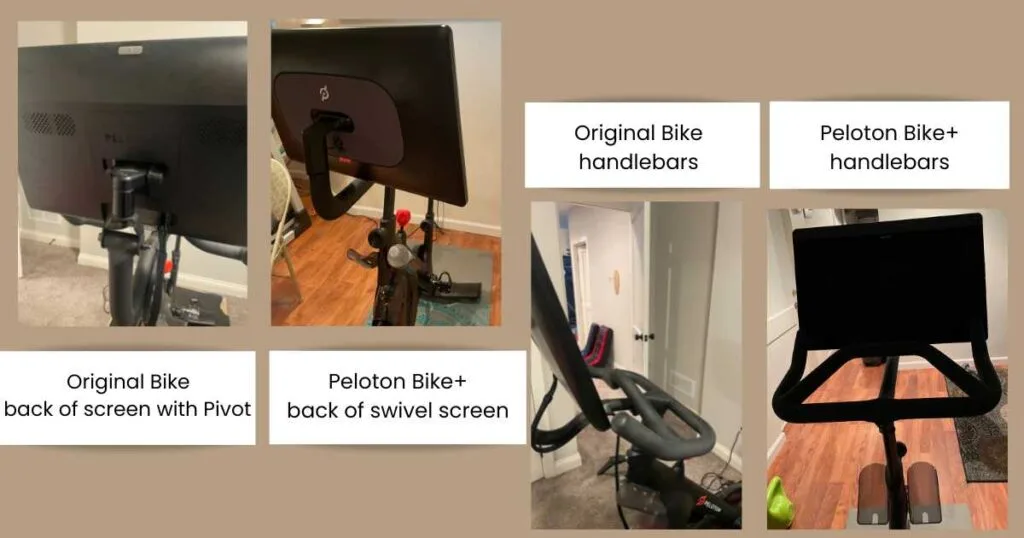 Check out MyPurseStrings on Substack. Get the newest blog posts, my favorite finds, and read all new and past newsletters there.
My Experience using the Peloton App, Peloton Bike, and the Peloton Bike Plus
Peloton App
For years, I used the Peloton App on an inexpensive spin bike from Amazon. At the time, there was a huge difference between the actual Peloton and my DIY Peloton.
I could not connect a heart rate monitor, or view my metrics on screen without using multiple devices, and there was no leaderboard. I also had to change out the pedals.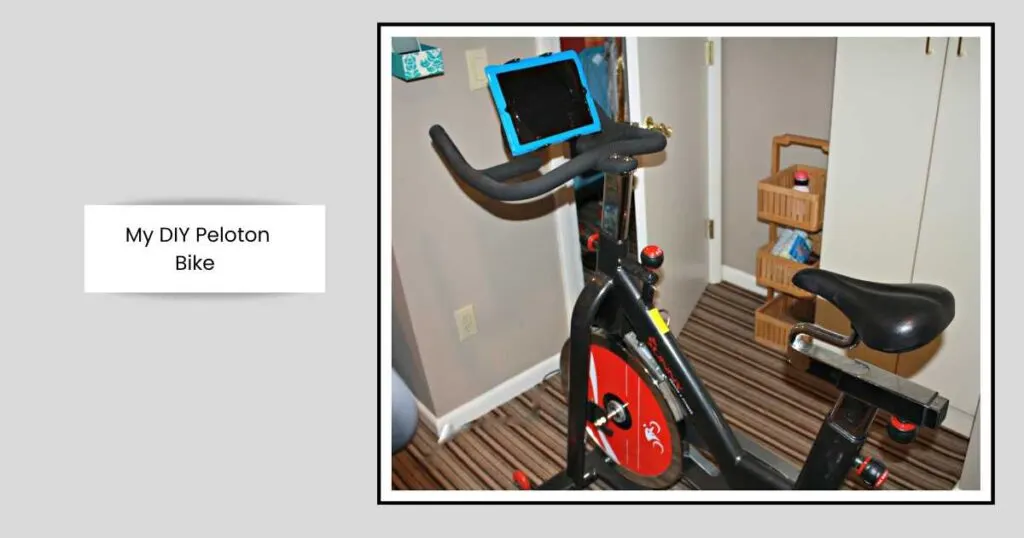 Now, you can do all of the above, however, the leaderboard is not exactly the same as what others see when using an actual Peloton bike. Still, I loved it, enough that I started telling everyone about it and launched this very website.
Looking back, I wish I had bought a more expensive bike with the ability to display metrics and also that I had gotten a magnetic resistance bike to mirror the feel of the Peloton.
For me, it was the right choice at the time. I saved thousands of dollars. I was a stay-at-home mom with young kids and my husband and I had just purchased our first house.
Original Peloton Bike
My husband surprised me with the original Peloton bike about 5 years ago. Back then, there were few if any Peloton workouts off the bike.
The Peloton Bike has motivated me more than any other workout. I have zero desire to get a gym membership. I love that I can exercise any time, any day, all in the convenience of my home gym.
Now that I bought the Peloton Guide, I honestly don't use the swivel screen as much as before. I do most of my strength training workouts using the Guide connected to my TV. Although I still swivel the screen for meditations, stretches, and the occasional boot camp class.
With the exception of the auto-calibration, I see little reason to upgrade my bike to the Plus. Sure, the auto-resistance seems like a cool addition but honestly, I'm not sure how much I would use it or want it.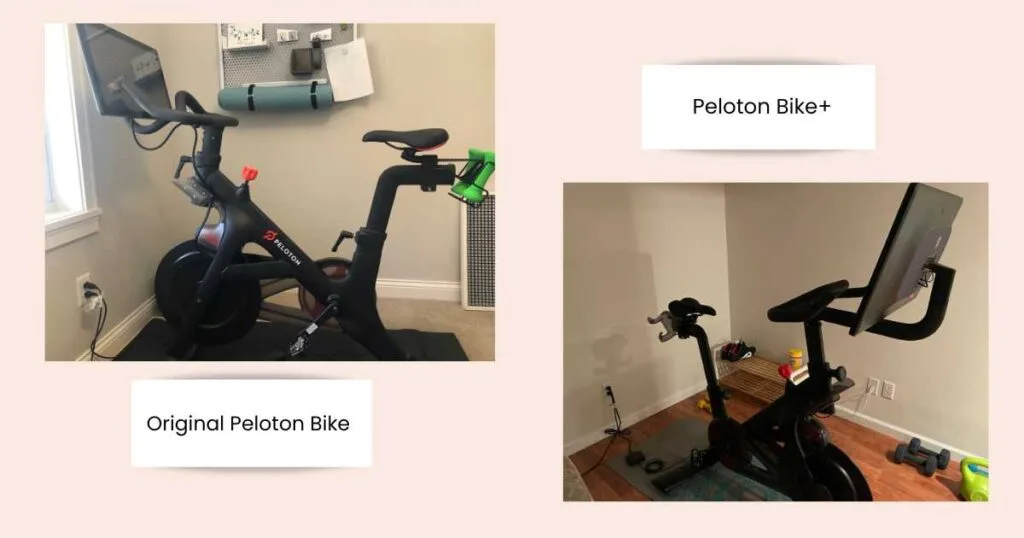 Peloton Bike Plus
My best friend owns a Peloton Bike Plus and of course, I had to jump on it during my last visit.
Immediately, I noticed the sleek new design: larger screen, Peloton logo in silver instead of red, and acrylic weight holder in the back.
The Bike Plus screen also has a privacy cover for the front-facing camera (which is an improved version) but as I mentioned earlier, no one is really using the camera anymore.
She organized her shoes on a bench next to the bike and I remembered there are no shoe hooks underneath the weight holder as I have on the original bike.
I'm also used to wearing my SPD shoes and I'm not the best at clipping in with Look Delta shoes.
I decided on one of my favorite rides, P!nk with Christine D'Ercole, and competed against myself on the leaderboard. I'm guessing the auto-resistance pushed me as I beat my previous outputs on the same ride but only by 13 points.
Final Thoughts: Which Bike is Best for You?
I hope I answered some of your questions about the different Peloton bike options and if I didn't please comment below.
I'm still not convinced that the Bike Plus is worth the extra $1000 dollars. Yes, it's newer and I do wonder if one day, I will have to replace my bike either due to wear-and-tear or the inability to update.
Again, I have the Peloton Guide for my off-the-bike workouts, and a 3rd party swivel device for my screen, and am not convinced I need the auto-resistance. I'm a rule follower so I try to do what I can and keep to the instructors' called out resistance ranges.
The auto-calibration is one feature I wish I had but is it worth the extra money? Probably not for me. What are your thoughts? Which is the right bike for you?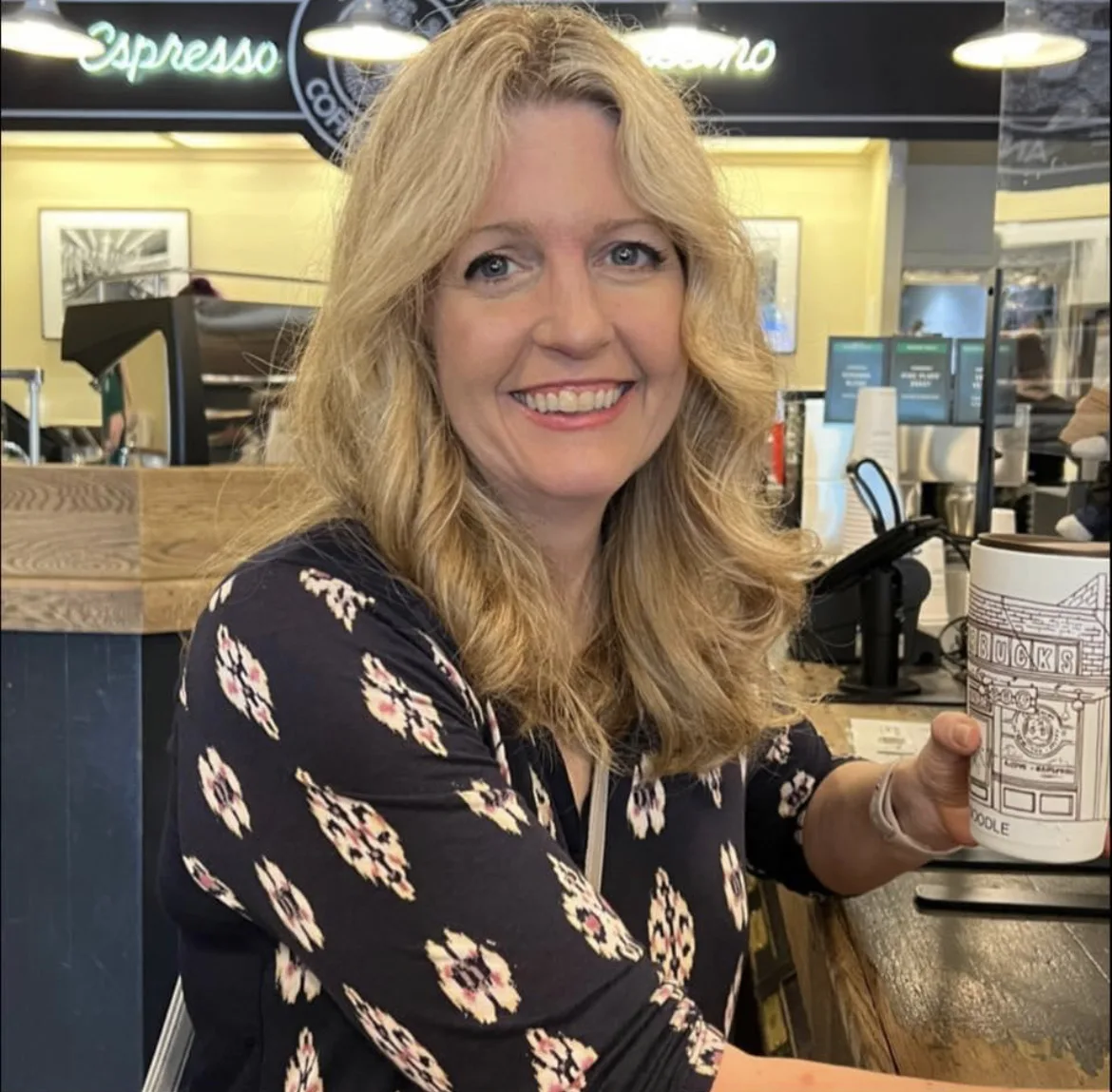 Michelle Platt is a former attorney and teacher who loves to do the research so you don't have to. She takes a deep dive into each topic and writes about her wellness journey here. She loves trying out new workouts and products to share with you. She is currently completing her personal training certification. This native New Yorker recently made the move to the suburbs of Minneapolis, where she lives with her husband, two kids, and two dogs.